Over 100 Plant-Based and Nutrient-Dense Recipes
This recipe book has been created to help everyone eat more plant based nutrient-dense food that makes you feel good. All recipes are vegan and gluten-free but this book is not just for people following those diets.
Whether you are vegan, health conscious, allergic to dairy or just trying to incorporate some more healthy plant-based recipes into your diet you will find something here.
Includes over 100 recipes from Nest and Glow. Only the most popular recipes have made it into the book, along with over a dozen new and exclusive. Every recipe has a photo. Filled with information on equipment and ingredients. More features
Buy Paper Book
Buy the printed paper version online:
The book is on all major online book sites, if your country isn't listed above search for the ISBN 9781999906924 on your favourite book site.
Buy eBook $15 $7.50
Buy the electric book below for $7.50, saving 50% on the RRP. In PDF format and suitable for just about all full colour devices (phone / tablet / kindle fire / computer). The eBook contains high-resolution photos and is formatted to find recipes and chapters quickly.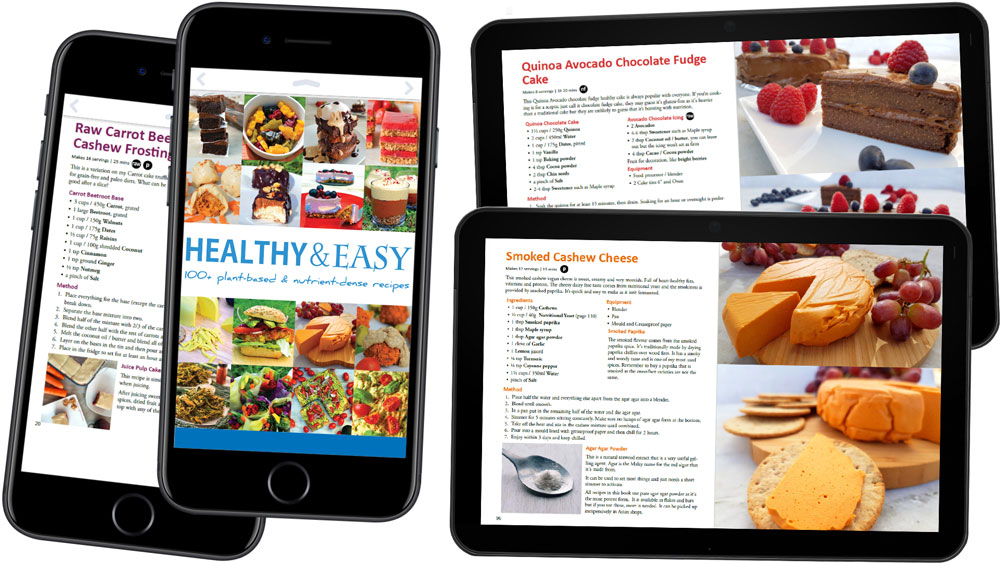 Your eBook will be emailed to the address used to checkout once payment has cleared. Any issues please contact me.
Book features
Every recipe has one or more photo
No difficulty level as all are easy recipes
All made from whole natural ingredients as nature intended
Full colour throughout
Icons for various dietary requirements such as nut-free, paleo and raw
Large size 8.5″ by 11″ with large font for easy kitchen reading
Nothing fried or cooked in oil
Suitable for vegan, plant-based, wheat & gluten-free and general healthy diets
All recipes can be made oil-free
No pseudo science or telling people what to eat, this book uses the carrot method to encourage a plant-based diet
No blank space as it's filled with photos and information
Information on ingredients
Explanations and recommendations for kitchen equipment
Soy free, apart from the occasional and optional fermented condiments miso / tamari
Talking About My Book
Look Inside
Sample of the layout and content:
Cost
This book is printed on demand so unfortunately, I'm unable to offer discounts off the RRP. As it's printed on demand it's significantly more expensive to produce. The minimum Amazon will let me sell it for is about £15 due to the high production costs. Once you click buy a printer is fired up to print your copy!
I've priced it at £20 as a fair price for both myself and readers. For full transparency, I gross about £3 (60% of the profit) per copy sold. I've been working on providing content that is free for the last two years while living off my savings and this is my first paid content.
Sales of this book will go towards continuing this work. I can't compete with the big publishers on price but I can on content. I've created a book that is filled with content with no blank space or filler – it's all killer! A full-length large colour recipe book that was all written, photographed, designed, edited, marketed and self-published by one person at home – with some help from my amazing parents and friends with proof-reading.