These sweets are infused with CBD (Cannabidiol) oil, turmeric, ginger and other spices. These compounds together have been shown to have powerful anti-inflammatory properties and provide pain relief. They are set using the seaweed extract agar-agar so are suitable for vegan diets. Pure fruit juice is used to sweeten without adding any sugar or other sweeteners.
CBD is thought to help with many benefits such as natural pain relief, reducing inflammation, treating epilepsy, reducing anxiety and helping with sleeping disorders to name a few research is still ongoing, see Does CBD Oil Work below.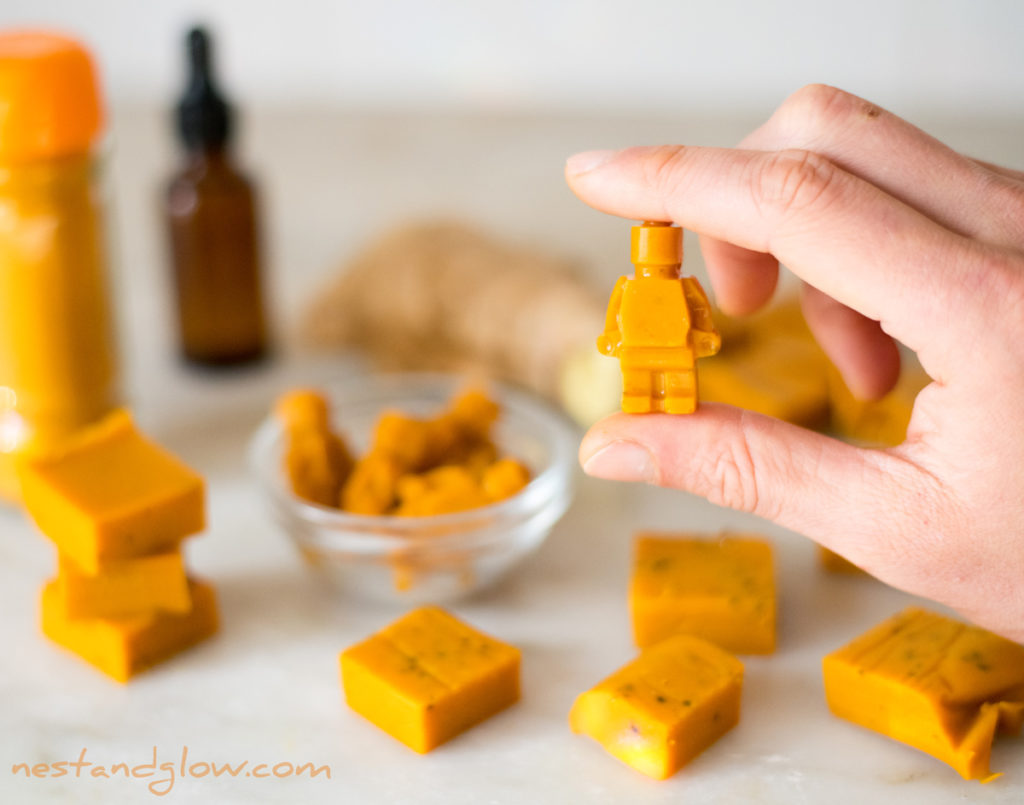 Turmeric contains the natural and powerful anti-inflammatory compound curcumin. This has been proven to have powerful medicinal properties such as anti-inflammatory, protecting from free radicals, improving brain function and helping heart health. The full power of turmeric is not yet fully understood but it's inexpensive and easy to consume some daily like in these sweets.
CBD Turmeric Ginger Sweets Video
View Fast Video or No Music Video
If you don't have a mould then you can just pour into a lined dish, then slice into squares and the recipe works just as well. I would pour into a dish and cut into cubes if I wasn't making these photographs.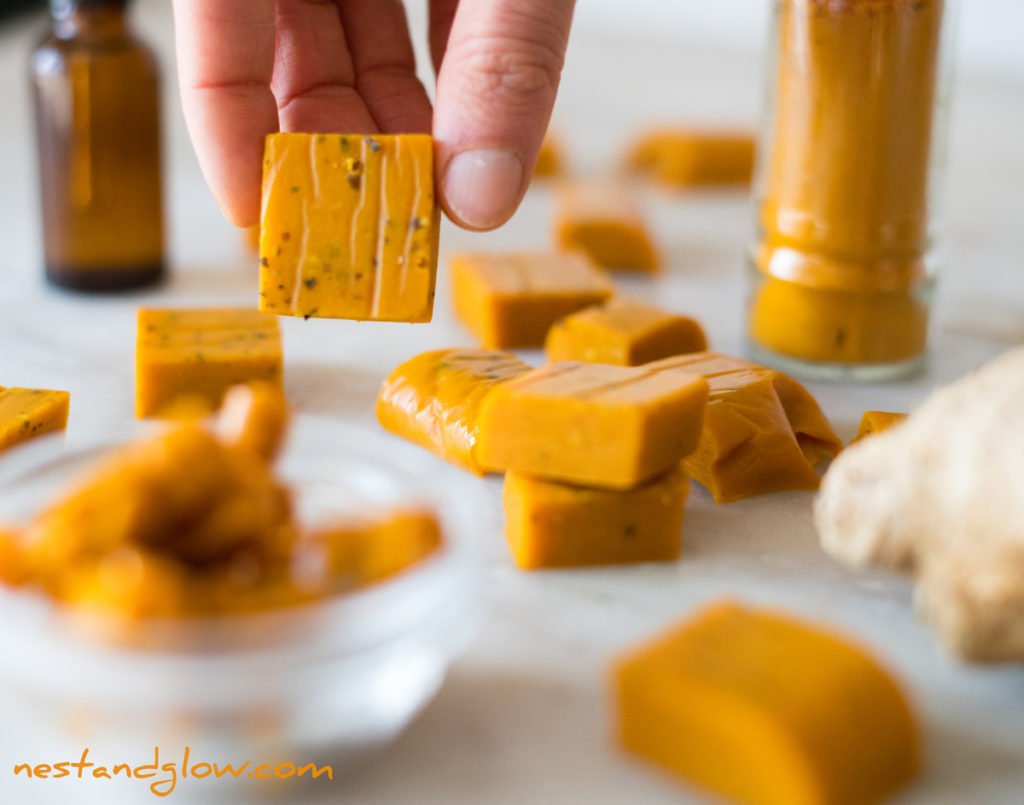 It's important to use agar agar powder in this rather than the bars or flakes as it's the most potent form. You can use the other types but you will need to adjust the amount in order for it to set and I'm not sure of the exact amount as I don't use them. Agar agar can be picked-up inexpensively from Asian shops or online at often a fraction of the cost health food shops charge.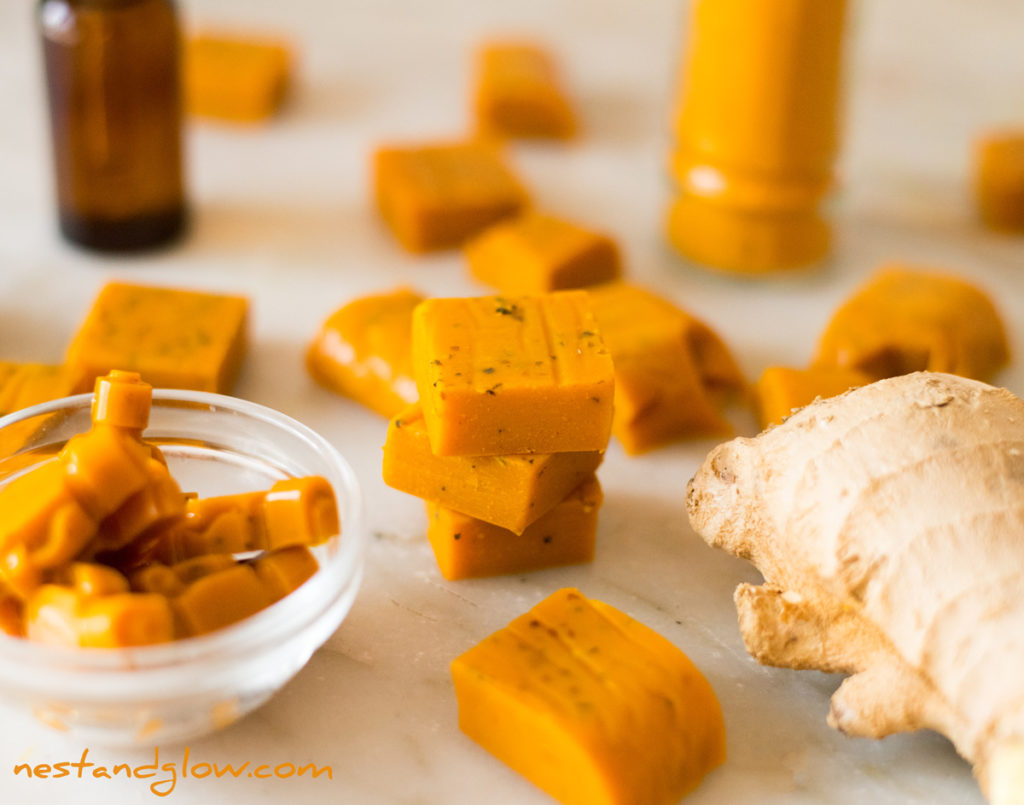 Both turmeric and CBD oil have a long and wildly recognised list of benefits and little side effects, but always ask your medical professional and refer to the bottle as strength can vary a lot. There are little long-term studies into CBD oil and the FDA has not approved it for treatment of any conditions so far.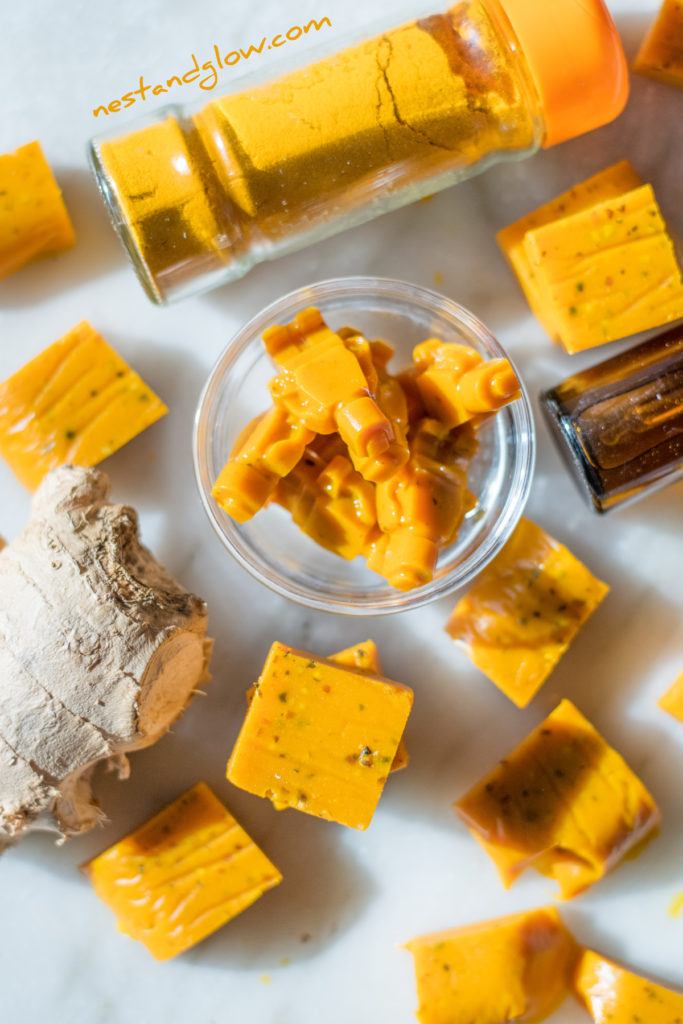 You can omit the CBD oil in this if you prefer – just the turmeric, ginger and cayenne alone have medicinal benefits.
I used a mixture of carrot and orange juice for this just because I like a 50/50 mixture of these to make a fruit and vegetable juice. You can use one or the other interchangeably depending on your tastes. It's not too important the juice type it's mainly there to sweeten but it does add some nutrition such as vitamin C and beta-carotene as well as working with the turmeric to give a golden sweet.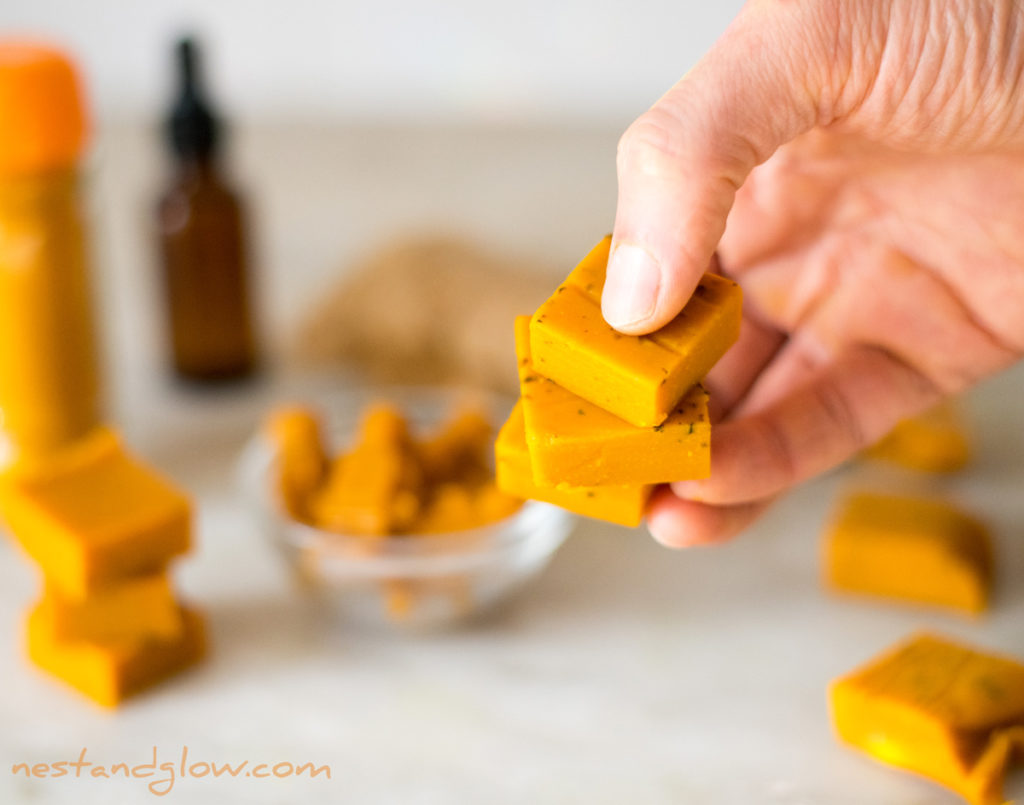 You may want to add some coconut oil to this recipe to significantly help absorption of the turmeric. Unfortunately, it doesn't look as aesthetic with coconut oil as a layer separates so I omitted it with this recipe. You can eat these sweets with some peppercorns or another natural food that is high in fat like nuts to aid absorption.
Use whole ginger with the skin still on as this contains much of the goodness. After boiling the ginger I often use it once more just with boiled water poured over to make a mild ginger turmeric tea.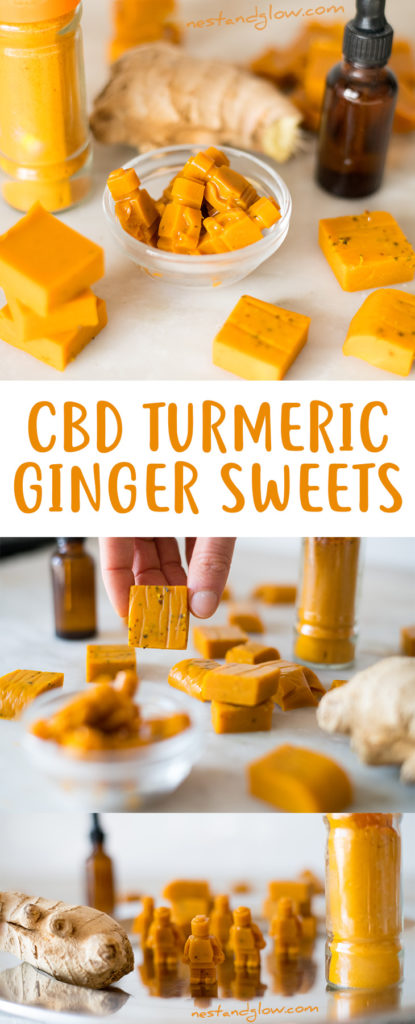 Yield: 12 CBD infused sweets
CBD Turmeric Ginger Sweets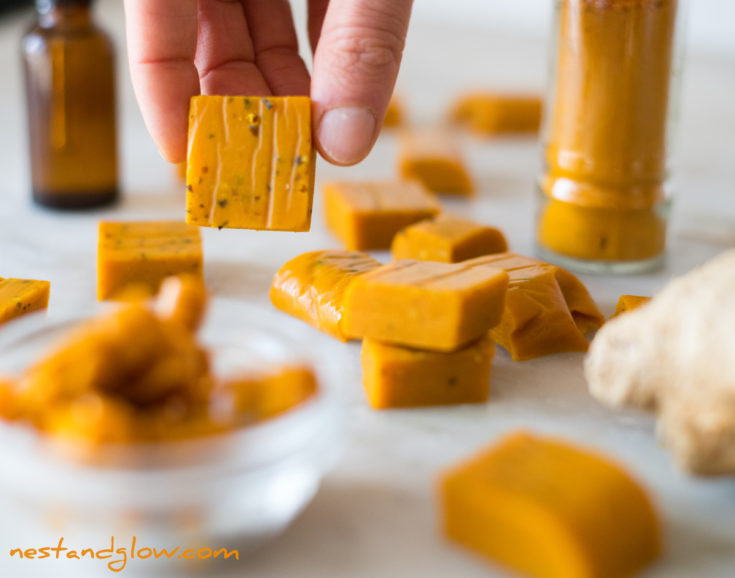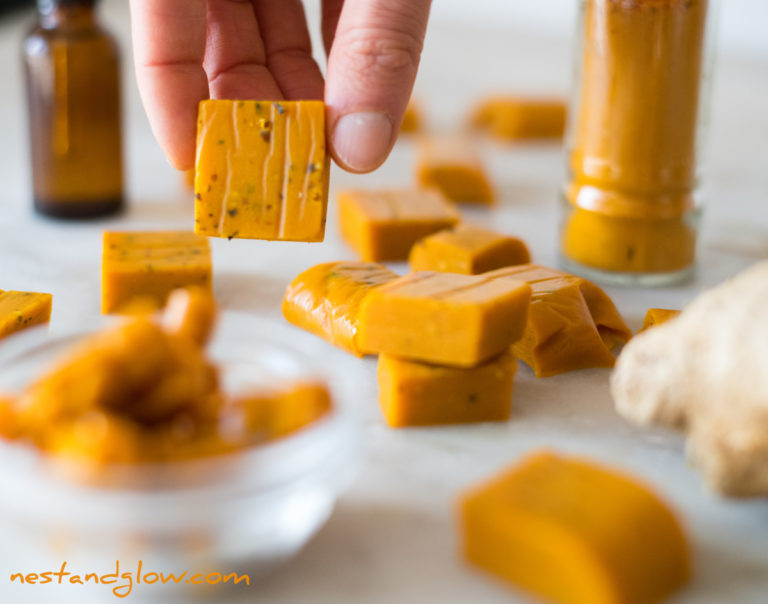 These gummy sweets are infused with CBD oil, turmeric, ginger and other spices. Shown to have powerful anti-inflammatory and provide pain relief.
Ingredients
1 cup / 240ml Carrot or Orange juice
1 tbsp Turmeric
2″ Ginger Root
12 doses of CBD oil, refer to your bottle
1 tsp Agar agar powder
½ tsp Black Pepper
½ tsp Cayenne Pepper
Instructions
Chop the ginger root into thin slices.
Place everything in a pan apart from the CBD oil and sprinkle on the agar agar to prevent clumps.
Simmer for 5 mins stirring constantly to stop any agar agar from sticking to the bottom and stopping it from setting.
Fish out the ginger slices and mix in the CBD oil.
Leave to cool for 5 mins then pour into your mould/dish and chill for 30 mins to set.
Enjoy CBD infused sweets straight away (don't exceed the CBD dose listed on your bottle) and they will last for a week in the fridge.
Equipment: Pan, Hob, Mould or Dish
Nutrition Information
Yield
12
Serving Size
1
Amount Per Serving
Calories

27
Total Fat

1g
Saturated Fat

0g
Trans Fat

0g
Unsaturated Fat

1g
Cholesterol

0mg
Sodium

8mg
Carbohydrates

4g
Fiber

1g
Sugar

2g
Protein

0g
What is CBD and Do CBD Oils Work?
CBD is a cannabinoid compound that is found in the cannabis plant. CBD oil contains a concentrated amount of CBD but this amount does vary significantly with brands. It has many reported therapeutic benefits. CBD oil legality varies across the world, it is legal in the UK but in some states in the US it's illegal.
Marijuana contains the mind-altering THC and CBD. However CBD oil is free of THC and is not psychoactive nor does it give a high. The CBD that's used medicinally is usually extracted from hemp. Both marijuana and hemp come from the cannabis sativa plant but they are very different. Marijuana has been extensively bred to be high in THC and as a result low in CBD. Some studies suggest the high THC without the CBD to balance it out can cause medical issues such as psychosis. Hemp growers have not tended to selectively breed the plants that are used to create CBD oil making it closer to as nature intended.
CBD oil has had limited research but initial reports show that some people suffering from such conditions as chronic inflammation and pain have had relief when using the oil. This has also been backed up by a study that showed CBD was effective at reducing pain and inflammation in some mice and rats. More research is needed but there are many people suffering from conditions such as arthritis, multiple sclerosis, epilepsy and chronic pain that swear by its use. Glycoma sufferers have also reported a benefit from using CBD oil.
Always follow the directions on the bottle, they will give the correct dosage not to exceed and usually refer you do a medical expert for advice. This recipe is not medical advice and is just an idea of how to incorporate CBD oil and turmeric into a sweet. It's important if you are on any medication or have any serious medical condition to always consult your medical professional.
Most people have no side effects with CBD oil but some people can experience tiredness, diarrhoea, appetite changes or weight gain/loss. Some studies have shown the CBD can reduce inflammation too much and diminish the lungs defence system thus increasing the risk of infection. It's important to not exceed the dose on the bottle.