These 3 ingredient healthy vegan cookie dough bites are simple and fun to make. Oats and dates together make a nutrient dense caramel cookie taste that is enrobed in a thick layer of antioxidant-rich high cocoa chocolate.
This vegan cookie dough recipe is also free of nuts and chickpeas. Tasty fudgy balls that are ready in 5 minutes and a great high protein nutrient dense snack. Unlike many healthy treats, they are very fulfilling after just one or two.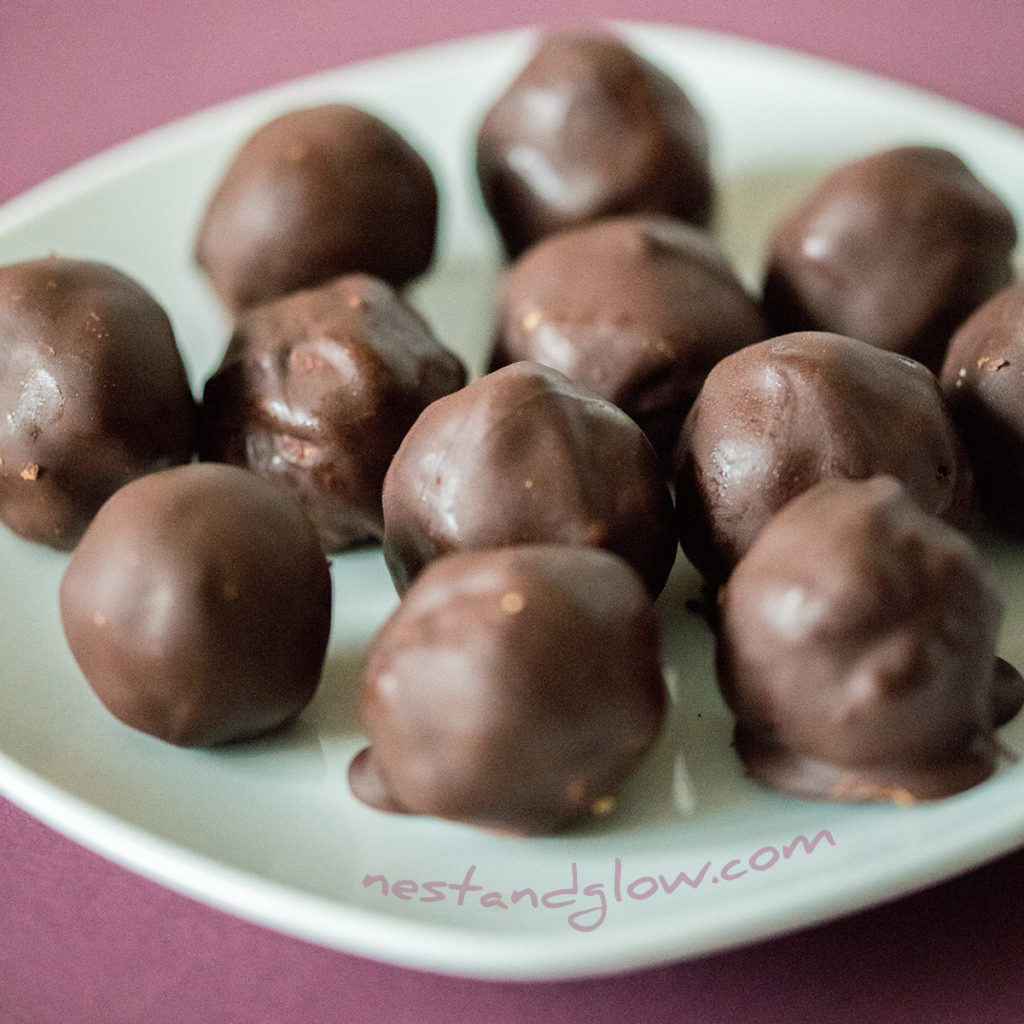 I came up with these three ingredient cookie dough balls while having a vegan cheesecake and this was used as the base. I had no idea that just oats and dates blended together actually work so well to create such a good taste and texture. I previously had always assumed that oats needed to be cooked before eating.
Rolled oats that you buy that are almost always pre-cooked there been lightly steam during the processing. Once they are ground up and mixed with the dates they are great to eat without cooking again.
Cookie Dough Bites Video Recipe
Play on YouTuber or no music video.
You want to use the type of oats that go quite crumbly in your fingers as they've got a good texture for these cookie dough balls. Avoid the hard jumbo oats that are quite firm and keep their shape after cooking as it will result in tough bits and even blended the texture just won't be great.
You can make these chocolate cookie dough balls raw by making your own raw chocolate by using one third cacao butter with 1/3 cacao powder and 1/3 sweetener such as maple syrup. Even though oats are lightly cooked they are often still allowed on a raw vegan food diet as is maple syrup as they're quite nutritious.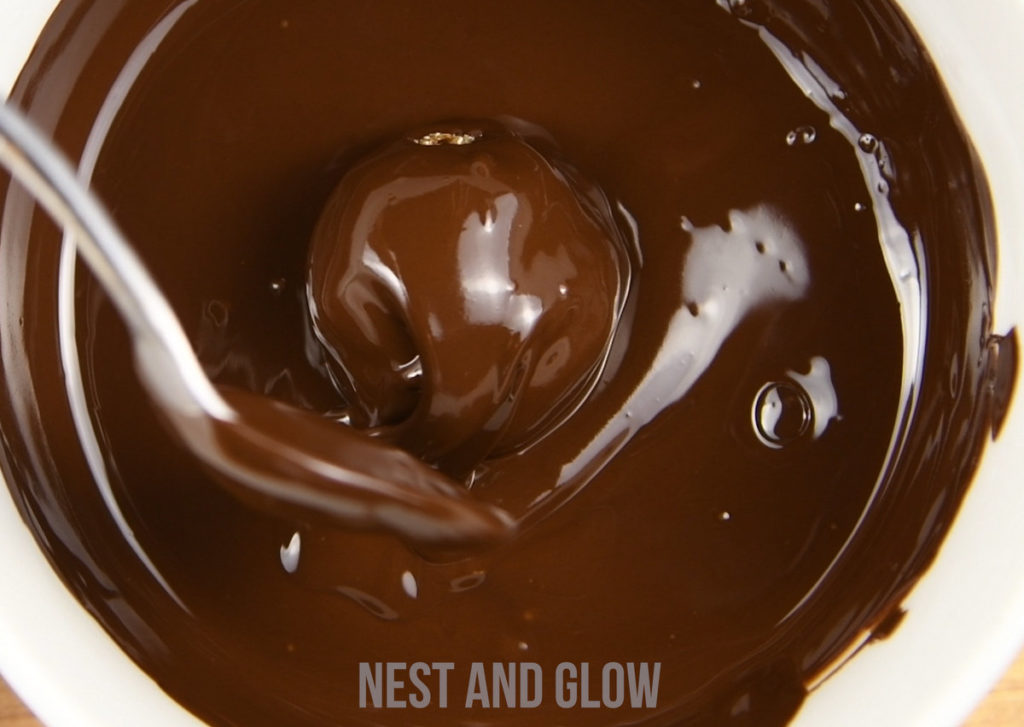 Oats are naturally gluten free but usually contaminated with gluten during processing and growing. You can make with gluten-free oats if sensitive to gluten.
Oats do contain avenin which is structurally similar to the gluten in wheat but it's a different substance. Three-quarters of people that have an issue with normal gluten can handle oat gluten/avenin fine without any issues. But if you're making these for someone that's sensitive to gluten do check if they are ok with gluten-free oats.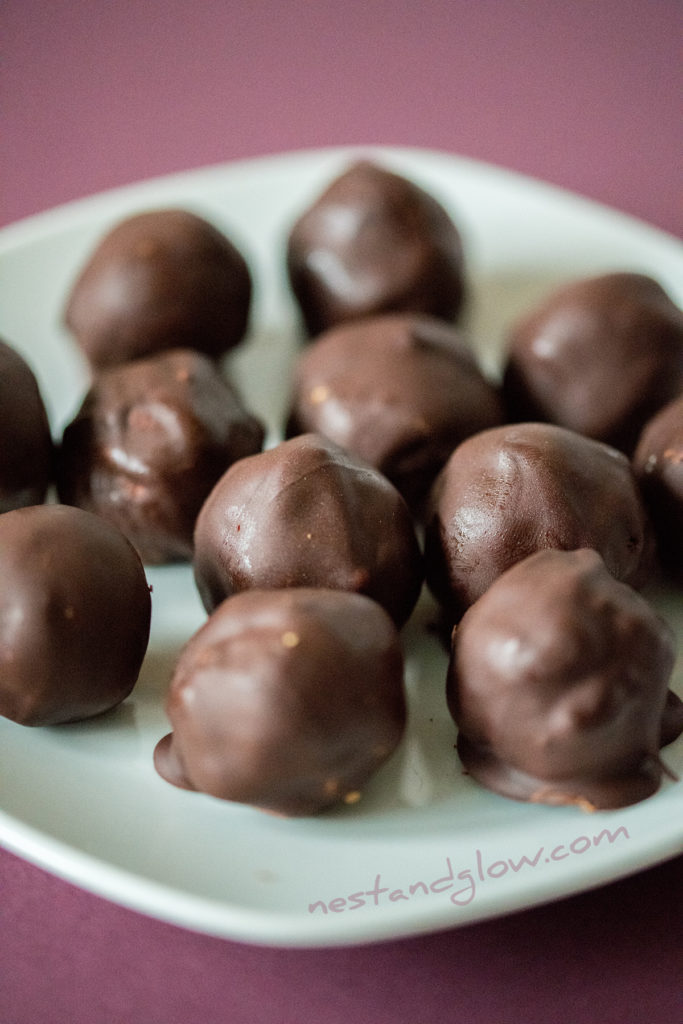 I think of this recipe as a base cookie dough bites recipe to add any flavours or flourishes that you enjoy. I like to make these triple chocolate by adding raw cacao powder to the cookie dough and then sprinkling with cacao nibs. Then you get chocolate in the inside chocolate on the shell and deep bitter cacao intense flavour that works well the sweet dates.
I'm using a dark chocolate for this and even if you're not a fan of dark chocolate I recommend using high cocoa content chocolate as the dates are quite sweet and together they complement each other. I like a dark chocolate that's at least 80% cacao as it's low in sugar and high in beneficial flavonoid antioxidants.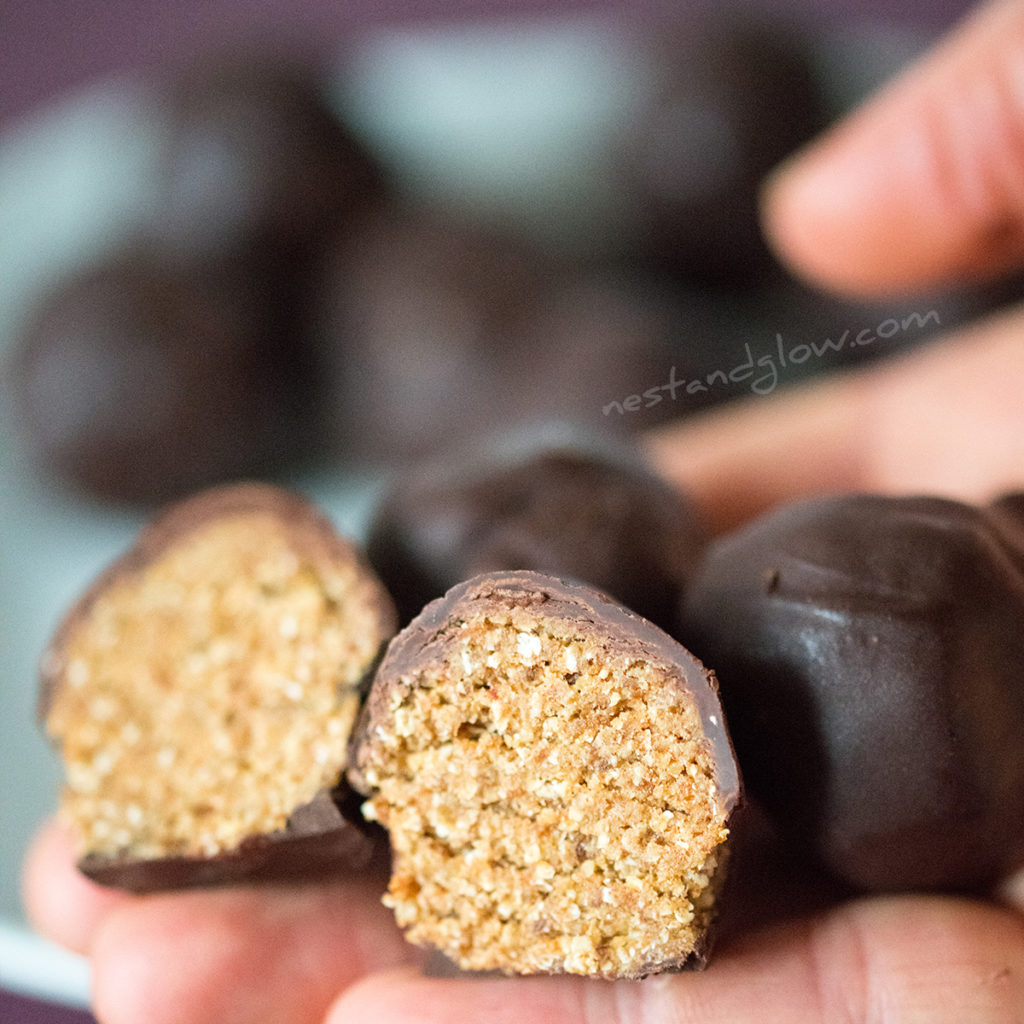 You can get a totally sugar-free chocolate if you like and I suggest to get chocolate that is sweetened with xylitol stevia or everything out. These alcohol sugars may sound like chemicals and her bad for you but xylitol is just refined sap from birch trees.
I use bog standard pitted dates to make these cookie dough bites. Medjool dates are amazing but they're so expensive and I just really can't justify them in my life. Normal dates as long as they are soft enough that you can break them with your fingers there be fine in a blender for this cookie dough recipe.
Don't get dates that have added water and preservatives as they're not needed and you're getting unnecessary preservatives and paying for water. Even if your dates and pitted do still give them a bit of a squeeze to make sure no pits remain is the pitting process isn't perfect. As date pits are very hard, one left in then ground up makes lots of hard pieces that will ruin the whole recipe.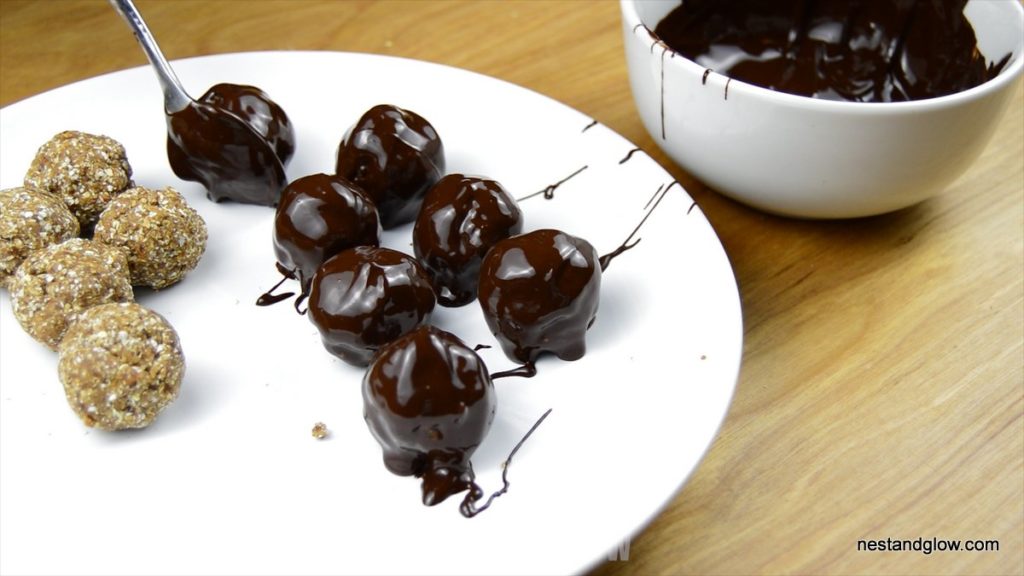 I love using just a normal bullet or small jug blender for this. A 600w blender is powerful enough to this recipe is it so small. A normal blender might not work for this as the jug is just so big so it's a just a small amount. In my recipes, 95% of the time I'm just using a small bullet type device as it's just so convenient to clean and use.
While making these in a small blender you want to blend until the dough all sticks together just so you know it all combines properly. If it's powdery don't stop blending as you just won't have the right texture – it will just be too crumbly. If you have issues while blending just scrape down the sides and continue until you get a firm ball.
Next time when I make these I would definitely make cookie dough balls much smaller as they were quite large. Here I think I made about 12 and ideally I'd rather make 20-24. Partly I made them bigger just to make it easier to photograph and also as I make them on my hands and knees while filming I don't want to spend too long in an uncomfortable position.
For easy chocolate tempering, I melt 3/4 of the chocolate, take off the heat then stir in the remaining 1/4. This is an easy way to get the temperature right to give the glossy covering and right snap. I have no patience to be playing with thermometers in the kitchen.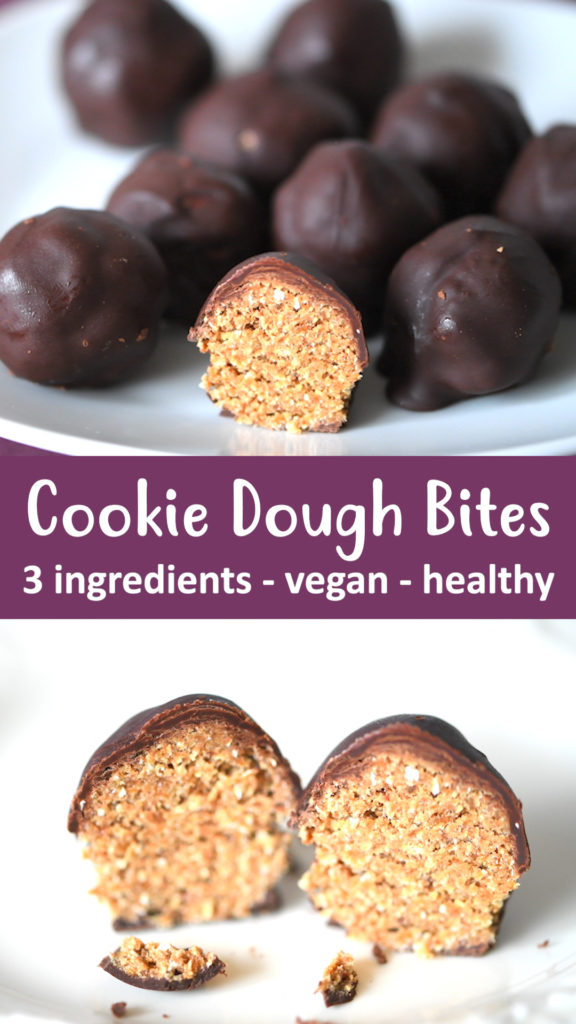 Yield: 24 cookie dough bites
3-Ingredient Cookie Dough Bites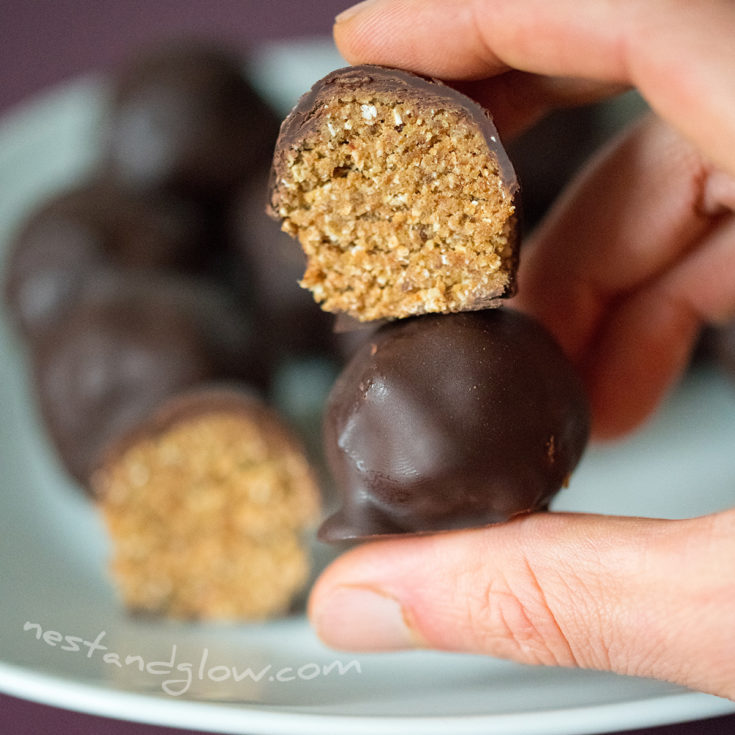 These 3 ingredient healthy vegan cookie dough bites are simple and fun to make. Oats and dates together make a nutrient dense caramel cookie taste that is enrobed in a thick layer of antioxidant-rich high cocoa chocolate.
Ingredients
1 cup / 100g Oats
1 cup / 175g pitted Dates
3.5 oz / 100g Chocolate
Instructions
Place the oats and dates into a blender, this works best in a small bullet type blender. Check that no pits remain in the dates.
Blend for about a minute until combined and not crumbly. You may want to do this in batches to not stress the blender motor.
Melt 3/4 of the chocolate in a double boiler/bain-marie.
Take off the heat once melted and stir in the remaining 1/4 to easily temper the chocolate
Leave the chocolate to get a bit thicker to give a good coating while you shape the balls.
Take about a heaped teaspoon of the cookie dough mixture and roll into a firm ball, repeat for all of the mixture.
Drop each cookie dough ball into the chocolate and use a spoon to coat.
Remove from the melted chocolate, shake off the excess then place on a flat surface to dry. As you drop the chocolate cookie dough ball to dry try to put the excess melted chocolate on the top so that they don't sit in a pool of chocolate.
Keep the chocolate cookie dough bites in an airtight container out of sunlight and somewhere cool and they will last for weeks.
Nutrition Information
Yield
24
Serving Size
1
Amount Per Serving
Calories

59
Total Fat

2g
Saturated Fat

1g
Trans Fat

0g
Unsaturated Fat

1g
Cholesterol

1mg
Sodium

4mg
Carbohydrates

11g
Fiber

1g
Sugar

7g
Protein

1g