Dairy-free Coconut yoghurt is expensive to buy so instead make your own. It's very easy to make, you just need some patience and some probiotics or existing coconut yoghurt. Suitable for vegan, plant-based, dairy, paleo and healthy diets. Full of heart healthy fats and gut-beneficial live bacteria.
This is just a recipe for basic vanilla coconut yoghurt. I always make it vanilla and then once it's fermented then you can add flavourings such as fresh fruit on top. In the photos I served with a mixture of frozen berries.
Dairy-free Coconut Yoghurt Video Recipe
It's optional to add a sweetener to the yoghurt but I find a tablespoon of something goes really improves the flavour. Use any sweetener you like, as we are a healthy plant based website I recommend to use an unrefined sweetener with minerals such as maple or date syrup.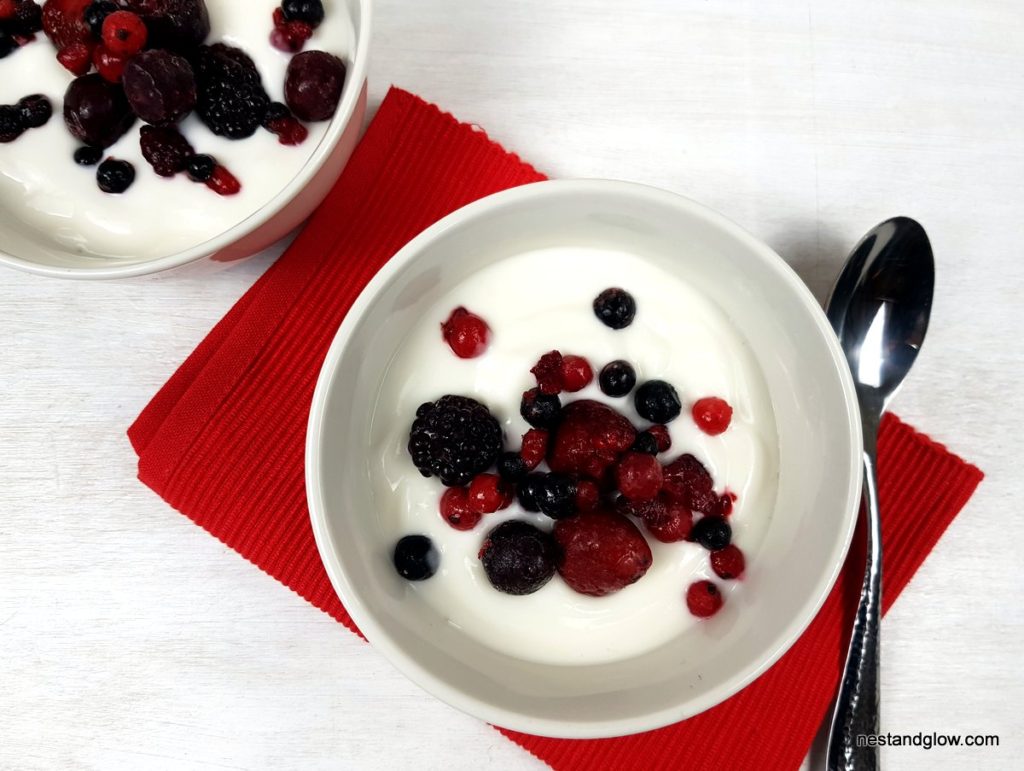 If you don't have tapioca starch flour then you can use the seaweed Agar Agar instead it's the same ingredient that we used for our fruit juice jelly sweets. Only half a teaspoon of Agar Agar is needed to set this. As this is a fermented food is important to be very hygienic make sure your hands and all other equipment clean.
Yield: 4 servings
Coconut Live Yoghurt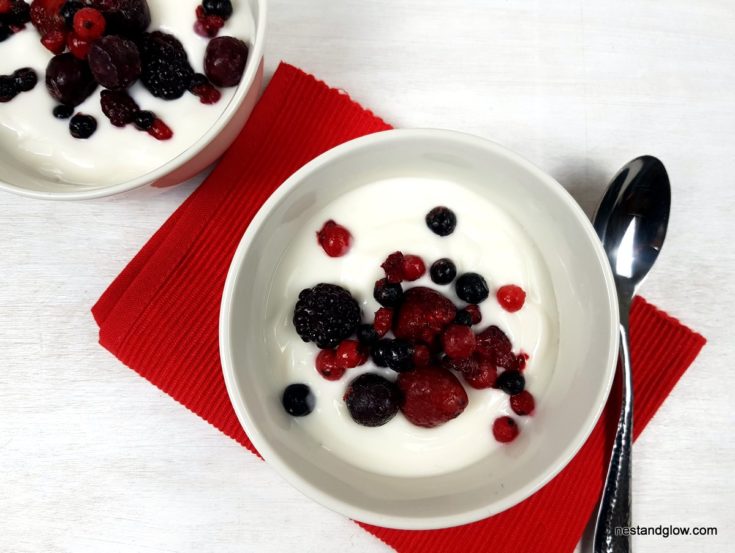 Homemade coconut yoghurt that's bursting with live cultures. Save money by making your own dairy free yoghurt.
Total Time
12 hours
18 minutes
Ingredients
1 Can (14 oz / 420ml) Coconut milk, not low fat
1 tbsp Tapioca starch / 1 tsp Agar agar
1 tsp Vanilla
½ tsp probiotic powder / 2 probiotic capsules / 2 tbsp coconut yoghurt
1 tbsp sweetener such as maple or date syrup
Instructions
Sterilise the jars that you will be using. I use old jam jars and just taking them out of the dishwasher (and not touching the inside) will make sure they are sterilised.
Empty the coconut milk into a pan and mix until combined.
If using tapioca starch sieve in and whisk to combined.
If using agar agar just sprinkle on top
Bring the pan to a simmer for 5-8 mins until its thick from the starch or the agar agar has dissolved.
Leave to cool until its cool enough to touch, this is important as anything over 100 F / 38 C will destroy the cultures in the probiotics.
Mix in the probiotics, empty the contents of the capsules if using or mix in the yoghurt.
Pour into your jars and leave somewhere warm (100 F / 38 C is optimal) for 12-24 hour to get cultured. If you have a yoghurt maker this works great but I just place in my boiler cupboard.
Place in the fridge to set for a couple of hours when yoghurt has fermented enough for your taste.
Keep your coconut yoghurt chilled and eat within two weeks. It's normal to get some separation – just stir it before you eat.
Notes
You can sterilise your jars by placing in an oven for 5 mins at 50 C / 120 F. Alternatively you can pour in boiling water and let stand for 5 mins before emptying and leaving to dry.
You may notice in the video I didn't sieve my tapioca starch, that's why it was a tad lumpy. But if you make the same mistake whisk it for a min while heating and it will be fine.
Nutrition Information
Yield
4
Serving Size
1
Amount Per Serving
Calories

282
Total Fat

5g
Saturated Fat

3g
Trans Fat

0g
Unsaturated Fat

2g
Cholesterol

21mg
Sodium

161mg
Carbohydrates

47g
Fiber

2g
Sugar

26g
Protein

12g

I think coconut milk is the best dairy free yoghurt. The only downside is it's not a high protein dairy free yoghurt. But most dairy-free yoghurts are low in protein.