Vibrant earthy raw kale in a creamy hummus dip that goes perfectly with baked sweet potato chips. This healthy dish is a complete meal that's perfect to serve two as a main or four as a starter.
This recipe contains up to 3 portions of your 10 a day fruit and vegetables. Suitable for vegan, plant-based, gluten-free, cooked oil-free and general healthy whole food diets.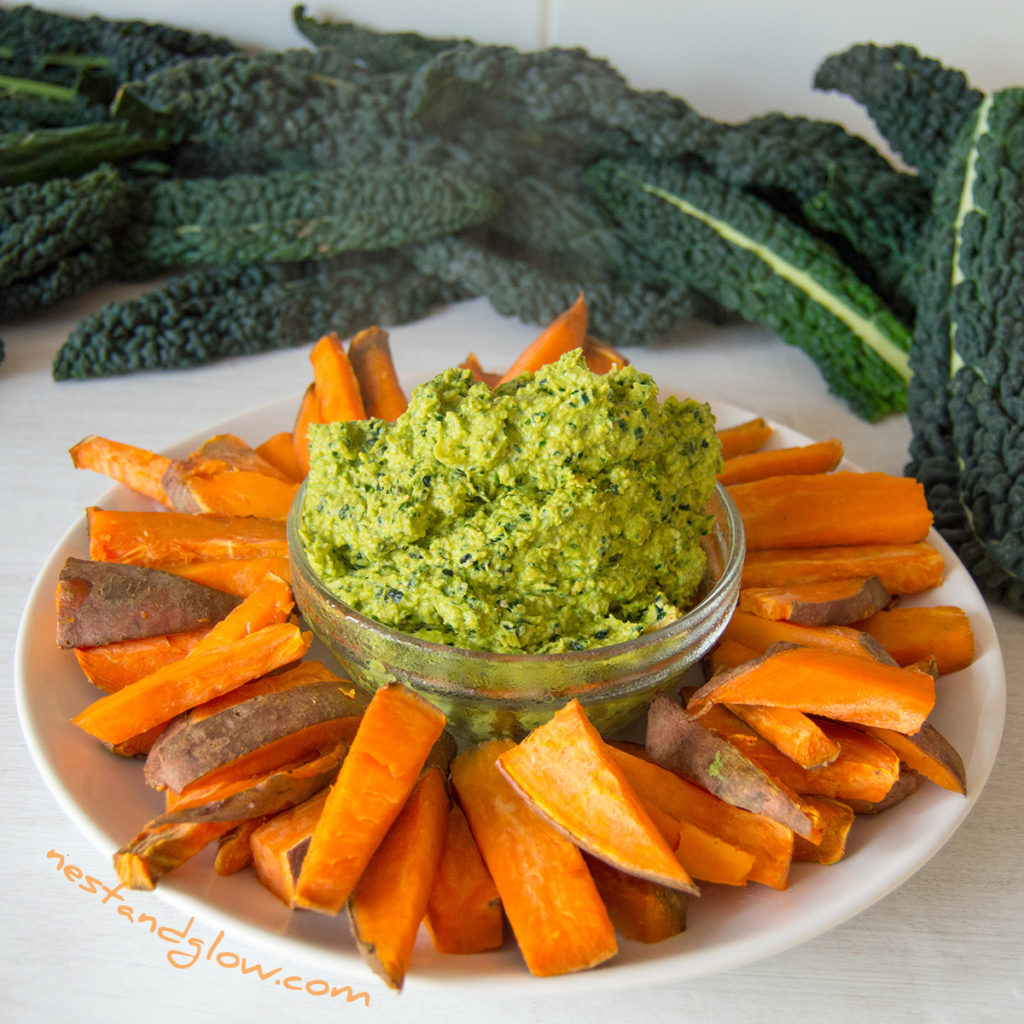 Ground sesame seeds are used in this rather than tahini. This is because its cheaper and traditional tahini is roasted and I limit cooked fats for health reasons.
You can grind your sesame seeds in a small bullet type blender in a few seconds or use a coffee grinder.
Kale Hummus and Sweet Potato Chips Video
I always use unhulled sesame seeds – they are darker in colour and more nutritious. For a less earthy sesame taste then use the lighter hulled sesame seeds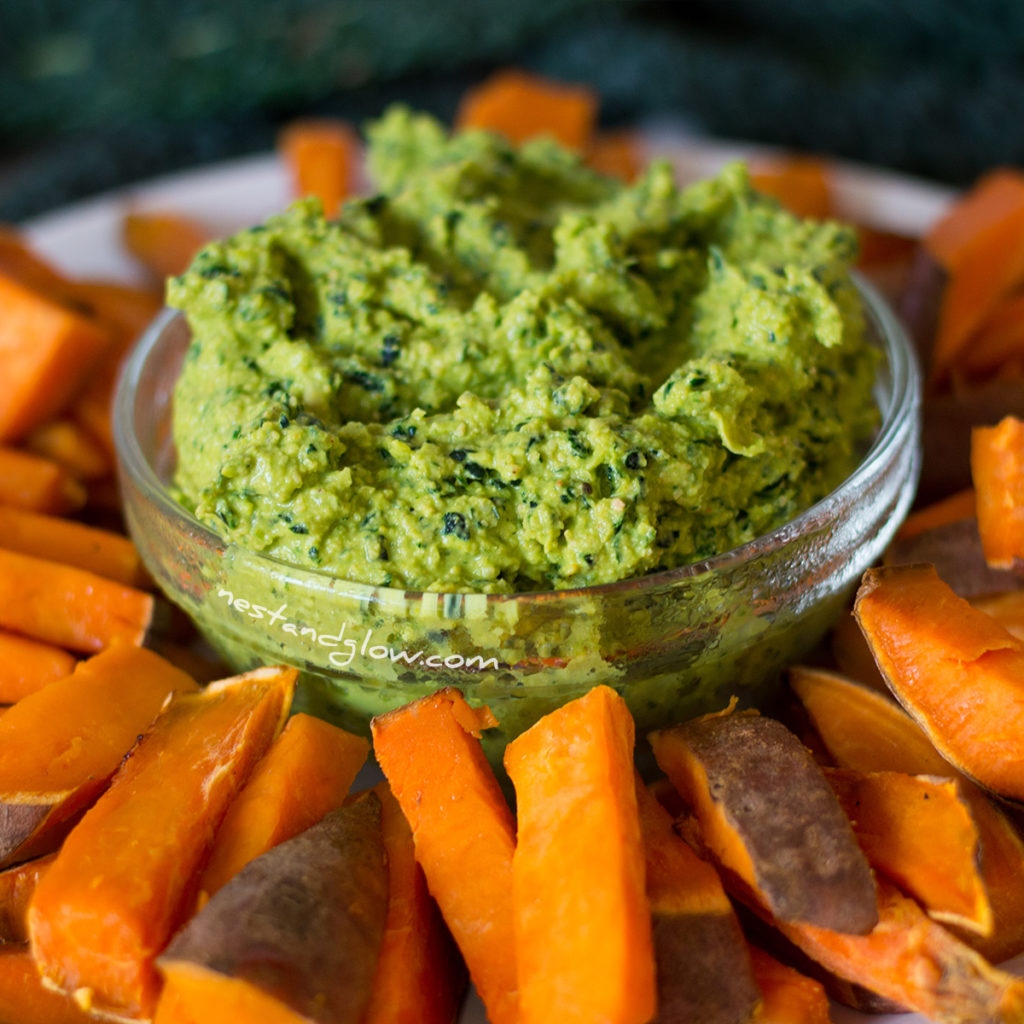 The chips are a little less cooked than I would have usually liked. As the sun was close to setting and I like to shoot under natural light I decided to take out of the oven once cooked even though they could do with a few golden spots. I leave the skins on as many of the nutrients are in or close to the skin.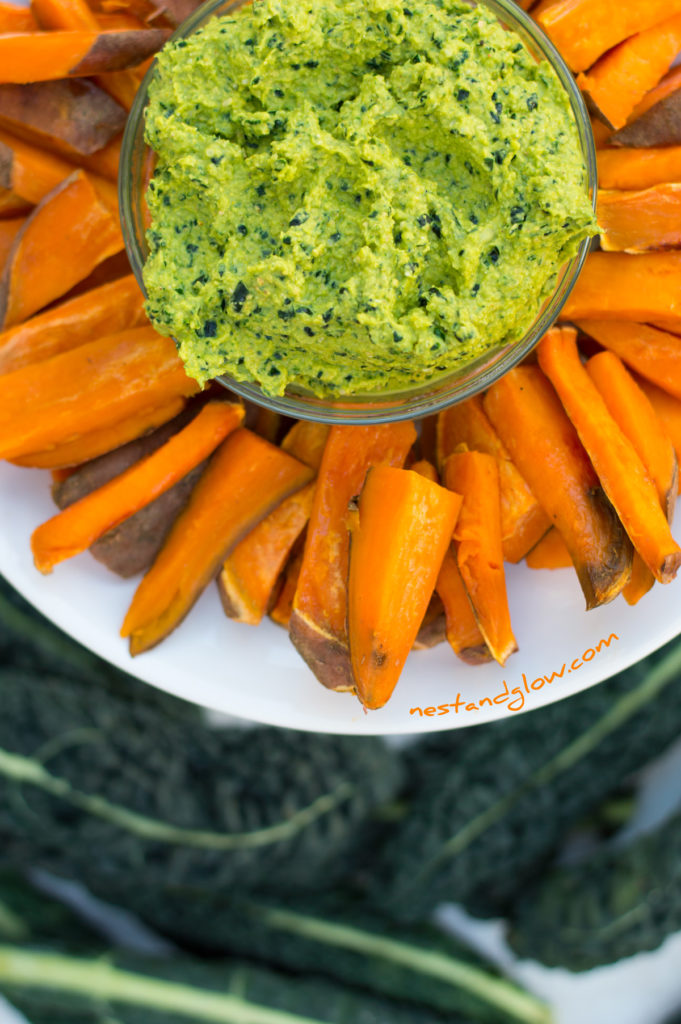 Baking gives the skins a soft texture compared to steaming that can give a fibrous tough skin. There is no oil added to the chips for health reasons. They still bake well but they taste best just out of the oven and still warm.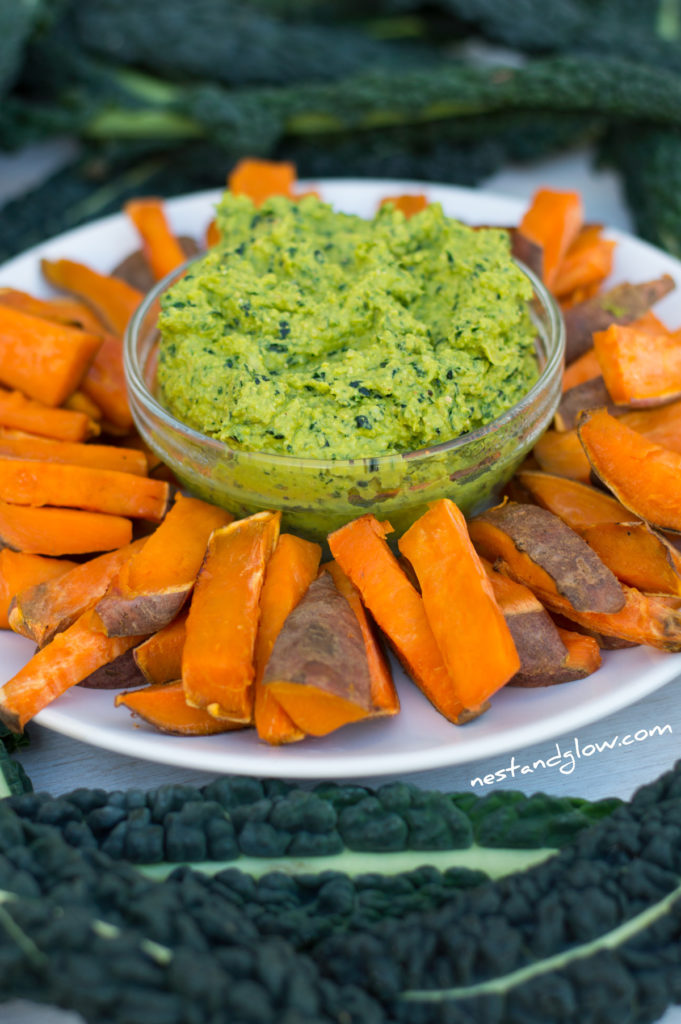 I'm, using cavolo nero AKA black kale in the video and photos for this recipe. It's my favourite type of kale but you can use any that you like. Red Russian is a purple kale and gives a beautiful purple coloured dip. If you can use whole kale leaves still on the stems rather than the processed kale that has been chopped and put in a sealed bag as it is less nutritious.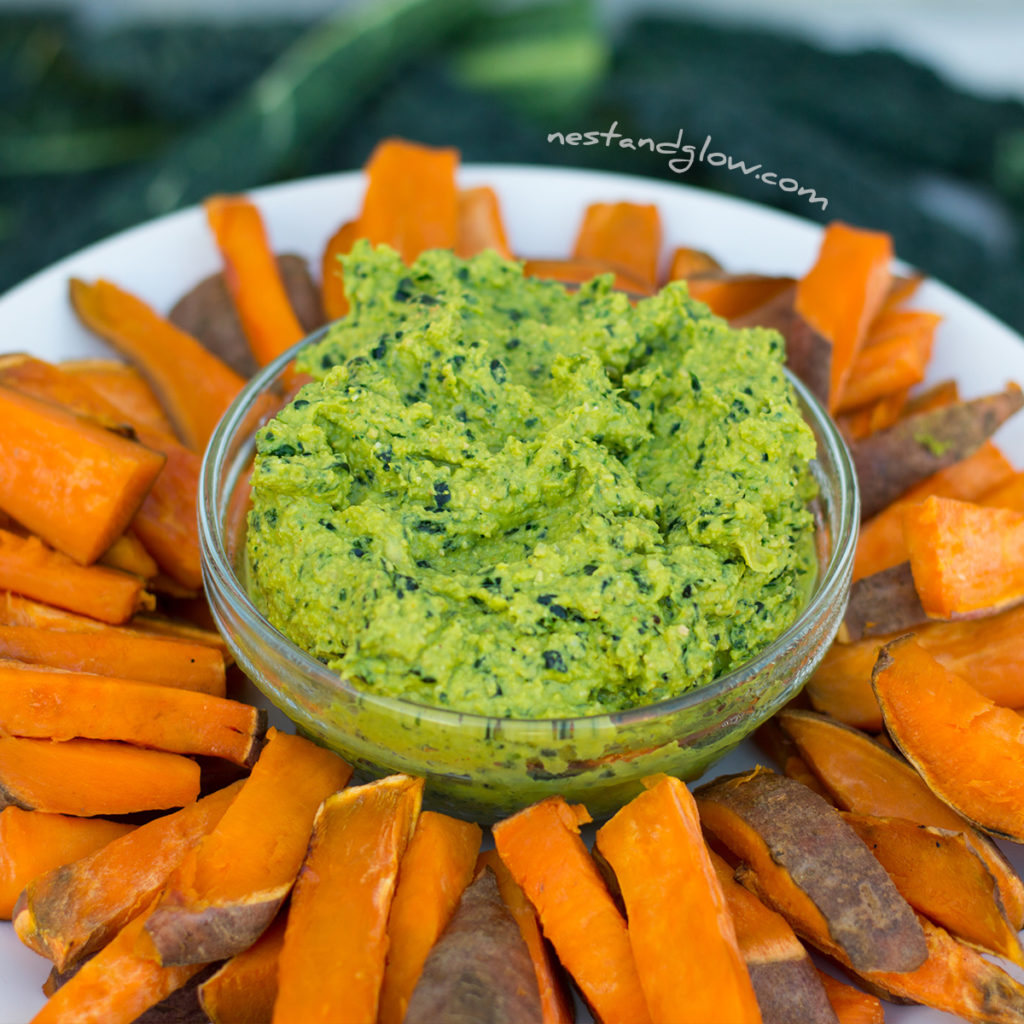 I'm a huge fan of bitter lemon so often add a small amount of lemon zest into this recipe. A slight biggerness really helps to elevate the taste of this dish but as some people are put off by the idea I omitted it from the recipe.
Yield: 4 servings kale hummus
Kale Hummus with Sweet Potato Chips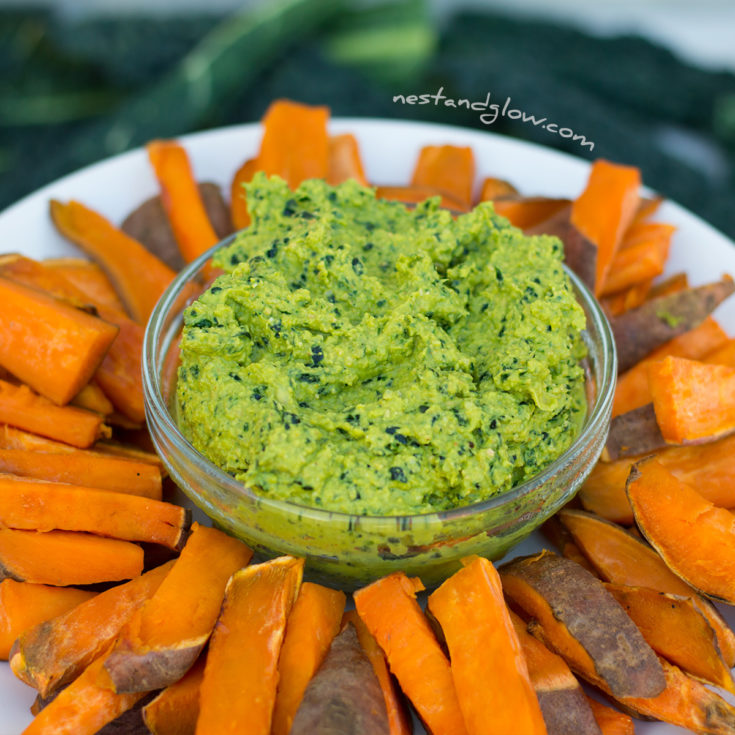 Vibrant green kale hummus that is bursting with goodness and tastes amazing. Just a small amount of raw kale is used for this high protein hummus so you get a beautiful green colour and a mild hint of kale without it being overpowering.
The perfect dip for some oil free sweet potato chips. Or you could just eat the green hummus with a spoon. This kale hummus is made without tahini.
Ingredients
1 tin Chickpeas, 15oz / 400ml
1 cup / 75g Kale, off stems
2 large Sweet potatoes, 300g / 10oz
4 cloves Garlic
4 tbsp ground Sesame seeds
2 Lemons, juiced
2 tbsp Extra Virgin Olive Oil, optional
¼ tsp Turmeric
¼ tsp Cayenne pepper
Salt and Pepper to taste
splash of Water, for blending
Instructions
Pre-heat the oven to 450F / 230C.
Slice the sweet potato into bite-sized chips.
Spread out on a non-stick sheet and bake until golden.
Rip the kale off its stems.
Place everything left apart from the water into a food processor.
Blend for a few minutes until all combined and the hummus is a bright green colour.
Enjoy kale hummus while the chips are still warm and any leftovers will last 3 days in the fridge.
Nutrition Information
Yield
4
Serving Size
1
Amount Per Serving
Calories

305
Total Fat

13g
Saturated Fat

2g
Trans Fat

0g
Unsaturated Fat

10g
Cholesterol

0mg
Sodium

111mg
Carbohydrates

42g
Fiber

10g
Sugar

9g
Protein

10g