These healthy slider burgers are free of wheat, dairy, gluten, nuts and oil. They are high in protein, fibre, heart-healthy fats and nutrition. Each slider may look small but they are a very filling and a couple will easily make a main meal.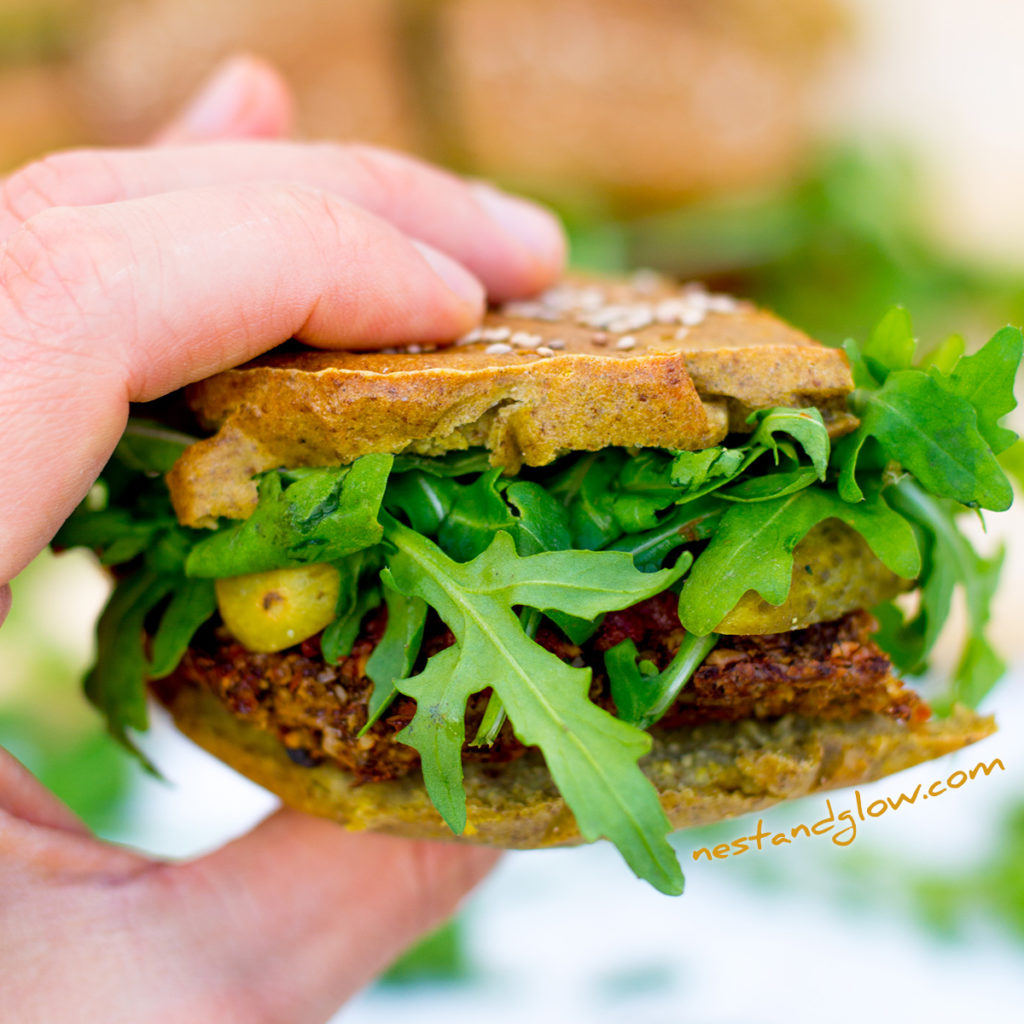 The ingredient list may look quite long but it's still an easy recipe but isn't something that can be made in a rush. Just the flatbread or the burger can be made on their own to go with other dishes.
Quinoa Veggie Burger Sliders Video
You can leave out the baking powder if you prefer it to be leaven-free. I find it only makes a small difference to the final product. This quinoa bread is a flatbread and won't rise like a traditional yeast and wheat bread.
The quinoa for these sliders is soaked in order to sprout and make it easier to digest and blend. You can do a quick soak for 15 minutes in warm water if you are short of time.
When making this gluten free vegan sliders recipe it's important to make sure the quinoa is totally broken up else you will get hard bits in the final product. You don't need a powerful blender for this – a 600w small bullet blender will do the job well but it may have to be done in two batches.
I'm using a combination blender and food processor to make this, but almost any food processor and reasonably powerful blender can make this but some may take longer.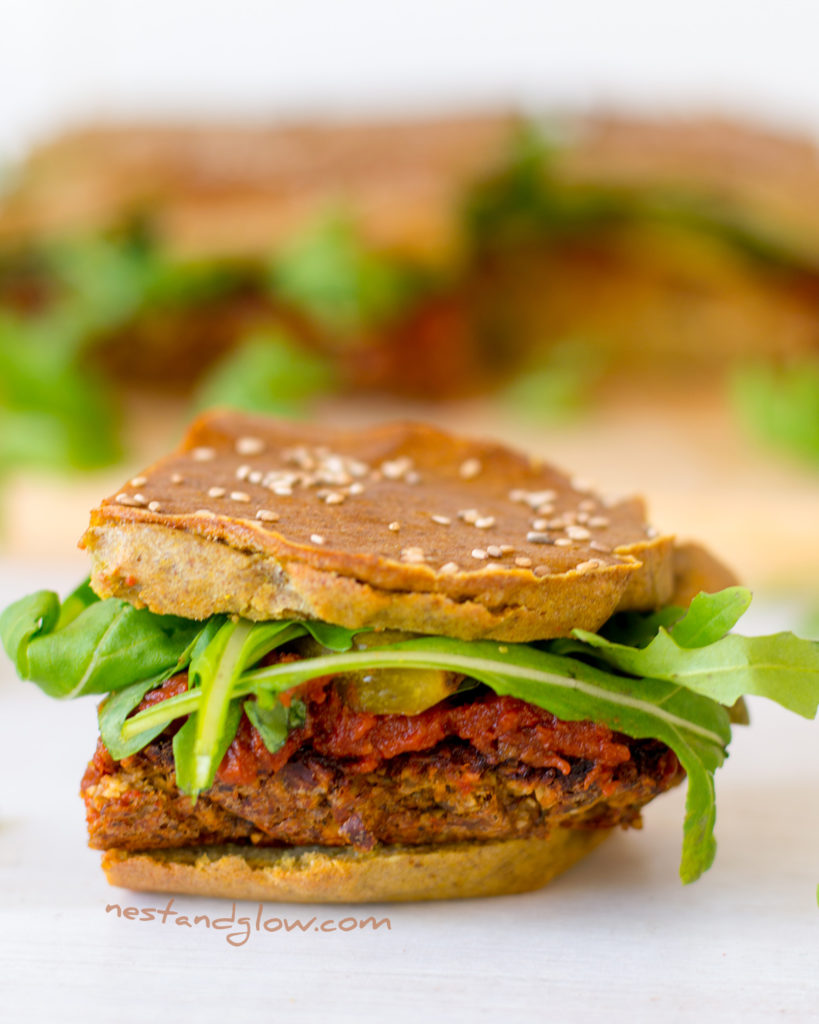 The fillings in this are totally optional – I love sundried tomatoes, gherkins and rocket and think the flavours go really well together. Another great filling is sliced tomatoes and stringy cashew mozzarella cheese.
This recipe is nut-free because I probably eat too many nuts, seeds are cheaper and many are allergic to nuts. The seeds can easily be replaced with nuts in the burger if you prefer. I find walnuts and brazil nuts are a great alternative but you can use any combination of nuts you have and it will work.
Chia seeds are used in both the flatbread and the burger to add nutrition and to help bind the ingredients. The resulting burger can be a tad crumbly and that's why I chose to make these into burger sliders.
Sliders are small burgers that are great for finger food. These little burgers are quite dense due to being gluten-free and high in seeds so a few chewed slowly will fill an adult up.
Yield: 9 veggie sliders
Quinoa Veggie Sliders - Vegan and Gluten Free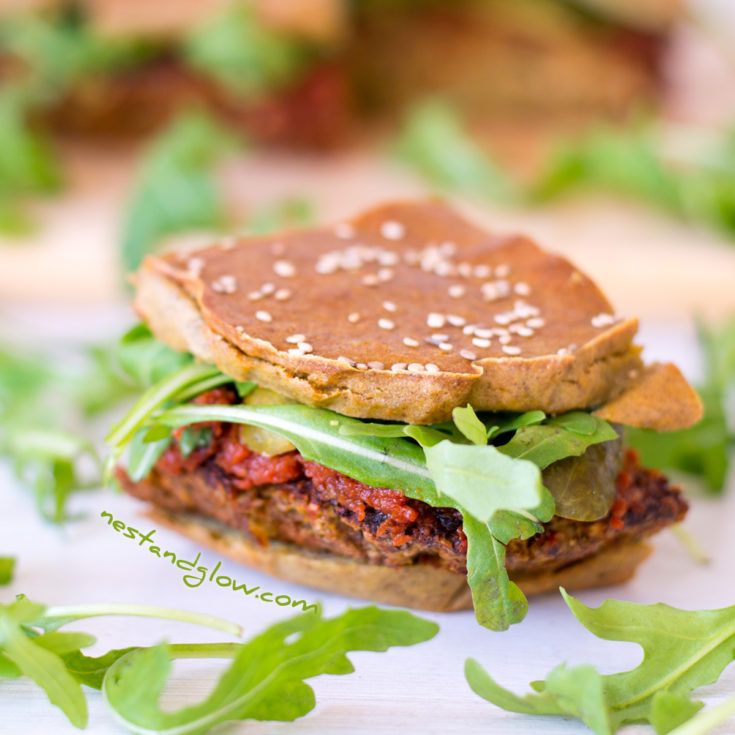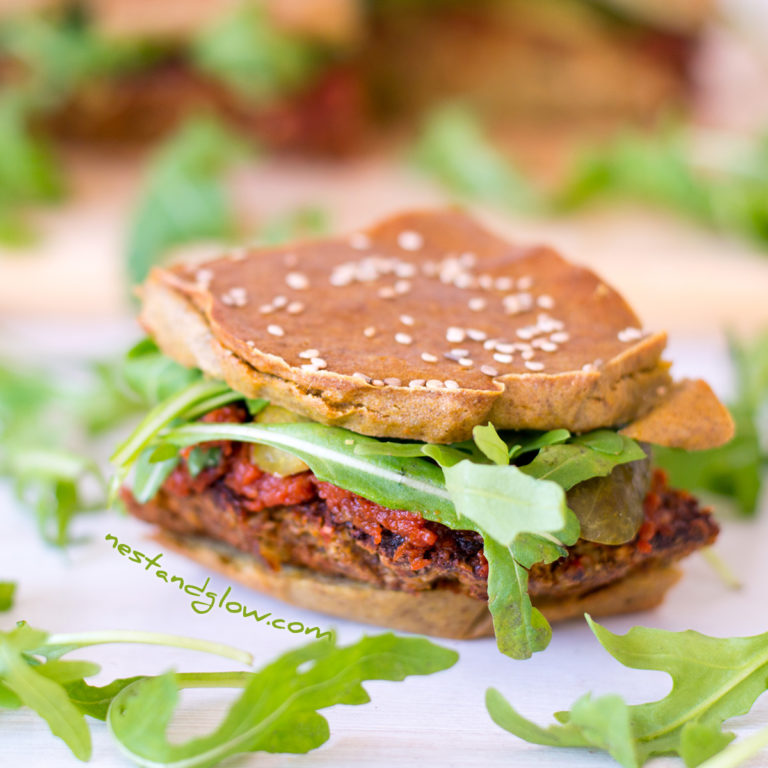 Healthy slider burgers are free of wheat, dairy, gluten, nuts and oil. They are high in protein, fibre, heart-healthy fats and nutrition.
If you want a healthy slider that's bursting with nutrition look no further than this recipe.
Total Time
1 hour
20 minutes
Ingredients
QUINOA FLATBREAD
2 cups / 340g Quinoa
2 Garlic Cloves
¼ tsp Turmeric
¼ tsp Cayenne pepper
¼ tsp Baking powder
3 tbsp ground Chia seeds, soaked 9 tbsp Water
1 cup / 240ml Water
pinch of Salt and Pepper
Water for soaking
SEED AND VEGETABLE BURGERS
½ cup /70g Sunflower seeds
½ cup / 65g Pumpkin seeds
1 Carrot
1 Celery stick
1 small Red onion
1 heaped tsp Smoked paprika
3 tbsp ground Chia seeds, soaked 9 tbsp Water
Water for soaking
SUNDRIED TOMATO KETCHUP
8 Sundried tomatoes, soaked
4 tbsp Apple cider vinegar
Water for blending
SLIDER FILLINGS AND TOPPING
8 Gherkins, sliced lengthways
a handful of Rocket
2 tbsp Sesame seeds
Instructions
Soak the quinoa in one bowl and the sunflower and pumpkin seeds in another with water and a pinch of salt. 8 hours soaking time is ideal but an hour is sufficient.
Drain the quinoa add to a blender with all the other flatbread ingredients.
Blend until smooth and then pour into a greaseproof paper lined tray about 8″ square.
Drain the pumpkin and sunflower seeds then add to a food processor along with everything else for the burgers.
Blend until combined and sticking together. Spread out in a lined tray about 8″ square.
Bake both at 375F / 190C for 50-60 minutes until a knife comes out clean.
Leave to cool and firm up while blending the tomatoes and vinegar for the ketchup.
Turn out the quinoa flatbread and slice in half horizontally.
Place the burger on the flatbread, spread over a layer of ketchup, sliced gherkins, rocket then put on the flatbread top.
Cut into 9 squares, sprinkle on sesame seeds and enjoy the quinoa veggie sliders within 3 days.
Notes
Equipment: Blender, Food processor, Oven, 2X Square 8″ baking dish, Greaseproof paper
Nutrition Information
Yield
9
Serving Size
1
Amount Per Serving
Calories

203
Total Fat

10g
Saturated Fat

1g
Trans Fat

0g
Unsaturated Fat

8g
Cholesterol

0mg
Sodium

611mg
Carbohydrates

24g
Fiber

7g
Sugar

6g
Protein

7g
A slider is an American term for a grilled sandwich. Although I'm british I thought the idea of a gluten free, nut free and meat free slider was much needed in the world!