This rainbow pizza has a quinoa crust and cashew cheese. Everyone seems to love this pizza so it's not just for people following a gluten-free, vegan and grain-free diet.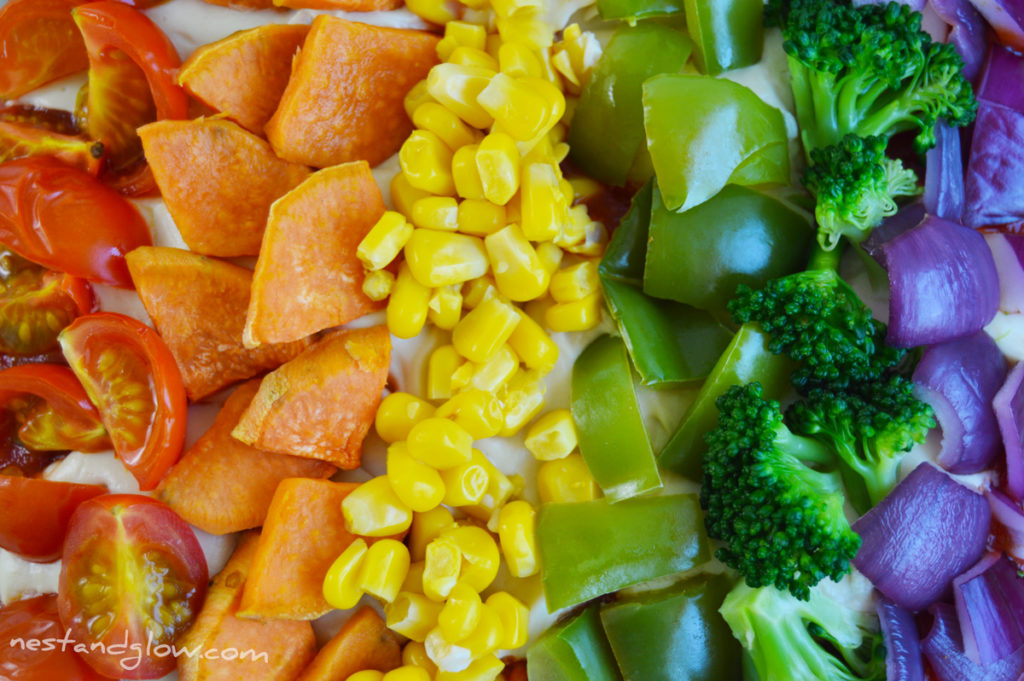 The pizza is high in plant based protein – once slice gives you over 10 grams so is a great vegan protein meal. As you are supposed to eat a rainbow diet what can be a better way than this healthy rainbow pizza?
Rainbow Cashew Cheese Quinoa Crust Pizza Video
You can top with any fruit or veg that you like to get the rainbow effect. I couldn't find any orange peppers or tomatoes so ended up using sweet potato.
It was less than ideal as I needed to steam it first, but still it looked and tasted great.

Corn starch can be used in place of the tapoica to make the cheese. It won't be quite as stringy and will mean it isn't grain-free but will still be just as delicious.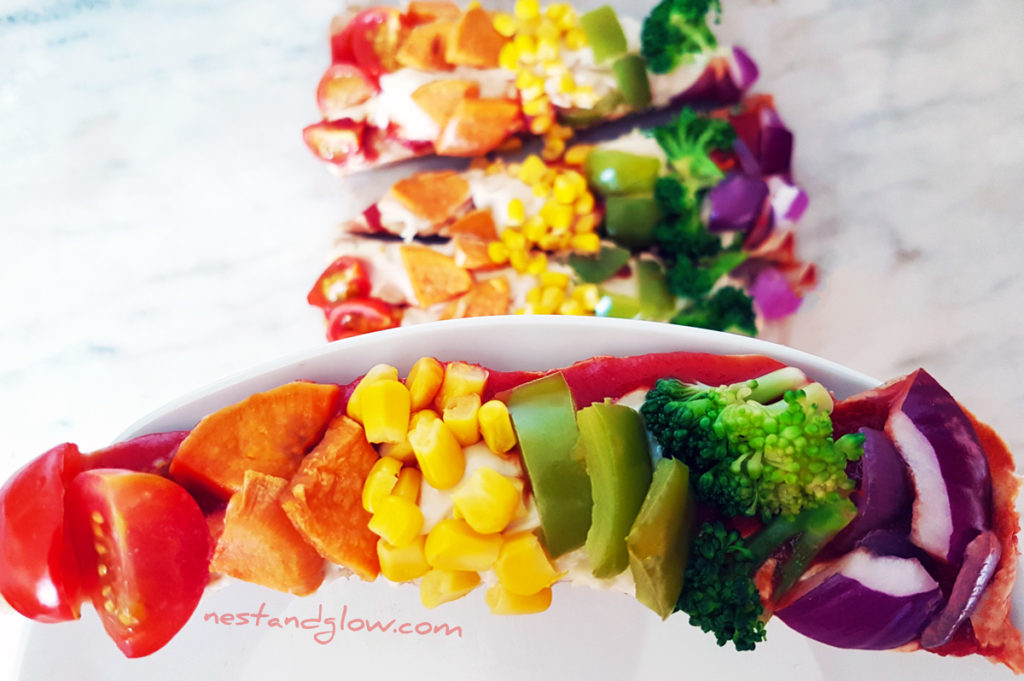 I did try to add blue to the pizza using boiled red cabbage. The cabbage did go blue after several attempts but it really didn't look appetising so after two attempts I gave up. The third and final quinoa pizza base baked that day is the one used for all the photos and video recipe.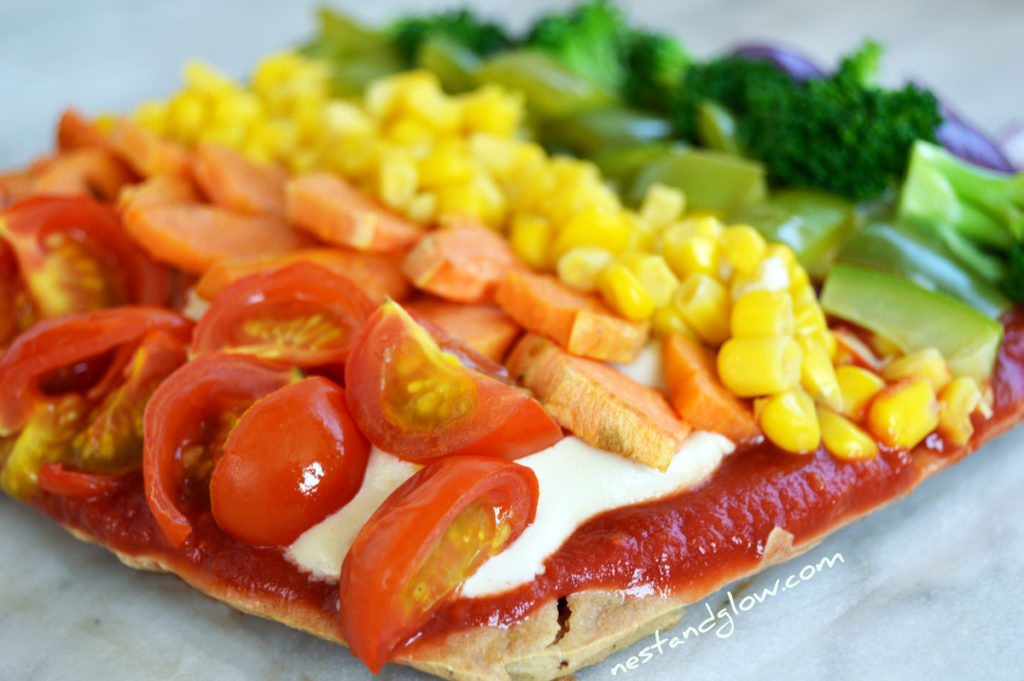 If you like the sounds of this pizza but prefer them with less topings then check out my Cashew Mozzarella Quinoa Crust Pizza Recipe.
Yield: 1 rainbow gluten free vegan pizza
Rainbow Veggie Pizza - gluten free and vegan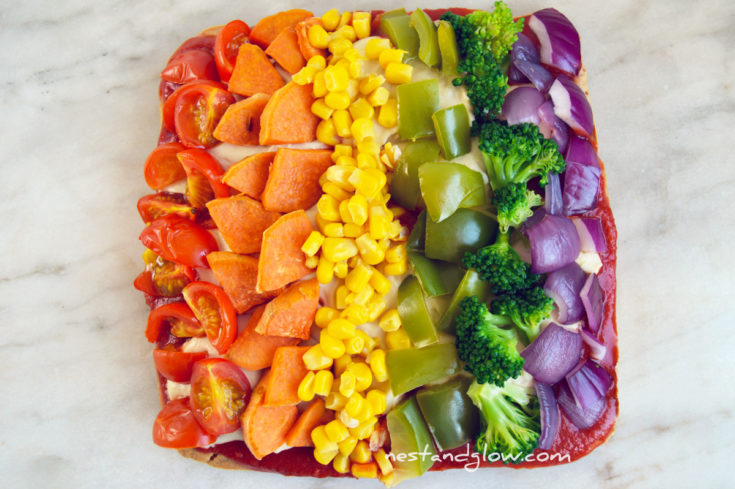 Colourful and easy to make vegan and gluten-free pizza that is loaded with veggies
Ingredients
QUINOA CRUST
¾ cup / 135 g quinoa
¼ tsp salt
½ tsp cayenne pepper
½ tsp baking powder
3/4 cup / 175 ml water
CASHEW MOZZARELLA CHEESE
2/3 cup / 100 g cashews
4 tbsp nutritional yeast
1 clove garlic
2 cups / 480 ml water
pinch of salt
2 tbsp tapioca starch
PIZZA TOPPING
Use any that you like, this is just a guide
8 Cherry tomatoes, quartered
½ Green pepper
¼ Brocolli head
¼ medium Sweet potato, cooked
3 tbsp Sweetcorn, cooked
¼ medium Sweet potato, cooked
½ small Red onion
3 tbsp Sweetcorn, cooked
½ small Red onion
Instructions
Soak the quinoa for at least 15 mins, 6+ hours is best.
Rinse and drain the quinoa then put in a blender jug with all the other ingredients and blend until smooth.
Line an 8″ square pan with greaseproof paper or just use a silicon pan and pour in the quinoa batter.
Bake for 30-35 mins and 375 F / 190 C, until a knife comes out clean. Let stand for 5 mins and then take out of the pan.
Bake for 10 mins on no tray at 375 F / 190 C, just to make it crispy on both sides.
Put all of the cashew mozzarella ingredients apart from the tapioca starch into a blender and blend until smooth
Empty the mozzarella mixture into a pan and sift in the tapioca starch.
Heat gently while stirring constantly to stop the bottom from burning. It's ready when it's thick and gooey and rolls off the spoon slowly.
Spread the tomato passata over the base, then blob on the cashew mozzarella and layer on the rainbow toppings.
Place back in the oven for 5 mins to cook the toppings and brown the cheese.
Nutrition Information
Yield
4
Serving Size
1
Amount Per Serving
Calories

256
Total Fat

13g
Saturated Fat

2g
Trans Fat

0g
Unsaturated Fat

10g
Cholesterol

0mg
Sodium

417mg
Carbohydrates

29g
Fiber

5g
Sugar

4g
Protein

10g

This was heavily inspired by a pin on Pinterest however the original was not vegan so I decided to nestandglow this recipe to make it dairy and egg free.