Quick and simple recipe for peanut candy using just two ingredients – peanuts and chocolate. This recipe is a great crowd pleaser and you can use your favourite type of chocolate. Suitable for vegan, paleo, whole food plant based, gluten free and low sugar diets.
Raw peanuts are roasted in this candy as there really is nothing like freshly roasted peanuts. If you buy pre-roasted nut they could have been roasted a year ago and they do begin to lose flavour from the moment they are roasted. Your house will smell lovely when roasting peanuts at home for this peanut candy.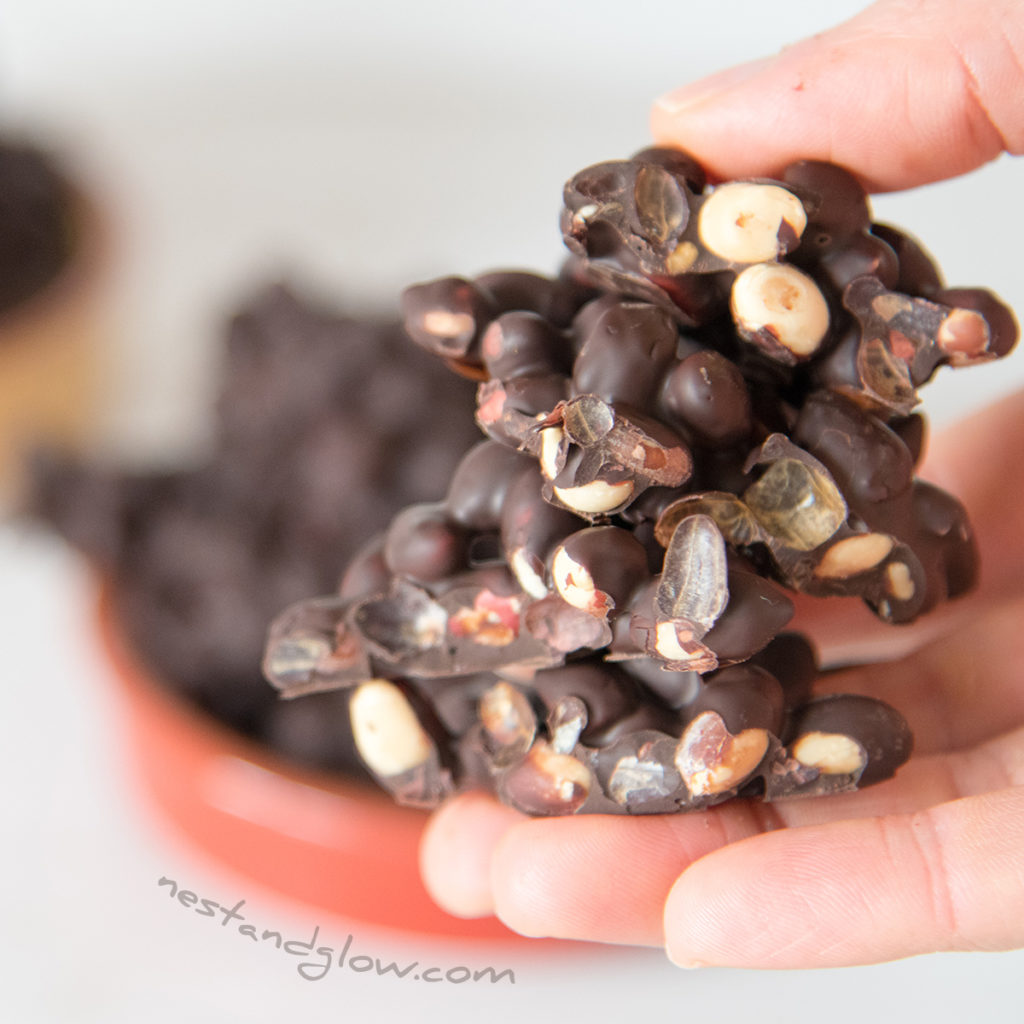 This peanut candy recipe is so easy as the peanuts are roasted then this heat melts the chocolate, so it literally takes minutes to make.
I roast my peanuts at low temperature as they are so easy to burn. I tend to take them out when they are half roasted to get a mixture of the raw earthy taste and roast taste – also I think its a bit healthier. But most people like the peanuts fully roasted and golden in colour.
Roast Peanut Chocolate Candy Video Recipe
No oil is needed for this wholefood peanut candy recipe – peanuts themselves are 46% fat so they have enough of their own oils and it really isn't necessary to add any. Making this recipe suitable for a whole food plant-based diet.
Use your favourite chocolate in this recipe. I like to use a dark high cacao content chocolate as it has health benefits and is low in sugar. Choose a chocolate that is at least 70% cocoa to get any health benefits.
If you're vegan most dark chocolate is dairy free but do always check the labels as some dark chocolate makers sneak in dairy as its cheaper than cacao butter.
Always buy a high-quality chocolate. Although this isn't always the most expensive – I like the single origin 84% cacao bars from Lidl or Aldi as they contain high-quality cocoa, vanilla and no palm oil or other cheap padders.
I do also like Montezuma's cooking chocolate as its high quality and is VAT free, but I don't buy it too often as 2KG of chocolate is too tempting to have at home!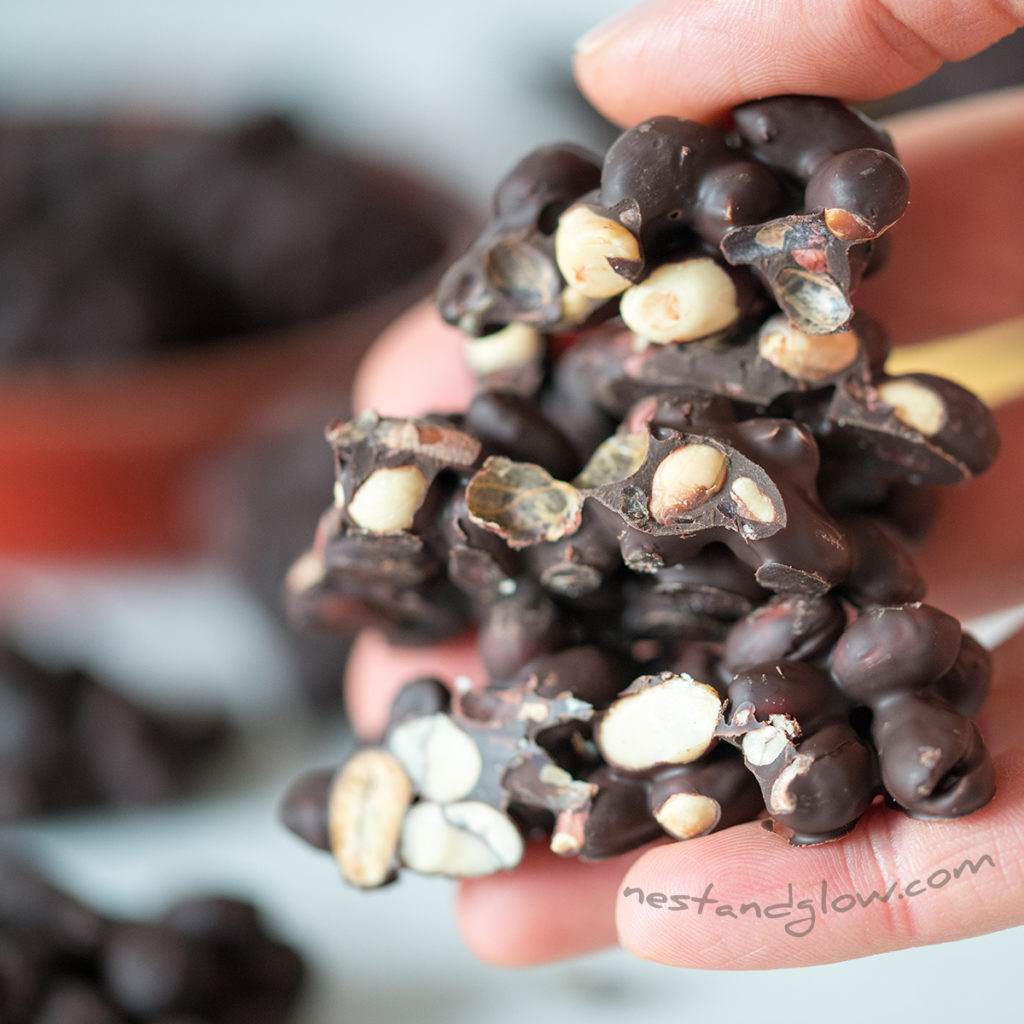 Like all of my healthy plant based recipes think of this as a base recipe to add anything to. I like to make a Christmas chocolate peanut candy by stirring in dried cranberries and sprinkling with a bit of coconut!
If you do adapt this chocolate peanut recipe let me know in the comments below what you added and how it worked out.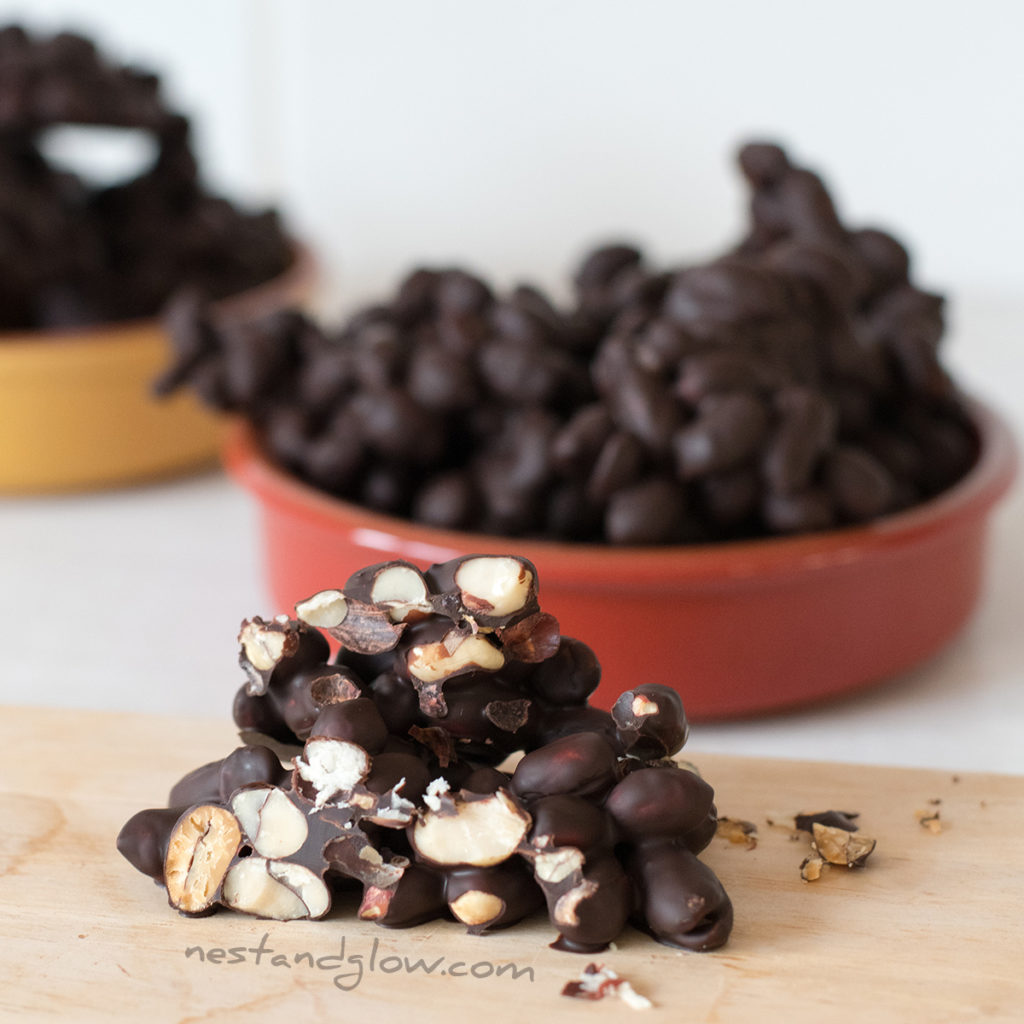 It's so easy to burn peanuts when roasting so you really need to watch them like a hawk. I remove them from the oven the moment lots of them are hissing or "singing" as some people call it.
Sadly peanuts can burn in seconds and then be useless, other than for a bit of fuel.
The moment the peanuts get a tiny bit of colour and remove them straight away from the oven.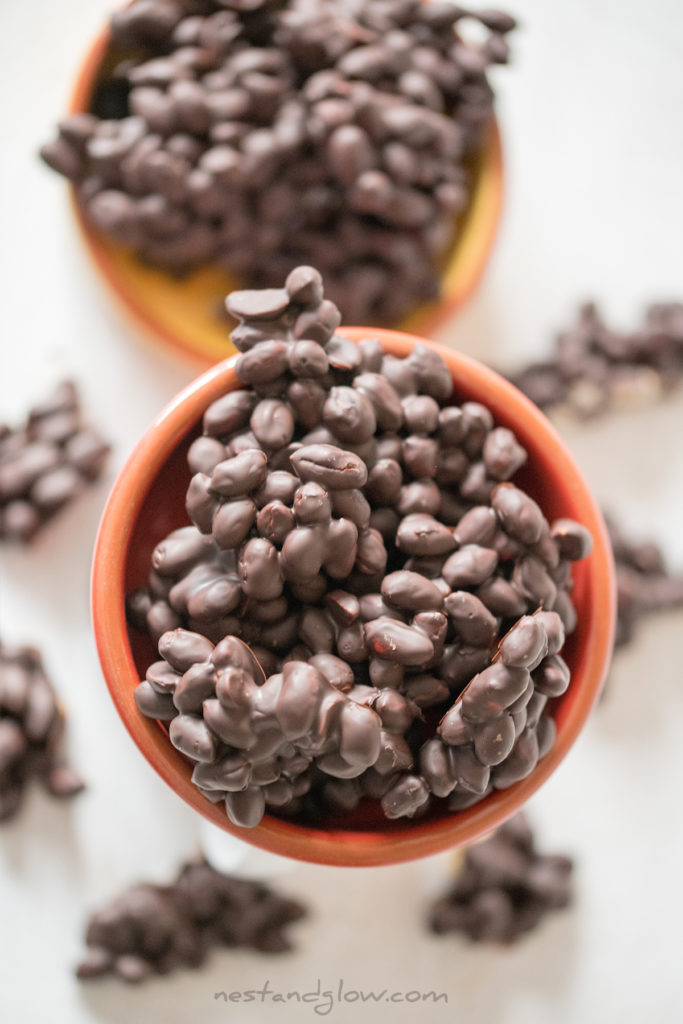 Peanuts technically are legume as they grow underground in pods. However they have a fat and protein content similar to nuts so it's no surprise they're refered to and thought of as nuts.
I'm using redskin peanuts as the peanut skins probably have a lot of nutrition and you don't notice them once covered in chocolate.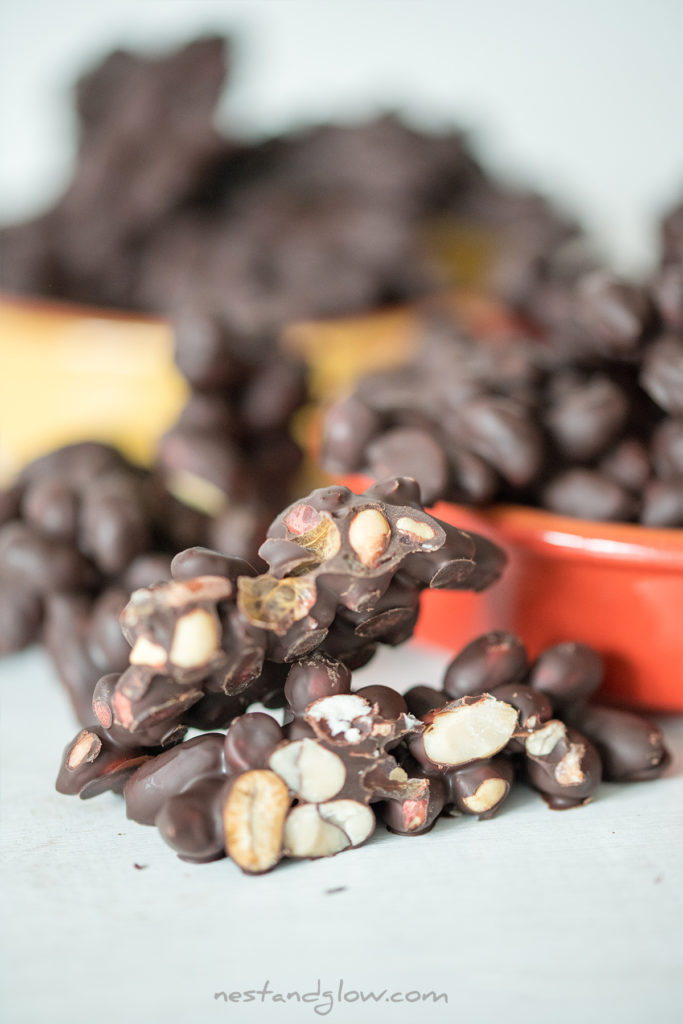 If you can only get peeled blanched peanuts they're also perfect for this peanut chocolate sweet recipe. Try to avoid using pre-roasted peanuts as they have less flavour compared to fresh roasted.
Peanuts may not be the healthiest nut but they're so inexpensive I do like using them occasionally. I find the phrase a bit of everything quite damaging and harmful, instead, I prefer "a bit of everything natural and whole" and dry roast peanuts fall under that.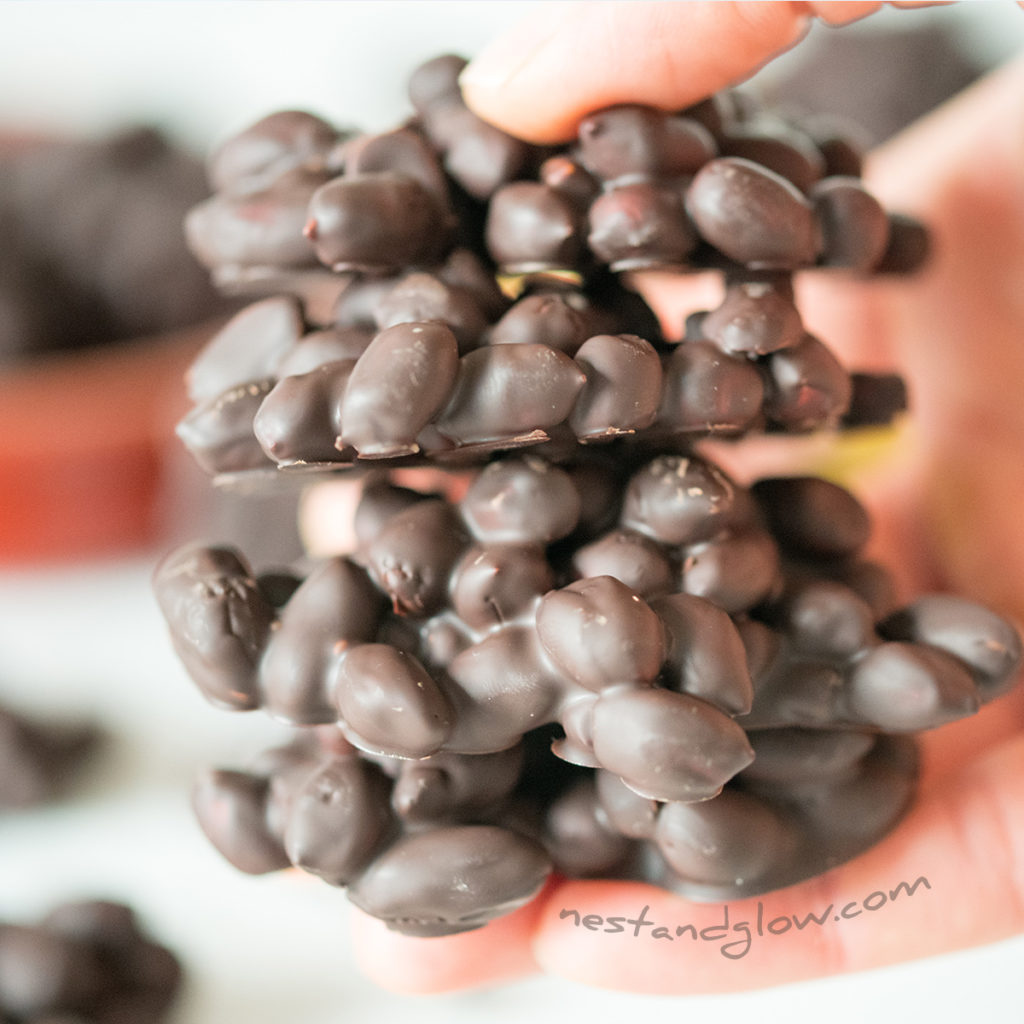 It probably would be healthiest to have every single nut and seed in your diet raw soaked and sprouted but I don't think some lightly roasted nuts once or twice a month are particularly harmful. Some of the most harmful things in the modern world are often unavoidable and aren't diet related such as pollution and chemicals.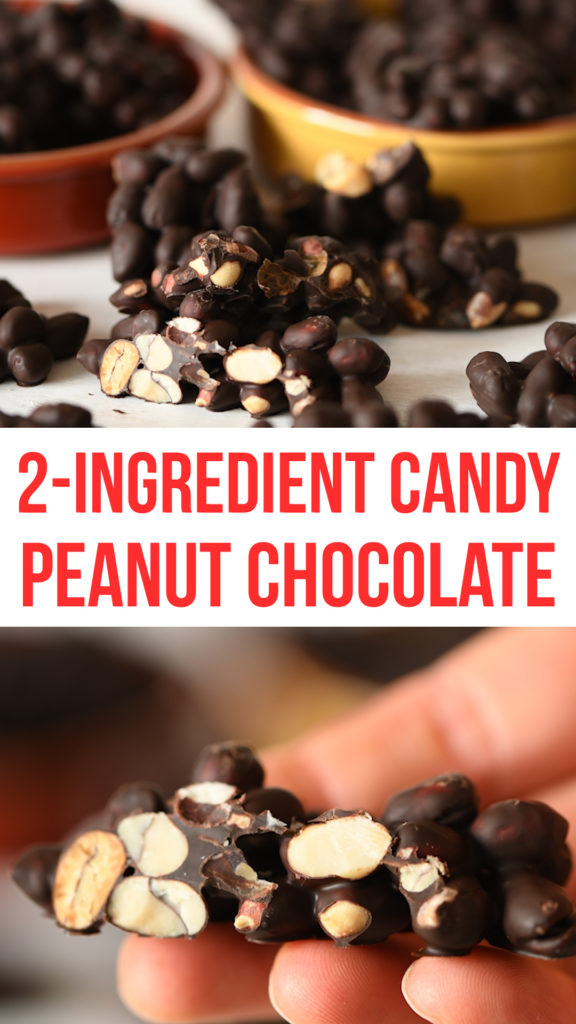 Yield: 18 peanut candies
2-ingredient Peanut Chocolate Candy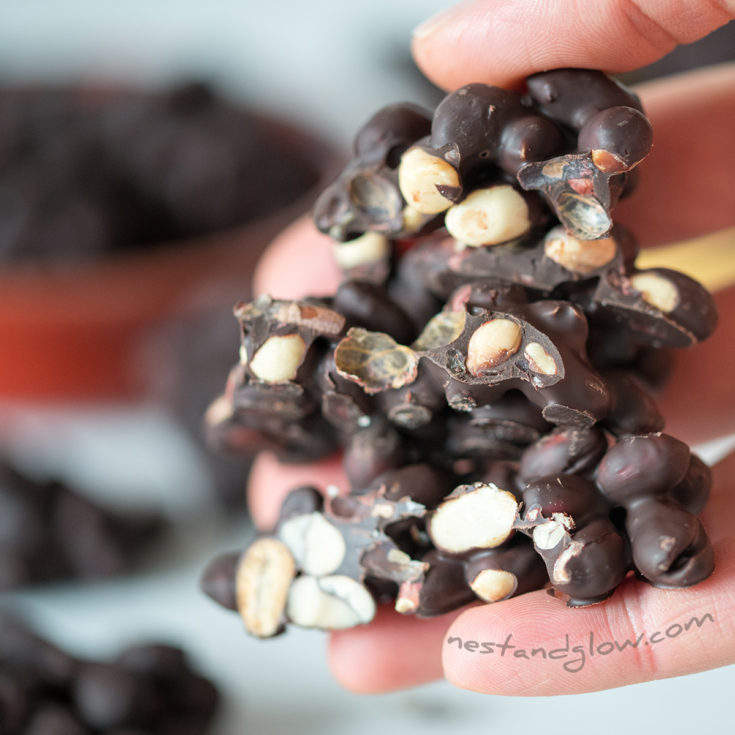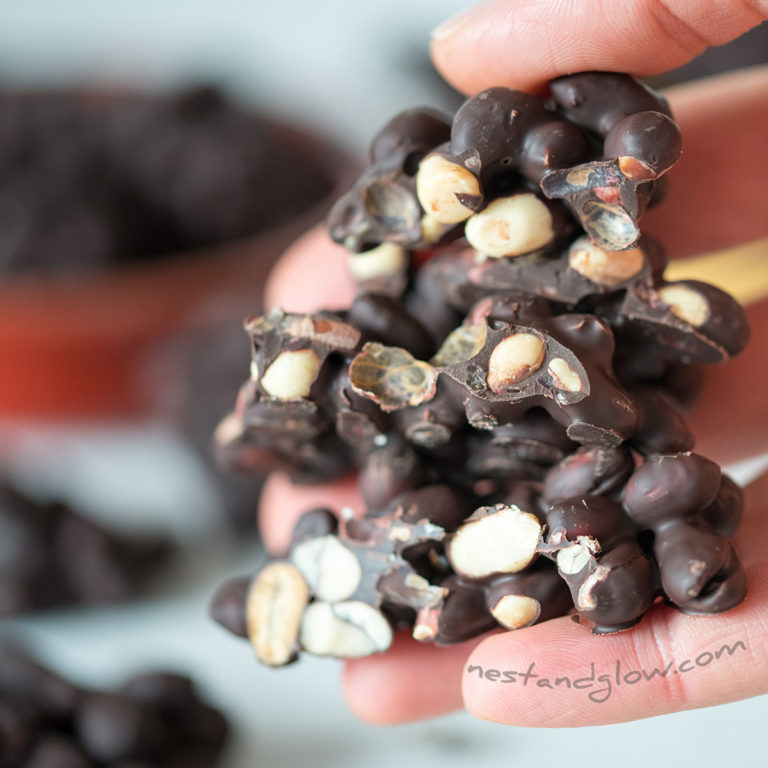 Quick and simple recipe for peanut candy using just two ingredients - peanuts and chocolate. This recipe is a great crowd pleaser and you can use your favourite type of chocolate.
Ingredients
2 cups / 350g Peanuts
4.4oz / 125g Chocolate
Instructions
Preheat oven to 190C / 375F
Spread the peanuts out on a non-stick sheet.
Roast the peanuts for 6-10 minutes depending on your oven. Don't leave them unattended and remove as soon as they get some colour.
Add the hot peanuts to a bowl with the broken up chocolate.
Stir until the hot peanuts have melted all the chocolate and are coated.
Spoon onto a non stick sheet – about a dessert spoon makes 16-18 peanut candies.
Chill peanut candy until set. Enjoy within two weeks and keep in an airtight container.
Nutrition Information
Yield
16
Serving Size
1
Amount Per Serving
Calories

91
Total Fat

7g
Saturated Fat

2g
Trans Fat

0g
Unsaturated Fat

5g
Cholesterol

1mg
Sodium

51mg
Carbohydrates

5g
Fiber

1g
Sugar

3g
Protein

3g