Healthy bread recipe that's high in protein and naturally gluten free. This vegan bread recipe is loaded with heart healthy fats, fibre and nutrition.
Just 3 ingredients are needed with very little prep time to make a bread that's perfect for hummus, avocado or dipped in soup.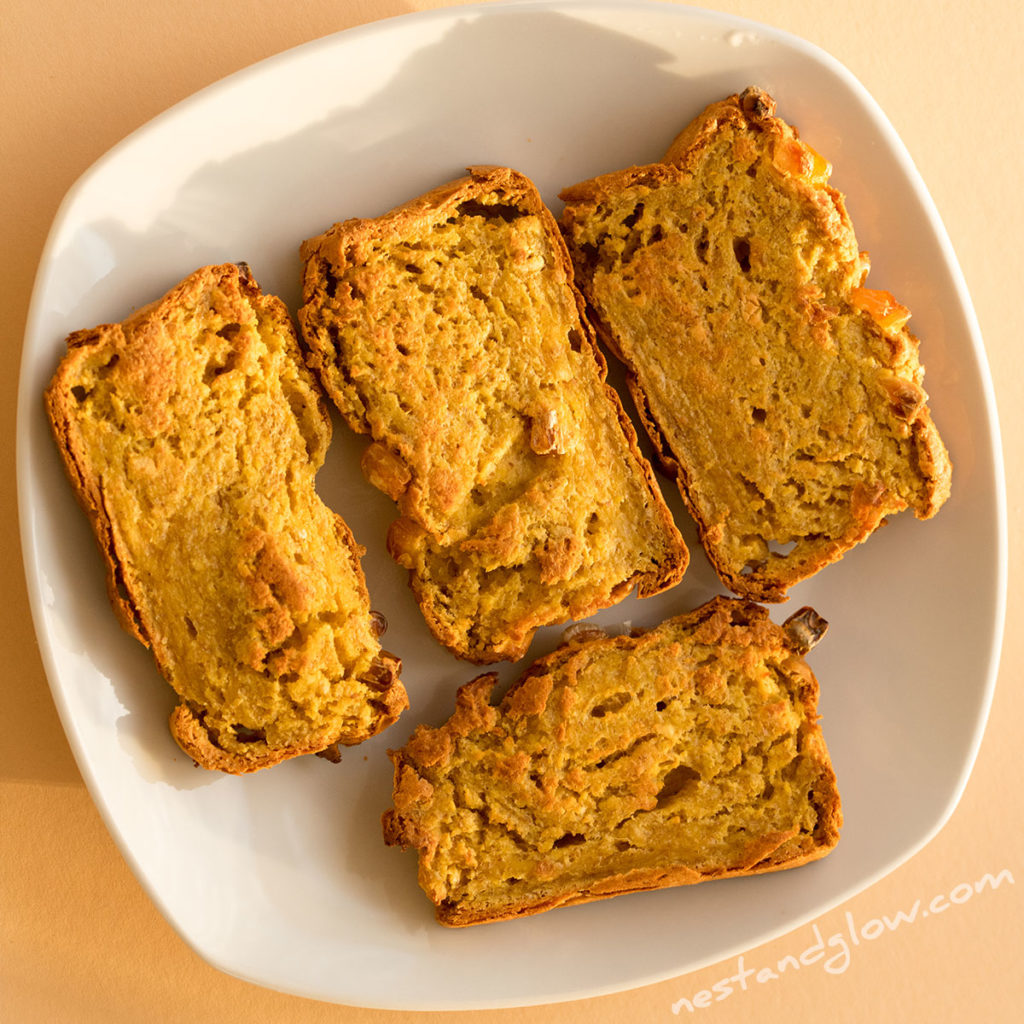 As this protein bread is gluten free it is denser than normal bread.
Sadly it's near impossible to make a gluten free easy bread that's light without unhealthy ingredients.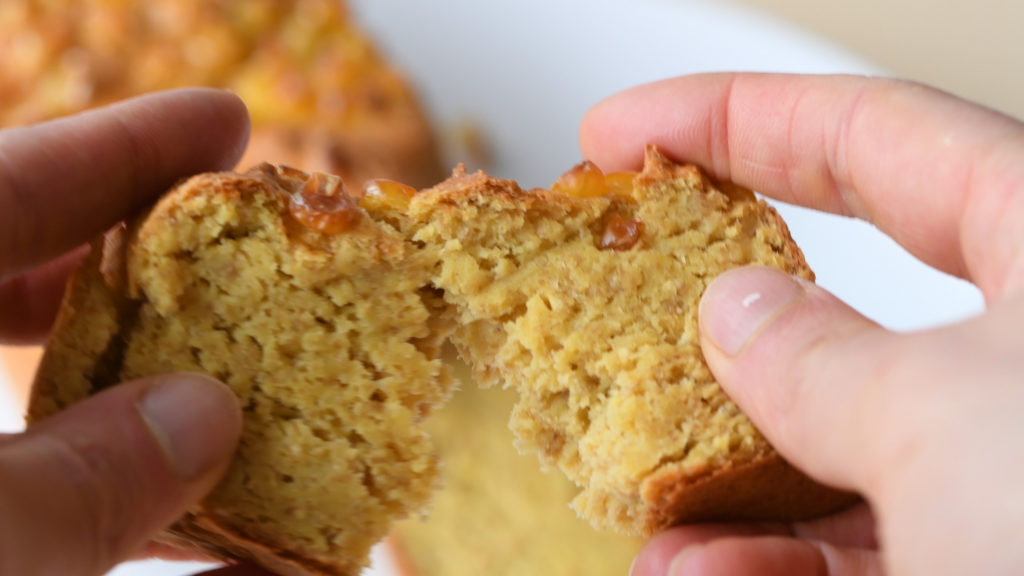 Check out the video recipe to show the texture of this chickpea and cornbread.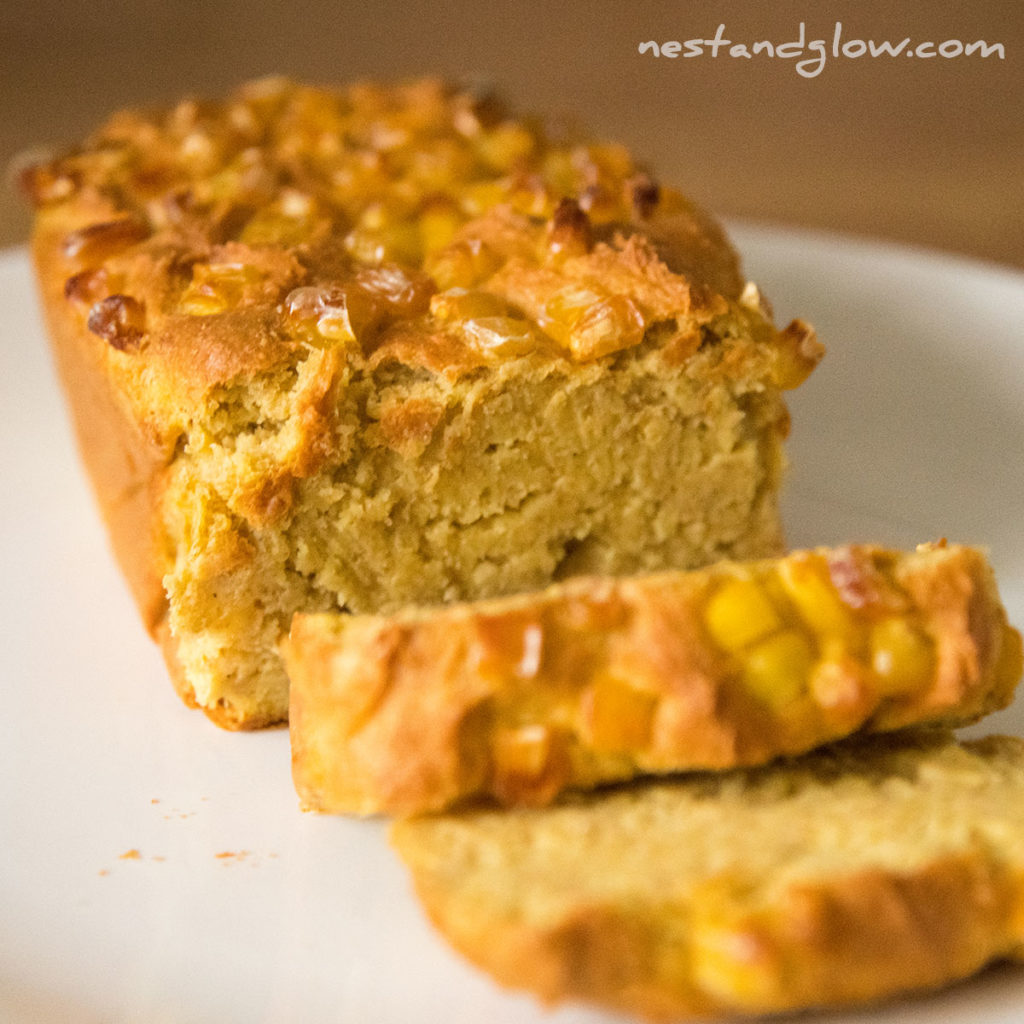 I do like to toast my chickpea cornbread as it makes it very crunchy and tasty.
I bake for 10 minutes at 200c to "toast" it as it's a bit small and could fall apart putting in a normal toaster.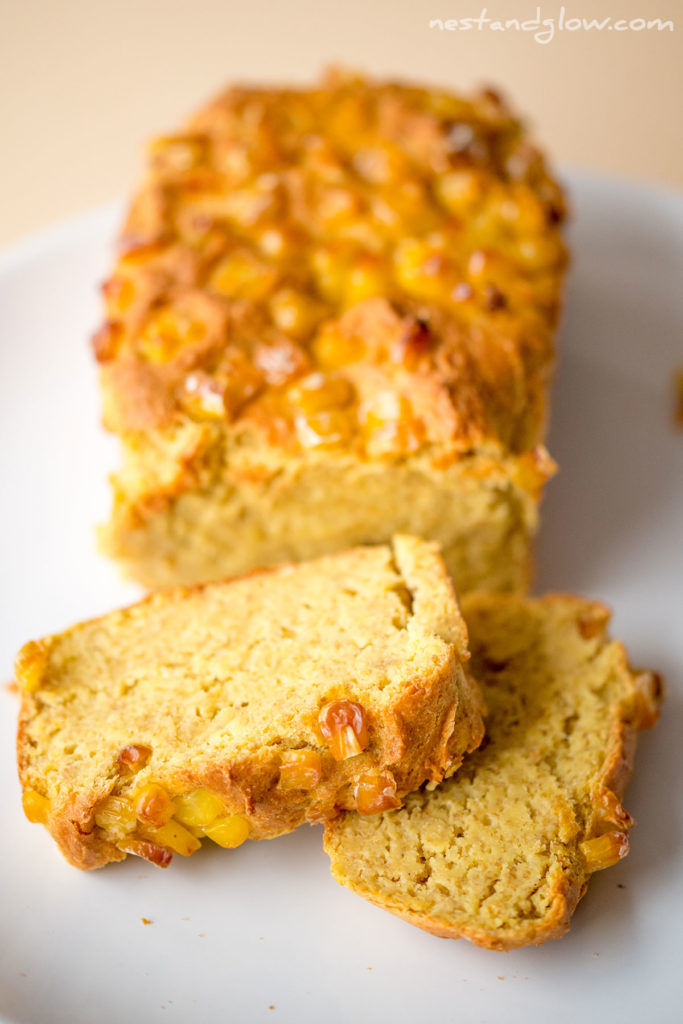 This high protein bread is perfect with smashed avocado.
The corn on top of this healthy gluten free bread recipe doesn't just look great but adds yummy texture.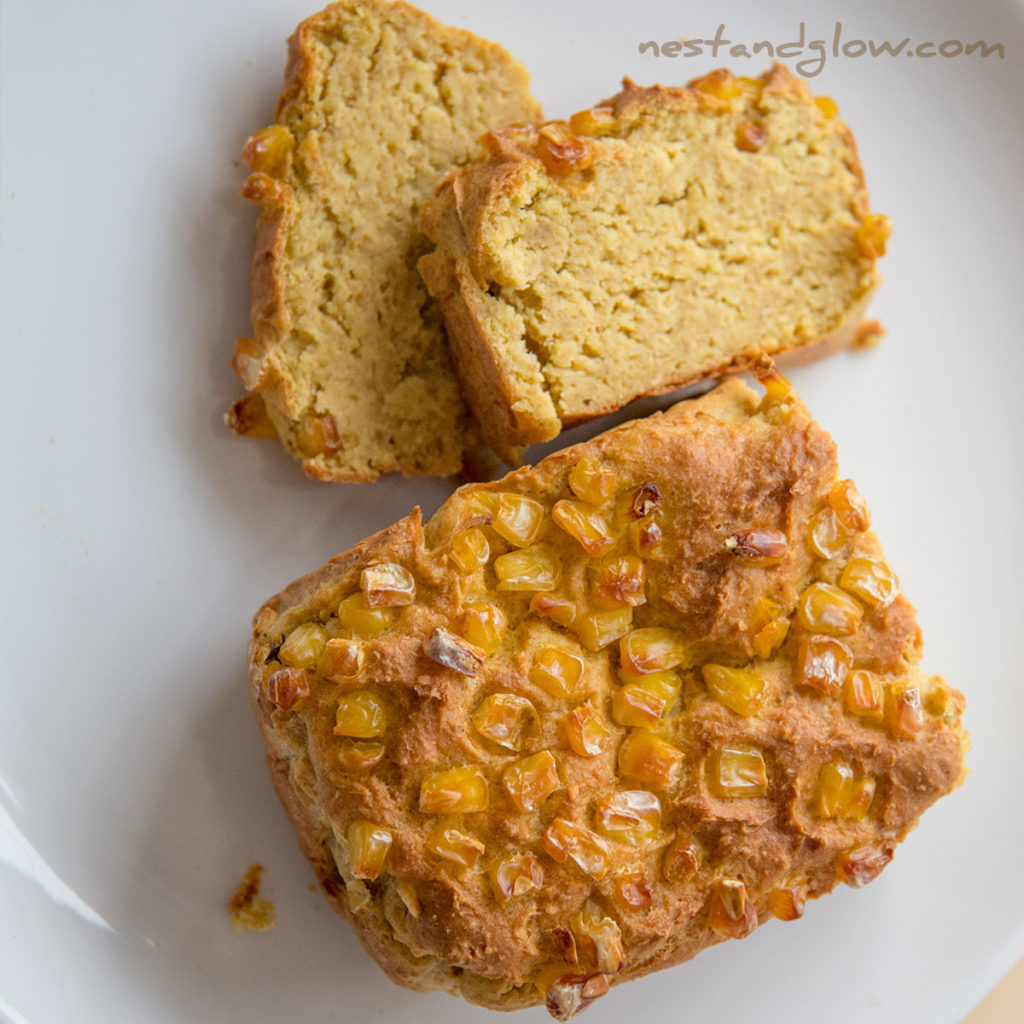 I use golden flaxseed to make this 3 ingredient bread. You could use brown if you prefer (or that's all you have) and the colour wouldn't be as golden but it still tastes just as good.
Flaxseed and linseed are exactly the same thing.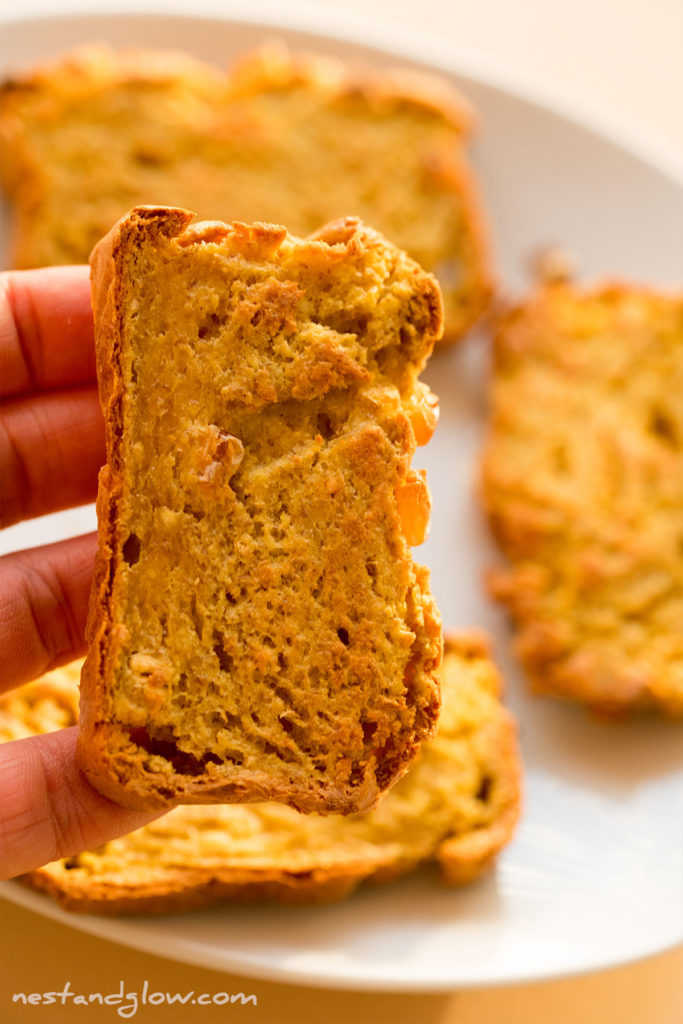 Chick pea flour can either be bought from a health food shop or an Asian shop.
I tend to buy from an Asian shop as its half the price! Often called gram flour in an Asian shop.
Some supermarkets do sell it in their ethnic section where I've picked up a 1kg bag for 99p.
Yield: 1 gluten free cornbread loaf
3 Ingredient Gluten Free Cornbread - High Protein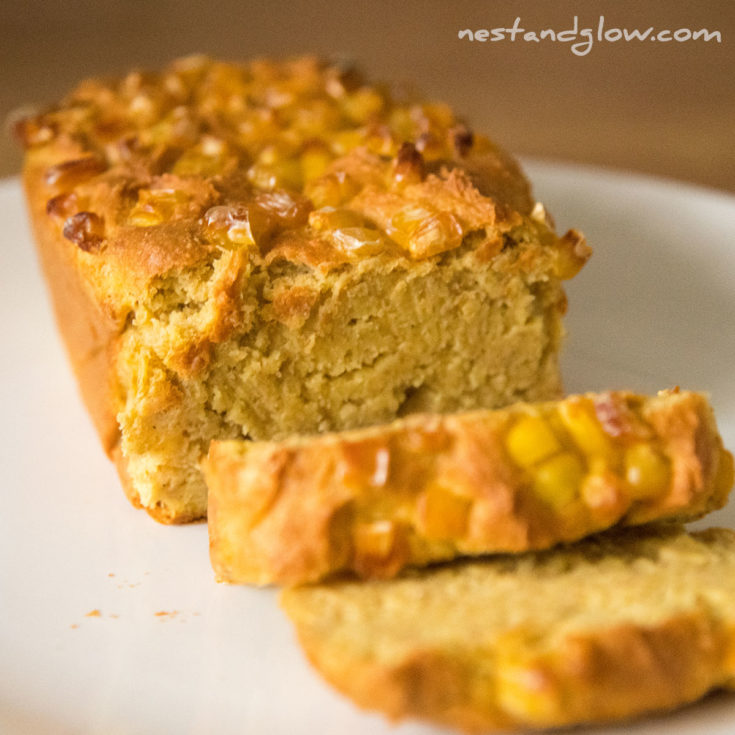 Easy to make high protein and vegan gluten free bread. Made from chickpeas, flaxseed and sweetcorn.
High in vegetables and nutrition. Perfect toasted for an amazing avocado toast or with any dips to make a complete meal.
Ingredients
2 cups / 350g frozen Sweetcorn
1/2 cup / 75g ground Flaxseed
1 cup / 90g Chickpea flour
1/2 cup / 120ml water
2 tbsp Sweetcorn to top
Instructions
Leave the sweetcorn to defrost overnight or somewhere warm for an hour.
Preheat oven to 190c / 375f.
Blend the sweetcorn with the water for a minute until all combined.
Sift the chickpea flour
Stir in the chickpea flour and flaxseeds until all mixed.
Pour the gluten-free cornbread batter into a lined 1/2 loaf tin.
Top with 2 tbsp of frozen sweetcorn and push the corn on top into the dough batter.
Bake for 50 minutes, remove when the top is all golden.
Leave to stand for 15 minutes. Then can be sliced, enjoyed or toasted.
Eat within 3 days and store somewhere cool and dark.
Notes
You can grind up your own flaxseeds in a bullet style blender in a few seconds if you don't have pre-ground.
I like to use frozen sweetcorn as it's the most nutritious usually. But you can use fresh or tinned if you prefer.
Either defrost the sweetcorn overnight in a fridge or leave somewhere warm like a sunny windowsill for an hour to prepare.
Nutrition Information
Yield
8
Serving Size
1
Amount Per Serving
Calories

92
Total Fat

4g
Saturated Fat

0g
Trans Fat

0g
Unsaturated Fat

3g
Cholesterol

0mg
Sodium

7mg
Carbohydrates

13g
Fiber

3g
Sugar

2g
Protein

4g
Cornbread is typically a quick bread that's made from cornmeal – a corn flour. Although this healthy recipe is made from whole corn to make it more nutritious and a portion of veg.
Whole corn is considered a vegetable, but when it's processed then most governments consider it a grain and not a portion of fruit or veg.
This recipe uses chickpea flour, if you want a healthy cake recipe using chickpeas check out my chickpea strawberry cake recipe.