These raisin banana oat biscuit cookies are simple to make, contain no flour, no eggs, are sweetened with just bananas, take a few mins to make and most importantly taste delicious. They will curb pangs for something sweet to snack on.
If you want a healthy breakfast full of good stuff and low in sugar try this healthy treat recipe. As whole fruit is used it contains sugar but as it's not refined it retains all the fibre and is absorbed slowly into the bloodstream.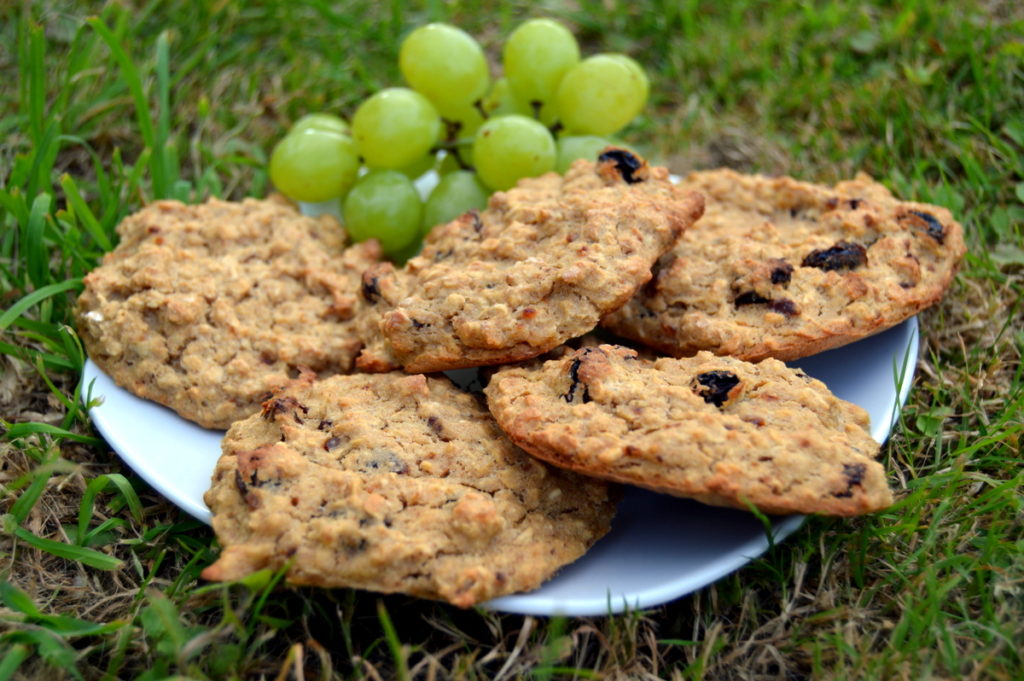 I often have these breakfast cookies on the go thinking they are something indulgent but actually they are one of the healthiest breakfasts you could have. Some other healthy cookie recipes call for instant oats, but I've found out there is no need to buy expensive processed oats, simply blend normal rolled oats for a few seconds in any blender.
If your avoiding gluten just make these cookies with gluten-free oats. They do work better with the cheaper oats that are soft and crumbly.
3 Ingredient Raisin Banana Oat Cookies Video Recipe
Play biscuit cookie recipe on YouTube
This healthy cookies recipe is no added sugar as it just contains natural healthy sugars from whole fruit. The cookies are low calorie due to having no refined sugar or butter and are very filling. Some call them super healthy cookies that are perfect for fussy children others call them heart healthy cookies.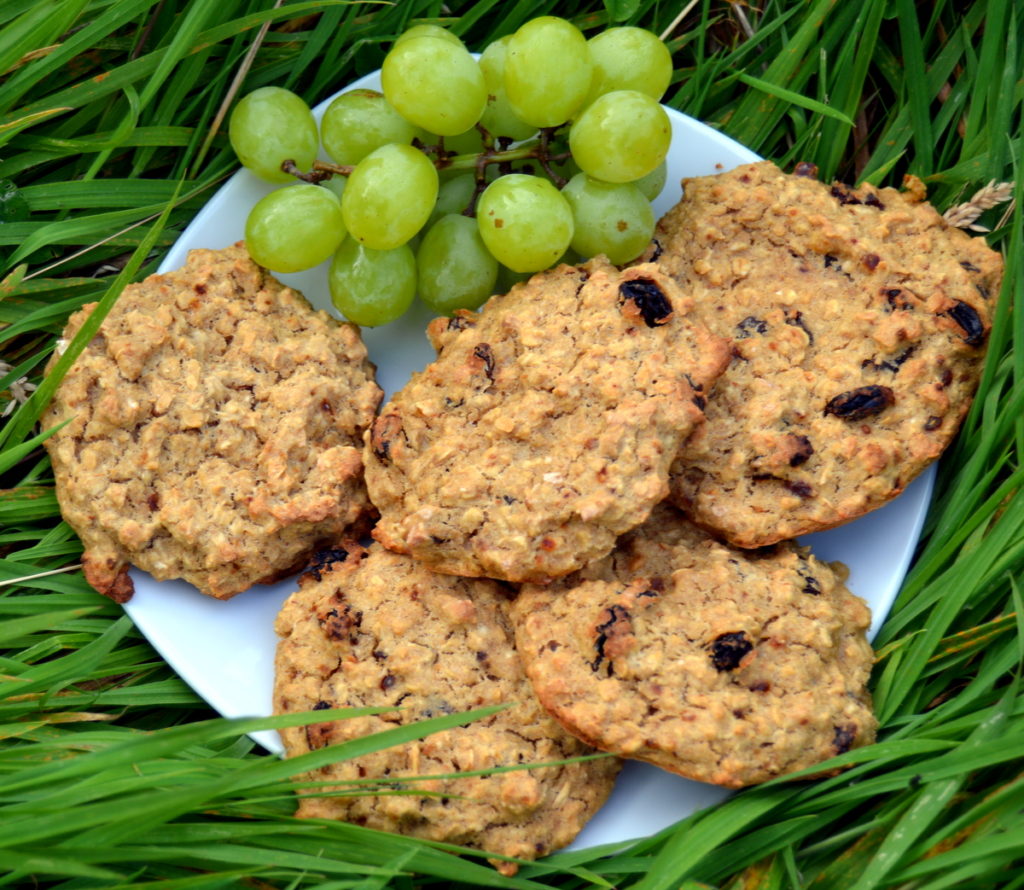 If you're not a fan of raisins you can replace them with other dried fruit such as cranberries, dates, apricots and prunes – just make sure to chop the fruit into small raisin sized chunks.
These 3-ingredient cookies can be made with oatmeal and avoid using a blender to grind up oats. Always choose an oatmeal that is pure as so many brands have added sugar and flavourings. You really don't need any flavourings in these cookies with the raisins and bananas.
To make a chocolate version of this healthy cookie just replace the raisins with your favourite chocolate chips. I like an 80% dark chocolate chip banana oat biscuit.
Apple and cinnamon biscuits are great -chop the apple into raisin-sized chunks and add 1 tsp of cinnamon. With fresh apple they do take 5 mins extra to cook and make a chewier biscuit.
Oats are quite high in plant protein but for a higher protein cookie or biscuit check out my healthy quinoa chocolate cookies. That quinoa cookie is made with whole sprouted quinoa and sweetened with banana.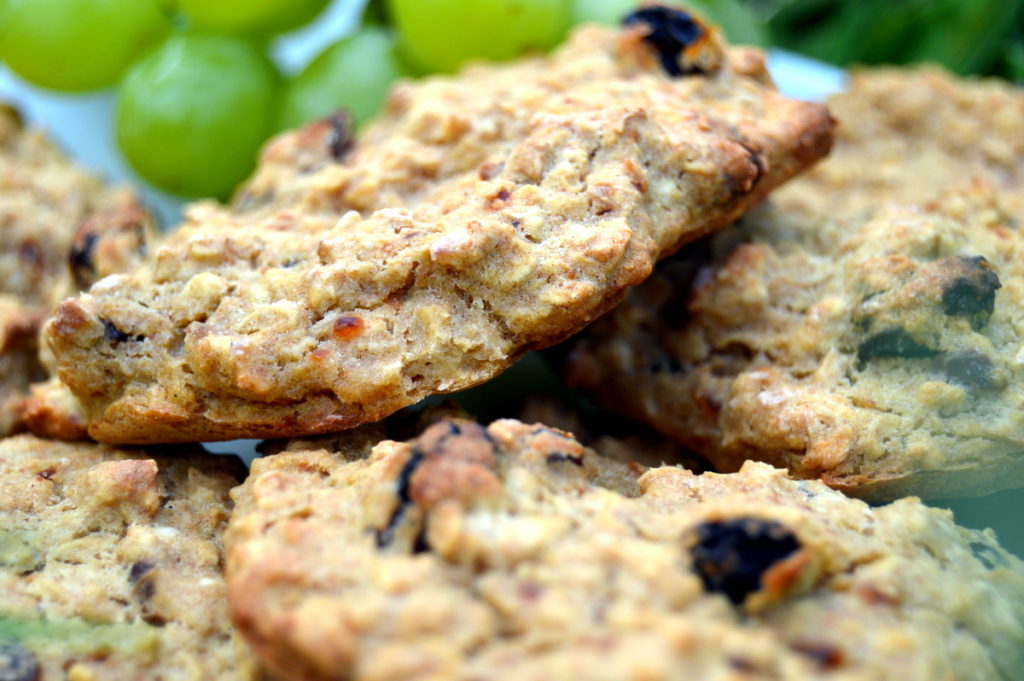 Oats are naturally gluten-free but are often contaminated with gluten either when growing or processing. They contain a protein that is structurally similar to gluten but is different and known as avenin or more simply oat gluten.
Yield: 12 biscuit cookies
3 Ingredient Healthy Cookies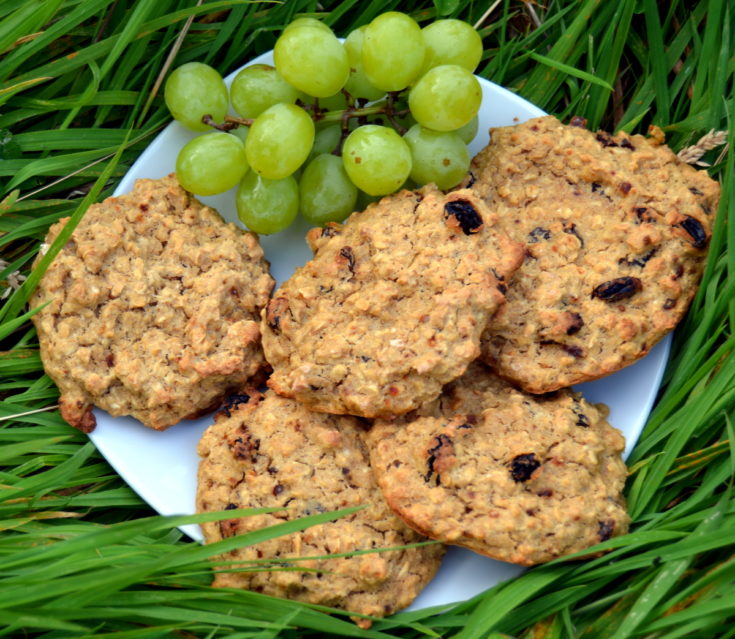 Easy to make healthy cookies that are sweetened with just bananas and vine fruit. These cookies make a great breakfast or after school snack and great for fussy children as they often don't realise how nutritious these are.
Ingredients
3 bananas
1½ cups / 150g rolled oats
2 tbsp raisins
Instructions
Grind the oats for a few seconds to make an oat powder. It doesn't have to be fine, they just need to be broken up a bit.
Peel the bananas and then mash them.
Mix everything together until combined.
Spoon onto a non stick sheet and spread out to make a cookie biscuit shape. The mixture makes 12 normal sized cookies or 6 large.
Bake for 15-20 mins until golden at 350°F / 180 °C.
If you want a chewier biscuit take out of the oven as they start to get some colour. For a crunchier biscuit leave until they are golden brown.
As they have fresh banana they will go off quickly so it's best to eat straight away. They can be stored for a few days in the fridge but the cookies will lose their crunch.
Recommended Products
Links maybe affiliated, meaning I earn a commission from purchases but at no extra cost to yourself.
Nutrition Information
Yield
12
Serving Size
1
Amount Per Serving
Calories

78
Total Fat

1g
Saturated Fat

0g
Trans Fat

0g
Unsaturated Fat

1g
Cholesterol

0mg
Sodium

1mg
Carbohydrates

16g
Fiber

2g
Sugar

5g
Protein

2g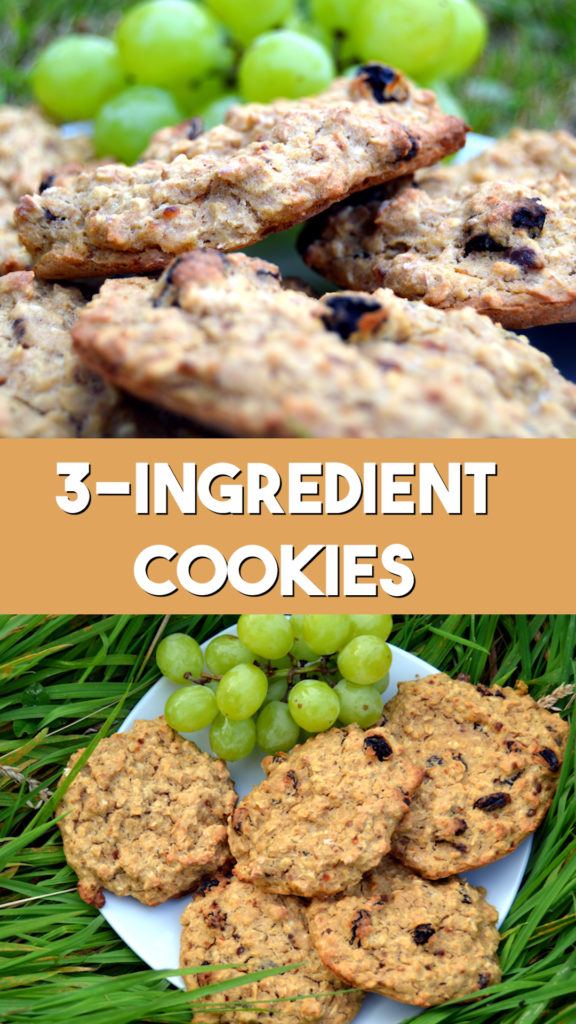 Most people with coeliac disease are fine with gluten-free oats, but always check with an expert. More information on oats and gluten from Coeliac UK.