A moist and zingy lemon cake that's made without flour, butter, eggs and oil. A naturally gluten free healthy cake sweetened purely with fruit.
This healthy cake doesn't just taste great but it's full of healthy fats and protein. Two slices of my lemon cake recipe even has a portion of fruit! A foolproof easy cake recipe that's full of goodness.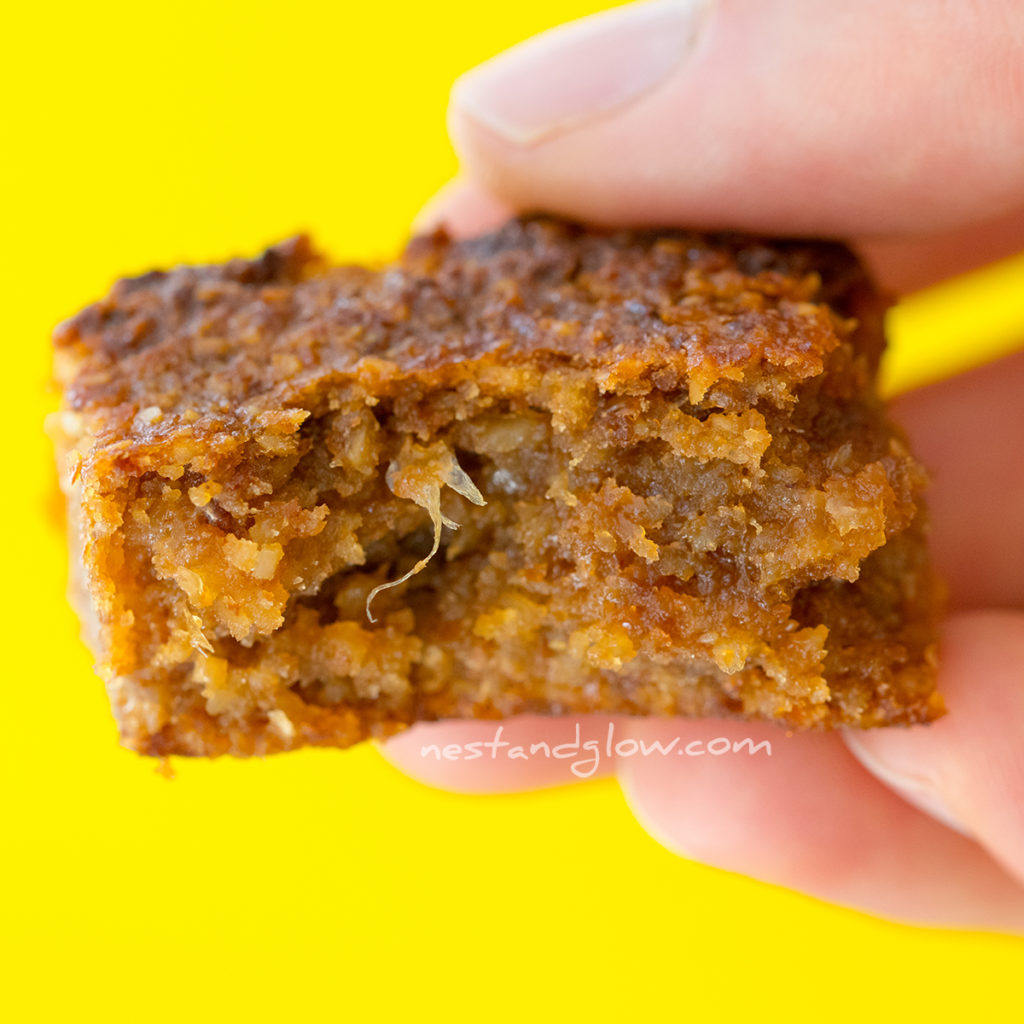 As you're using the rind for this lemon cake recipe make sure to use unwaxed and untreated lemons. I tend to buy organic lemons as they are untreated but be warned unlike normal lemons they don't last long at all, so buy them and use within a day.
If you can't get organic lemons check the label to see if they have been treated, in the EU they illegally need to say if the lemons have had any coatings or treatments applied.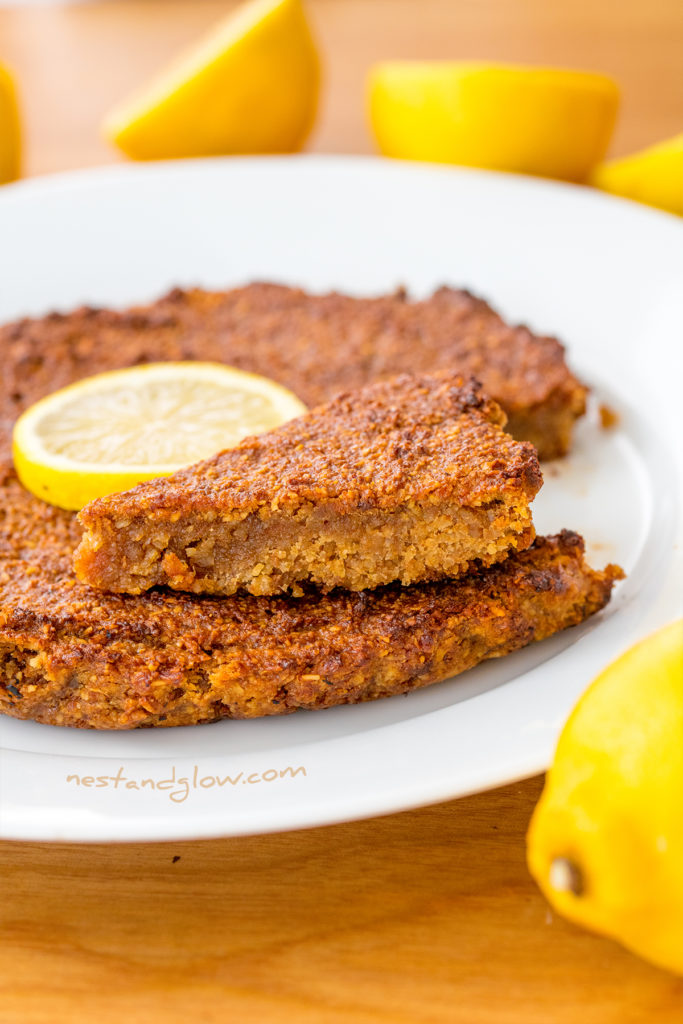 The flaxseed in this gluten-free lemon cake is the vegan replacement for eggs. When added to water it becomes gel like and once baked and cooled helps it set – as well as adds nutrition.
You can use brown flaxseed (linseed is the same as flax) but purely for aesthetic reasons I prefer to use golden to make a more, well golden cake. Also chia seeds can be used if ground, but again they do affect the aesthetics, but not the taste!
I add a lot of lemon to this cake, it's the kind of cake that's very moist and makes a wonderful sound as you pull it away from the paper.
It tastes very much like a lemon drizzle cake but hasn't been doused in a liberal amount of sugar syrup so your body will thank you.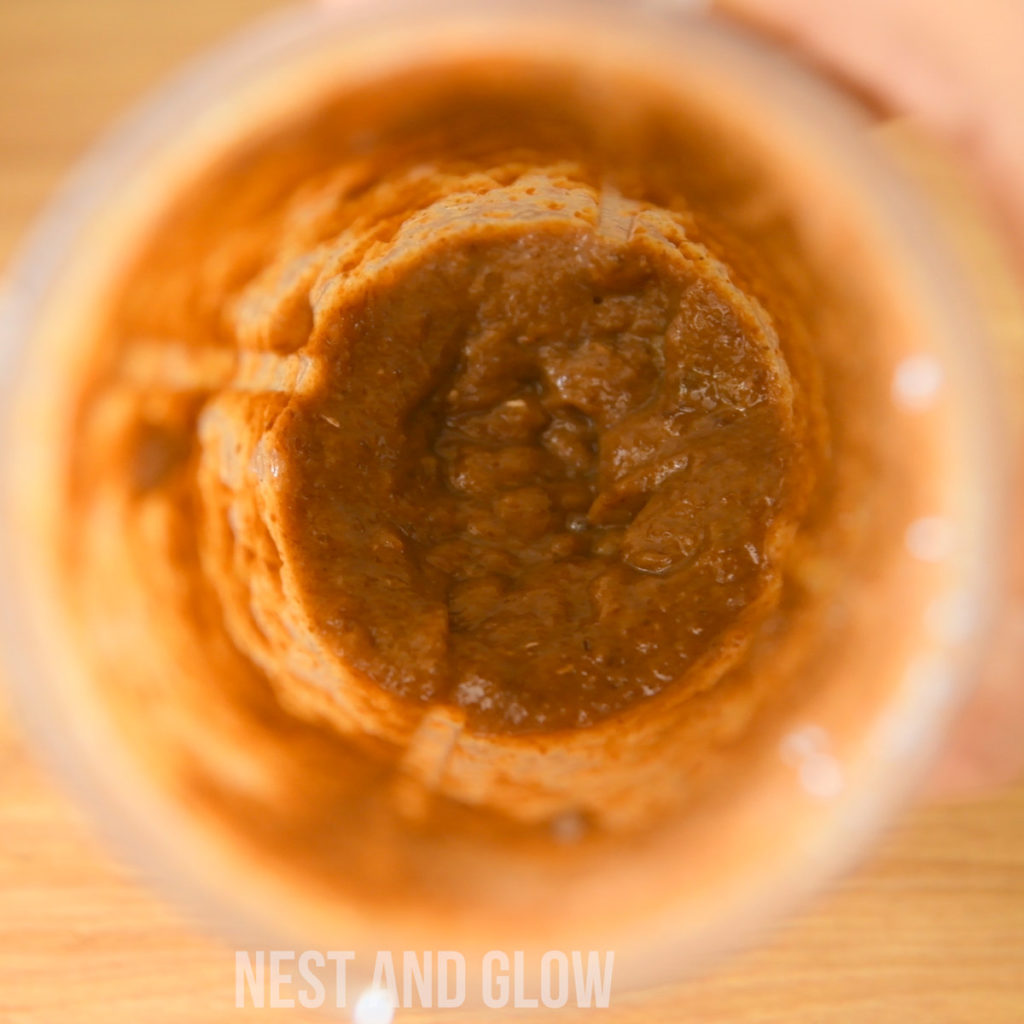 If you don't have ground almonds you could try to blend your own almonds, but you need to blend them enough so it's a flour but not too much to make almond butter. It can be a bit fiddly doing this as sifting and several batches are optimal.
Luckily ground almonds and almond flour is now available everywhere including the limited range budget supermarkets.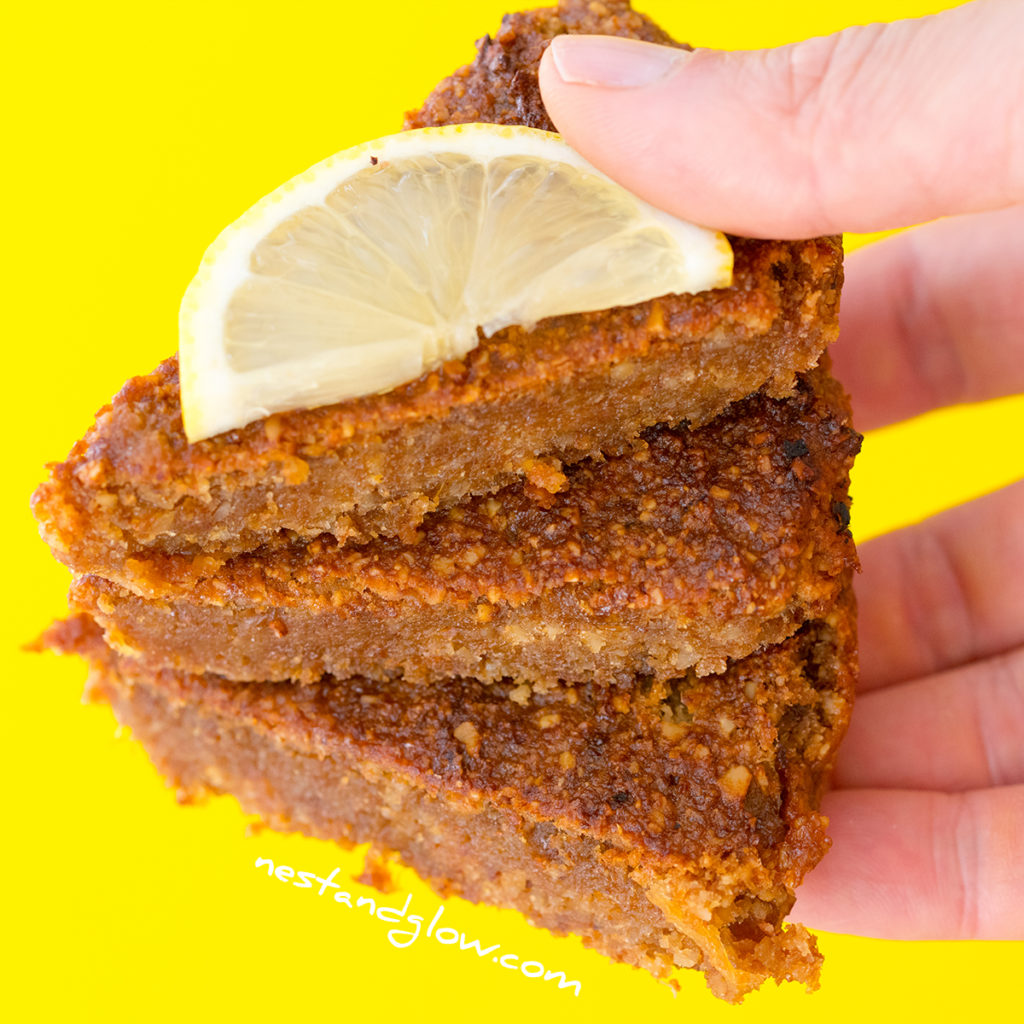 Often in life I use limes in place of lemons but for some unknown reason lemon cake is vastly superior to lime cake, at least for me!
As this vegan lemon cake doesn't contain any eggs you can taste it before baking to check the sweetness or lemon-ness. Sometimes I add a tablespoon or two of coconut sugar if I'm making for someone that's into more "normal" cakes.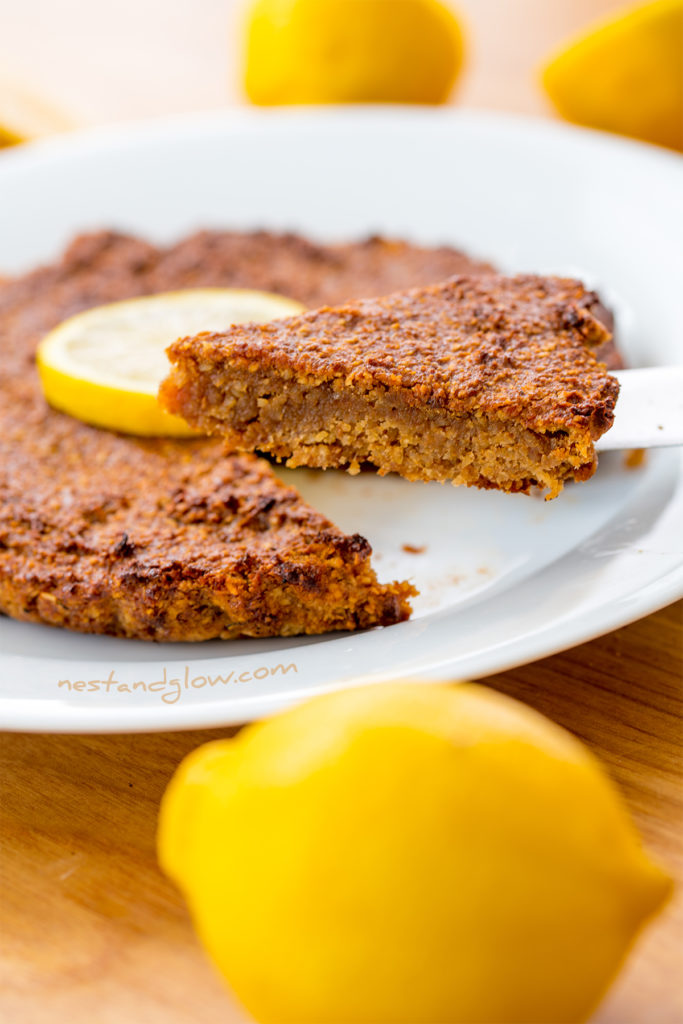 Yield: 8 slices of gluten free lemon cake
4-ingredient Lemon Cake - vegan and gluten free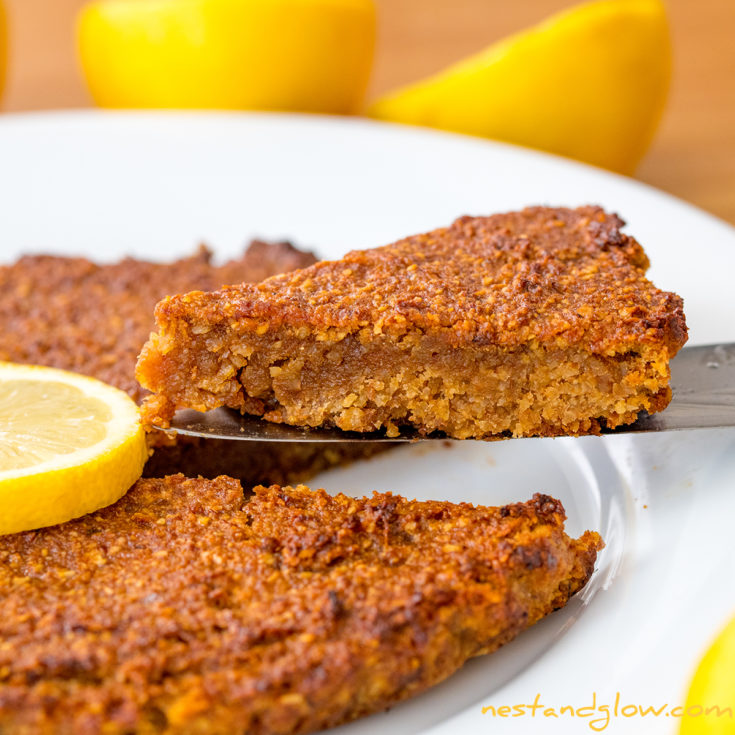 Nutrient dense lemon cake that's bursting with zingy flavour but made without any unhealthy ingredients. Free of flour, eggs, oil, butter and refined sugar as it's sweetened purely by fruit.
Ingredients
2-4 Lemons - enough to make 0.45 cups / 105ml lemon juice
1 cup / 100g ground Almonds
1 cup / 150g Sultanas
2 heaped tbsp ground Flax
Instructions
Preheat oven to 190c / 375f
Juice the lemons and use a spoon to get out as much lemon flesh as possible.
Blend the lemon juice and sultanas together for a minute in a small blender.
Finely grate the zest of two lemons.
Add the ground flaxseed to the lemon vine fruit mixture and stir well.
Add the lemon zest and ground almonds to the mixture and stir well again.
Line or grease a 7" sandwich tin.
Spread out the vegan and gluten free lemon cake mixture into the pan.
Bake for 30 about minutes in the middle of your oven and take out just as the top gets some colour
Leave to cool fully - as it's a gluten free cake it will be soft while still warm.
Enjoy within 5 days and store in an airtight container.
Notes
In the video I use greaseproof paper to line a pan for oil free cooking. Some prefer to use spray oil and others prefer to use silicone bakeware, all work well.
Nutrition Information
Yield
8
Serving Size
1
Amount Per Serving
Calories

151
Total Fat

7g
Saturated Fat

1g
Trans Fat

0g
Unsaturated Fat

6g
Cholesterol

0mg
Sodium

69mg
Carbohydrates

22g
Fiber

3g
Sugar

13g
Protein

4g
Flax seeds have been shown to be heart-healthy as each tablespoon contains 1.8g of plant based omega3 fatty acids.