This vegan chocolate mousse is so simple and nutritious to make. Full of wholefood ingredients and sweetened just with fruit. High in fibre from whole fruit making the dessert slow absorbing and filling.
This dairy free simple chocolate mousse can be made and ready to eat in a few minutes. The ingredients are just for a guide as I use any dried fruit or berries to make vegan mousse – use what you have in your kitchen. It will set to be firmer after a few hours in the fridge but I often don't wait that long.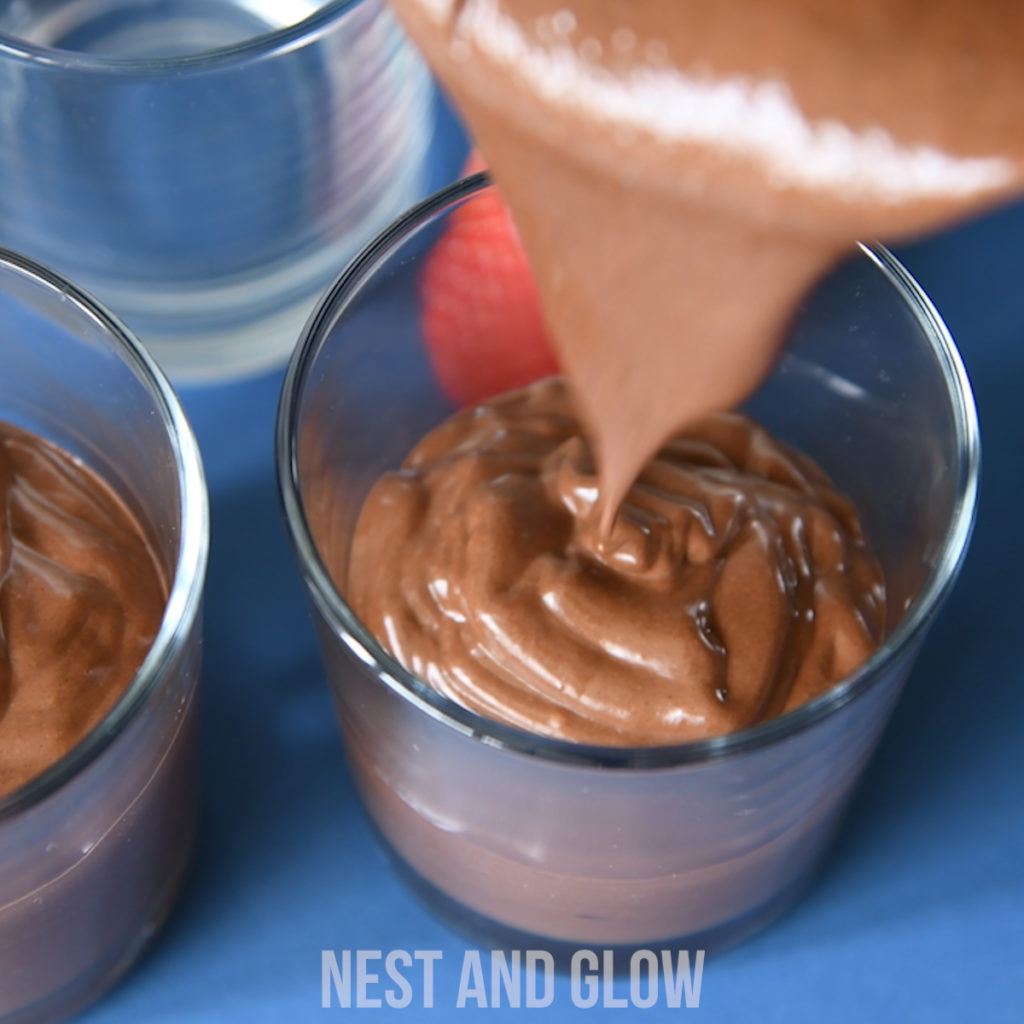 You can add the juice of one lemon to this berry chocolate mousse. I didn't in the chocolate berry mouse video because the out of season strawberries aren't super sweet and quite honestly because I wanted to keep it simple.
If making a coconut mousse during the peak of the summer fruit season lemon or lime juice helps to balance the flavours and preserve.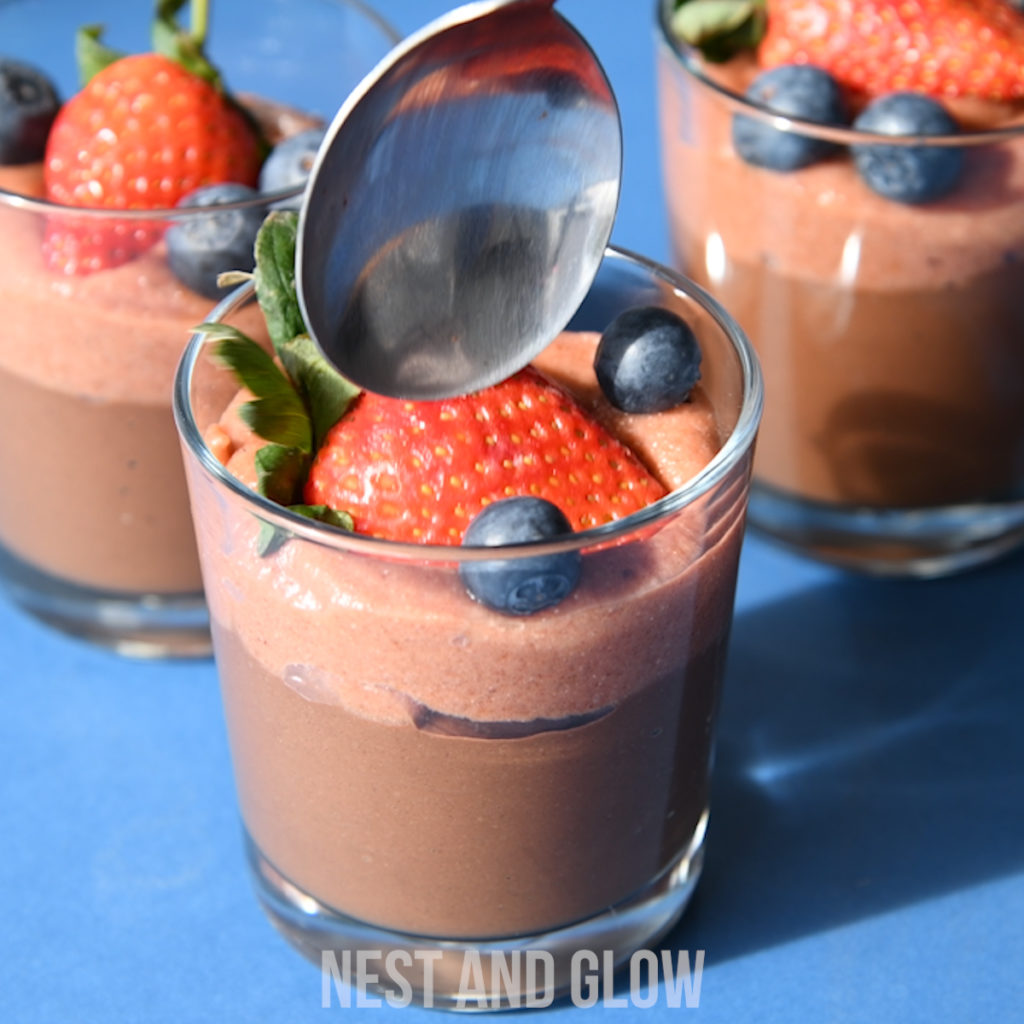 You can use any berries to make this dairy free chocolate mousse. Raspberries, blueberries, Incan berries, gooseberry, mulberry, blackberry all work great. But my personal favourite to use is blackcurrant, with their tart and sharp flavour that works so well.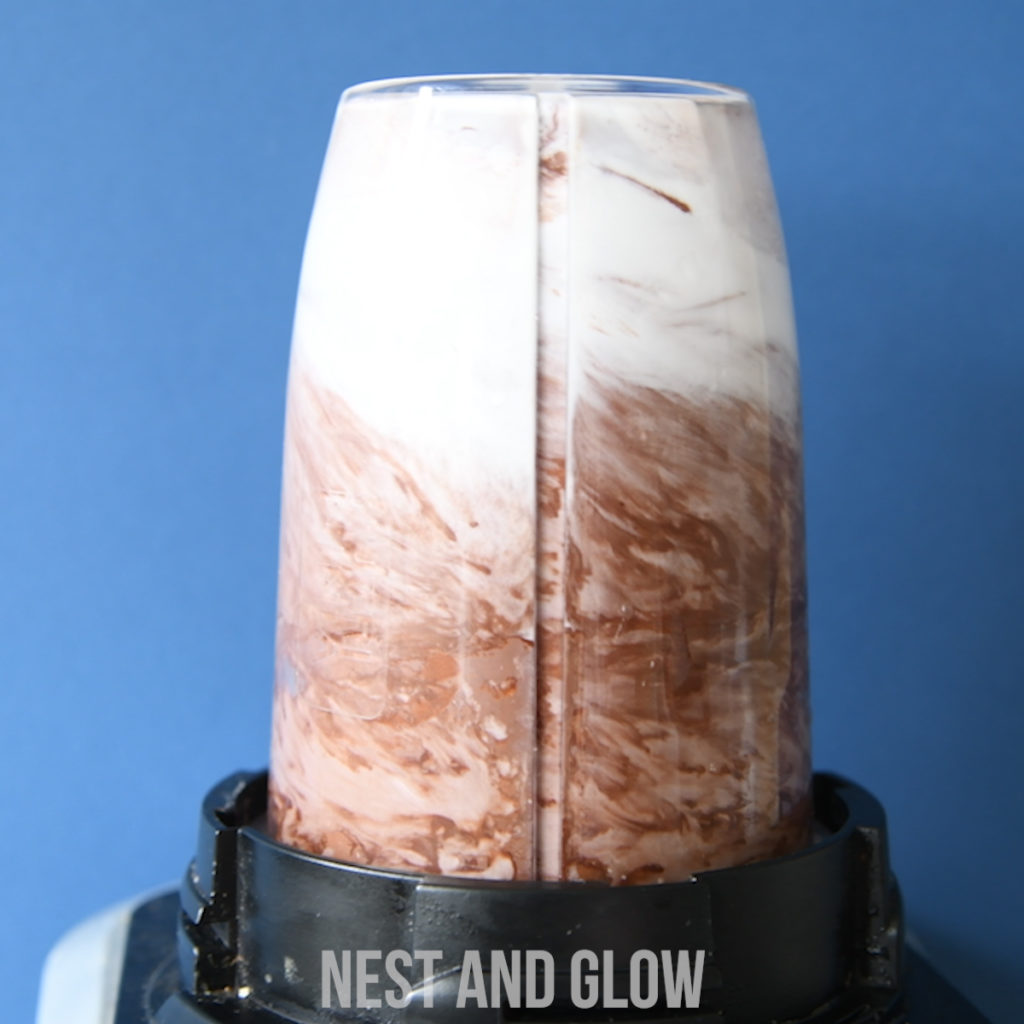 Chia seeds are a good addition to this recipe to add nutrition and help make it set quicker. I've left them out of the original but a tablespoon in both the mousse and berry topping is worthwhile adding if you have them, if not don't worry.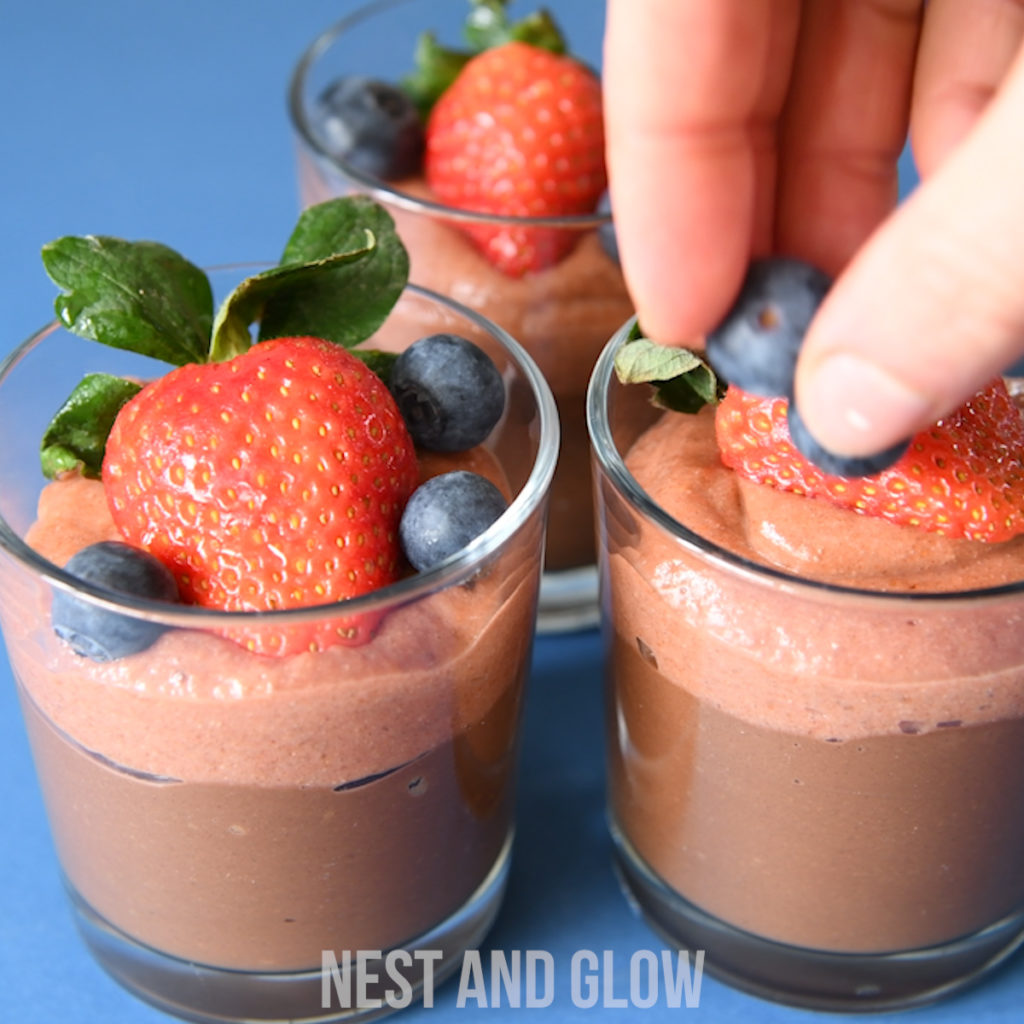 I use normal cocoa powder for this coconut mousse chocolate recipe rather than raw cacao. Cocoa powder is much cheaper but also nutritious.
Per gram cocoa powder works out cheaper than cacao for the nutrition it provides, but you can use either. More on the difference between cocoa and cacao powder.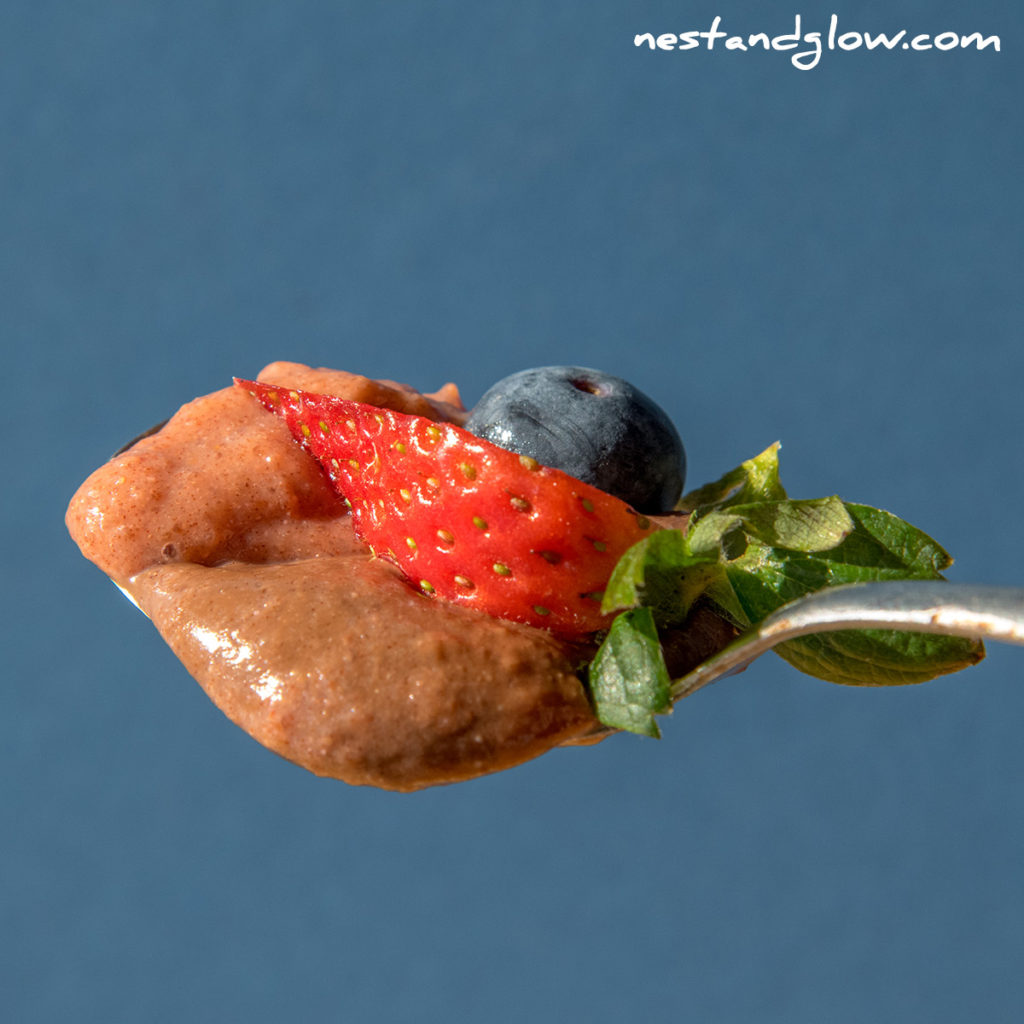 Aways use full fat coconut milk for coconut mousse recipes, check your can and try to choose one that's 60% or more coconut solids. Some coconut milk can be as low as 30% and bulked out with stabilisers that can upset some peoples body.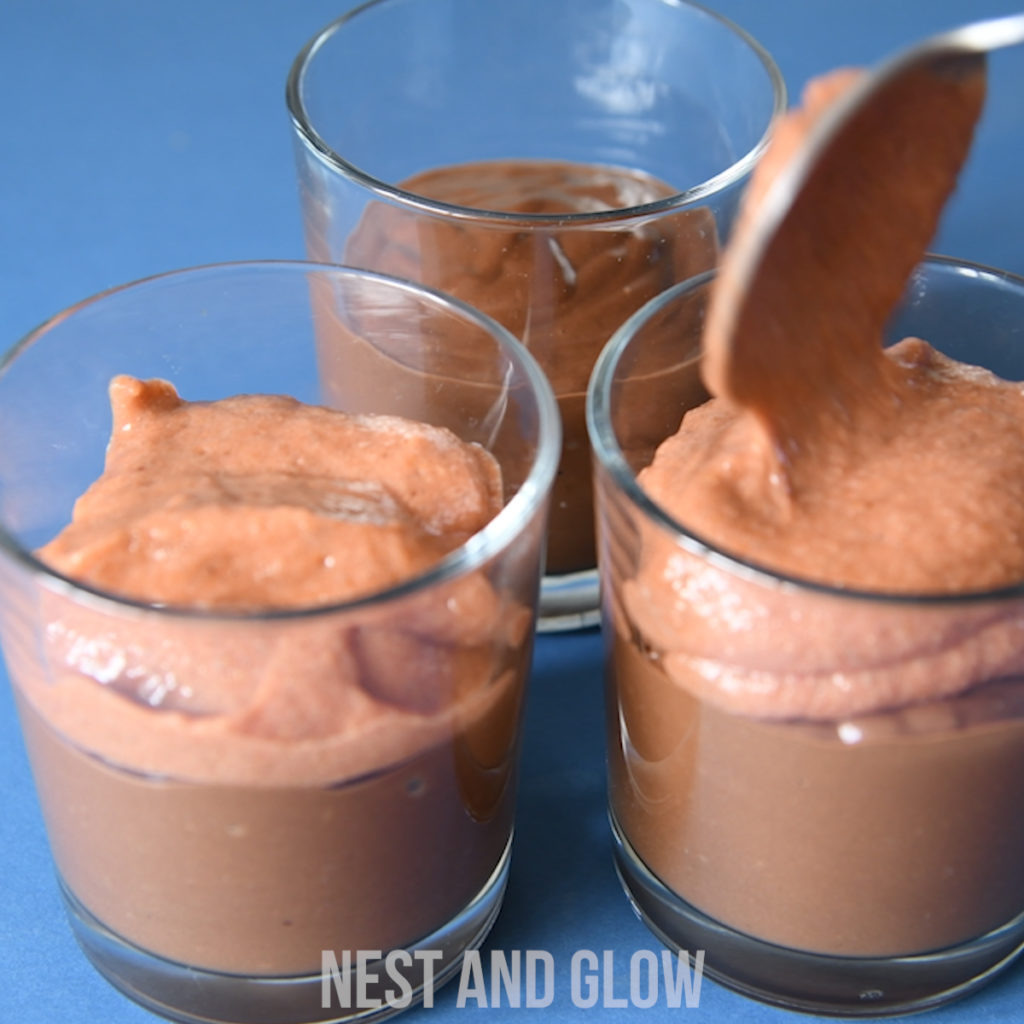 I used chopped dates in the mousse video recipe just because they were the only dates I could buy. I would usually make these from vine fruit like sultanas as they're cheaper. But so many often prefer dates I wanted to use them for the video.
You can use pretty much any dried fruit that you like. Just choose one that's pure with no added sugar.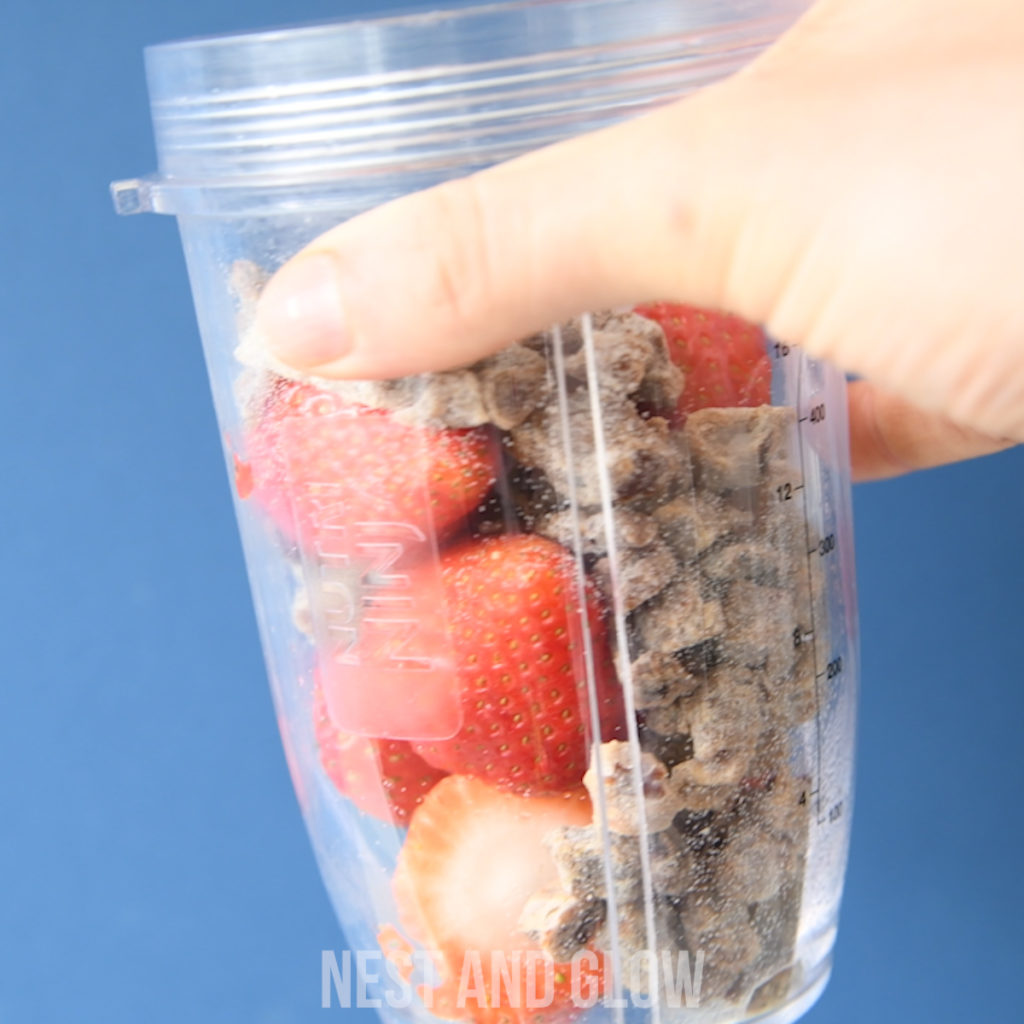 I really did want to add some beetroot to make the topping redder, but thought that would be cheating and wanted a 4 ingredient simple mousse recipe. Ideally, blackcurrant would have been used to make a deep purple topping that was more distinctive than the chocolate mousse, but it is what it is.
This recipe is full of calories and sugar. But it's sugar from whole fruit that's also being delivered with fibre, nutrition and fats from coconut and cocoa seeds. Fat and sugar isn't the enemy, it's fat and sugar without any nutrition and has been processed just to be sugar and fat that are unhealthy. Healthy whole food plant based fats and sugars are essential for a healthy diet.
Did you know coconut is technically a seed so this dairy free coconut mousse is suitable for most people with a nut allergy? But do always check if someone is fine to eat coconut!
Yield: 4 vegan chocolate mousses
4 Ingredient Berry Chocolate Mousse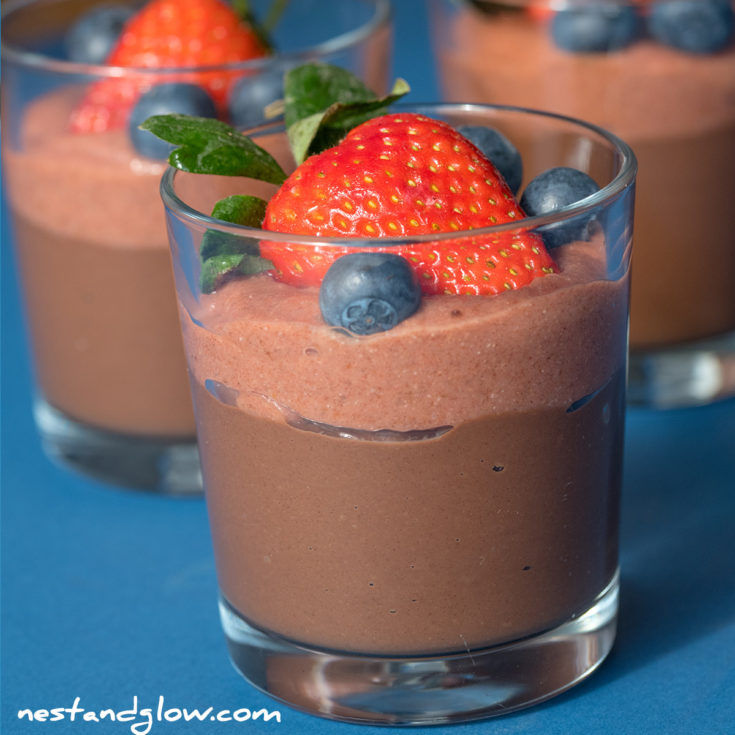 Easy to make and healthy chocolate mousse that's made from just 4 ingredients. Cocoa, coconut milk and fruit can make a really tasty and not too expensive dessert.
Suitable for vegan, gluten free, nut free, dairy free, grain free, refined sugar free and plant based whole food diets.
Ingredients
1 can Coconut Milk (400ml)
1/3 cup / 2 heaped tablespoons Cocoa powder
4/5 cup / 200g Dates
1 cup / 100g chopped or small Berries
Instructions
Blend the coconut milk with the cocoa powder and half of the dates for a minute.
Pour into 4 small dishes, I use small and wide drinking glasses rather than ramekins just because I don't have any.
Blend the berries with the dates. Should only need blending for seconds to become roughly combined. I try not to blend too much as the fruit will oxidize quickly.
Spoon on the berry coulis.
Top with berries or anything you like and either serve immediately or store in the fridge for up to 3 days.
Notes
To make this recipe in minutes it's best to use a can of coconut milk that's been stored in the fridge or freezer for an hour.
Think of this as a base recipe to add any extras you like. Spices like cinnamon work well in the chocolate or add some cooked beetroot to the topping to add nutrition and colour.
I use a 600w small jug blender to make this vegan chocolate mousse recipe. It's easy to use, powerful and quick to clean up.
Nutrition Information
Yield
4
Serving Size
1
Amount Per Serving
Calories

357
Total Fat

22g
Saturated Fat

19g
Trans Fat

0g
Unsaturated Fat

1g
Cholesterol

0mg
Sodium

14mg
Carbohydrates

45g
Fiber

5g
Sugar

33g
Protein

4g
Did you know that the cocoa pod is a fruit, but the beans inside are a seed that are technically a nut. It's confusing isn't it, but that's botanists and their classifications. Let's not even start on that bananas are berries but strawberries are not a berry.