Indulgent chocolate covered stuffed dates are easy and fun to make but taste delicious.
Medjool dates on their own are a delicious healthy natural fudge but add a crunchy almond or two and coat in a crispy layer of rich dark chocolate for the perfect healthy chocolate sweet.
Suitable for vegan, refined sugar-free, raw food and general healthy whole foods diets.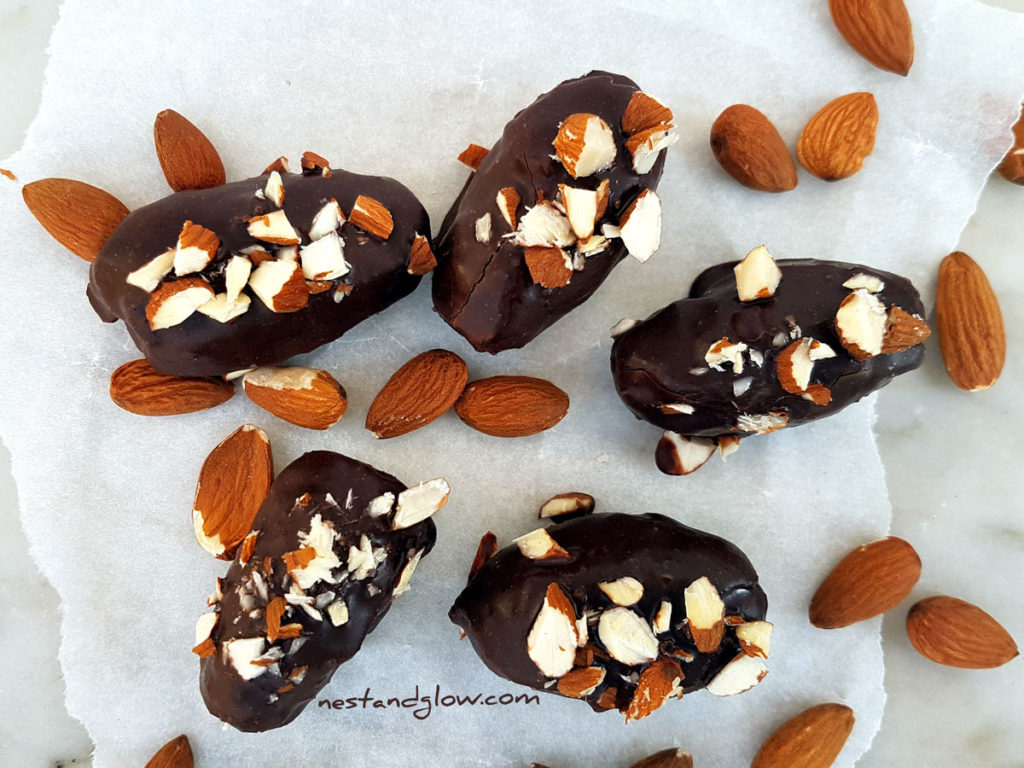 You can use normal dates if you prefer and they will still be great, but they just won't be quite as soft.
If you're using normal dates they are a bit smaller so you will probably only want the one almond inside.
To make this raw make sure you use raw cacao powder. You can make with regular cocoa powder if you prefer and it will still taste great. More about the difference between cocoa and cacao.
Almond Stuffed Chocolate Covered Dates Video Recipe
To make a salted caramel type Medjool stuffed chocolate date just sprinkle with some coarse flaky sea salt on top.
The saltiness works really well with the very sweet date and the bitter dark chocolate.
I make my own chocolate coating for these but you can just melt and use whatever chocolate you like to dip these in.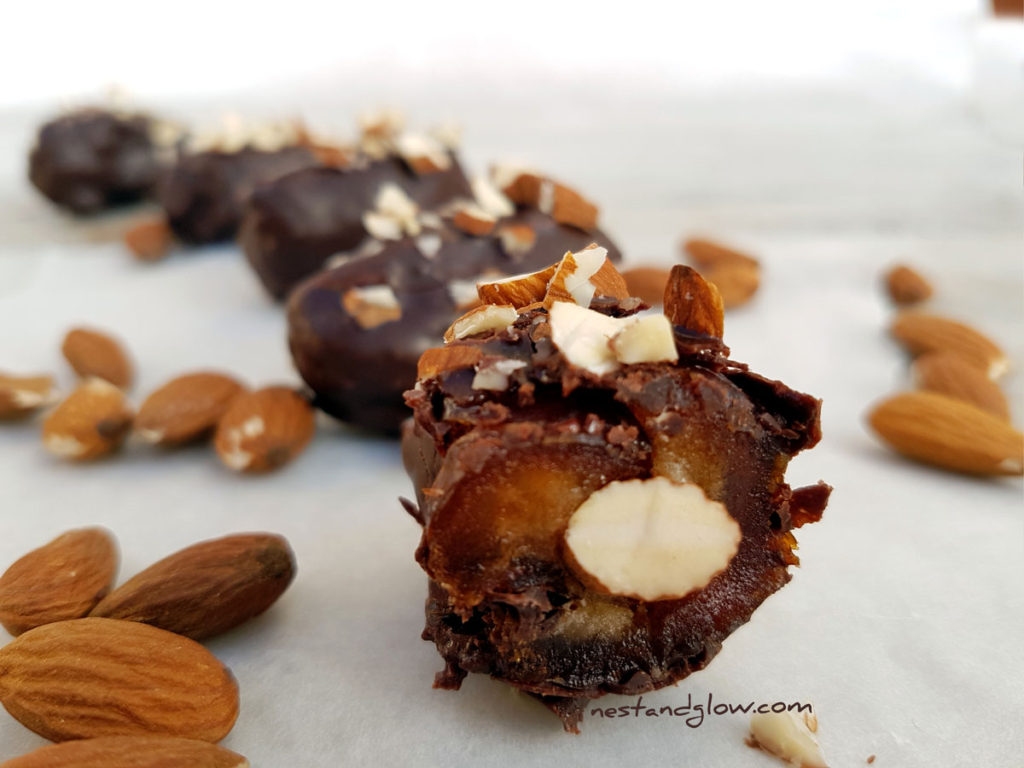 You can treble or quadruple the dips if you want a thicker chocolate shell. For me, dipping twice is enough.
You can see from the video that I forgot to sift my cacao powder – I would recommend that you do this to avoid lumps.
However, if you forget it is not the end of the world as they are covered in crushed nuts and this hides any imperfections.
Think of it as makeup for your chocolate date sweets.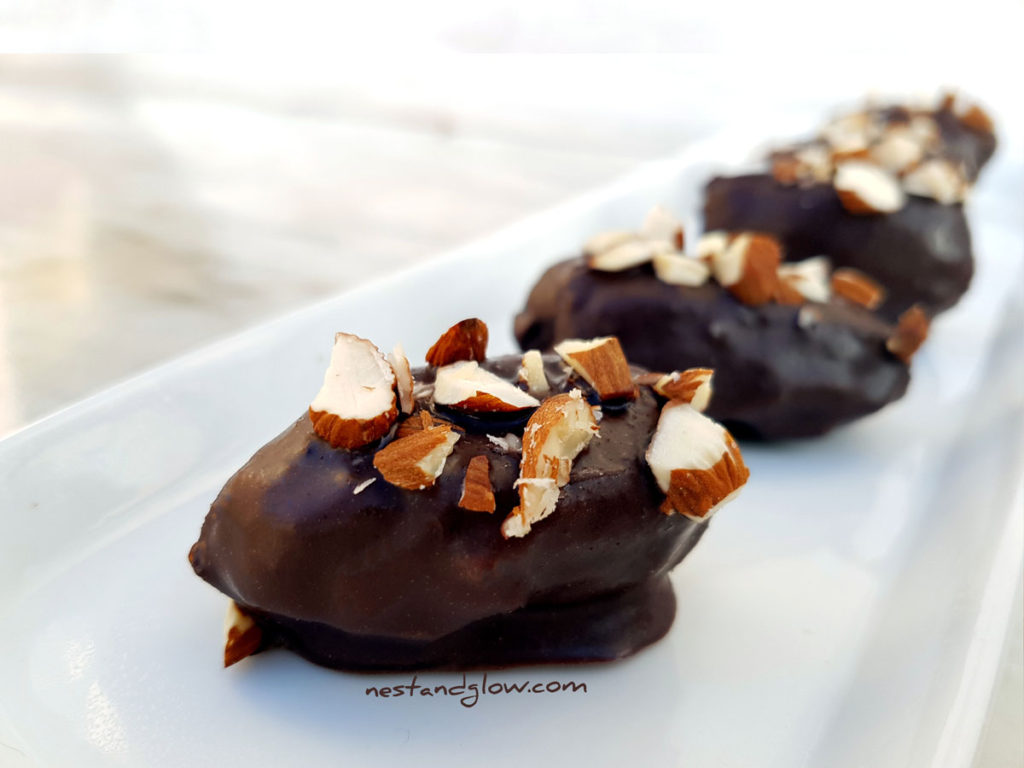 You may find that your chocolate coating in the bowl begins to set while the first coat dries, it certainly did for me in December when I first made this.
If it does just put the chocolate bowl in a pan of warm water and carefully stir for a few mins, being careful not to get any water in the chocolate, and it will return to a liquid.
If you want a caffeine free version just sub the cacao for carob. As carob is naturally sweet you may want to add less sweetener.
If you're not a fan of almonds you can replace them with any other nut. I also like these stuffed with walnuts, pistachios and hazelnuts.
Pistachios crushed on top look great regardless of what nut you stuff in the inside.
Yield: 5 chocolate almond dates
Almond Stuffed Chocolate Dates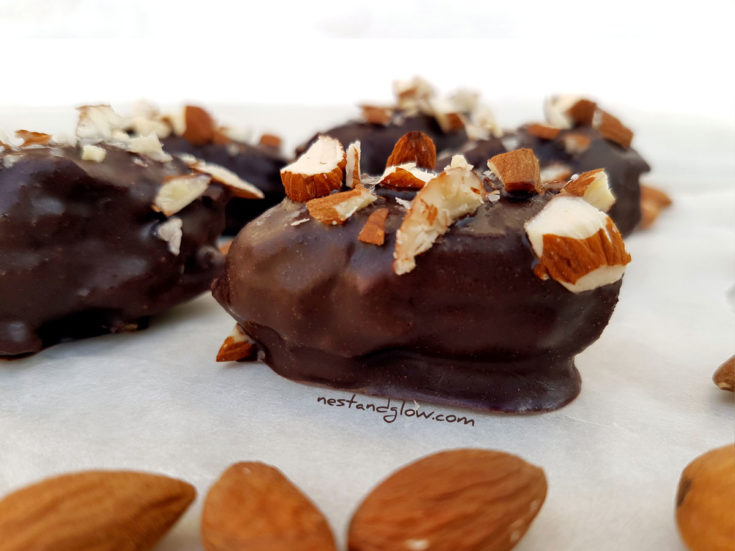 Dates are stuffed with an almond then covered in homemade raw chocolate for a sweet that is loaded with goodness and tastes amazing.
Dates have been stuffed with nuts for thousands of years but a layer of antioxidant rich raw chocolate takes this treat to the next level.
Ingredients
5 Medjool dates
10-15 almonds
2 tbsp cacao/cocoa powder
2 tbsp sweetener / maple / agave / coconut nectar / any
1/3 cup / 80 ml coconut oil
3 crushed almonds to top
Instructions
Carefully open the Medjool date lengthways and remove the stone and stem. Try to split the date down the middle, but it doesn't matter too much if you mess this up as the soft date is very malleable.
Insert an almond or three depending on the size of the dates/almonds then fold the date back and squeeze it shut.
Place in the freezer for 5 mins while you make the chocolate coating.
Melt the coconut oil and then mix with the cacao and sweetener until smooth.
Coat all the dates with the chocolate. Either dip and roll in the chocolate or spoon over the chocolate while holding on a fork. Place on greaseproof paper and return to the freezer for 5 mins.
Cover again in chocolate and then sprinkle with almonds.
Place in the fridge for a few mins to set and then enjoy.
Store raw chocolate stuffed dates in the fridge as they will melt if stored outside for long, I assume as mine are never sat around for long.
Nutrition Information
Yield
5
Serving Size
1
Amount Per Serving
Calories

184
Total Fat

12g
Saturated Fat

9g
Trans Fat

0g
Unsaturated Fat

2g
Cholesterol

0mg
Sodium

17mg
Carbohydrates

18g
Fiber

2g
Sugar

14g
Protein

2g

Pin recipe on pinterest.