This quick and easy sour lime pina colada cocktail is served in a pineapple. Full of fresh fruit juice and heart healthy fats from coconut milk so this cocktail loaded with vitamins and minerals. If you're having the acholic version then all this fresh fruit should go some way to counterbalance a hangover. Suitable for vegan, dairy-free, gluten-free and refined sugar-free diets.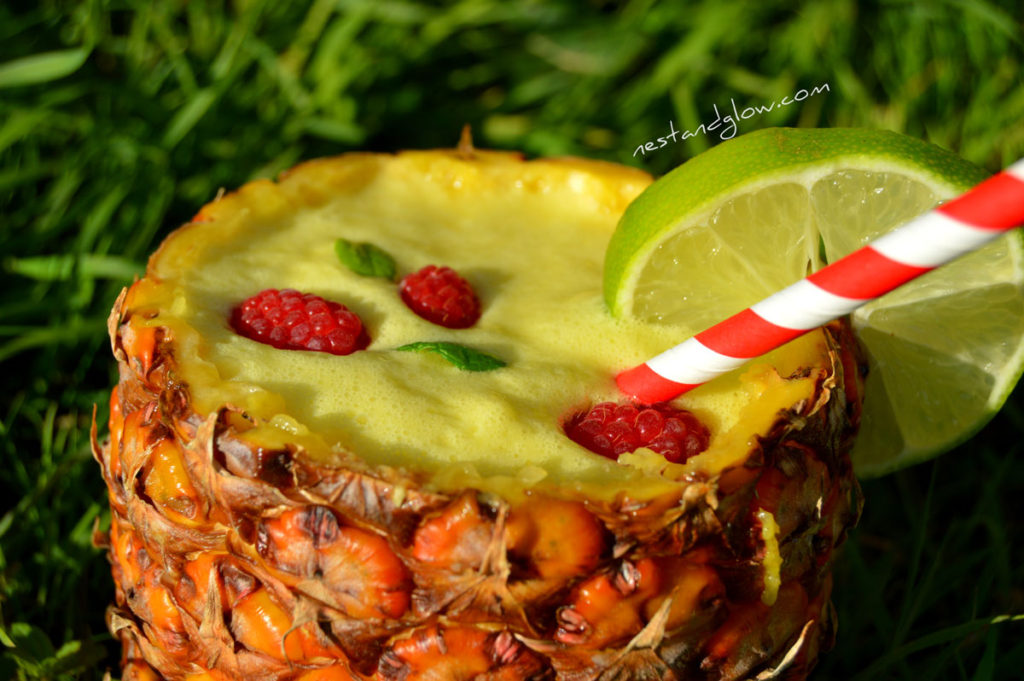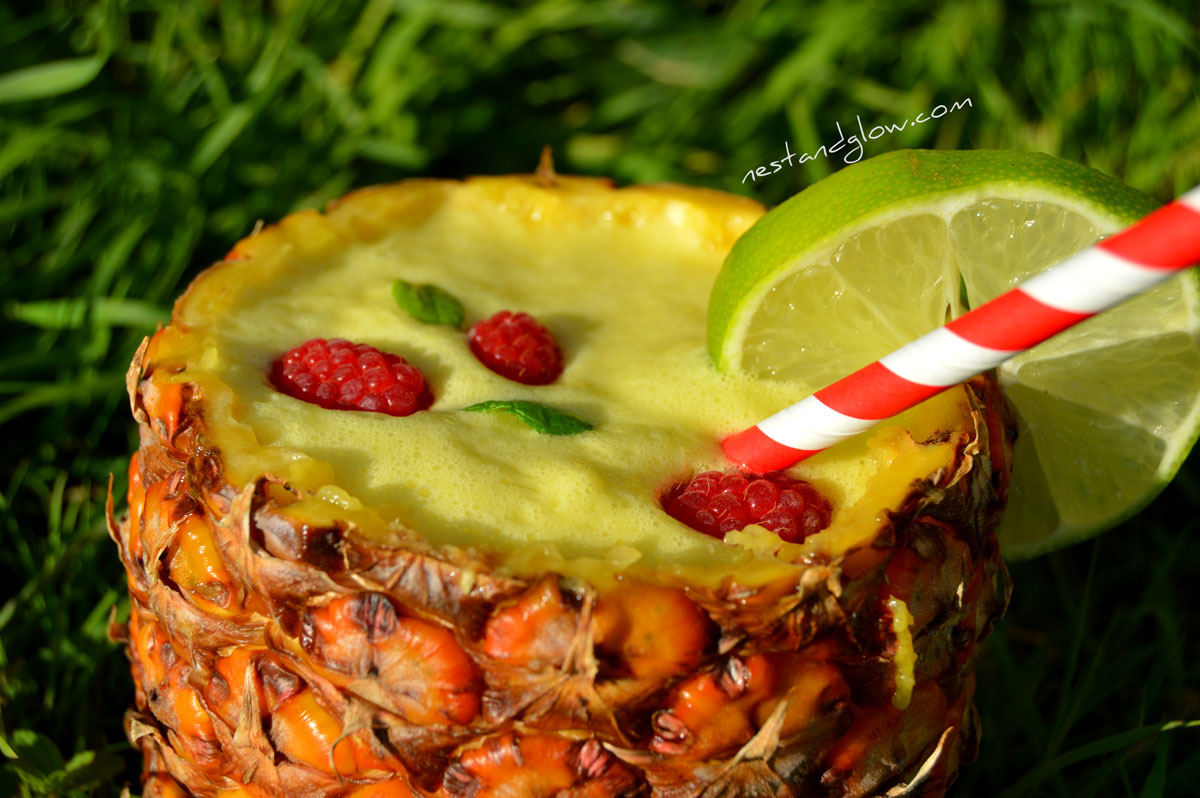 This is called a sour lime pina colada but really it's not sour at all. The lime juice just helps to balance out the sweetness of the rest of the sweet cocktail to make it even more delicious. Often cocktails are loaded with syrup and are ridiculously sweet. This is a more balanced cocktail without any added sugar with a more rounded taste.
Sour Lime Pina Colada Video Recipe
Pineapples seem very cheap these days, maybe too cheap?, and in the UK can often be picked up for 50p. So even making this cocktail for several people is inexpensive. You can buy the cheaper ones that come without a stem.
You don't have to put rum in this – it's just as good without it but it's a great cocktail for a gathering as both the drinkers and non-drinkers can have the same drink just without the alcohol. We are a healthy living website but created this recipe as something to bridge the gap between drinkers and non-drinkers. If you're not having any alcohol but like the taste of rum you can get natural rum extract to add to this. To do the lime drop without rum just use a juice such as orange or cranberry.

I usually break a fresh coconut open to make raw coconut milk. To do this simply tap a coconut lengthways with a knife until it opens. Remember to hold over a bowl to catch all of the sweet delicious coconut water. Once open remove all the white coconut meat from the hard shell, you will need to use a fork or something to prise it off. Then with a cup / 240ml of water and all the coconut water blend the meat for a few mins. Empty this into a nylon bag/cheese cloth and squeeze out.
Yield: 1 large Sour Pina Colada
Sour Pina Colada Cocktail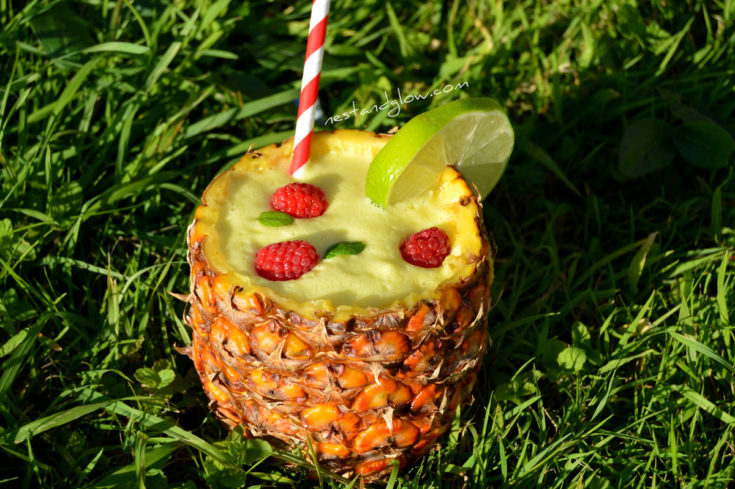 A soured pina colada that is bursting with fresh healthy ingredients. The rum is optional and it's just as great as a mocktail.
Ingredients
1 Pineapple
1 Lime, juiced
1 shot Rum
½ cup / 120 ml coconut milk
garnish such as mint / berries / a colourful straw
Instructions
Cut the stem off the pineapple.

Then using a knife and spoon remove and discard the core and scoop out all the pineapple flesh, remember to not scoop right to the skin so it still holds a drink. See the video for a demo.
Into a blender jug put the pineapple flesh in with the coconut milk and the lime juiced.
Blend until smooth then pour back into the pineapple skin, garnish and then fill half a lime with rum and drop into the drink.
As this drink is fresh blended fruit it's best to drink on the day it's made.
Nutrition Information
Yield
1
Serving Size
1
Amount Per Serving
Calories

489
Total Fat

26g
Saturated Fat

22g
Trans Fat

0g
Unsaturated Fat

2g
Cholesterol

0mg
Sodium

20mg
Carbohydrates

45g
Fiber

8g
Sugar

27g
Protein

5g

The colada in Spanish I think means to strain, this is however more of a smoothie. There really isn't the need to strain out the pineapple fibre as this it's good for you (the average person doesn't get enough roughage) and it's fiddly to do this so why bother.