Easy to make raw gazpacho with almonds, red peppers and tomatoes. This recipe is oil free and almonds are added in place of olive oil to give heart-healthy fats and a portion of protein.
Perfect light and healthy recipe for a hot summers day to help you cool down. Suitable for raw vegan, gluten-free, oil-free, grain-free, paleo and general healthy diets.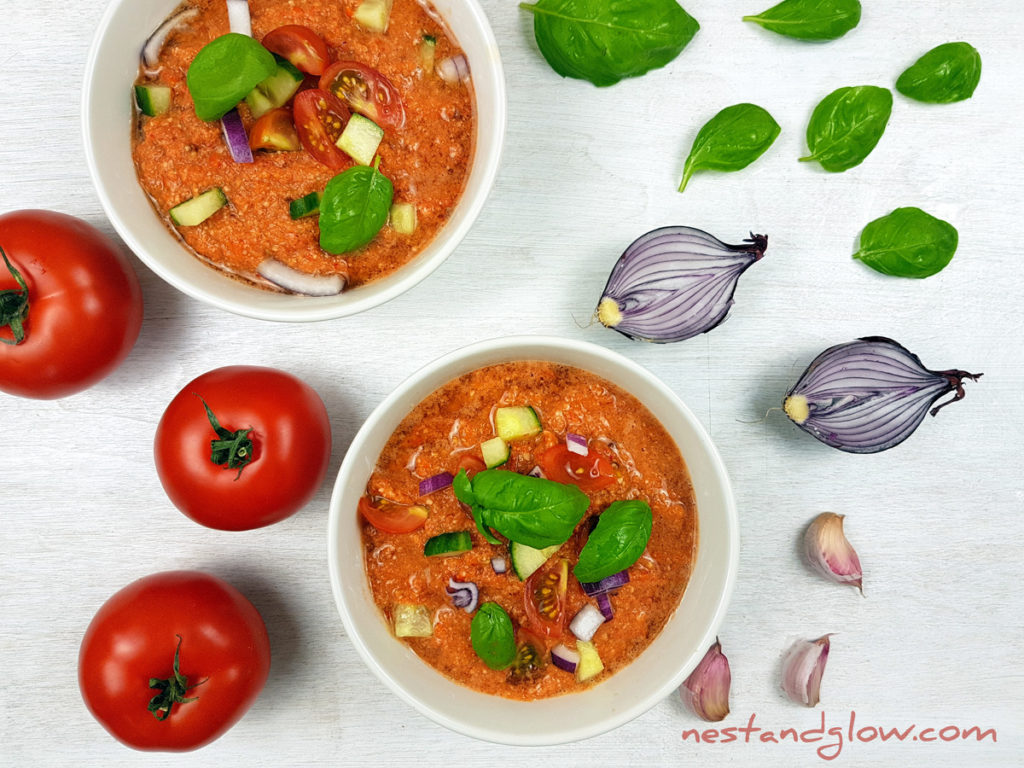 I use cherry tomatoes as they are sweet and juicy, but normal tomatoes with lots of taste are just as good. I also add some sun-dried tomatoes to boost the flavour but this is totally optional. To add a bit of chilli heat try adding a tsp of cayenne pepper.
IngredientsAlmond Tomato Red Pepper Gazpacho Video Recipe
In this raw gazpacho recipe, I soak and sprout the almonds. This is to remove some of the natural defences the nut has that prevent optimal absorption.
Almonds, unlike sunflower seeds, will not start to open up as they sprout. If you can use unpasteurised almonds as they will be raw. I think all Californian almonds are now pasteurised following salmonella outbreaks so I try to choose Spanish or Italian almonds.
You can remove the skin from the almond if you like but this is fiddly. The almond skin doesn't affect the taste once blended but definitely adds to the nutritional content.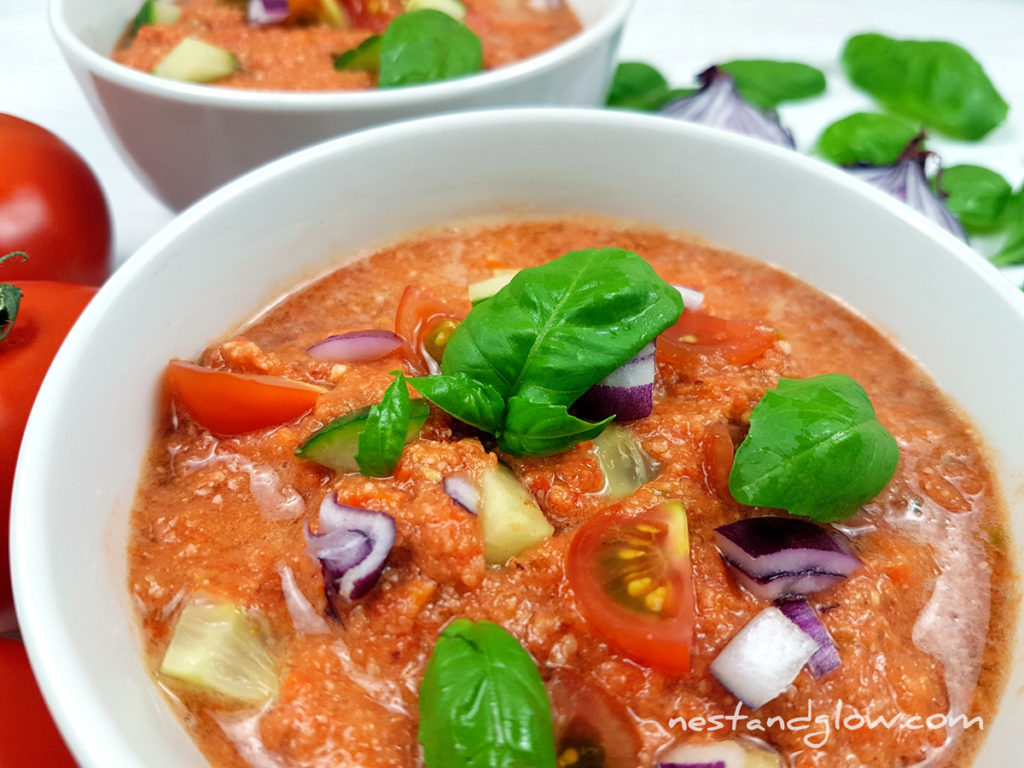 If you are making this soup in advance then I recommend to keep it chunky when blending as it will reduce the oxidisation and keep it fresher for longer.
I usually keep my tomatoes and peppers at an ambient temperature but if you are making this soup to eat straight away then I would recommend storing these fruits in the fridge.
Cold fresh produce will mean the soup will be pre-chilled after blending and ready to enjoy immediately.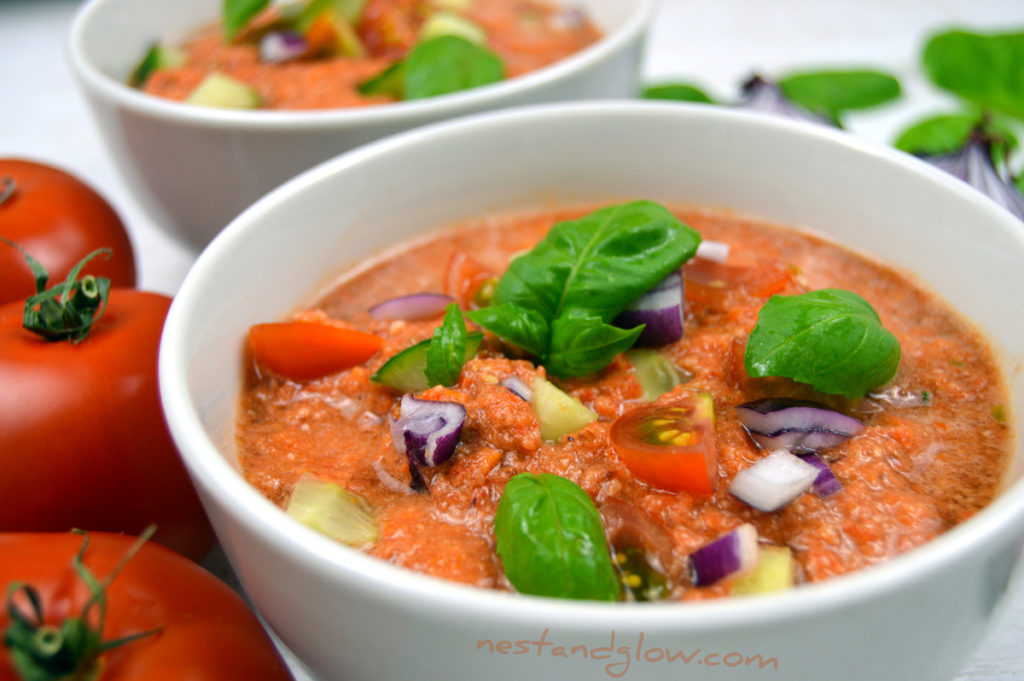 You can either have 4 portions as a starter or 2 for as the main course. The nuts make this a complete meal full of healthy fats, protein and plenty of fruit and vegetables. As a main this healthy soup will be 3-4 of your daily portions of fruit/veg.
Some people remove the skins from the fruit and the seeds from the cucumber. While that may taste better and be suitable for a Michelin starred restaurant if you are eating for health then leave these in for maximum nutrients.
The added salt is totally optional but if you don't add any sundried tomatoes then it will be low in salt and some people used to well-seasoned food may find it bland.
Replace the almonds with sunflower seeds to make this raw soup nut-free.
Yield: 4 servings
Raw Vegan Tomato Gazpacho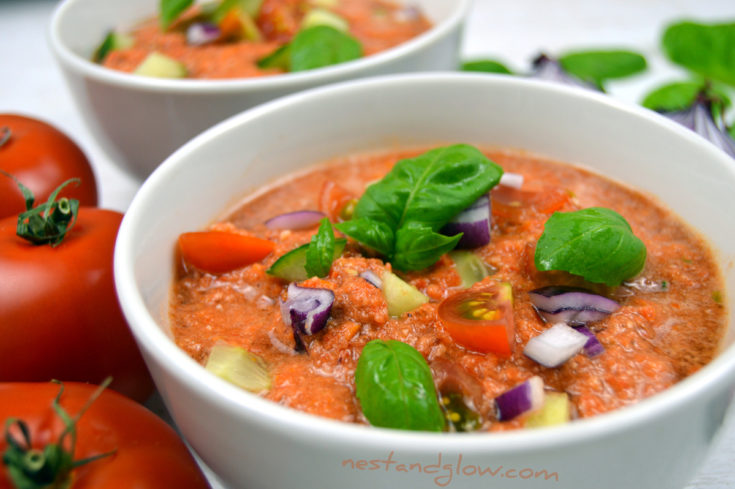 Raw Vegan Tomato Gazpacho recipe - with cucumber and almonds. Easy recipe that's perfect for summer. #vegan #raw #rawvegan #healthy #summer #easy
Ingredients
700g Tomatoes
½ Cucumber
3/4 cup / 100g Almonds
2 Red Peppers
3 Garlic Cloves
3 Spring Onions
6 Sun-dried Tomatoes, optional
4 tbsp Apple Cider Vinegar
½ Red Onion
1 tsp Smoked Paprika
pinch of Salt, optional
Garnishes – Basil, cucumber, tomato and onion
Instructions
Soak the almonds in water with a pinch of salt for at least 15 mins, or 8h/overnight.
Drain the almonds and then add them to a blender along with everything else.
You can peel the cucumber if you like, left on it does affect the colour but it is more nutritious. I peeled it for the video for aesthetic reasons only.
Blend until the consistency desired is reached. 20 seconds and chunky is how I like it.
Chill raw Gazpacho for an hour then garnish and enjoy within 3 days.
Nutrition Information
Yield
4
Serving Size
1
Amount Per Serving
Calories

249
Total Fat

14g
Saturated Fat

1g
Trans Fat

0g
Unsaturated Fat

12g
Cholesterol

0mg
Sodium

178mg
Carbohydrates

27g
Fiber

8g
Sugar

14g
Protein

9g

There's many different varieties of gazpacho, while this one isn't traditional it's a healthy, vegan and gluten free gazpacho.