This is an easy recipe for 4 different types of nut butter – Smokey Maple, Cacao Coco, Spicy Satay and Wasabi Wheatgrass. All are gluten-free, vegan, paleo, oil-free and refined sugar-free.
If you make your own nut butter you can ensure that it's palm oil free. There is no need to add any oil in these nut butter recipes but they may need a quick stir before using. Food does often lose its flavour after being roasted then ground and stored for a long time. This nut/seed butter allows you to make freshly roasted and ground butter that's full of flavour. I'm using peanuts in the video to make it most accessible but you can use most nuts.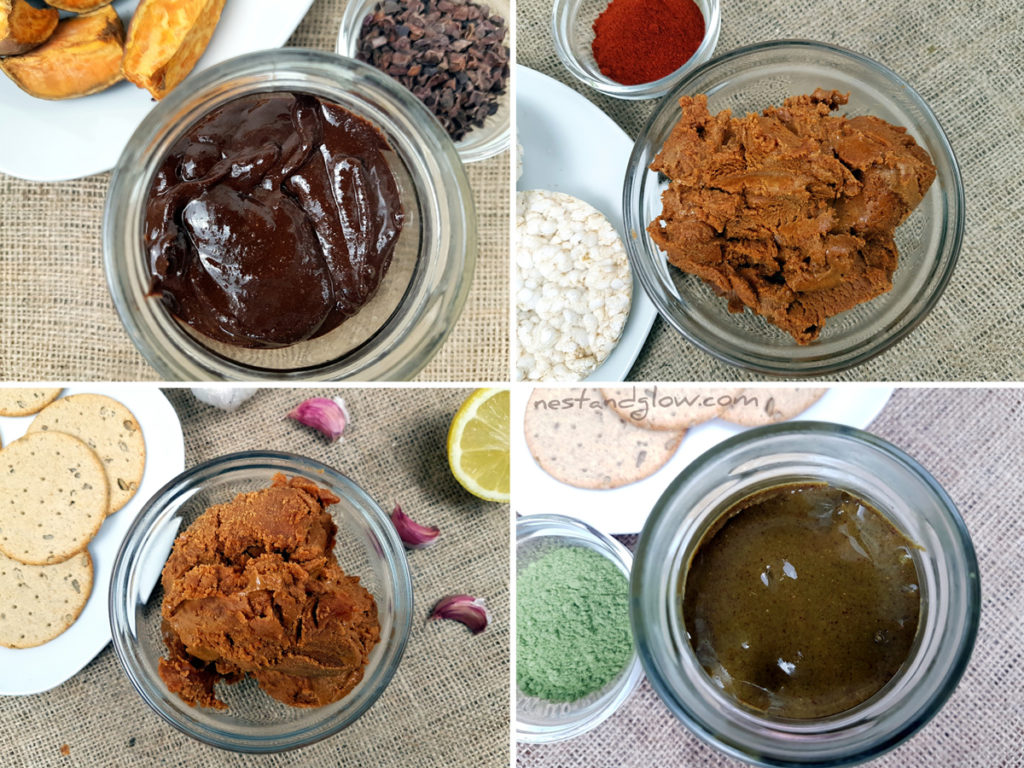 Nut Butter 4 Ways Recipe
Total time:

30m

Yield:

52 servings

Calories:

90 cal
Ingredients
Smoky Maple Nut Butter
2 tbsp Smoked Paprika
2 tbsp Maple Syrup
pinch of Salt
Wasabi Wheatgrass Nut Butter
1 tbsp Wheatgrass powder
1 tsp Wasabi or Horseradish powder
1 tsp Cayenne pepper
pinch of Salt
Cacao Coco Nut Butter
2 tbsp Coconut desiccated
2 tbsp Coconut sugar
2 tbsp Cacao / Cocoa
Spicy Satay Nut Butter
2 Lemons juiced
1 tsp Cayenne pepper
1 tsp Garlic powder
1 tbsp Soy sauce/tamari
How to make
Spread your nuts out on a baking tray and roast for 10-15 mins at 180C / 350F.
Remove as soon as they get a bit of colour as they catch and burn quickly – never leave them alone!
Leave the nuts to cool.
Blend the nuts for a few mins in a powerful blender. Mine took about 6 mins to make a butter that can be poured and I had two breaks to save the blender motor. Blend for longer to get a smooth butter.
Separate into bowls and stir in the flavours.
For the coco cacao butter grind the coconut shreds and sugar for a few seconds to make them a powder.
Store all in an airtight container in the fridge and enjoy within a month, apart from the satay that will last a week.
Nut Butter 4 Ways Video Recipe
You can use this recipe with any other nuts to make a different nut butter – cashews, almonds, walnuts and pecans all work well. If you want to make it nut free then sunflower seeds work well as they have a neutral taste. You can make it with other seeds such as pumpkin and sesame but as these seeds have a strong taste so they don't take to flavourings well.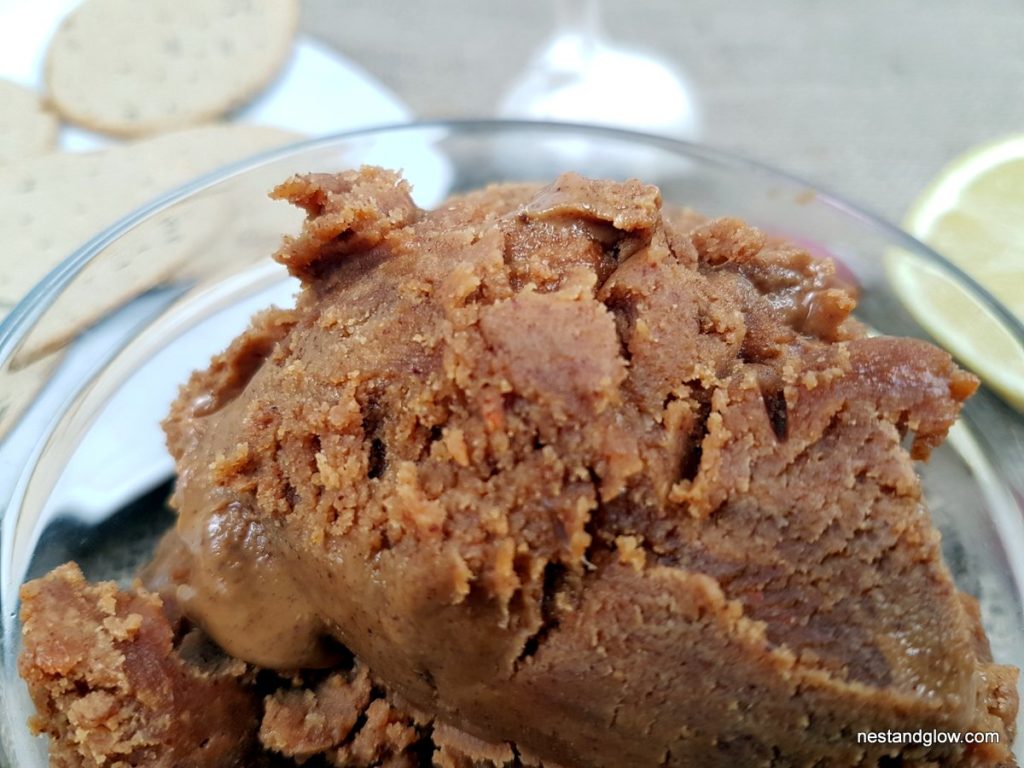 Some people don't like to heat their nuts as it does destroy some of the goodness in them. You can make a raw nut butter by blending with cold pressed oil or by soaking and sprouting then blending. If you are sprouting then the nut/seed butter will need to be kept chilled and eaten within 3 days.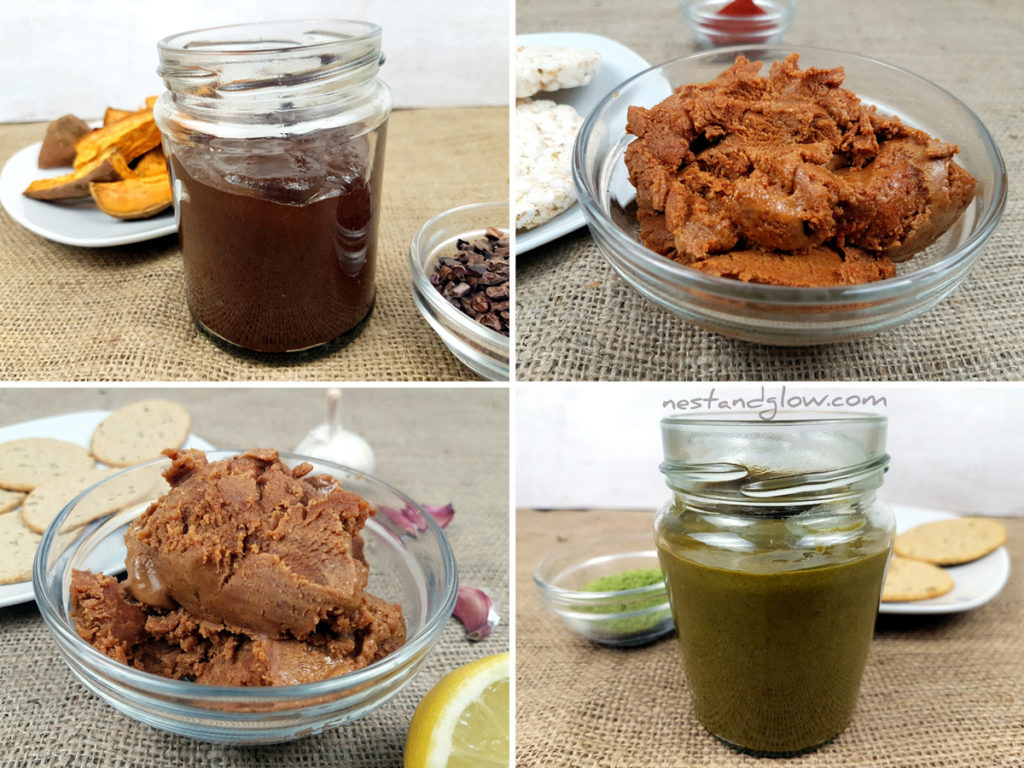 I'm using a "wasabi" powder that is mainly horseradish as real pure wasabi is very expensive and not really available in the UK. Wasabi is otherwise known as Japanese horseradish and is one of the most difficult plants to grow commercially so demands a high price. Although it is not related to the normal horseradish plant horseradish is a good inexpensive substitute. Use tamari if you are following a wheat-free diet – personly I think it's far superior to its poorer relation soy sauce.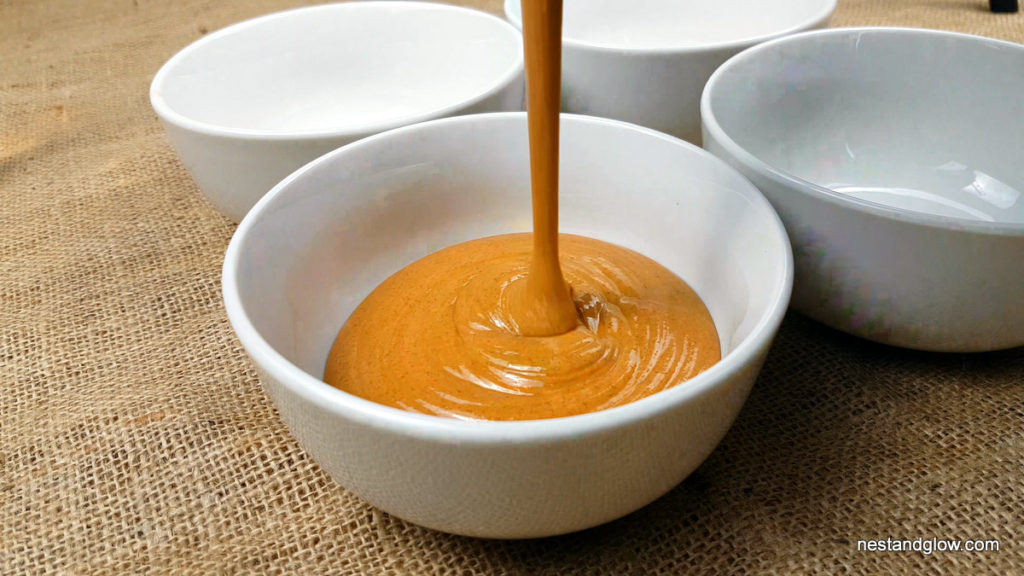 This blender method is a very accessible way for people to make nut and seed butter. If you are really into these then I would recommend getting a stone grinder. It's expensive and messy but you can make a large high-quality batch of nut/seed butter. If you buy organic raw special nut/seed butter you can make back your money from investing in a grinder in a few months. I will be doing an article on stone grinders shortly.