Gluten-free avocado toast recipe made from quinoa bread and topped with smashed avocado. This quinoa bread recipe has a nutty flavour that is far tastier than normal bread and high in protein. Suitable for celiacs, gluten free diets, yeast free diets and general whole food healthy diets.
The base may take a bit of time with soaking and baking, but little prep is needed. So while it isn't instant it's still very easy to make. No expensive quinoa flour is used in this recipe making it relatively budget friendly.

The same quinoa bread recipe has been used to bake a quinoa pizza base and several people commented that you would need to eat with a knife and fork. This is totally not the case, the base comes out crisp and just like normal toast or pizza you can eat with your hands.
In the video there is a typo on the amount of water, please see the updated recipe below and add 1/2 cup or 120 ml of water.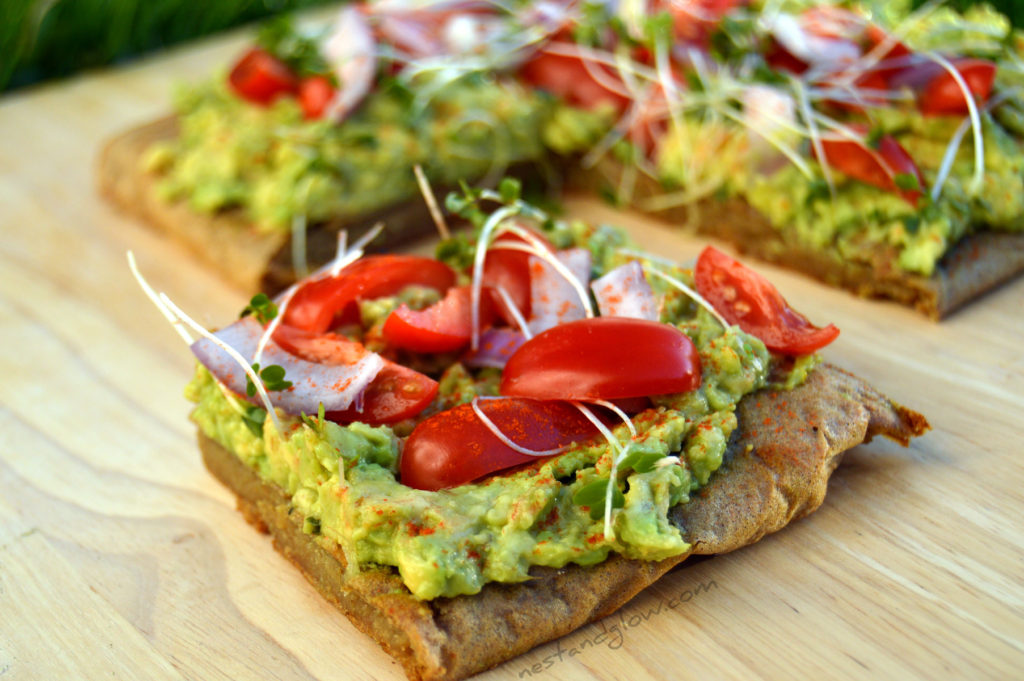 I used to buy a tiny loaf of quinoa bread several years that was very expensive. It was then a rare treat, now I regularly have this quick quinoa bread.
This quinoa avocado toast is delicious and costs a fraction of shop bought fresh gluten free bread and is also free of grains and yeast.
There's some debate as to whether quinoas paleo or not. Quinoa is technically a seed but according to some is has high levels of acid so is not paleo. Then according to others if it's soaked and sprouted, like it is in this recipe, then it's paleo.
The quinoa here is soaked so it starts to sprout and is easy for the body to digest. Quinoa is one of the fastest sprouting grains/seeds and just in 10 minutes you can see it grow!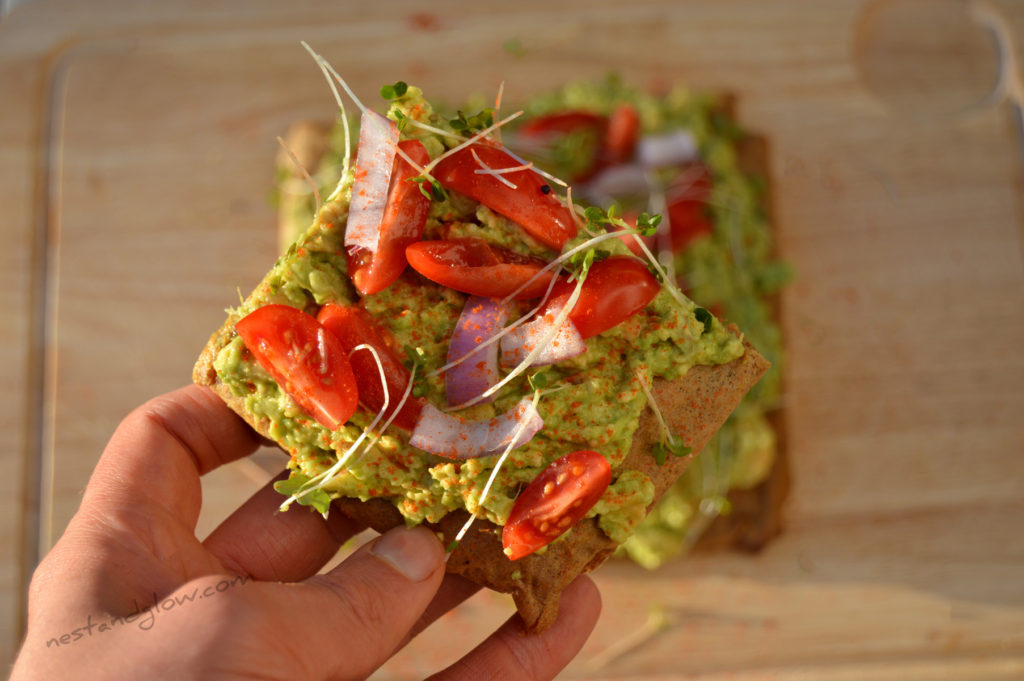 This quinoa bread recipe is pretty flat and reasonably dense compared to normal bread, but a bit lighter than something like rye bread. The outside is crispy with a fluffy inside.
As the inside of the quinoa bread for this avocado toast is moist and it should be eaten within a few days and stored in the fridge. The quinoa base can be frozen, so often I make a batch and then freeze most of it.
If your avocados are not ripe then place in a paper bag with an apple or banana and leave for 1 to 3 days checking daily. The gasses that apples and bananas let off cause other foods to go off but for avocados they help ripen. Once an avocado is ripe eat immediately or store in the fridge for a couple of days.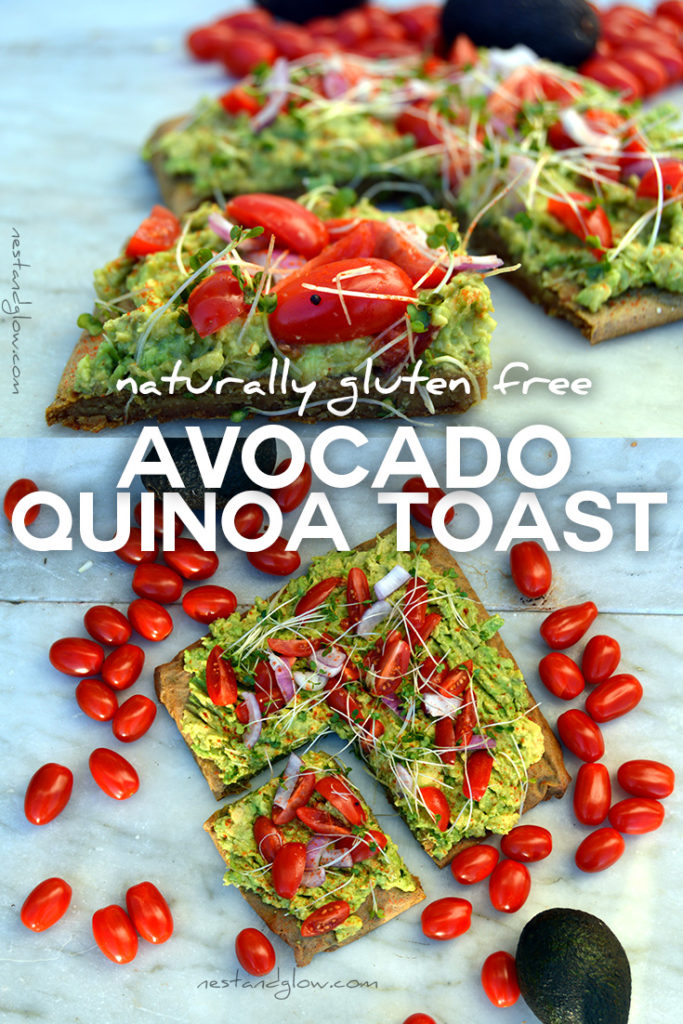 Yield: 4 Quinoa Bread Slices
Avocado Toast on Quinoa Bread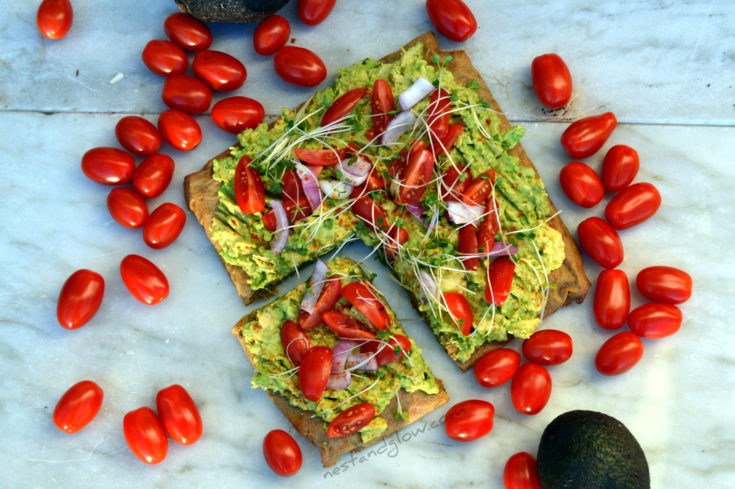 Easy to make gluten free quinoa bread that is perfect for those wanting that bready taste and texture without any gluten. Whole quinoa is used making this gluten free bread recipe inexpensive. Quinoa gives a great nutty taste that works so well to make an amazing healthy avocado toast.

Prep Time 25 minutes

Cook Time 25 minutes

Total Time 50 minutes
Ingredients
Quinoa bread
¾ cup / 135g Quinoa
¼ tsp Salt
½ tsp Cayenne pepper
½ tsp Baking powder
½ cup / 120ml Water 
Avocado Toast Topping
1 Avocado
slice of Red onion
Cherry tomatoes
Cress
Instructions
Soak the quinoa grain in warm water for an hour. If you're short of time 15 minutes will do.

Rinse and drain the quinoa and discard the soaking water. This water can be used to help fertilize plants.
Put everything for the quinoa bread into a blender jug with all the other flatbread ingredients and blend until smooth. I use a 600w bullet style blender (link below) to break down all of the quinoa.
Stop blending when you can hear that all the tough quinoa has been broken down.

Line an 8" pan with greaseproof paper or just use a silicon pan and pour in the quinoa batter.

Bake for 25 mins and 450 F / 230 C, take the quinoa bread of the pan and then bake for 10 more mins for the gluten free bread to firm up.

Let the quinoa flat bread cool and then cover with the smashed avocado and other toppings to make your gluten free avocado toast.
Recommended Products
Links maybe affiliated, meaning I earn a commission from purchases but at no extra cost to yourself.
Nutrition Information
Yield
4
Serving Size
1
Amount Per ServingCalories 249Total Fat 16gSaturated Fat 2gTrans Fat 0gUnsaturated Fat 13gCholesterol 0mgSodium 428mgCarbohydrates 25gFiber 9gSugar 2gProtein 5g



This same gluten free quinoa bread recipe can be used to make a pizza, see my recipe for quinoa crust pizza with cashew cheese.
In Central America I've had avocado and grits, basically avocado with boiled maize. While that is nice, I much prefer this as the smooth wet avocado is with a crispy and crunchy quinoa bread rather than wet with wet.