Black charcoal ice cream is just really a vanilla ice cream with a hint of carbon and chocolate. It's not quite coal black, this final result was the 4th attempt and I don't think its possible to get it really black without artificial colours. Even adding a lot of activated charcoal got it more purple than anything else.
Don't go raiding your bonfire or art supplies for the charcoal. It has to be food safe activated charcoal. This is a natural remedy for poisoning. It has a huge surface area that is great for absorbing particles.
That's why it can be used to treat poisoning as it traps the poisonous particles. We have previously recommended it for natural teeth whitening for the same reason as trapping unwanted particles on your teeth. It's also said to help with bloating.
Black coco power is an ultra dutch processed cocoa powder where the acidity has been neutralised leaving a mellow non bitter flavour. It is more for colour and gives a very mild flavour.
I always make ice cream using this method. Its quick and gives a great smooth ice cream. It's not as solid as ice cream straight out of the freezer but more like a Mr Whippy that has begun to melt. This is all a bonus for me. You can use the same recipe in a traditional ice cream churner. Just replace the ice with water.
Yield: 4 servings black ice cream
Back Charcoal Ice cream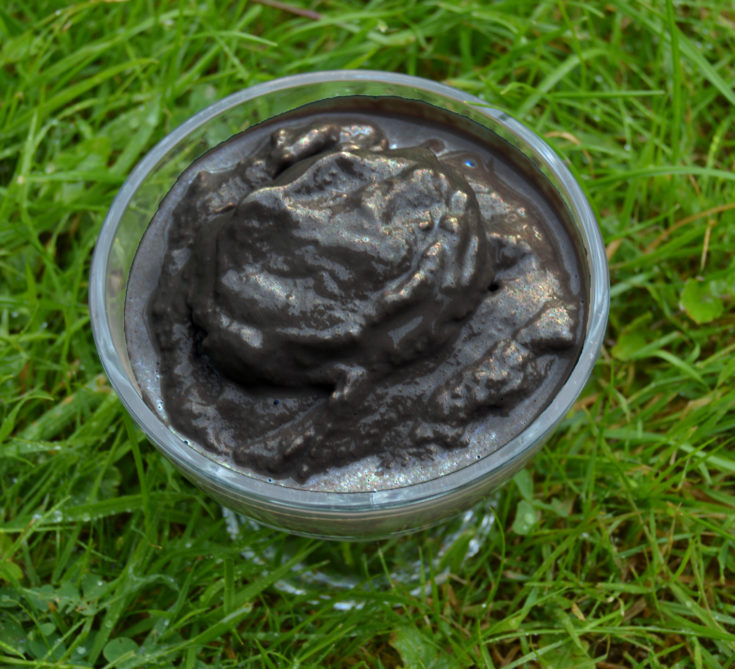 Black vegan ice cream made from cashews and activated coconut charcoal
Ingredients
cashews, 1 cup / 150g
dates, 1 cup / 100g
vanilla, 1 tsp
almond milk, 1 cup 240 ml
black cocoa powder, 1 tbsp
1 tsp black activated charcoal powder
Instructions
Blend cashews, dates, vanilla and almond milk until smooth. You may need to add a bit more almond milk to help the blender.
Ensure that all the pits are removed from the dates by hand, pitted dates can still contain a pit or two and one can ruin a dish.
Then add the black cocoa powder, activated charcoal and 3 cups of ice and blend.
Serve back cashew ice cream straight away, or store in the freezer for an hour to firm up more.
Nutrition Information
Yield
4
Serving Size
1
Amount Per Serving
Calories

308
Total Fat

18g
Saturated Fat

3g
Trans Fat

0g
Unsaturated Fat

14g
Cholesterol

0mg
Sodium

243mg
Carbohydrates

34g
Fiber

4g
Sugar

20g
Protein

7g
Black Charcoal Ice Cream Video Recipe