This easy vegan fudge combines some of the highest plant based sources of calcium such as sesame seeds, figs, almonds and molasses to make a delicious fudge. If you're following a plant-based/vegan or dairy-free diet you will undoubtedly come across someone that asks where you get your calcium from. A great recipe for vegan calcium.
One piece of this fudge provides over 35% of your RDA of calcium for a healthy adult (251 mg). For children 1-3 one square provides 70% of their calcium RDA. Also for children 4-10 a single square provides about 50% of their RDA of calcium.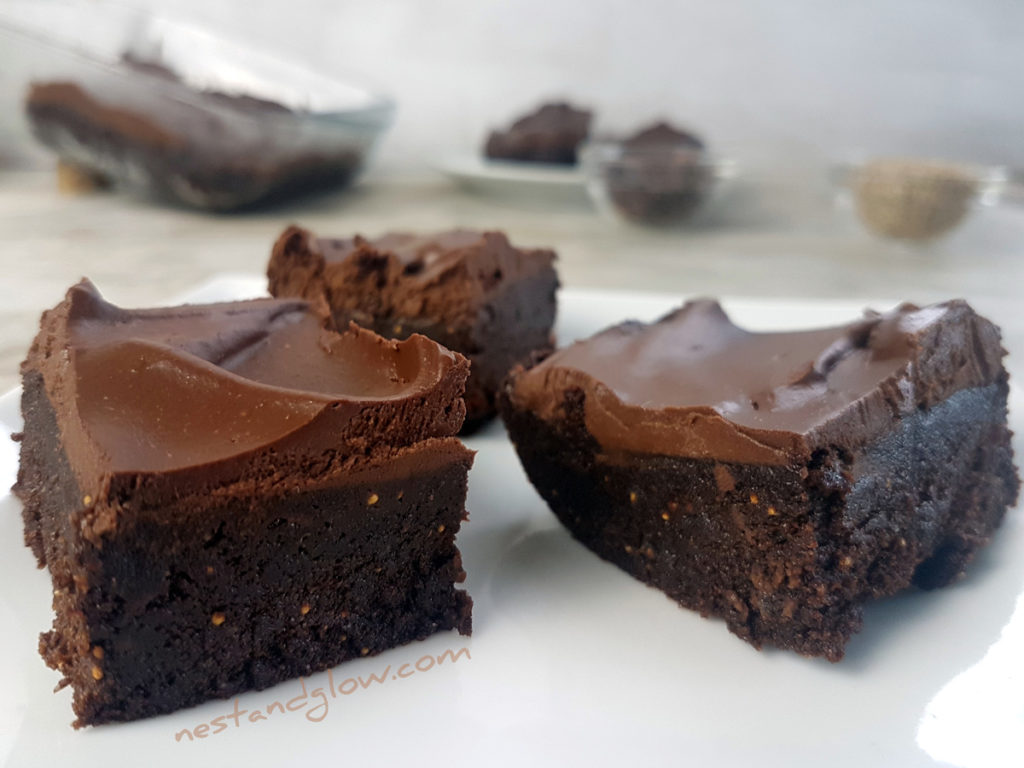 There are many other plant sources of calcium such as dark leafy greens like kale and spring greens, oranges, broccoli, and white beans to name a few. So if you eat a balanced and varied plant-based diet it is easy to get the RDA of calcium.
Calcium Chocolate Fudge Video Recipe
Sesame seeds in their natural whole state are difficult to digest and most of the calcium is not absorbed as they often pass through your body whole. However in this fudge they are ground down to be easier to digest. It's still a good idea to chew the fudge a lot to help with absorption.
As well as being high in calcium it also contains potassium, zinc, magnesium and a host of other vitamins. This is a cross between chocolate halva and fig and almond wheel – only the honey/sugar has been replaced with vitamin-rich blackstrap molasses.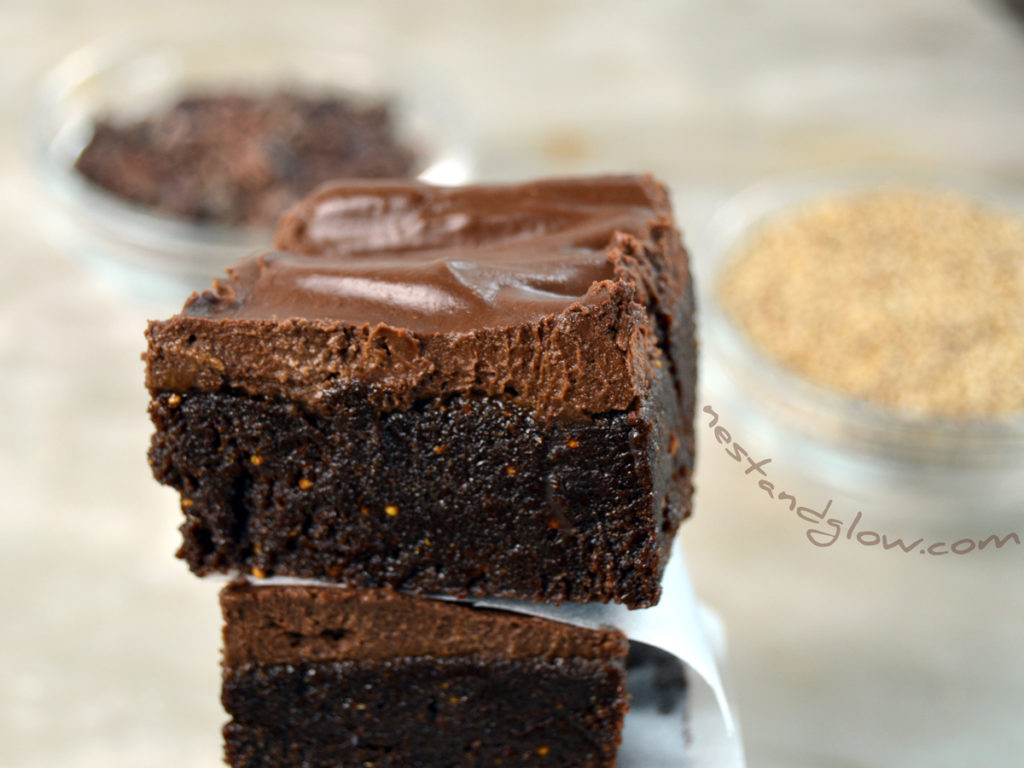 If your food processor is not very effective at making sesame seeds dust then you may want to use a coffee grinder or a small jug blender to grind the seeds first. You can make this without a powerful food processor if you replace the sesame seeds with tahini. This is pulped sesame seeds but most brands are roasted so are often not suitable for a raw diet.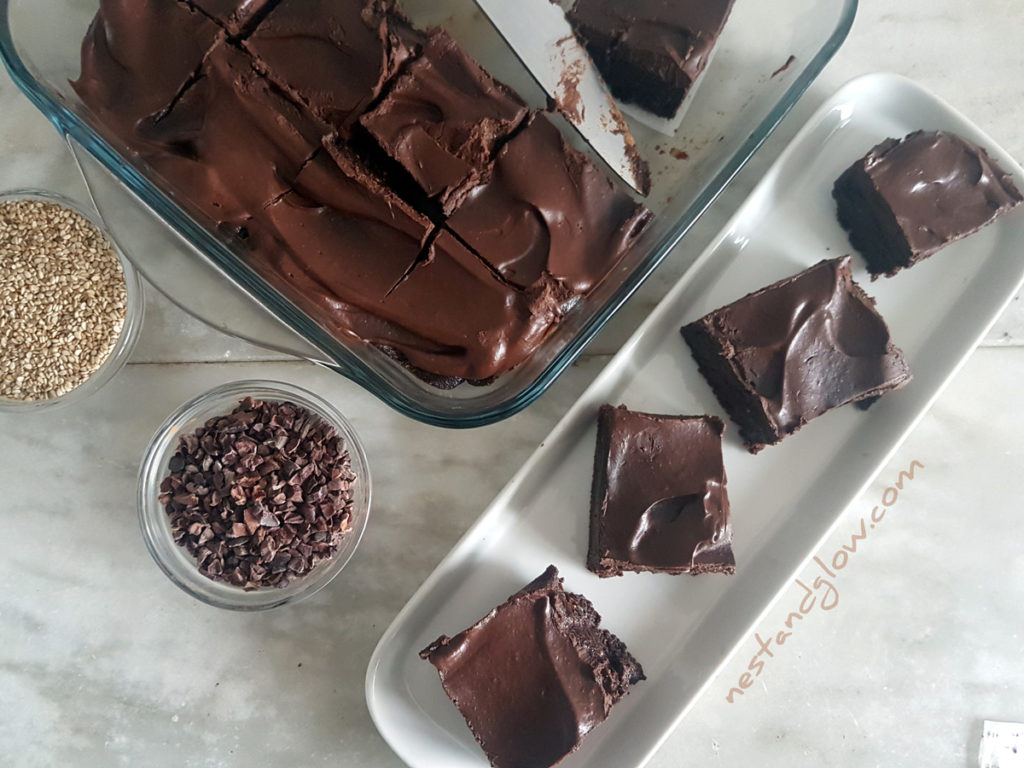 Please note that this article assumes the RDA of calcium as 700mg for a healthy adult, this level is recommended by the world health organisation and the British Dietetic Association and is listed here for information and is not intended as dietary advice.
Yield: 16 calcium fudge pieces
Dairy Free Calcium Fudge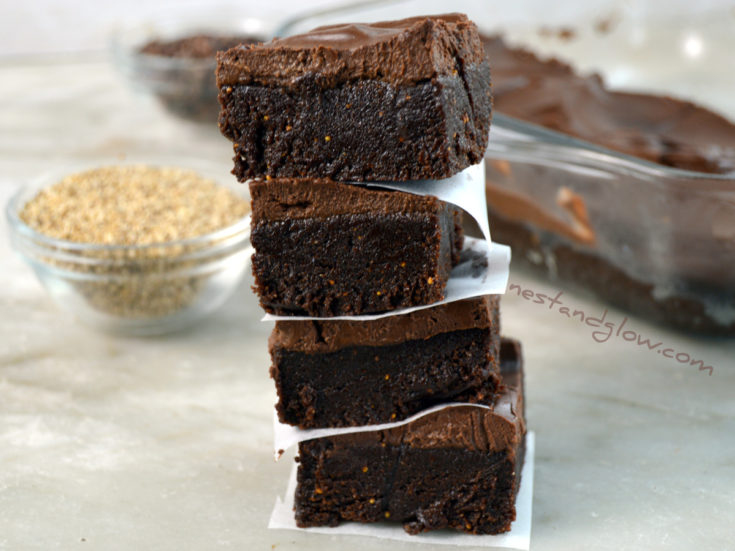 One square of this fudge has about 35% of and adults RDA for calcium. It is vegan, plant-based, gluten free, dairy free, paleo and high in protein and magnesium. It's easy to get calcium from plant based foods and a vegan diet if you incorporate some high calcium plant sources.
Ingredients
CALCIUM FUDGE
1 cup / 150g dried Figs, stems removed
2 cups / 280g Sesame seeds
1 cup / 140g Almonds
1 cup Raisins
5 tbsp Blackstrap molasses
4 tbsp Cacao/Cocoa powder
1 tbsp Cinnamon
CHOCOLATE AVOCADO FROSTING
2 Avocados
4-6 tbsp Sweetener such as Maple or Coconut syrup
2 tbsp Coconut oil, you can leave out if you prefer but the icing won't set as firm
4 tbsp Cacao/Cocoa powder
Instructions
Place the sesame seeds and almonds into your food processor and blend for a few mins until broken up.
Add everything else for the vegan calcium fudge into the food processor and blend for a few mins until it all sticks together in a ball.
Turn out the fudge into a pan about 8″ squared and press down.
Blend all of the frosting ingredients together in a small jug, you may need to add a few tbsp of water.
Spread the icing over the fudge and chill for it to set.
Calcium fudge will last for three days in the fridge with the frosting or several weeks without the frosting and can be frozen.
Recommended Products
Links maybe affiliated, meaning I earn a commission from purchases but at no extra cost to yourself.
Nutrition Information
Yield
16
Serving Size
1
Amount Per Serving
Calories

334
Total Fat

20g
Saturated Fat

5g
Trans Fat

0g
Unsaturated Fat

14g
Cholesterol

0mg
Sodium

75mg
Carbohydrates

37g
Fiber

7g
Sugar

23g
Protein

6g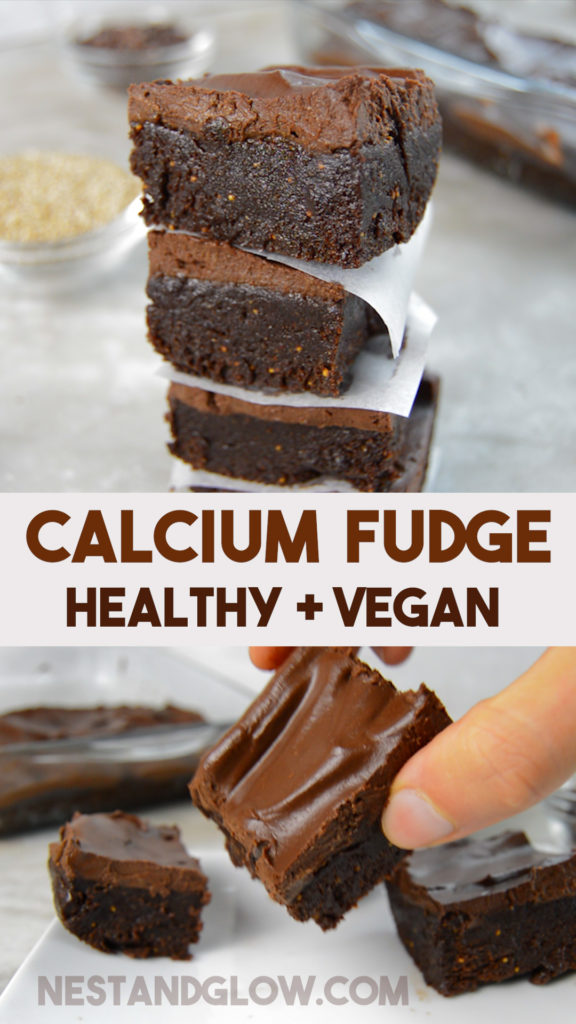 The amount of calcium needed varies and some groups such as celiac or nursing mums often need more, please always seek independent medical advice. Calcium factsheet from the BDA.