Quick and cheap raw salad that is a complete and filling meal. I often had this for lunch when I worked in an office.
It will last 2-3 days in the fridge so I made half a weeks lunches at a time. It's best to cut up the avocado just before eating.
For the cider vinegar it's best to use raw unpasteurised and unfiltered as it has the most goodness in but apple or white wine will give a similar flavour.
I use red cabbage for this as the bright red colour is very appealing but it works just as well with white.
The sunflower seeds are activated / soaked in water to make them easier to digest (removes enzyme inhibitors). They need to be soaked and drained for at least 10 minutes.
If you have time its best to soak overnight and then drain and leave to stand for a few hours to for them to start opening up. Don't worry if you can't – I'm rarely that well prepared.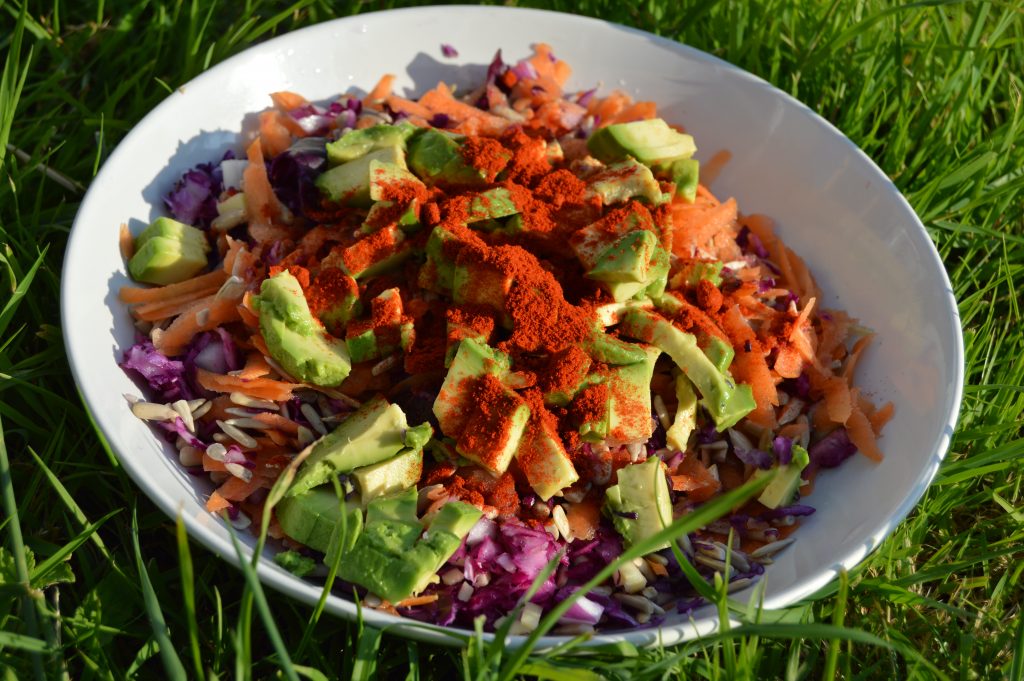 Yield: 1 large salad
Sunflower Seed Salad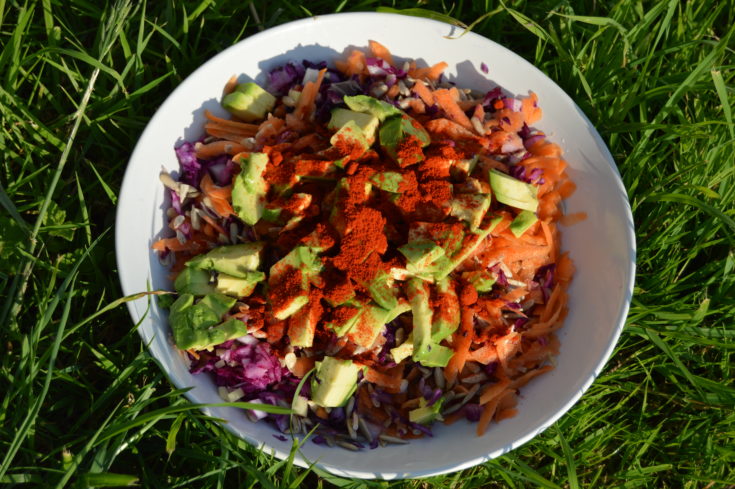 A high protein vegan salad that tastes amazing with sprouted sunflower seeds, veggies and avocado.
A total complete meal that will keep you filled for hours. I often have this salad for lunch.
Ingredients
50g sunflower seeds, soaked at least for 10 mins
1 grated large carrot
1/8th of grated cabbage
2 slices red onion
1 of ginger
1 Avocado
2 tablespoons apple cider vinegar
1 teaspoon smoked paprika
Instructions
Soak sunflower seeds for 10 mins in warm water then rinse and drain..
Mix together the seeds with the grated carrot and cabbage.
Sprinkle on the ginger, apple cider vinegar, onion and smoked paprika.
Top with a diced avocado and enjoy the sunflower seed salad within 24 hours!
Notes
I say use 1/8th of a red cabbage but it varies so much in size, use about the same volume as one large carrot.
Nutrition Information
Yield
1
Serving Size
1
Amount Per Serving
Calories

458
Total Fat

55g
Saturated Fat

7g
Trans Fat

0g
Unsaturated Fat

45g
Cholesterol

0mg
Sodium

3055mg
Carbohydrates

38g
Fiber

22g
Sugar

8g
Protein

16g