These nutritious crisps are easy to make and full of flavour. They're loaded with plant protein and a portion contains 12 grams. Nutritional yeast gives a cheesy nutty taste to these dairy-free crisps.
They prove to be popular with everyone – even those that don't like kale as once its dried it just becomes a crispy base and doesn't taste of kale.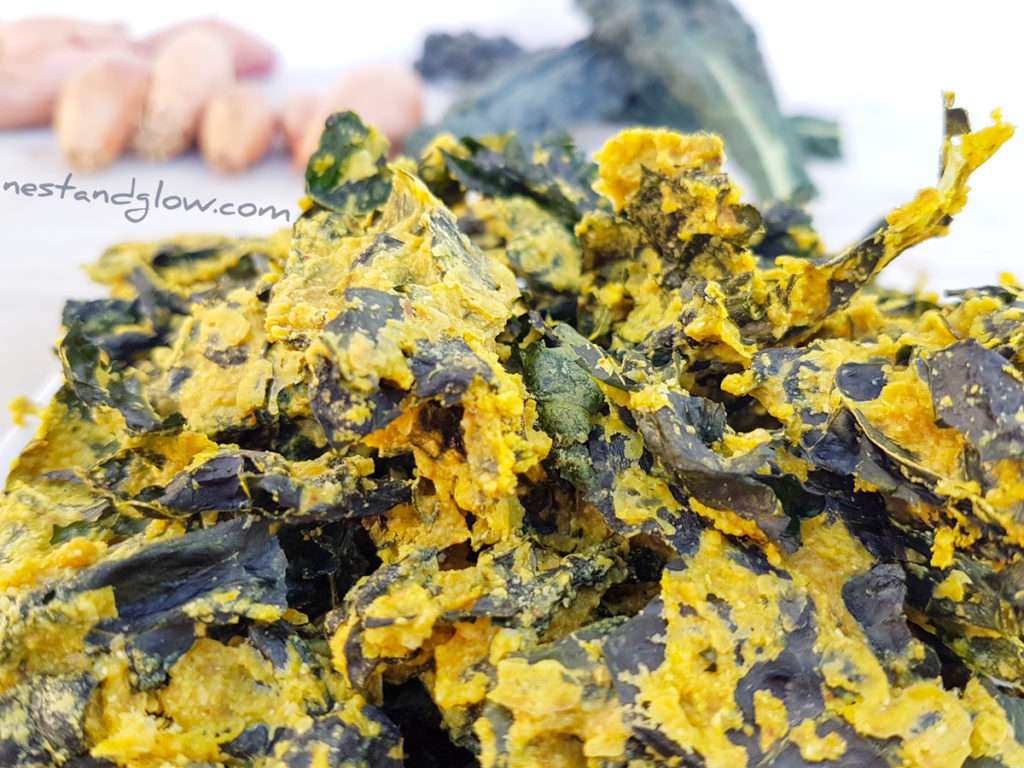 As they are nut-free they are quite wallet friendly. Suitable for vegan, dairy-free, nut-free, gluten-free, paleo and general healthy diets.
Leafy greens are very nutritious and loaded with vitamins, minerals, protein and fibre. Kale crips/chips are a great way to get more greens into your diet.

Cheese and Onion Sunflower Kale Crisps Video
You can either make this recipe in an oven or a dehydrator. The oven version is quicker but you do have to watch carefully as they burn very quickly.
The dehydrator version is foolproof to make as you can't burn them and they are more nutritious as heat hasn't destroyed any of the goodness. I always make the dehydrator version as its so easy to make a huge batch.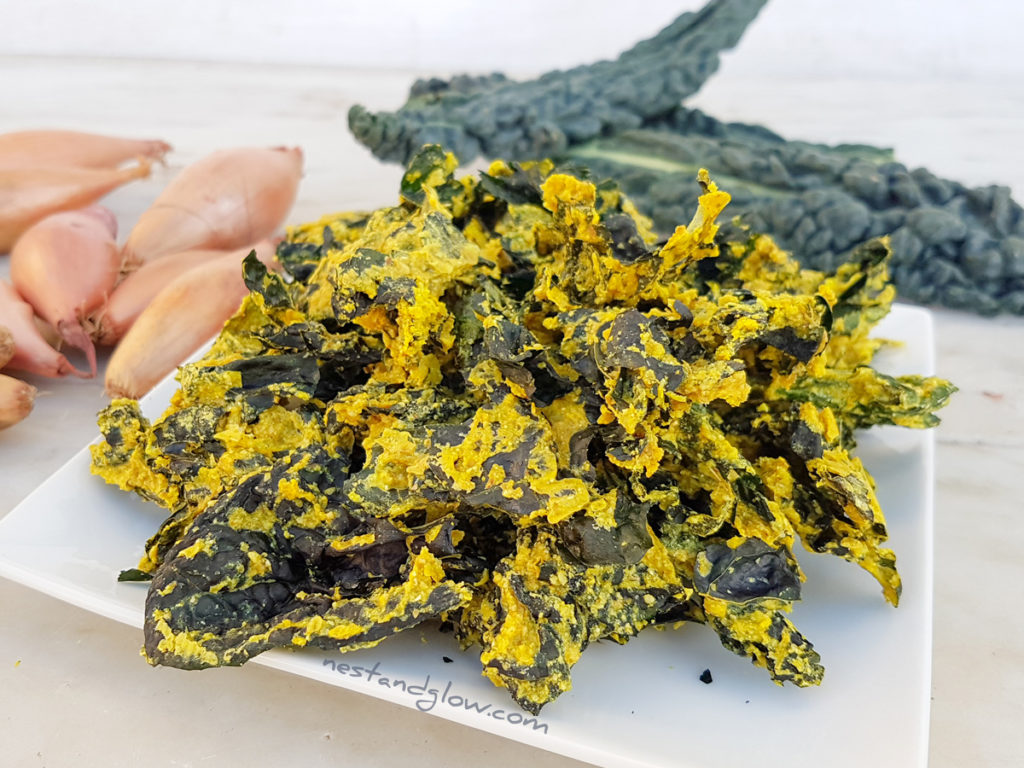 They will last for several weeks after being cooked but they may lose some crispiness. You can place back in the oven or dehydrator for a short time to crisp up soft kale crisps.
In the photos and video I used black kale to make these but any variety works well. To get the freshest kale buy it still on the head and attached rather than prepared.
This recipe does contain a small amount of oil that helps even the raw crisps get really crispy but this is optional and you can leave it out to be oil-free or reduce the calories. Check out my smoked kale crisps if you like smoked paprika.
Yield: 6 kale crisps servings
Cheese and Onion Sunflower Kale Crisps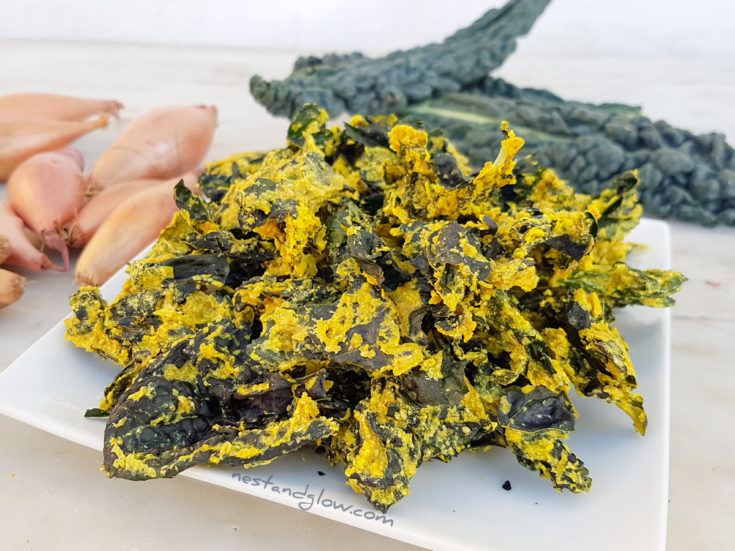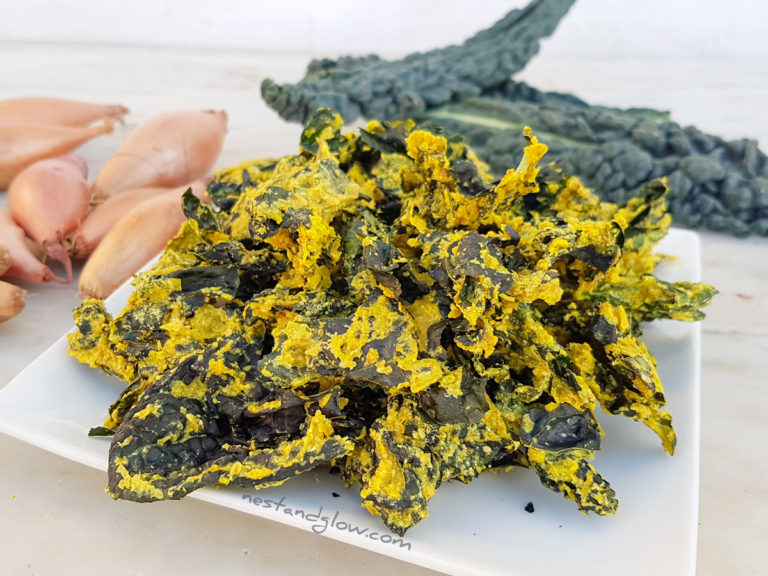 These nutritious crisps are easy to make and full of flavour. They're loaded with plant protein and a portion contains 12 grams.
This kale chips seasoning is free of nuts and dairy. Sunflower seeds are used instead to add plant protein and healthy fats.
Total Time
8 hours
10 minutes
Ingredients
14oz / 400g Kale
1 cup / 140g Sunflower seeds
4 tbsp Nutritional yeast
1 small Onion
2 Garlic cloves
pinch of Salt and Pepper
2 tbsp Apple cider vinegar
2 tbsp Virgin olive oil, optional
½ tsp Turmeric
½ cup / 120ml Water
Water and pinch Salt for soaking
Instructions
Soak the sunflower seeds in salted water. Overnight is best but 15 mins will do.
Rip the kale off the stems.
Sprinkle over the kale a pinch of salt, oil and apple cider vinegar.
Scrunch and rub the kale until its halved in size.
Drain the sunflower seeds and place with all the remaining ingredients into a blender then blend until smooth.
Pour the cheesy sauce on the kale then massage to coat all the leaves.
Bake or Dehydrate:
Bake; spread out thinly onto a lined tray and bake at 300F / 150C for about 20-30 minutes. Toss every 5-10 minutes and take out of the oven as soon as they are dry. Don't leave the ovens side as they burn easily.
Raw; spread out thinly onto a non-stick sheet. Dry at 110F / 43C for 10-12 hours tossing halfway.
Enjoy the kale crisps straight away.
They can be stored in an airtight container, but it's best to have them the same day as they lose their crispiness.
Notes
Equipment; Blender, Oven/Dehydrator and Greaseproof Paper/Dehydrator Sheets.
Nutrition Information
Yield
6
Serving Size
1
Amount Per Serving
Calories

212
Total Fat

17g
Saturated Fat

2g
Trans Fat

0g
Unsaturated Fat

14g
Cholesterol

0mg
Sodium

1458mg
Carbohydrates

11g
Fiber

5g
Sugar

2g
Protein

9g