The chilli on its own is great, but stuffing it inside courgettes and topping with a cashew cheese really makes this an impressive dish.
It's a great way to get some heart-healthy vegan cheese into your diet as the shop bought ones are usually a mixture of unhealthy oils and additives.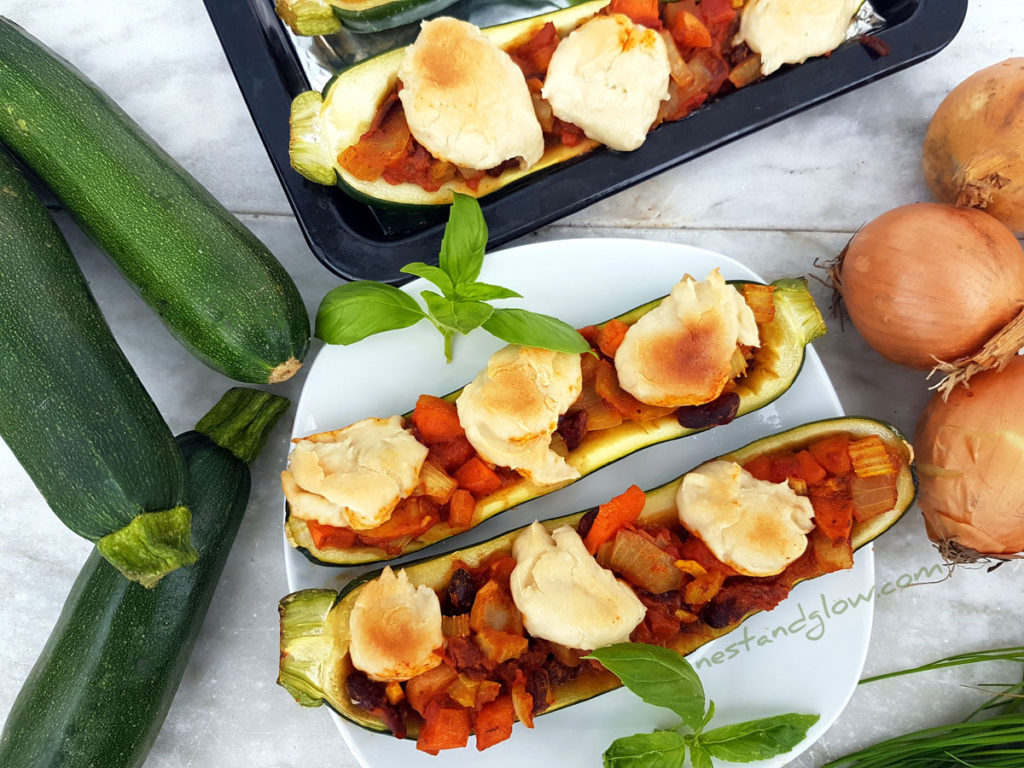 These veggie chilli stuffed courgettes are a complete meal and easier to make than they look.
Topped with a homemade vegan cashew cheese. Suitable for vegan, dairy free, gluten free and plant based diets.
Chilli Stuffed Courgettes with Cashew Cheese Video Recipe
Don't worry if it looks a bit dry in the pan when making the chilli – the vegetables release water as they cook and you don't want it too wet.
This dish is bursting with nutrition – if you eat it as a main you will easily get 5+ of your daily portions of fruit and veg as the beans, veggies and cashews all count.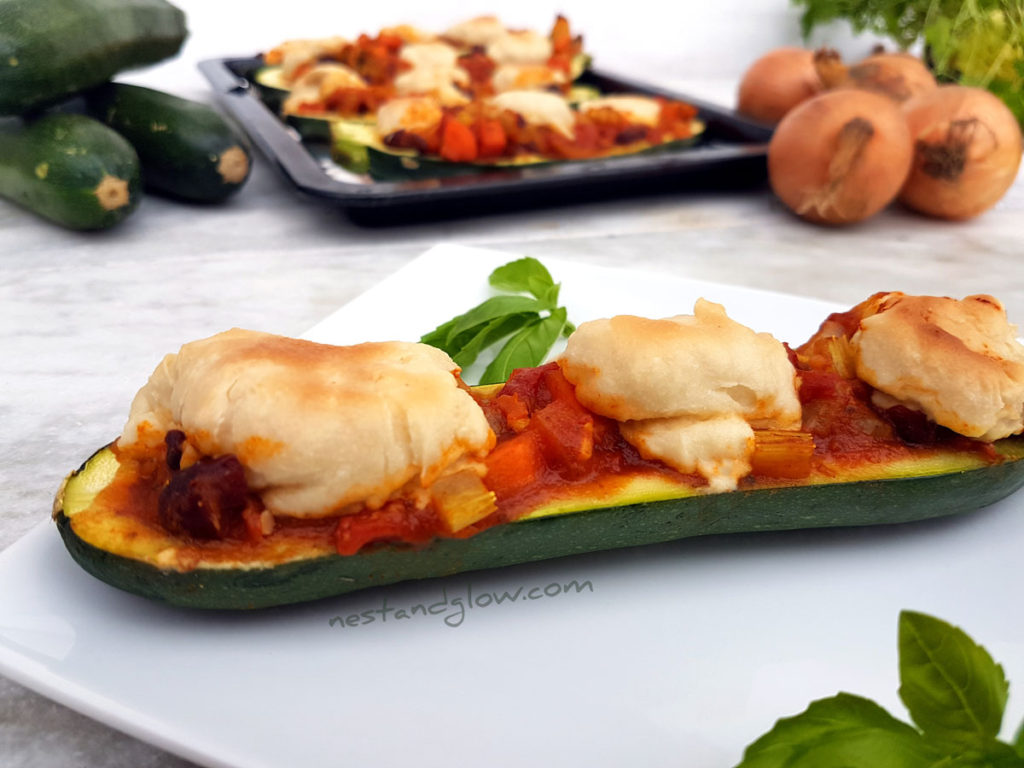 In the video you, unfortunately, don't see the gooey stringiness of the vegan mozzarella – I shoot the final photos and video outside and it had cooled too much by the time it came to the photos.
Take a look at the cashew mozzarella pizza for an idea of how the stringy cheese should look. If you use corn starch rather than tapioca starch it will still taste the same but won't have the stringy texture.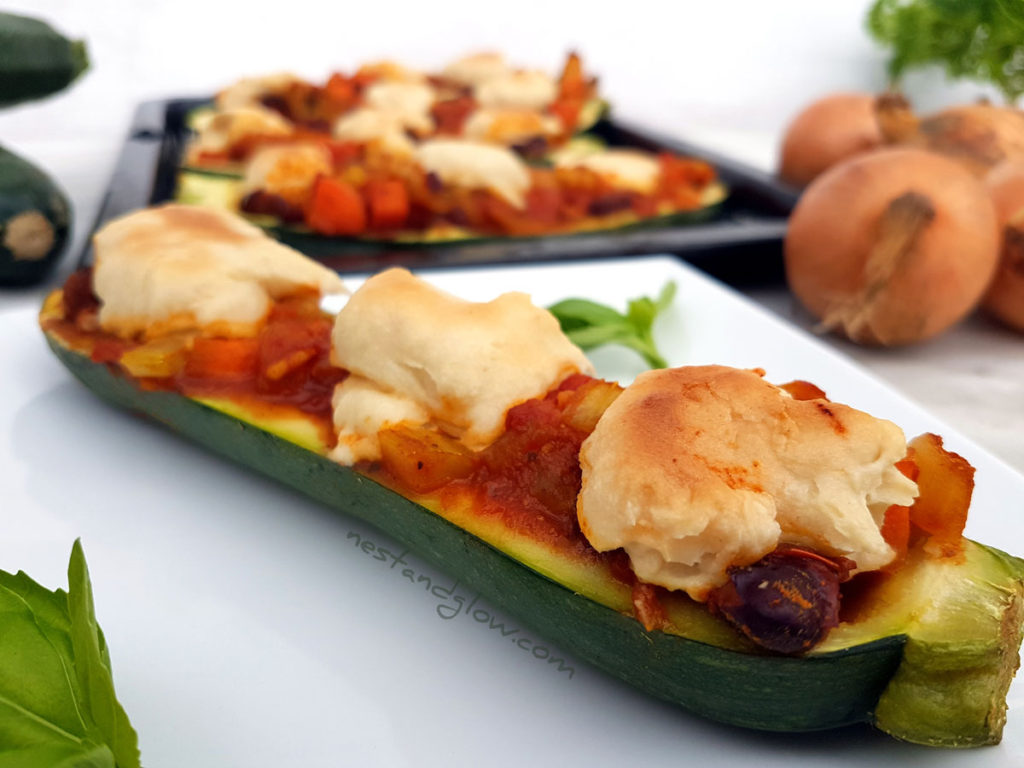 If you don't have any cashew nuts or are avoiding nuts then you can make the cheese just by using sunflower seeds instead. It won't quite have the same taste as it is a bit earthier but it will still taste great.
Nutritional yeast is a great food for when you are avoiding dairy to get a cheesy nutty taste. I would highly recommend getting some but if you don't then yeast extract/marmite is a reasonable substitution.
Yield: 12 courgette halves
Stuffed Courgettes Cashew Cheese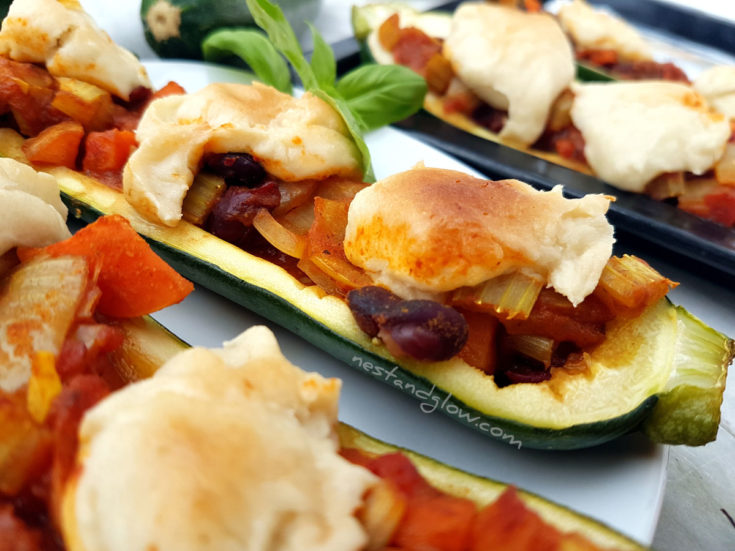 Stuffed courgettes with a bean chilli and topped with homemade cashew cheese. A great complete meal with 4 portions of veg that's full of good stuff and will fill you up.
Ingredients
CHILLI INGREDIENTS
1 can chopped Tomatoes
1 can Kidney beans
1 Onion, diced
2 Carrots, diced
2 Celery stalks, diced
8 Mushrooms, sliced
2 tsp Chilli powder, adjust to taste
1 tsp Cumin
1 tsp Turmeric
Salt and Pepper to taste
CASHEW CHEESE INGREDIENTS
1/3 cup / 50 g Cashews
2 tbsp Nutritional yeast
1 clove Garlic
1 cup / 240 ml Water
pinch of Salt
2 tbsp Tapioca or Corn starch
Instructions
Pre heat the oven to 350 F / 180 C.
Place everything for the chilli into a pan and simmer for 10 mins with the lid on.
Cut the courgettes in half and leave the ends on – try to cut them symmetrically so that they lay flat.
Scoop out the flesh using a spoon, this can be used in soups or stews.
Fill the courgettes with the chilli.
Blend all of the cashew cheese ingredients together then simmer for 2-3 mins until thick and gooey.
Pour on the cashew cheese and bake for 20 mins until golden.
Nutrition Information
Yield
4
Serving Size
1
Amount Per Serving
Calories

350
Total Fat

7g
Saturated Fat

1g
Trans Fat

0g
Unsaturated Fat

5g
Cholesterol

1mg
Sodium

393mg
Carbohydrates

62g
Fiber

8g
Sugar

7g
Protein

11g