Healthy chickpea blondies made without peanut butter that are vegan and high in protein. Easy recipe that can be made low calorie by not adding the coconut oil and reducing the chocolate by half. For the sweetener applesauce or a banana can be used.
This chocolate chip blondie recipe is suitable for vegan, gluten free (make sure to use gluten-free oats), healthy, low sugar and plant-based diets.
Moist and fudgy just like a normal blondie and you wouldn't even realise how healthy this chickpea blondie is from how good they taste. Bursting with nutrition, heart-healthy fats, fibre and a few slices can count as up to 2 of your portions of fruit/vegetables.
Chocolate Chip Almond Chickpea Blondies Video Recipe
Take the chickpea blondies out of the oven just they start to get a golden colour. Don't worry if they seem soft out – they will harden once they have cooled down. This is because the recipe is gluten-free and like many similar recipes they get structure once cooled.
The healthy chickpea blondies in the photos and video were probably cooked for 2-3 mins too long.  This worked out in my favour as I managed to nibble on the four corner ones that caught a bit (but still tasted delicious) while taking the photos.
Often I'm spending half an hour get the perfect photo while fighting the urge to not gobble them while they are still hot from the oven.
I made this chickpea blondie to use dates and whole almonds rather than almond or peanut butter as it's cheaper and more nutritious with less processed foods.
You can use peeled almonds if you in your healthy blondie but I stuck with whole almonds with the skin on to add more nutrition and it worked amazingly well. If you have the time, soak the almonds for an hour or overnight to make them easier to blend and digest.
I used an 85% cacao chocolate bar and chopped into chunks to make this healthy chocolate chip blondie. The dark bitter chocolate works really well with the rest of the sweet blondie.
Use whatever chocolate you prefer but I'd recommend using one with a high cacao content because it's healthier with less sugar and high in the complex compounds of cacao.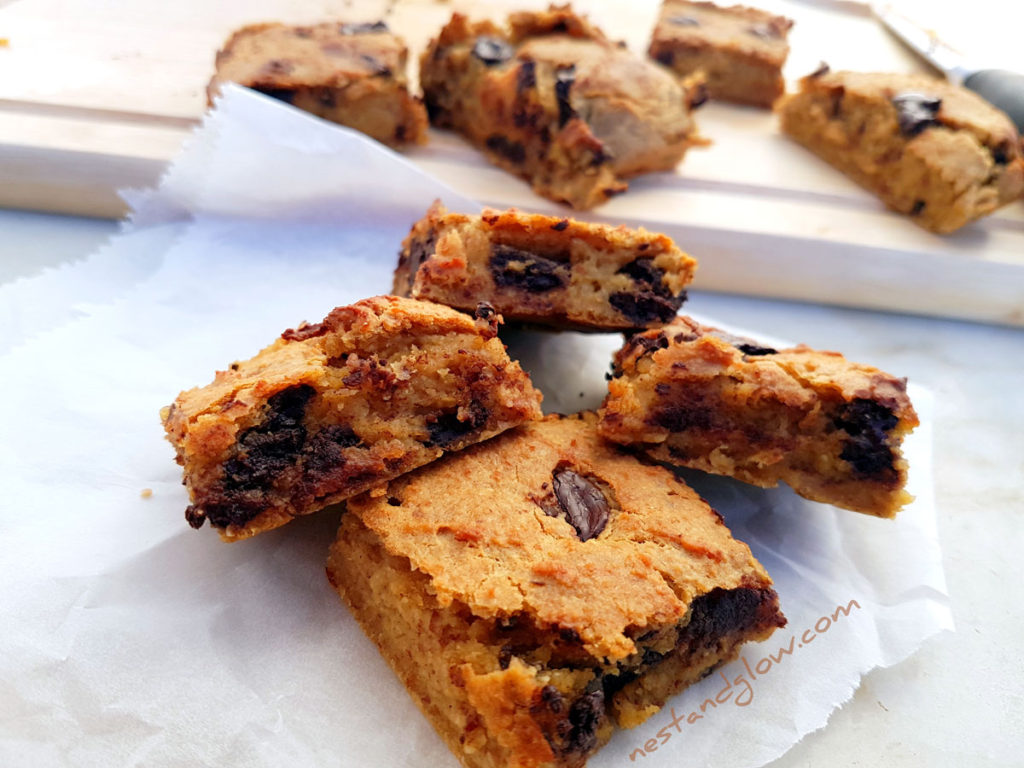 The almonds can be substituted with any nut you prefer – walnuts and cashew nuts also taste great in this healthy blondie.
Peanuts can be used in this recipe if you prefer. When making this recipe with peanuts use unroasted nuts.
These Chocolate Chip Almond Chickpea Blondies are really easy to make, taste great and are free of eggs/milk/butter and flour. A blondie is just a lighter, in colour, brownie! Some people call these chickpea brownies.
Chickpeas are a great addition to this healthy blondie recipe as they have a variety of vitamins and minerals while also being a good source of fibre and protein.