This is a high protein bean dip I go in and out of phases of consuming in vast quantities.
After something very active I often have a fruit based dish (like my Green Sorbet Smoothie) let that digest for half an hour then have this protein rich dip on a cracker or bread.
This is inspired by five bean salad, for times when I want something that could be portable and easy to eat without any utensils.
Even if its just for one you can make this 6 serving vegan bean dip recipe and it keeps for days in the fridge.
My healthy bean dip recipe is great to pop in a lunchbox with a packet of crunchy seeded oatcakes for a tasty and fulfilling meal.
Yield: 6 servings bean dip
Five Bean Dip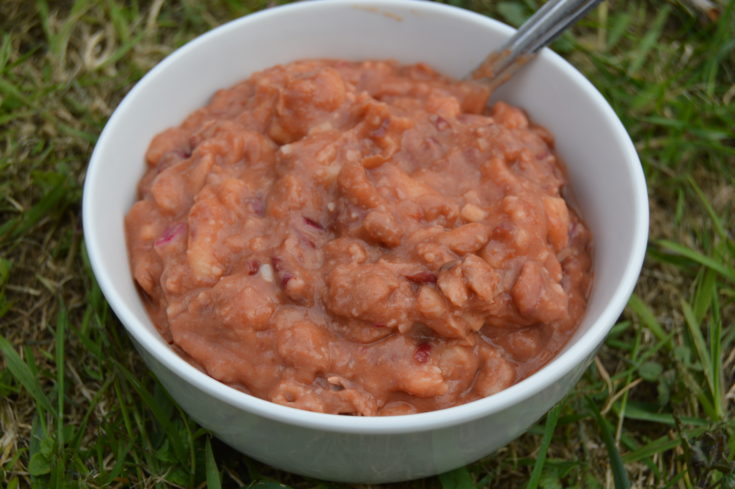 High protein vegan bean dip that takes minutes to make and tastes great on crackers. This healthy dip may not look anything special but it's one of the recipes I make the most
Ingredients
Can of Red Kidney Beans, in water
Can of Black Eye Beans, in water
Can of Borlotti Beans, in water
Can of Cannellini Beans, in water
Can of Butter Beans, in water
150g tomato puree
half a medium red onion
150ml apple cider vinegar, unpasteurised with the mother if possible
cayenne pepper, to taste
Instructions
Finely dice the red onion and put in a dish with the cider vinegar
Empty and drain all the beans, then mash using a potato masher.
This will take a few mins, but your not looking for a smooth constancy, just mashed enough that everything is combined and can be spead. Chunks of beans are very welcome.
Stir in the tomato puree, vinegar onions and cayenne. I usually use one table spoon for a spicy dip, but adjust to your preference. 1 tea spoon for a mild dip.
Serve bean dip immediately or can be stored in the fridge for 3-4 days.
Notes
This make a huge amount of bean dip as it uses 5 400ml cans of beans.
It's a great recipe to keep in the fridge and served with some crackers is a filling meal that contains protein, fibre and nutrition.
Nutrition Information
Yield
5
Serving Size
1
Amount Per Serving
Calories

278
Total Fat

1g
Saturated Fat

0g
Trans Fat

0g
Unsaturated Fat

1g
Cholesterol

0mg
Sodium

372mg
Carbohydrates

54g
Fiber

13g
Sugar

12g
Protein

17g