After many years of guacamole eating, I do feel this is the best guacamole. This recipe is easy, dairy free and full of nutrients.
Many shop bought versions are loaded with dairy or vegetable oil for cheap but very unhealthy padding. Suitable for vegan, whole food, plant based and healthy diets.
It may be high in fat but it is all healthy fats and our bodies do not function without fat.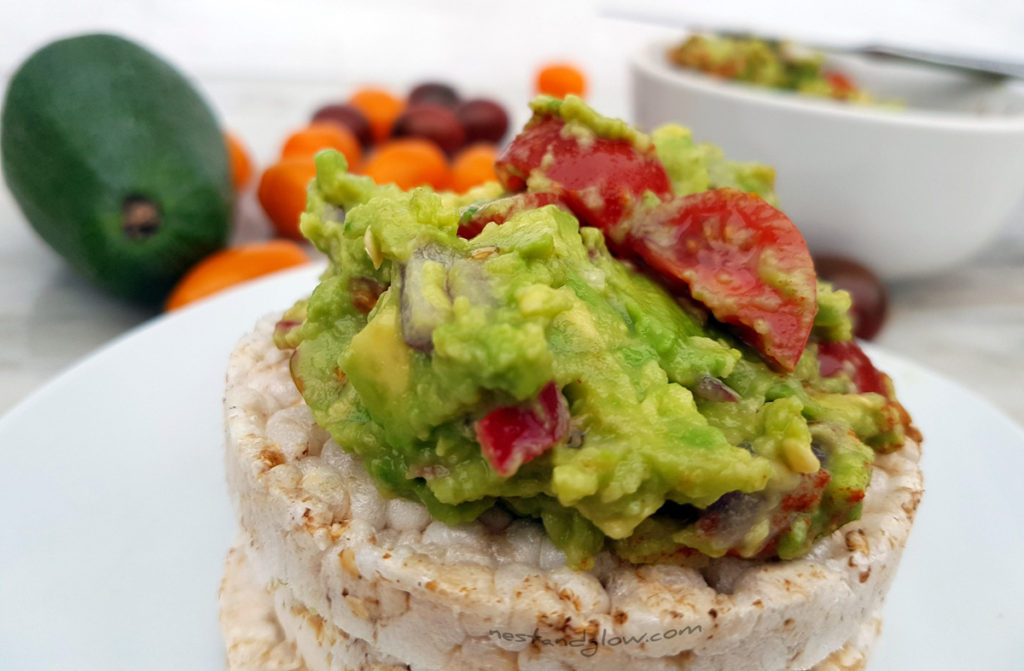 If you don't have time to read the recipe / watch the video then the one tip to take away is to soak red onion in lime juice.
Lime gives a better flavour than lemon and by soaking the red onion in the juice it softens and becomes mellow and mild.
Just a few mins soaked in lime juice does the trick so it can marinate while you mash the avocados.
Greatest Guacamole Video Recipe
The most important thing to make amazing guacamole is delicious raw ingredients. The avocados have to be perfectly ripe; if they are not leave in a paper bag with a banana and check daily.
Avocados are probably my favourite ingredient, but they can be the most heartbreaking when they are under or over ripe. Once they start to go stringy and have brown lines I put them in the compost to return to the earth.
Also important is to use sweet juicy tomatoes that are bursting with flavour. They are not a garnish but really help to enhance the flavour. As I'm in the UK I often buy cherry tomatoes as they usually have a good flavour and are sweet.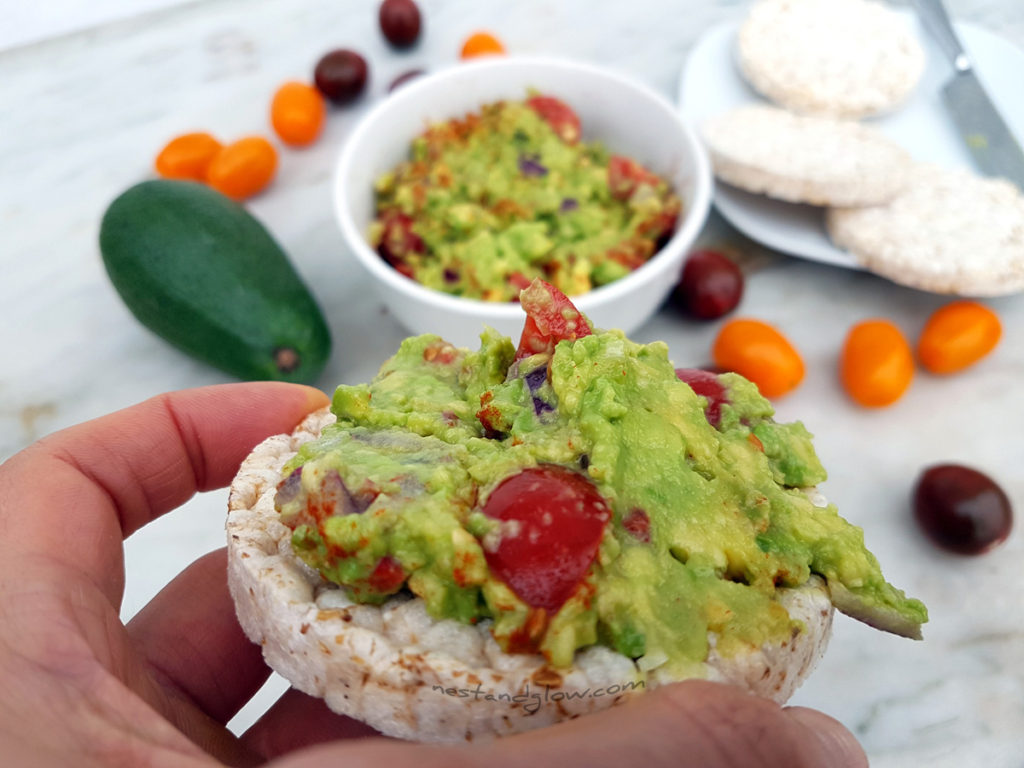 The title maybe a bit supercilious but this name has been bestowed to this recipe by others.
This is one dish I have several times a week and never get bored of it. Also great on it is a few tbsp of chopped coriander/cilantro.
I didn't add any herbs for this one as I find you either need to add the paprika or the coriander as both together can be too much.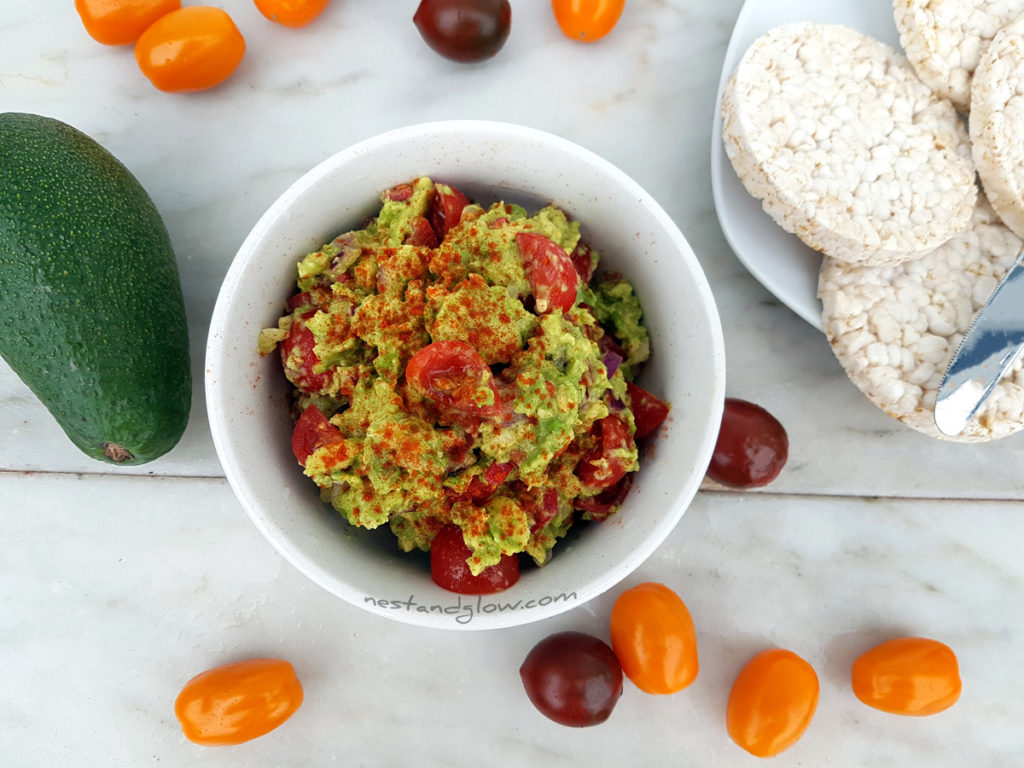 We mash our avocados with the back of the fork as the inconsistent texture with lumps of fatty avocado goodness is the whole point of guacamole.
If you blend it up it will go smooth and just not have an appealing texture.
In the world of guacamole, there is nothing worse than using a blender to whip up the oily avocado into a smooth paste – it won't have the right texture and you might as well use it as wallpaper paste.
Yield: 1 large bowl of healthy guacamole
Best Healthy Guacamole Recipe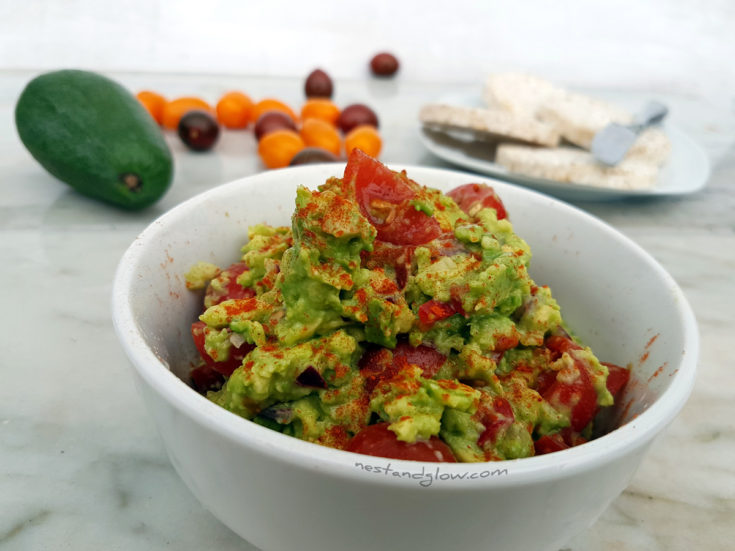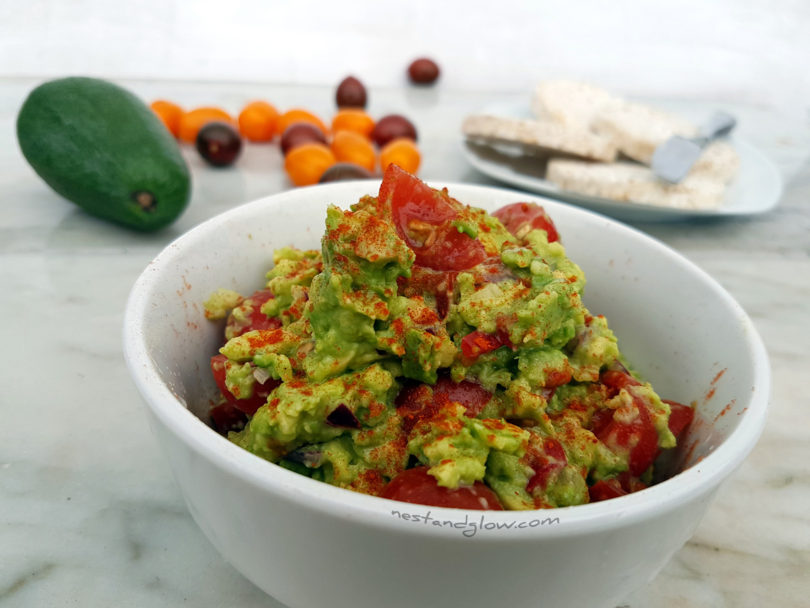 You have to try this healthy guacamole recipe. The secret is in soaking in lime juice for what most people call the best healthy guacamole recipe.
Ingredients
2 perfectly ripe avocados
1 lime
10 cherry tomatoes
2 cloves of garlic
1 slice of red onion
1 chilli pepper
½ tsp smoked paprika.
Instructions
Roll the lime (to get more juice out) then squeeze the lime over a bowl and add in the finely diced red onion.
Peel the garlic, then chop finely and crush using the back of the knife and add to the lime juice bowl.
Cut the chilli into fine slices and then add to the lime. Adjust the amount of chilli to your taste and the type of pepper you're using.
Put aside the bowl and allow it to marinate for 5 mins – the time it will take to mash the avocado.
Peel the avocados and scoop out the flesh. Roughly chop and then mash with a fork until you get a chunky paste.
Quarter all the cherry tomatoes and then mix everything together.
Place in a bowl and sprinkle with smoked paprika.
Enjoy this healthy guacamole within 3 days.
Notes
Store the avocado stones in the guacamole to help naturally preserve it.
Nutrition Information
Yield
6
Serving Size
1
Amount Per Serving
Calories

215
Total Fat

16g
Saturated Fat

3g
Trans Fat

0g
Unsaturated Fat

10g
Cholesterol

17mg
Sodium

337mg
Carbohydrates

14g
Fiber

6g
Sugar

2g
Protein

8g
We can thank the Aztecs for inventing guacamole along with chocolate!