Buckwheat banana bases sandwiched with cashew caramel, topped with hazelnut chocolate and fruit. Just made from fruit, seeds, nuts and maple syrup. A decadent and filling dessert pizza that's actually healthy.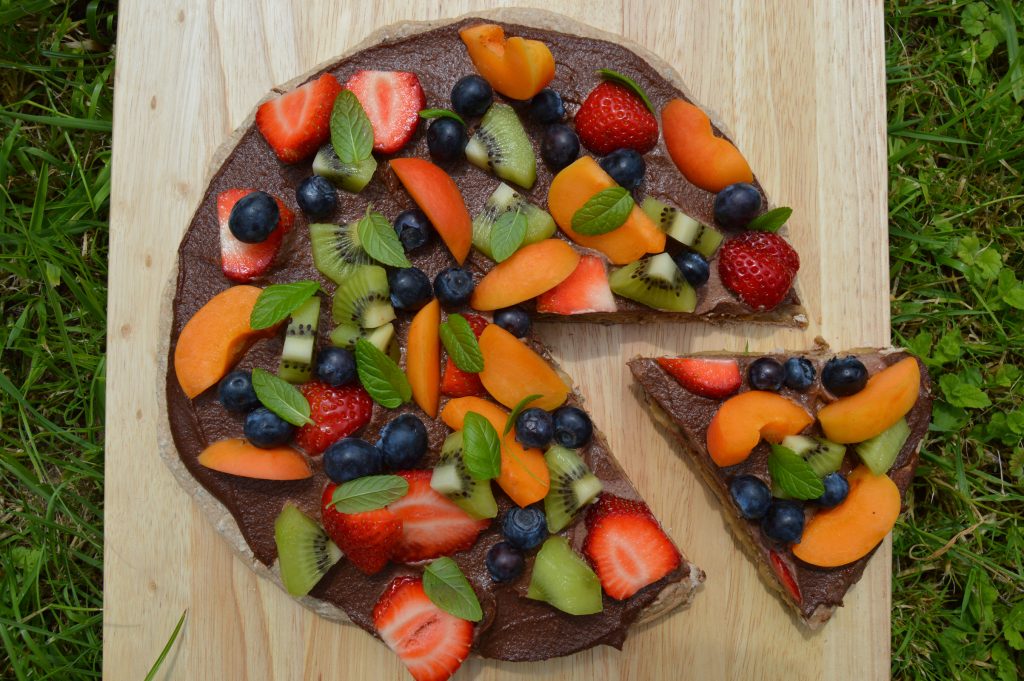 All the fats are raw unprocessed and it's full of fibre so very satisfying and difficult to over eat. Just a small piece is very filling and rammed full of nutrition.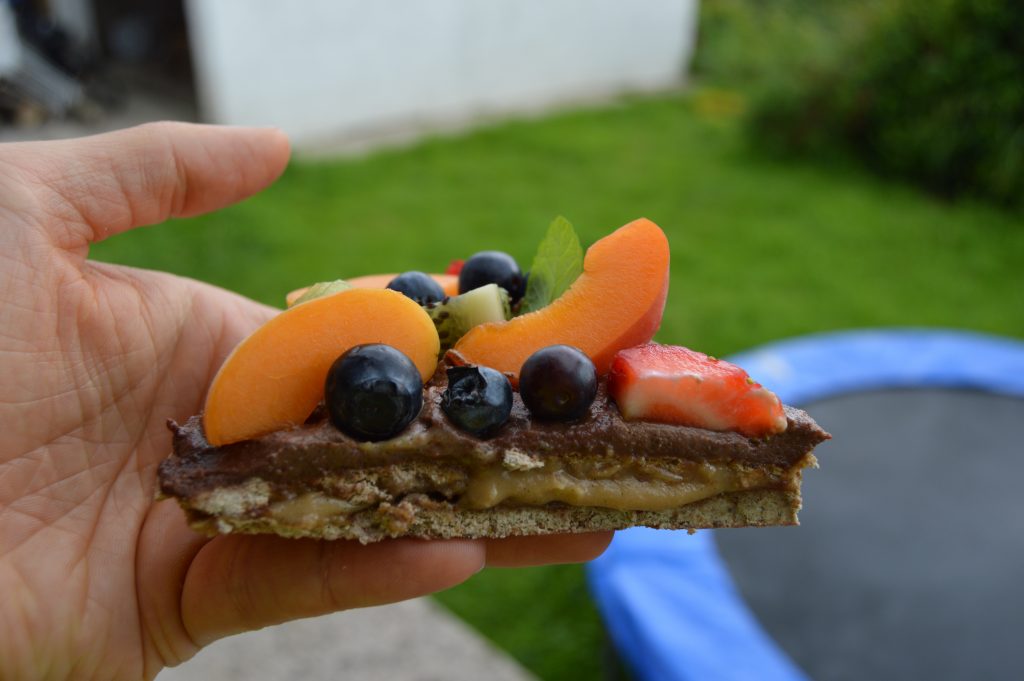 It can be made raw using a dehydrator to set the basses. If you don't have a dehydrator you can just bake them in the oven.
The base can be made like a pancake in a frying pan if you're short of time.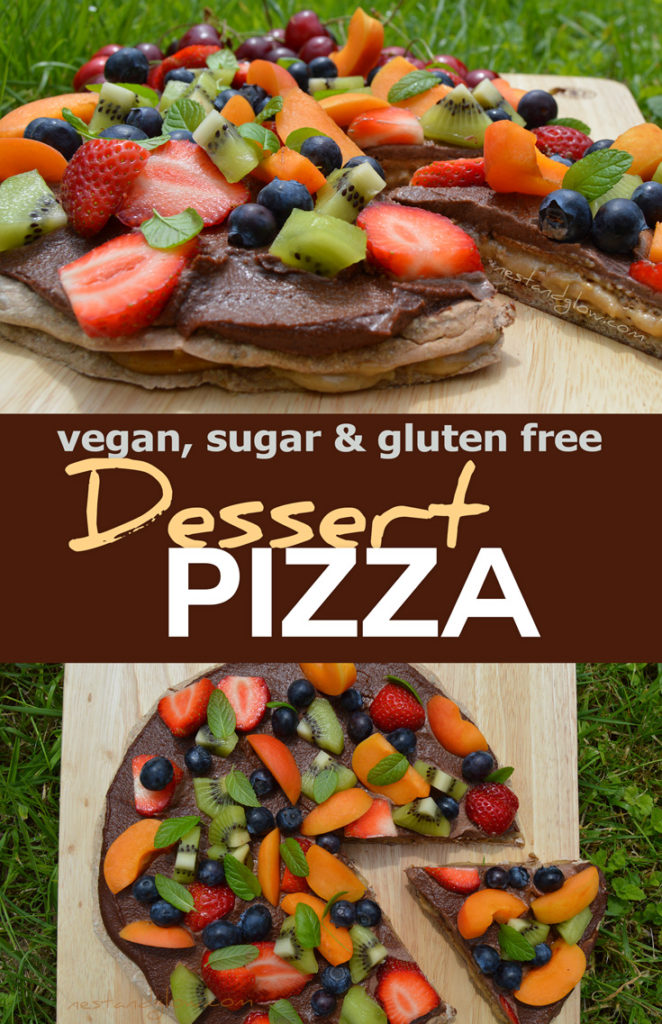 Use whatever fruit you like for this healthy dessert pizza. I aim for a rainbow as different colour fruits contain different vitamins and minerals so aim to eat a rainbow to get a balanced diet.
Yield: 10" dessert pizza
Healthy Dessert Pizza - Vegan and Gluten free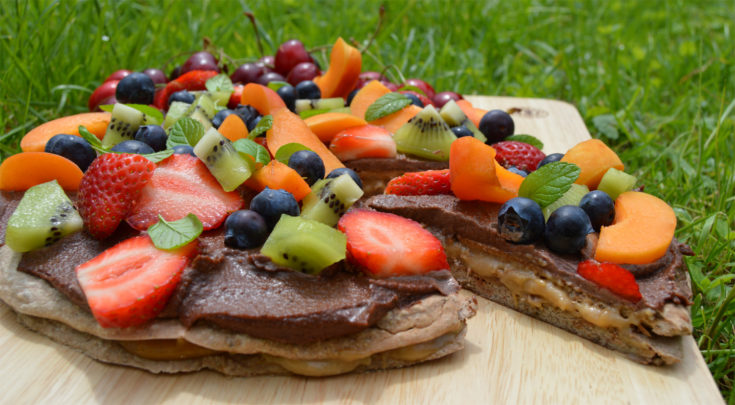 Vegan and gluten free dessert pizza made from just wholefood ingredients. Loaded with nutrition, plant protein and healthy fats. This pizza contains more nutrition in a slice than many people have in a day!
Ingredients
DESERT PIZZA BASE
200g / 1¼ cups buckwheat, soaked in water
2 bananas
2 tablespoons chia seeds
CASHEW CARAMEL FILLING
100g / ¾ cup cashews
½ a vanilla pod / 1 teaspoon vanilla extract
5 tablespoons maple syrup
5 tablespoons coconut oil, melted
CHOCOLATE HAZELNUT TOPPING
100g / ¾ cup hazelnuts
8 tablespoons cocoa nibs / powder
5 tablespoons maple syrup
5 tablespoons coconut oil, melted
HEALTHY DESSERT PIZZA TOPPING
A rainbow of fresh fruit chopped up & a few small mint leaves.
For the photos I used strawberries, apricots, blueberries & kiwi.
Instructions
Soak the buckwheat for at least 15 mins in water, an hour is best, then drain,
Add the buckwheat to a blender / food processor with the banana and chia seeds.
Whizz until all is broken up and combined.
Spread onto non stick sheets to make two 8 inch pizza bases.
Either follow the cooked or raw version to set the bases:
Cooked: Cook for about 20 mins at 180℃ until firm, then flip and cook for about 5 more mins until crispy.
Raw: Dehydrate for 8 hours at 32℃, then flip and dehydrate for another 4 hours.
Blend together all the cashew caramel filling ingredients until smooth.
You may need to add a bit of water to make it totally smooth. Just add a tablespoon at a time.
Spread the caramel on top of one of the pizza bases. Then place the other pizza base on top.
To make the chocolate hazelnut sauce blend all together the same way as the caramel. You may want to grind up the nuts and nibs first if your blender isn't powerful.
Spread the chocolate sauce on top of the healthy dessert pizza, then sprinkle on the fruit and mint leaves.
This vegan and gluten free dessert pizza will last for 4 days in the fridge and makes 10 generous portions.
Nutrition Information
Yield
10
Serving Size
1
Amount Per Serving
Calories

410
Total Fat

27g
Saturated Fat

13g
Trans Fat

0g
Unsaturated Fat

11g
Cholesterol

2mg
Sodium

136mg
Carbohydrates

40g
Fiber

5g
Sugar

20g
Protein

7g