Quinoa with a layer of roasted Mediterranean vegetables, green leaves and a spicy tomato dressing. A high protein vegan healthy salad that is bursting with fresh produce. Perfect vegan meal prep for a nutritious high plant protein filling meal.
Layered Quinoa Veggie Salad Video Recipe
This recipe does contain a lot of ingredients but that's why its great as a meal prep!  To create one big batch for several meals. A serving contains so many different veggies that it's an easy way to get towards your 10 portions of fruit or vegetables that we should all be aiming for.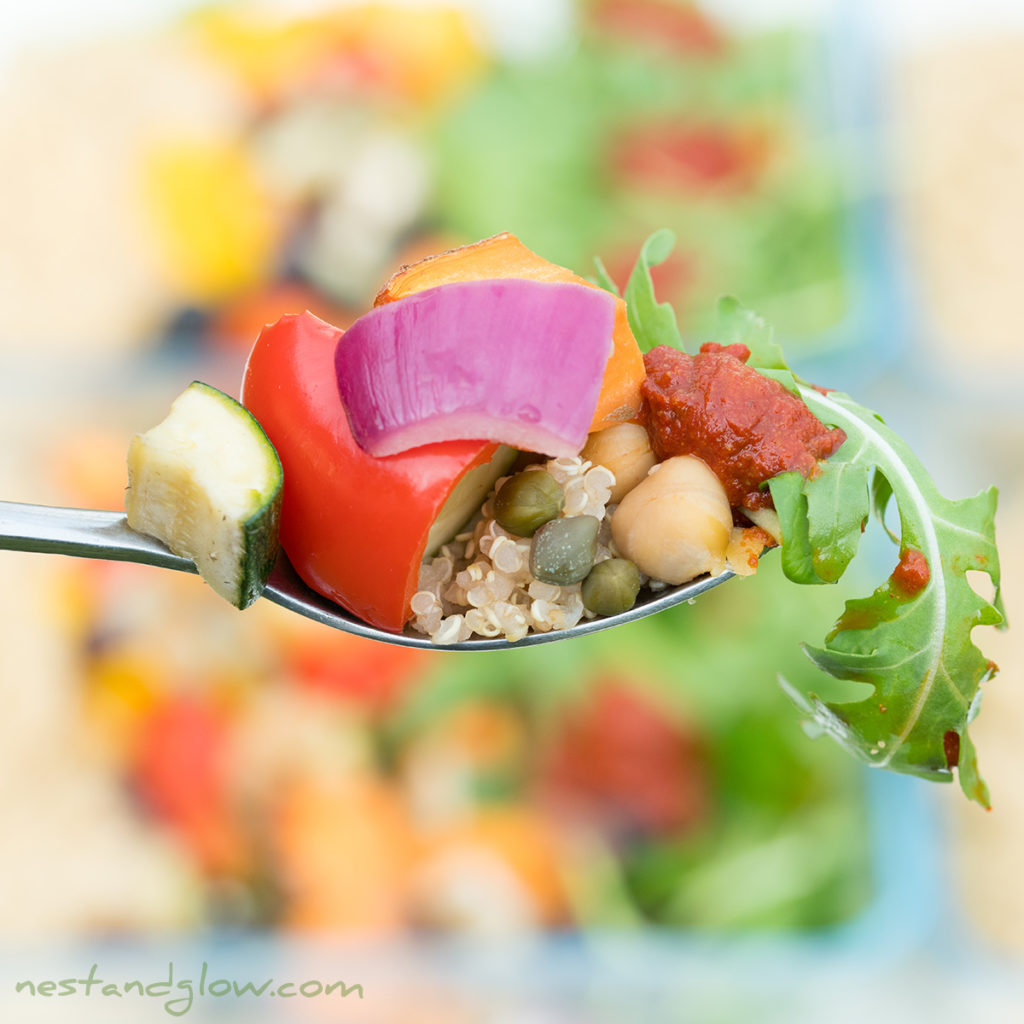 I don't peel my sweet potatoes to keep in the nutrition that's next to the skin. You could use normal potatoes this if you prefer but I do like the bright orange nutritionally superior sweet potatoes.
All of the vegetables are just ideas you can mix and match what's in season. I generally do this with Mediterranean vegetables in the summer and root vegetables in the winter.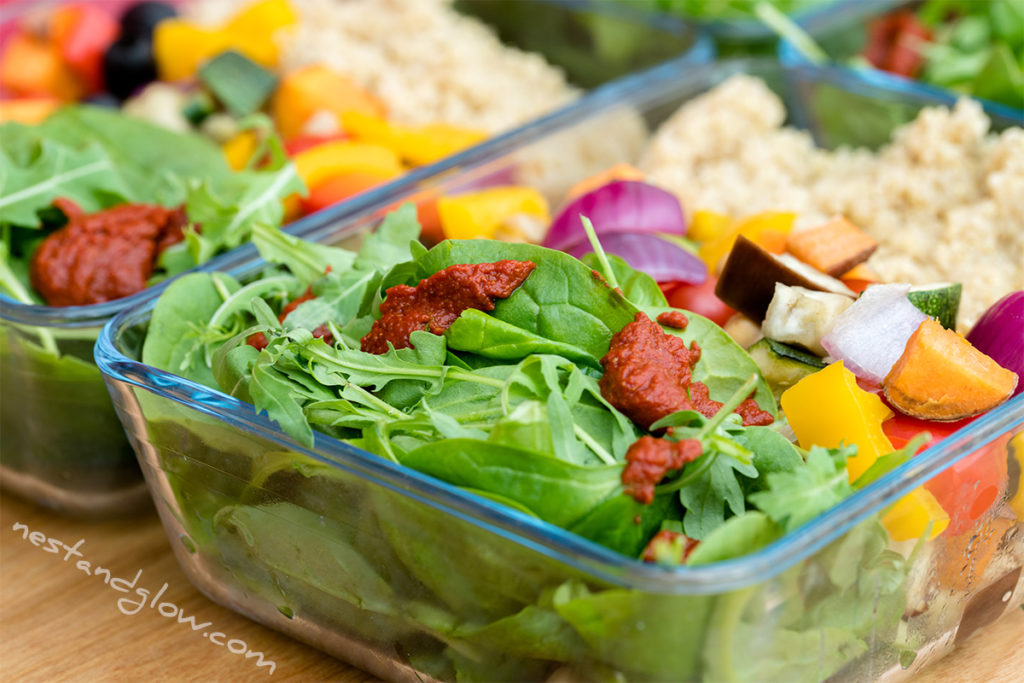 You can either cook your quinoa with some stock / a tbsp of yeast extract or just water. Some people like a more flavourful quinoa but I'm fine just with water with the salty capers and black olives.
I prefer using black olives for this as they are the ripe olive and are treated less, but use green if you prefer. The same goes for pitted or whole – use what you like just make sure the person eating it knows if there are pits!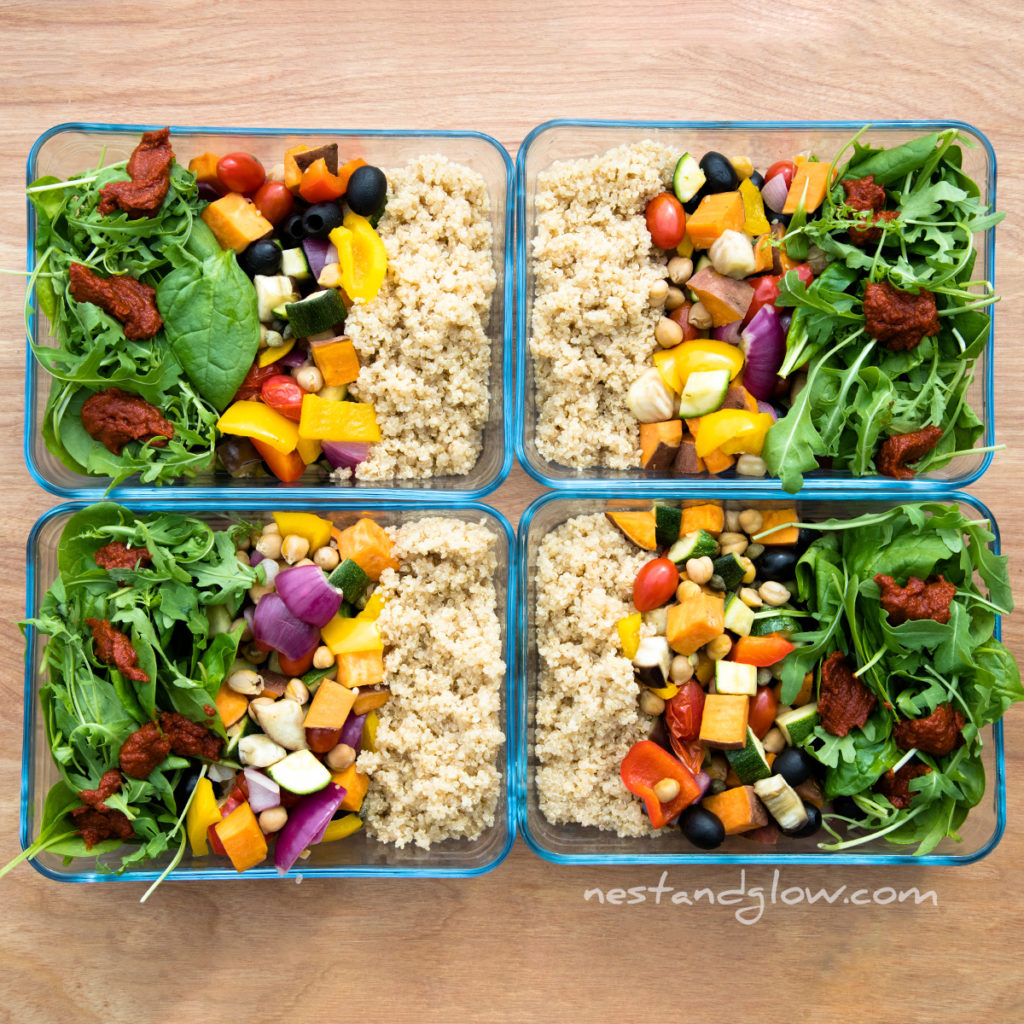 Capers are a pickled unripe flower bud. They have a lemony, sharp and salty taste that goes so well with the Mediterranean vegetables in this salad.
Capers give a unique sharp and pungent taste to this if you're a fan do add them. However, as they are an acquired taste they might not be for all.
The veggies are a bit al dente in the pictures because I wanted bright colourful veggies and I prefer them with a bit of crunch. Most people do like to cook them for longer in the oven and the instructions allow for this. They will still cook without oil but take slightly longer.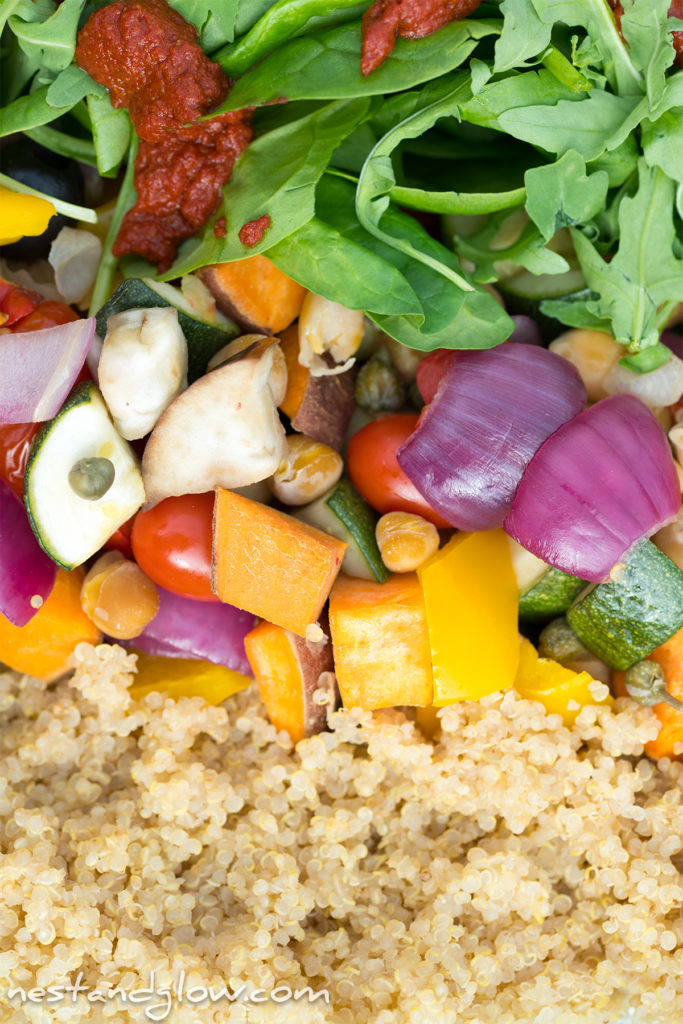 Chickpeas work great in this salad as they have a sweet buttery taste and have a great chewy and crunchy texture once baked. You can use any other bean/pulse that you like but many can go a bit dry when baked with no oil.
This recipe doesn't use any oil at all for health reasons. Oil does have some benefits but many of these are lost when baked so I tend to avoid cooking with oil. If you like a few tbsp of high-quality cold pressed oil can be drizzled on afterwards to add some heart-healthy fats. Extra virgin unfiltered olive oil or cold pressed rapeseed oil are two good choices.
Vegan High Protein Meal Prep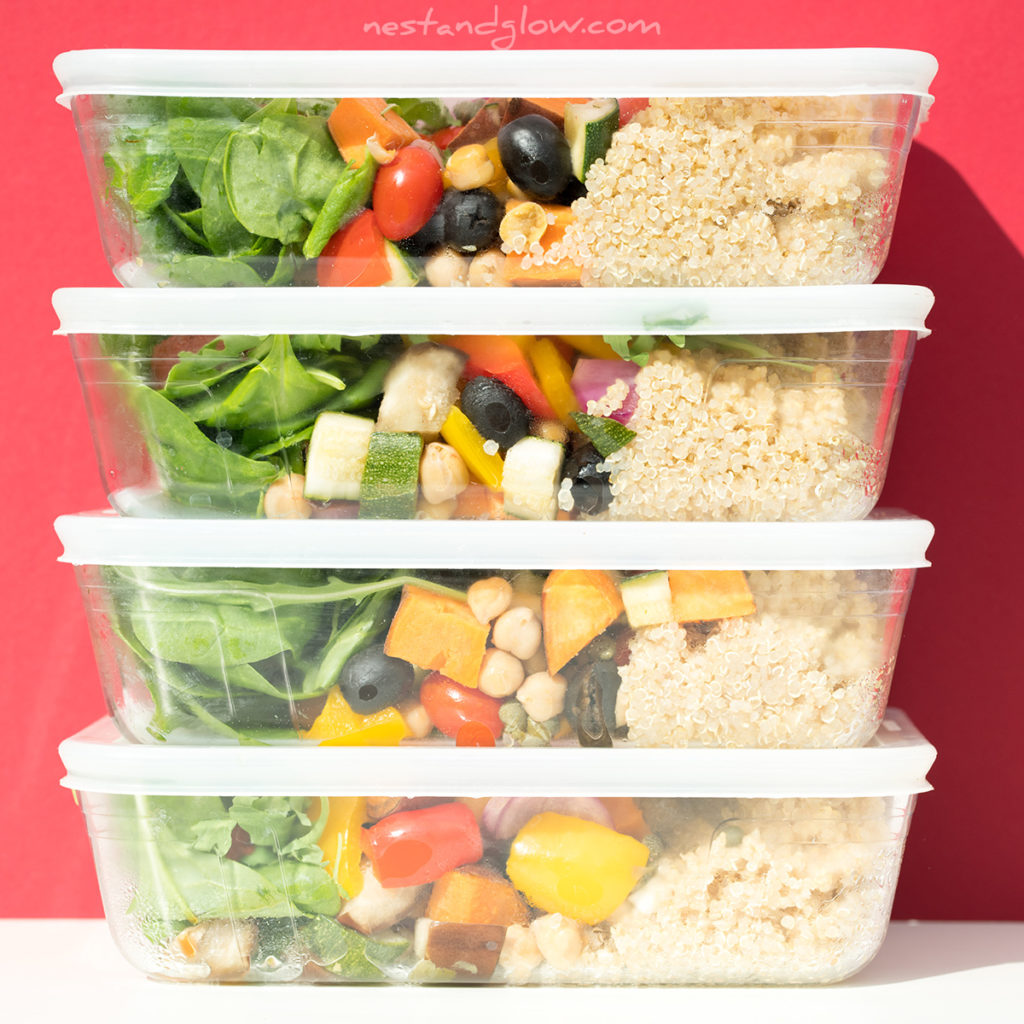 I'm using glass containers here as I do worry about plastic leaching into food, especially if it's hot. The lids are plastic so do wait until fully cooled before placing the lids and putting in the fridge.
Tomato paste is made from just 100% pure tomatoes that have been cooked down to double concentrate and pureed. If it isn't available where you are then you can just blend sun-dried tomatoes instead.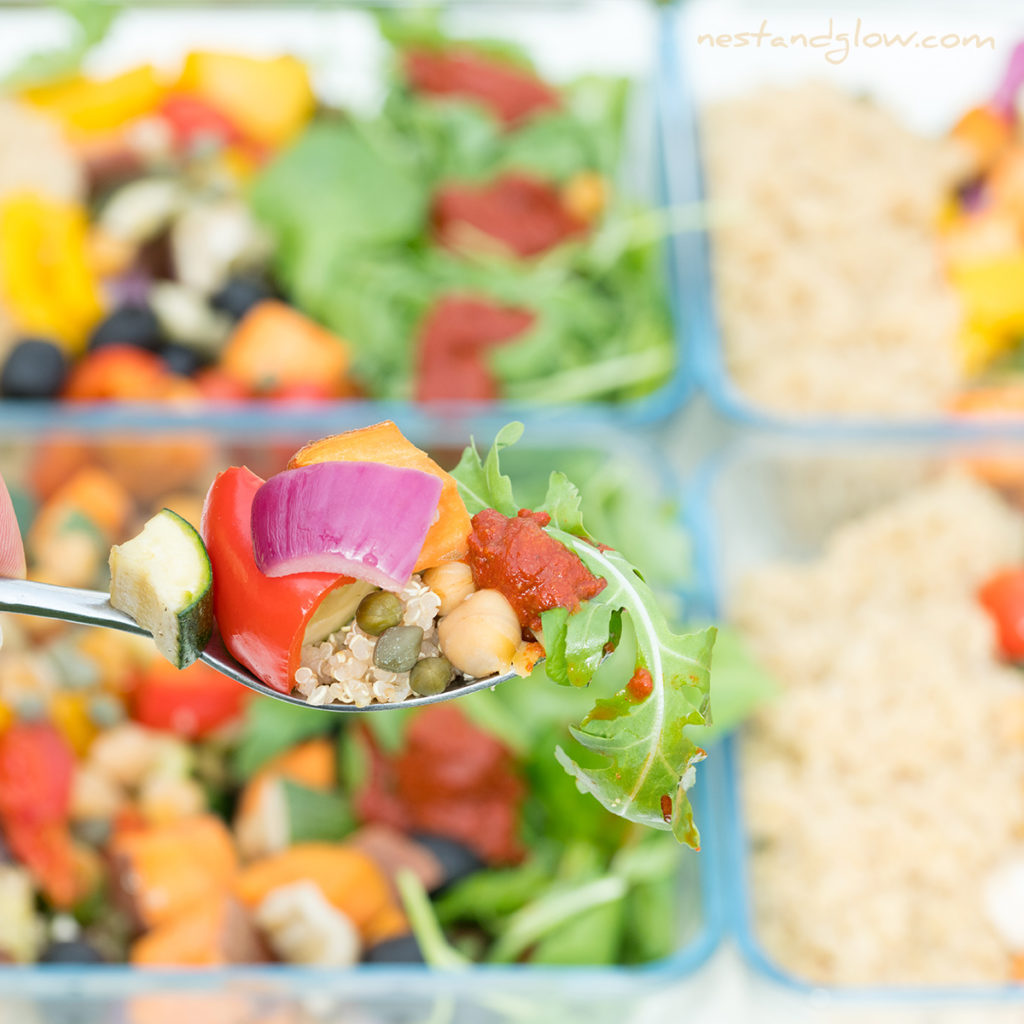 Yield: 4 quinoa salads
Quinoa Layered Salad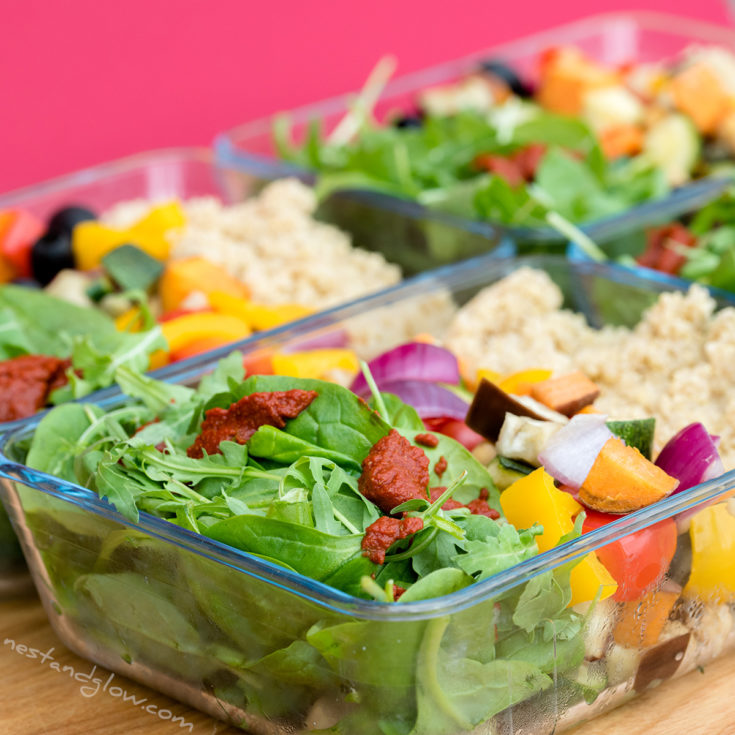 Meal prep for a layered quinoa salad with roast veggies and a green leaf salad and a nut and soy free raw vegan cheesecake pot. All high in vegan protein and nutrition
Ingredients
QUINOA SALAD
1¾ cups / 300g Quinoa
3 ½ cups / 800ml Water or Veggie Broth
ROAST VEGGIES
1 Courgette / Zucchini
1 Sweet Potato
2 Red Onions
1 Aubergine / Eggplant
2 Sweet Peppers
1 can (15oz / 400ml) Chickpeas
200g / 7oz Cherry tomatoes
4 tbsp Olives
2 tbsp Capers
SALAD
4 tbsp Tomato paste
2 Limes
½ tsp Turmeric
1 tsp Cumin
½ tsp Cayenne Pepper
1 tsp Smoked Paprika
8 handfuls of greens like Spinach or Rocket
Instructions
Preheat oven to 190c / 375F.
Rinse the quinoa under warm water to remove any bitterness.
Boil the quinoa with the water or veggie stock for 12-14 mins until cooked. Fluff up with a fork.
Slice all the veggies for roasting into small chunks about 2-3cm then place on a pan and roast for about an hour. Toss halfway and take out when cooked to your liking.
Mix together everything for the leaves dressing.
Layer into your containers. In the photos I'm doing the layers in sections rather than on top to clearly show it all. With smaller containers and for actually eating it works better in verticle layers.
Enjoy quinoa salad within 5 days and always keep chilled in the fridge.
Nutrition Information
Yield
4
Serving Size
1
Amount Per Serving
Calories

397
Total Fat

6g
Saturated Fat

1g
Trans Fat

0g
Unsaturated Fat

4g
Cholesterol

2mg
Sodium

354mg
Carbohydrates

81g
Fiber

22g
Sugar

25g
Protein

17g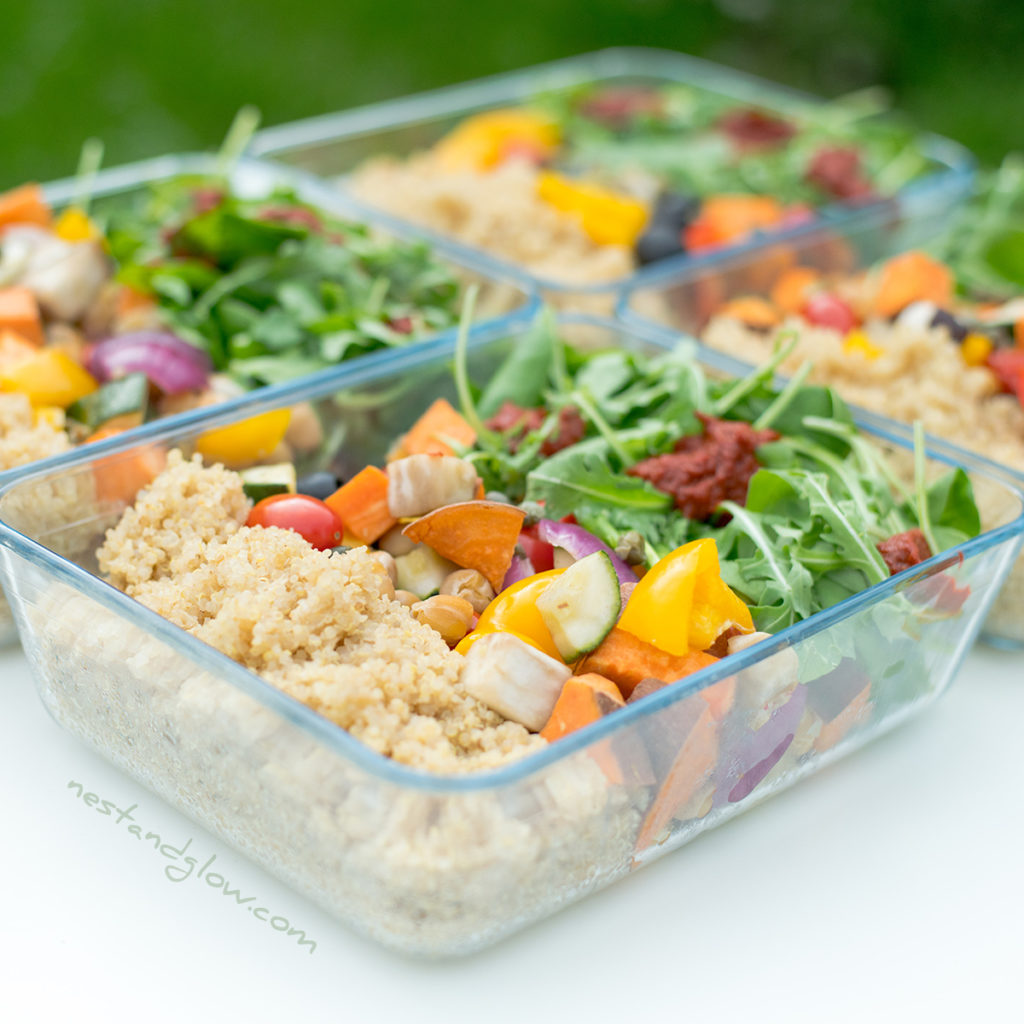 Quinoa has a high protein content compared to other grains as one cup / 180g of cooked quinoa contains 8 grams of protein.