My healthy gluten free lemon drizzle cake is easy to make, bursting with goodness and yummy zing. High in protein from quinoa, flax seeds and cashew nuts.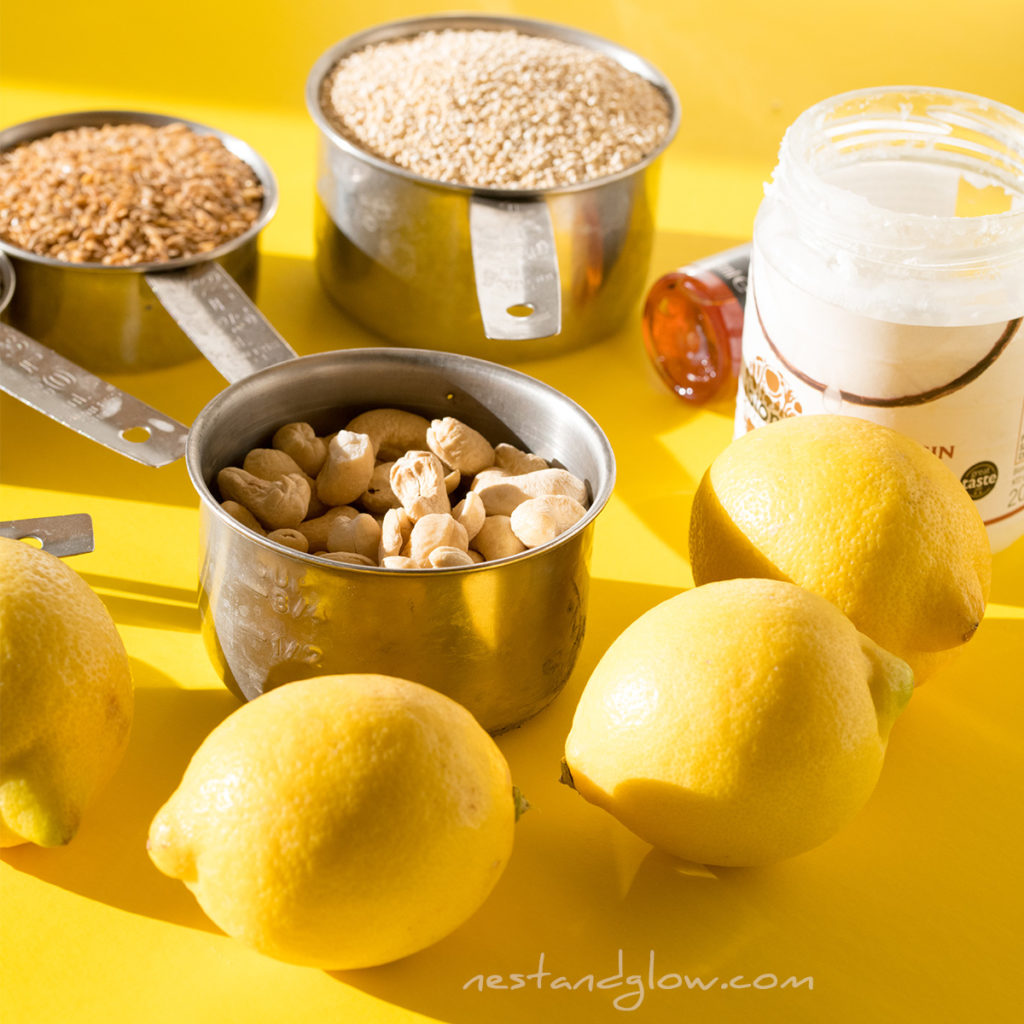 For this gluten free lemon drizzle cake recipe I use a whole lemon in the quinoa cake batter. This is because the pith contains lots of goodness and fibre that also helps the texture of the recipe. Don't worry if there's a seed or two in the lemon these are fine to eat, they're like a natural aspirin.
Vegan Lemon Drizzle Cake Recipe Video
Play on YouTube / Play no music lemon drizzle cake video recipe
It's fine to leave a bit of the rind on the whole lemon that is blended when making the quinoa lemon cake. This will add a slight bitterness that elevates the favour to balance it out and I actually aim for some lemon rind.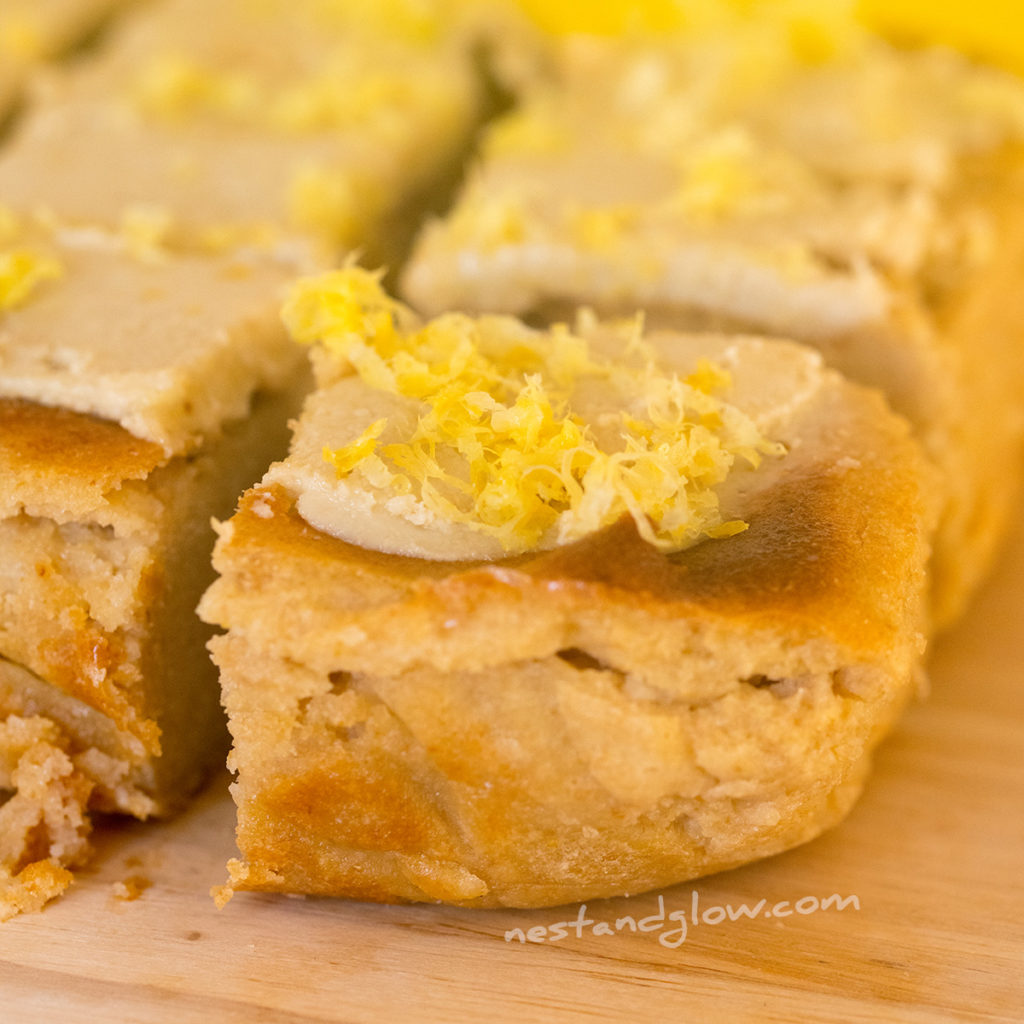 Lemon rinds contain so much flavour that I like to use the zest of at least one lemon on the top. However always choose unwaxed and untreated lemons as they are safe and healthy to eat.
You can even zest two lemons on top of my vegan lemon drizzle cake for even more of that lemony oil goodness.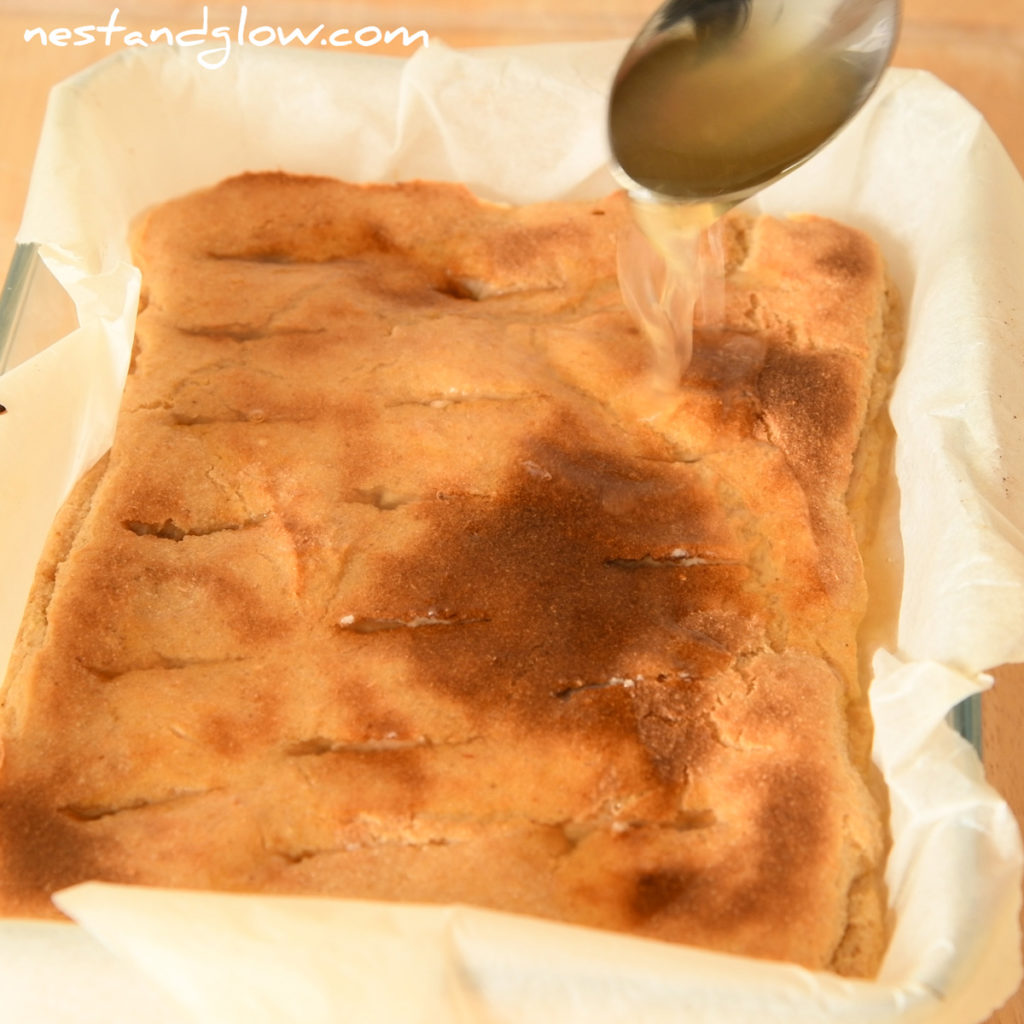 I'm using agave nectar as the sweetener in this no-added-sugar lemon cake as I've got lots to use and I move soon. I would usually use maple syrup but any similar sweetener can be used.
Often I do use fruit to sweeten my recipes but as this is a white cake I decided not to use dates or raisins to keep it white. If you care less about the colour you can replace with dates or dried fruit and this will also up the fibre content.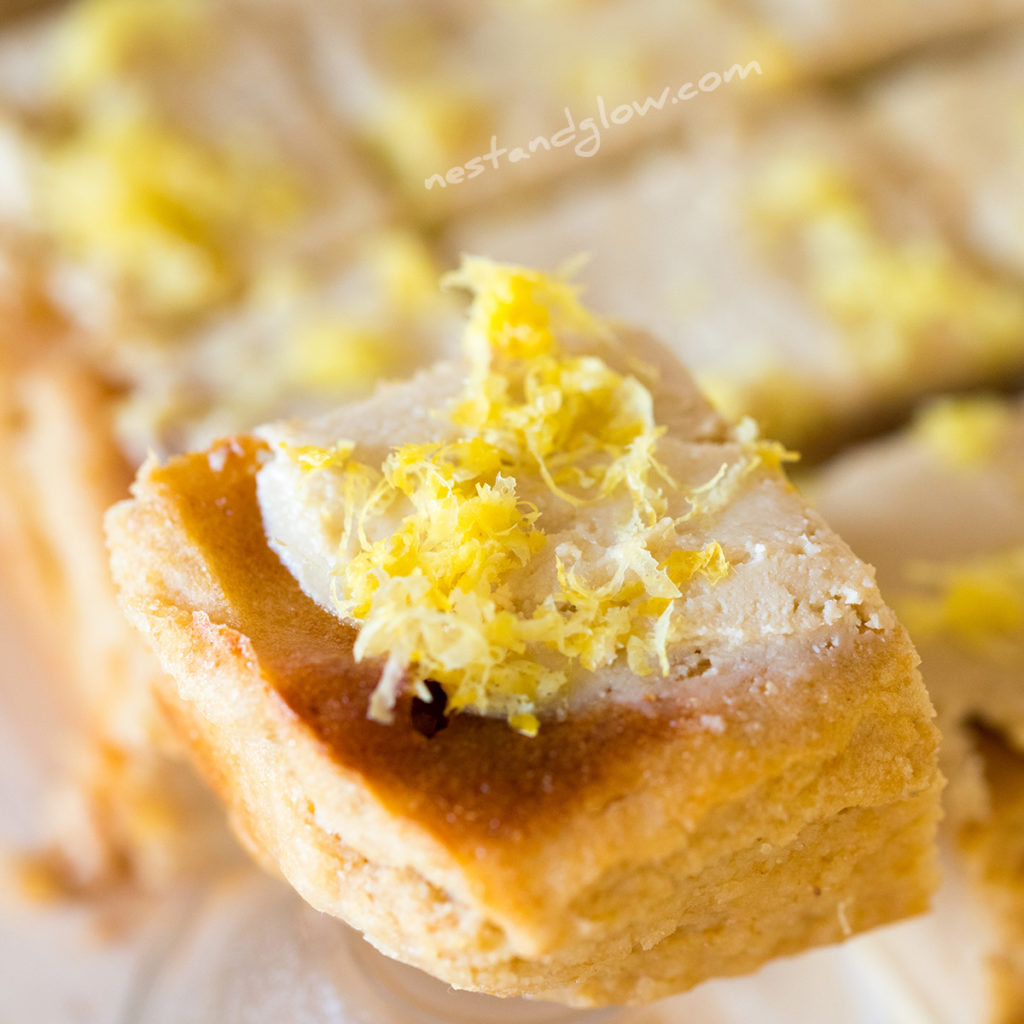 Flaxseeds are used in my gluten free lemon cake recipe to replace eggs. You could use chia seeds if you prefer as they are also a good vegan egg replacement but the dark seeds to affect the colour.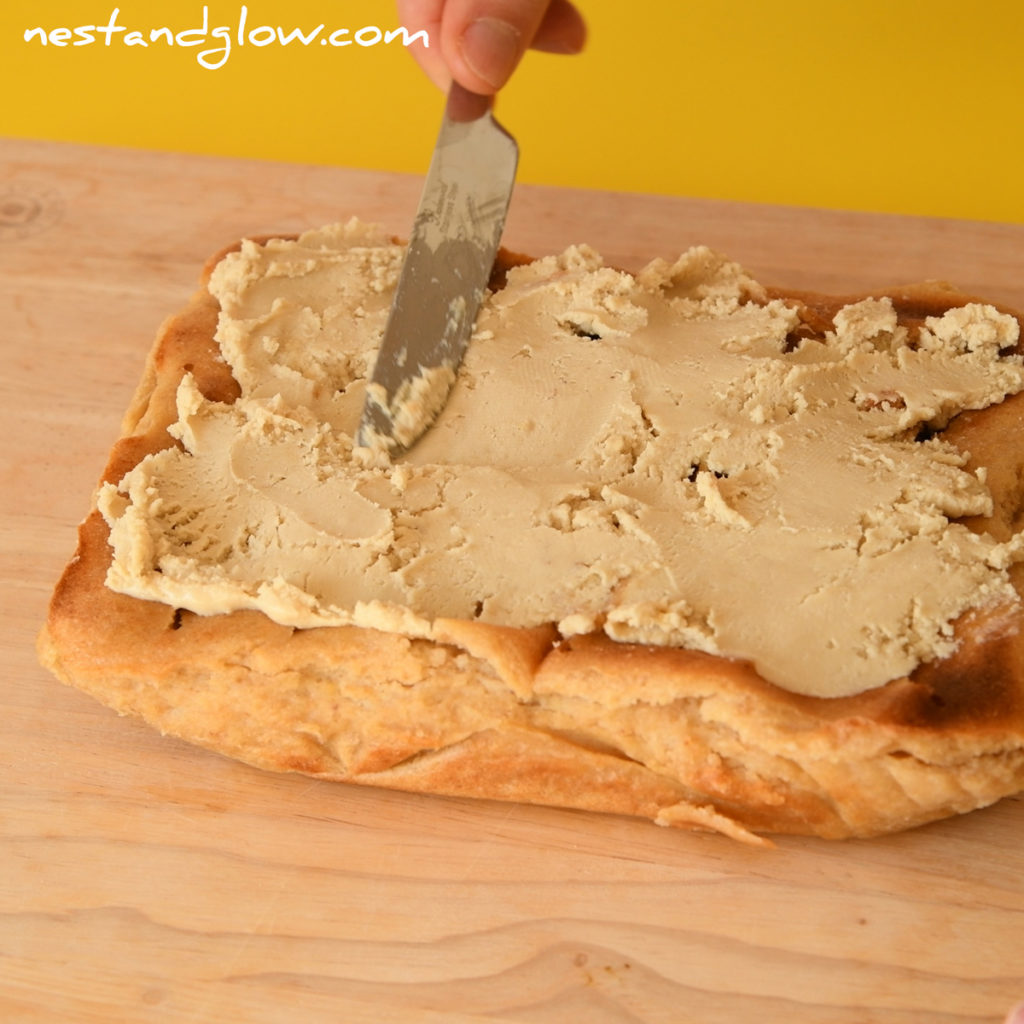 Coconut flour is used for my healthy quinoa lemon cake for the texture and because it's a minimally processed whole food.
You could use normal gluten-free flour if you prefer or buckwheat flour. I'm using the finely ground coconut flour rather than desiccated coconut and it's made from pure 100% coconut.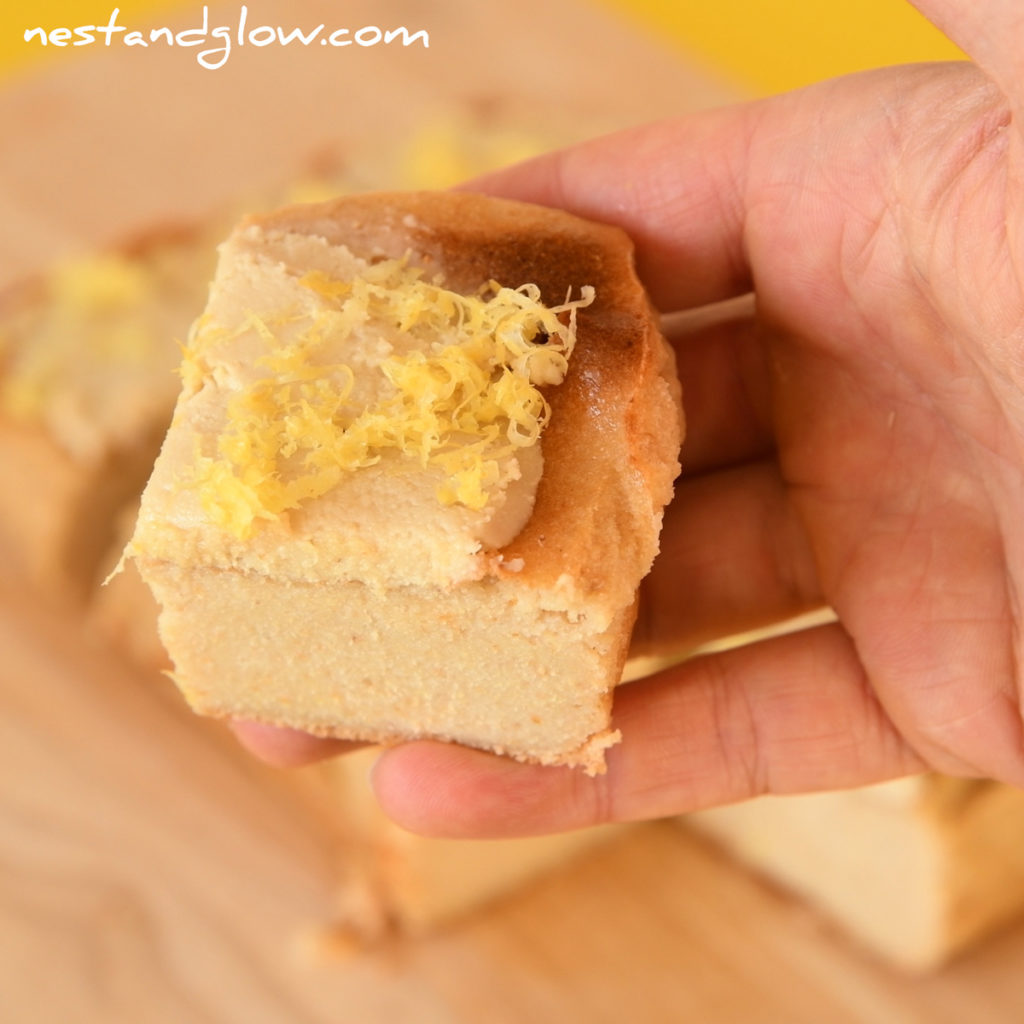 The baking powder is optional. I find it gives a slight lift, but this lift does go when it cools so it doesn't really make a huge difference.
Lots of people prefer not to use leavening agents due to added ingredients. Sadly with a vegan, healthy and gluten-free cake recipe you will never get the lift people are used to from normal cakes, but it still tastes great.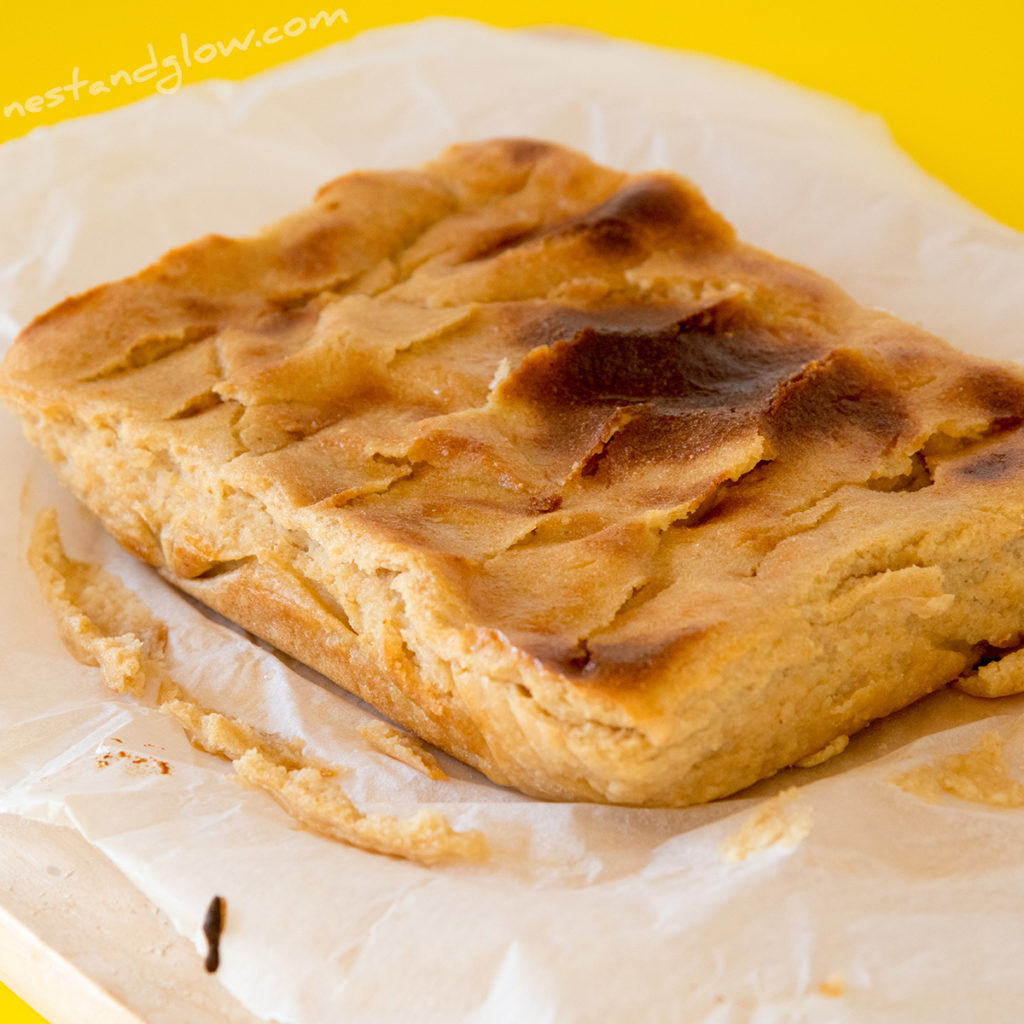 This quinoa gluten-free lemon drizzle cake has a very subtle earthy flavour from the quinoa. One slice is very filling.
The frosting is optional and you can leave it out if you prefer. Or make from another nut like macadamia or sunflower seeds to be nut-free.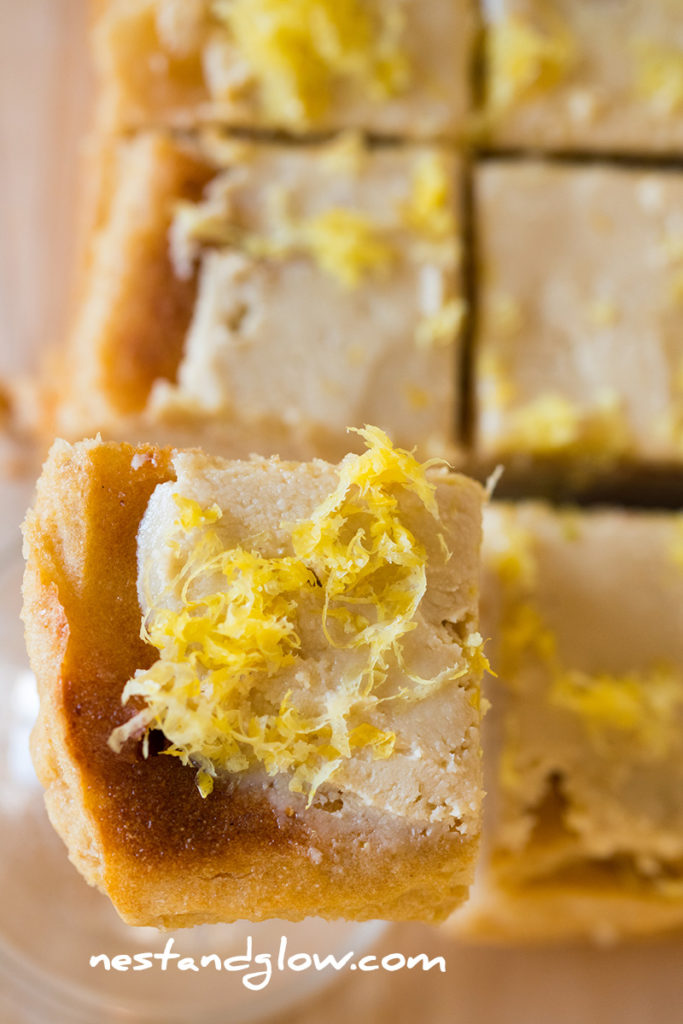 Quinoa is generally considered ok on a paleo diet if it's been soaked and sprouted as you do for this vegan lemon drizzle cake recipe. This soaking and sprouting activated it and reduces the amount of Phytic acid.
I always use whole quinoa as you can sprout it to make it easier to digest and it's much cheaper than quinoa flour.
Yield: 16 gluten free lemon cake slices
Quinoa Lemon Drizzle Cake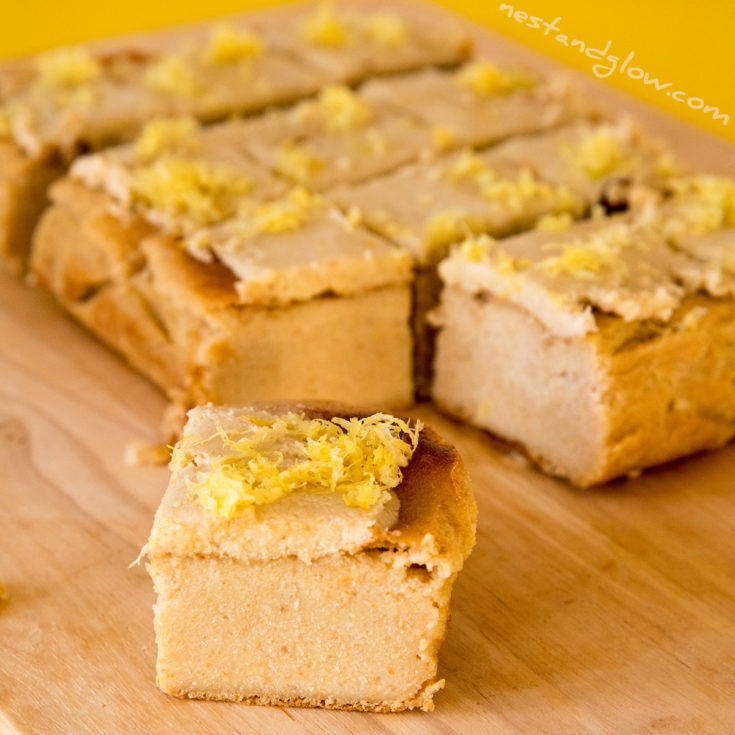 A very healthy and very delicious gluten free vegan lemon cake. It makes that glorious slurpy sound when handled as it's full of fresh lemon drizzle.
Naturally free of any gluten as seeds are used instead, quinoa and coconut are a seed. High in protein thanks to the quinoa and as it's a healthy cake just one slice is very satisfying.
Total Time
1 hour
10 minutes
Ingredients
Lemon Quinoa Cake
1 cup / 170g Quinoa
1/2 cup Golden Flaxseed
1/3 cup Coconut Flour
1.25 cups Water
1/2 tsp Baking Powder
2-4 tbsp sweetener like Maple Syrup
1 Lemon, peel cut off
pinch Salt
Lemon Drizzle
2 lemons juiced
2-4 tbsp sweetener like Maple Syrup
Cashew Frosting
3/4 cup Cashews
2-4 tbsp sweetener like Maple Syrup
2 tbsp Coconut Butter or Oil (optional)
Instructions
Soak the quinoa in water for 15 minutes, then rinse and drain the quinoa.
Pre-heat oven to 375F / 190C.
Use a knife to peel the lemon and remove the yellow rind.
Place everything for the quinoa lemon cake into a blender and blend for 1-2 minutes until all the quinoa is broken down. Might have to do in two batches.
Line a dish with greaseproof paper, I'm using one about 7.5" by 10" and pour in the quinoa batter.
Bake for 45-50 mins until the top starts to get some colour and the cake seems cooked. Of course, as it's gluten-free it will still be soft and seem uncooked.
Leave the quinoa lemon drizzle cake to firm up.
Mix together the juice from two lemons and the sweetener to make the lemon drizzle.
Use a sharp knife to make slits in the quinoa lemon cake and spoon over the lemon drizzle.
While the lemon drizzle soaks in, blend the cashew nuts in a small jug / bullet blender until they start to stick together. Will need to stop several times and scrape down the sides.
Add in the sweetener and optional coconut and blend to combine.
Remove the cooled cake from the lined pan, spread on the cashew frosting and grate the zest of one of the juiced lemons on top.
Enjoy this gluten free quinoa lemon cake within 5 days and keep in the fridge.
Notes
The coconut butter or oil is optional for the frosting. It helps to make it very firm at room temperature.
You can add a bit of water or lemon juice if you like for the frosting. I haven't here so that you get a thick frosting rather than a thin layer.
I use raw cashew nuts to make the frosting. But you can use just about any nut or seed you like, although some blend smoother than others. Alternatively, you can make without a blender just by using a nut or seed butter.
When blending the quinoa batter don't wait around as once the water is mixed with the flaxseeds they will start to gel up. If you wait around the mixture will be too stiff and could damage your blender as it will struggle.
Nutrition Information
Yield
16
Serving Size
1
Amount Per Serving
Calories

128
Total Fat

8g
Saturated Fat

2g
Trans Fat

0g
Unsaturated Fat

5g
Cholesterol

0mg
Sodium

74mg
Carbohydrates

13g
Fiber

3g
Sugar

6g
Protein

3g
Soaking nuts and seeds is very common to reduce the Phytic acid as recommended by diets like paleo to reduce the antinutrients.