Healthy gluten free brownie recipe made without any flour, butter, sugar, eggs or highly refined ingredients. Bursting with goodness and filling.
My healthy chocolate avocado brownie recipe is suitable for vegan, paleo, oil free, gluten free, plant based whole food and general healthy diets.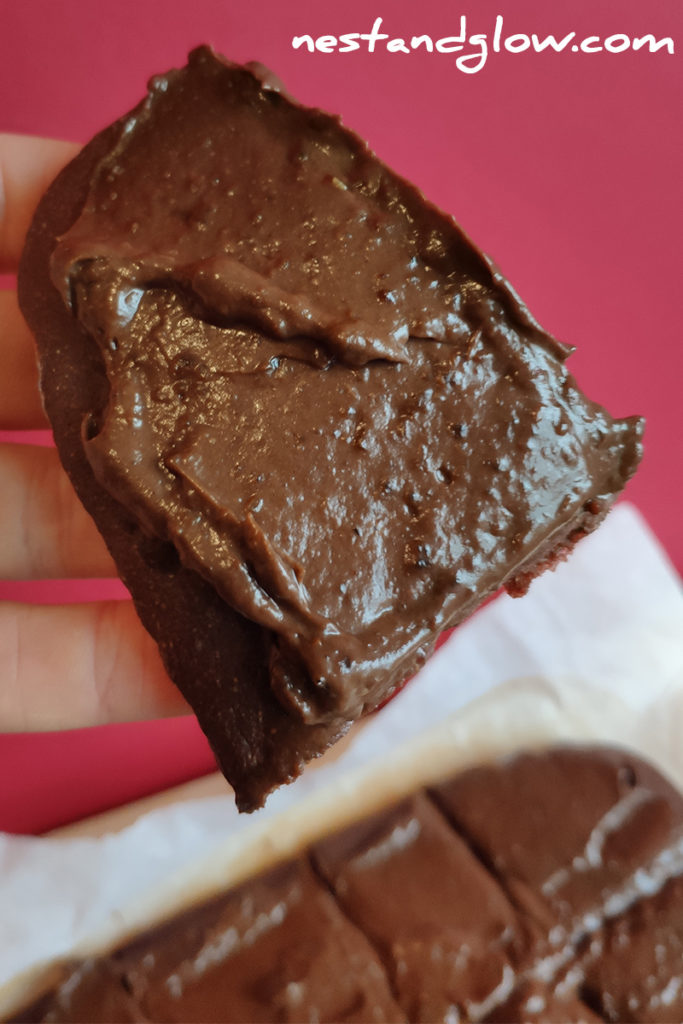 The best thing with a healthy brownie recipe like this is a few slices will fill you up. It has more nutrition than many people on a Standard American Diet have in a day.
You can taste the avocado in the avocado chocolate icing if you don't add any oil. The optional oil does change the taste and texture but it still tastes good even if the icing is made with water. Add more cocoa or sweetener to hide the avocado if you taste it.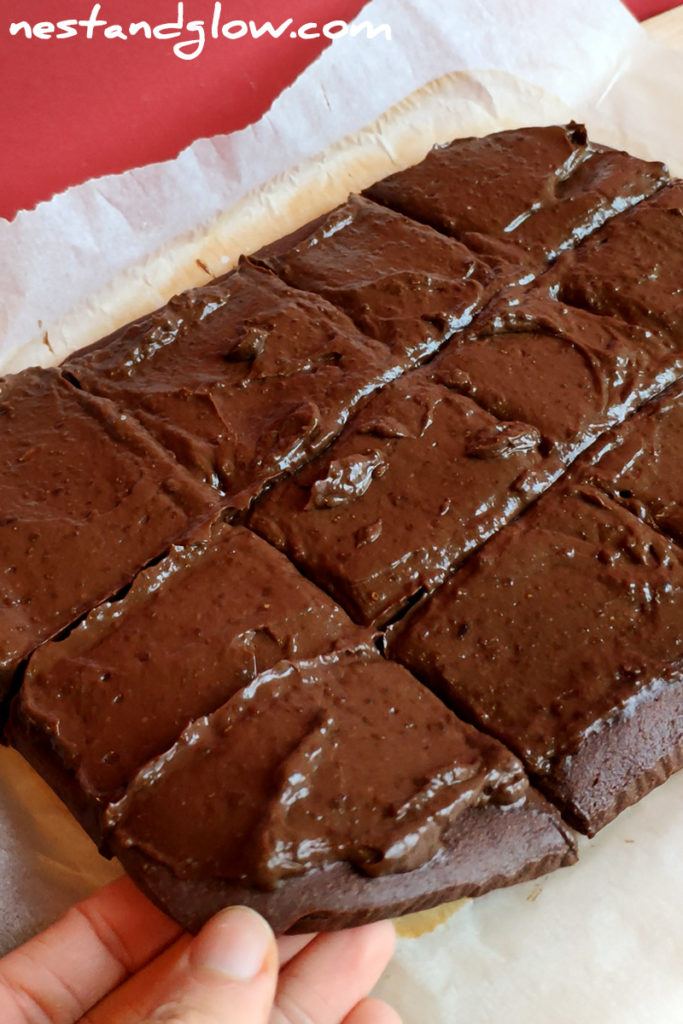 Whole quinoa is soaked in warm water to start to grow before your eyes. This means the goodness is much more easily absorbed and it's lower in acid that can inhibit the absorption of vitamins.
I like to always use whole quinoa in my recipes rather than quinoa flour as it's easier to digest and much cheaper. I know quinoa is expensive for some people, but if you're in the UK you can get a 500g bag for around a £1 at the time of this recipe in 2019.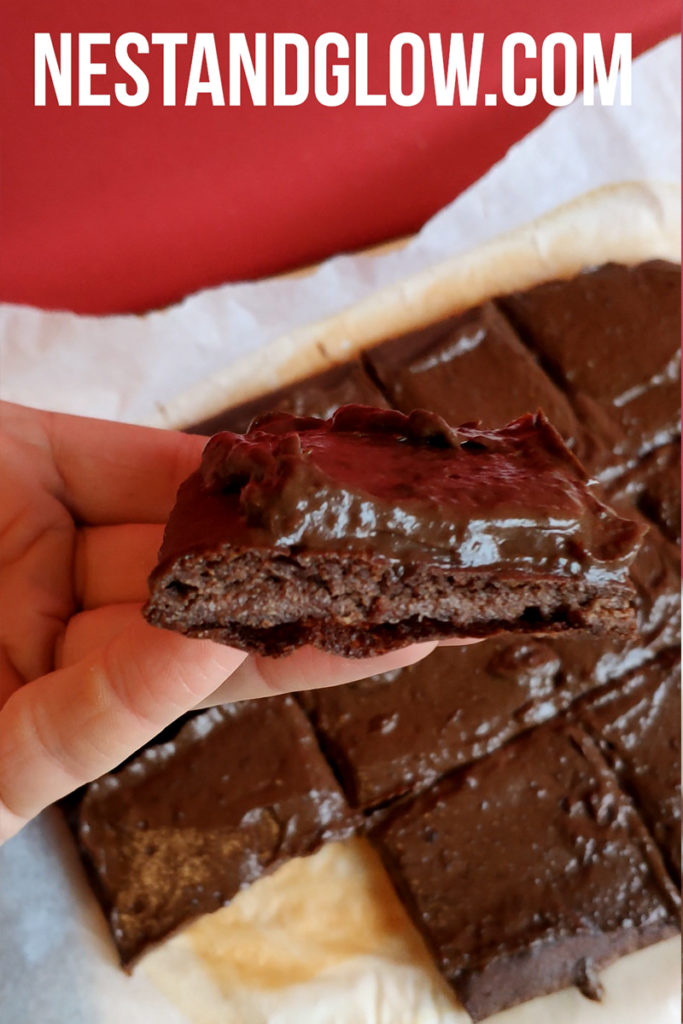 Yield: 12 gluten free healthy brownies
Quinoa Avocado Chocolate Brownie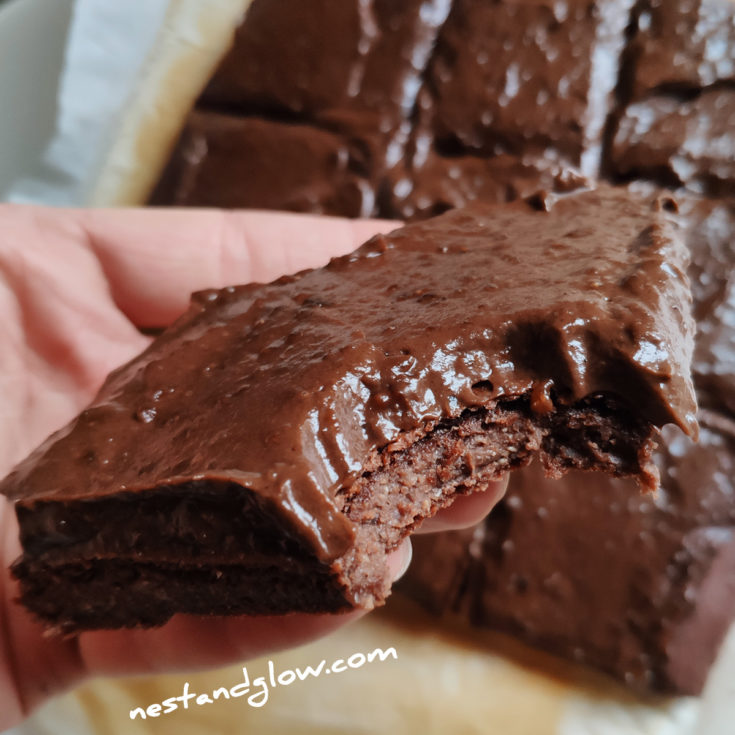 These healthy brownies are made from just a few natural ingredients. Full of protein, heart healthy fat, fibre and nutrition.
I often make these sweetened just with dried fruit so they are full of fibre to keep you from eating too much.
Ingredients
Quinoa Brownie
3/4 cup / 160g Quinoa
1 2/3 cups / 250g Raisins
3 tbsp Cocoa
3/4 cup / 115g Hazelnuts
1 1/4 cups / 300 ml water + water for soaking
Chocolate Avocado Topping
2 Avocados
4-8 tbsp Sweetener such as Maple, Coconut or Dates
2 tbsp Coconut oil or Coconut Butter or water
4 tbsp Cacao or Cocoa powder
Instructions
Soak the quinoa in warm water for at least 10 mins, half an hour is best if you have the time,
Rinse and drain the quinoa.
Preheat oven to 190C / 375F.
Blend everything for the quinoa brownie base together until all of the quinoa is broken up. This is important as any hard bits of quinoa will ruin the texture. A 600w small blender is enough to do this in a minute.
Pour the batter mixture onto a pan lined with non stick paper that's about 30 by 20 cm.
Bake for 40-50 mins until it seems cooked and remove just as the top starts to go a darker brown. With chocolate mixtures, it's so easy to burn as the colour can be deceiving.
Blend all the icing ingredients together. If using coconut butter or oil melt it first. Add more water a tablespoon at a time if it needs help.
Spread the chocolate avocado icing on the quinoa brownie once it's cooled.
Keep the gluten free chocolate avocado brownie in the fridge and enjoy within 3 days.,
Notes
The raisins can be replaced with dates if you like
For the photos and video for this quinoa avocado brownie I used dates as the sweetener for the icing and water to make oil free.
Oil free icing won't be as firm but still tastes great.
Without adding any coconut butter or oil the icing will taste a bit more avocado like, but add more sweetener or cacao to counteract this.
Always taste the icing before icing the brownie to make sure it's the right taste for you.
Nutrition Information
Yield
12
Serving Size
1
Amount Per Serving
Calories

278
Total Fat

16g
Saturated Fat

5g
Trans Fat

0g
Unsaturated Fat

10g
Cholesterol

0mg
Sodium

27mg
Carbohydrates

34g
Fiber

6g
Sugar

19g
Protein

4g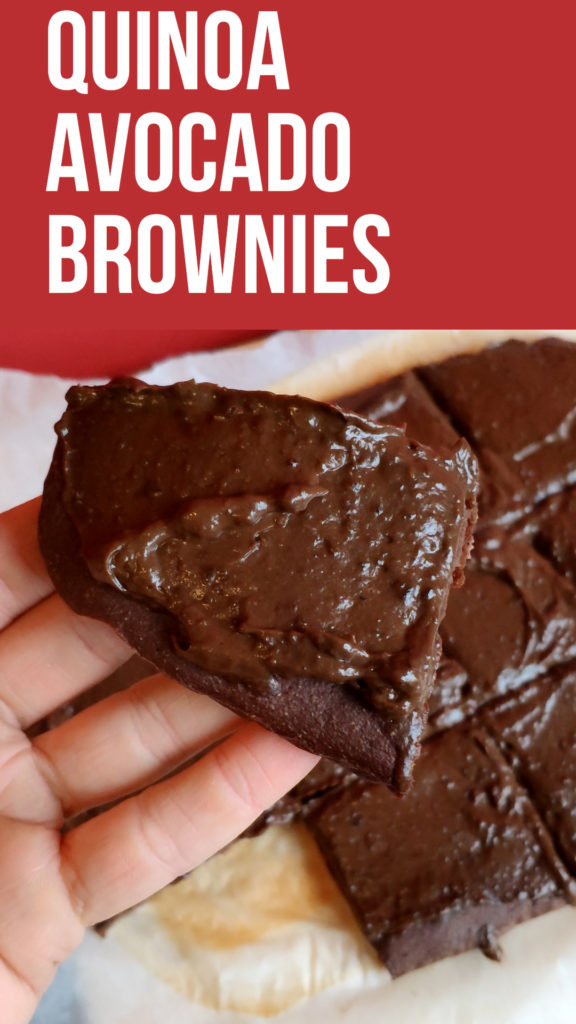 Quinoa is a seed, it is sometimes called a pseudo-grain as it's cooked like a grain despte not being one. Quinoa is naturally gluten free and much higher in protein than wheat.