This raw and gluten-free cake is deliciously lemony and moist. Topped with a lemon coconut icing and sweetened purely with fruit. You can add a sweetener to the icing if you like, but I do like a slightly sour lemon icing that cuts through the intense sweetness of the base.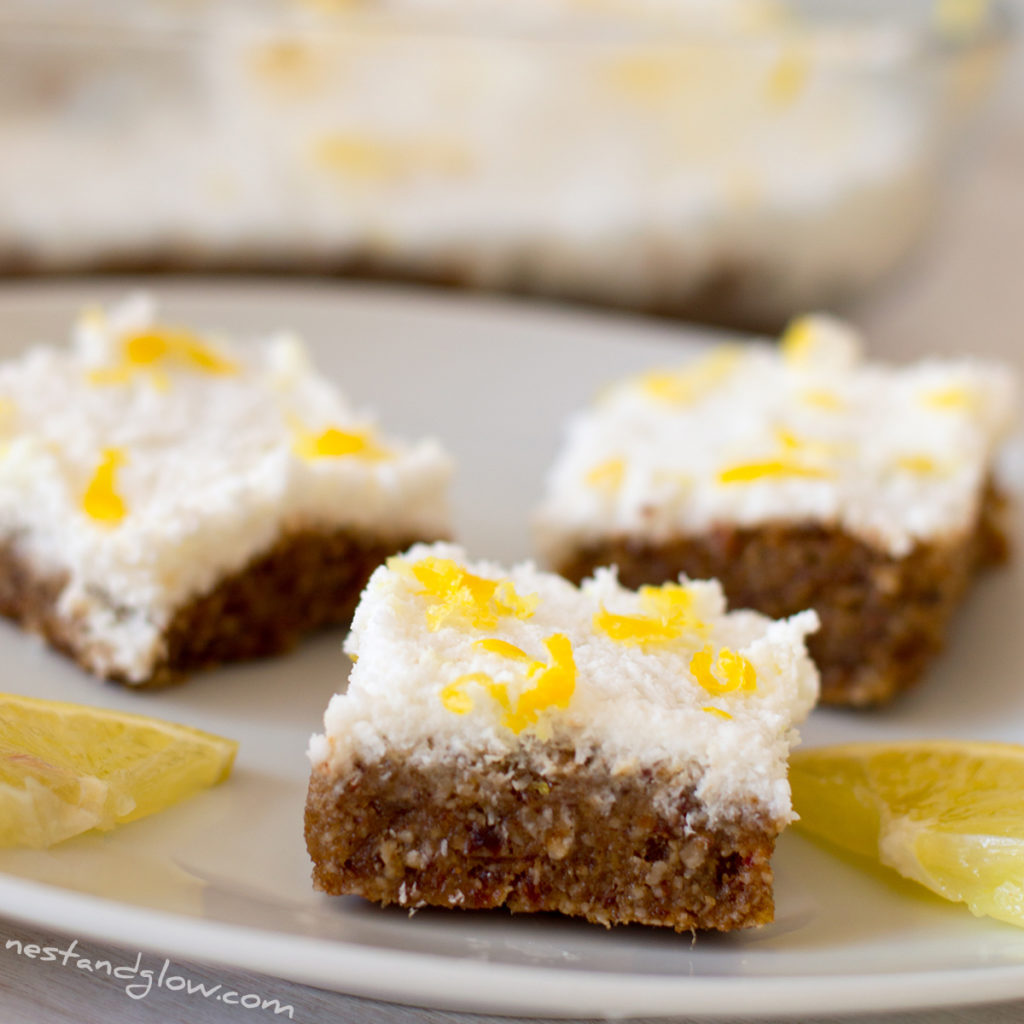 Maybe this lemon drizzle won't be the most viral raw cake as it doesn't look anything special but I think it tastes pretty good. Being free of flour, gluten, nuts, oil and just sweetened with fruit it's hard to find a fault in this healthy raw cake!
Lemon Drizzle Seed Cake Video
This is sweetened purely with dried fruit using dates and raisins in the base. You could add a liquid sweetener like maple syrup in the topping but personally I think it's sweet enough as it is. I like a slightly sour topping with a very sweet base.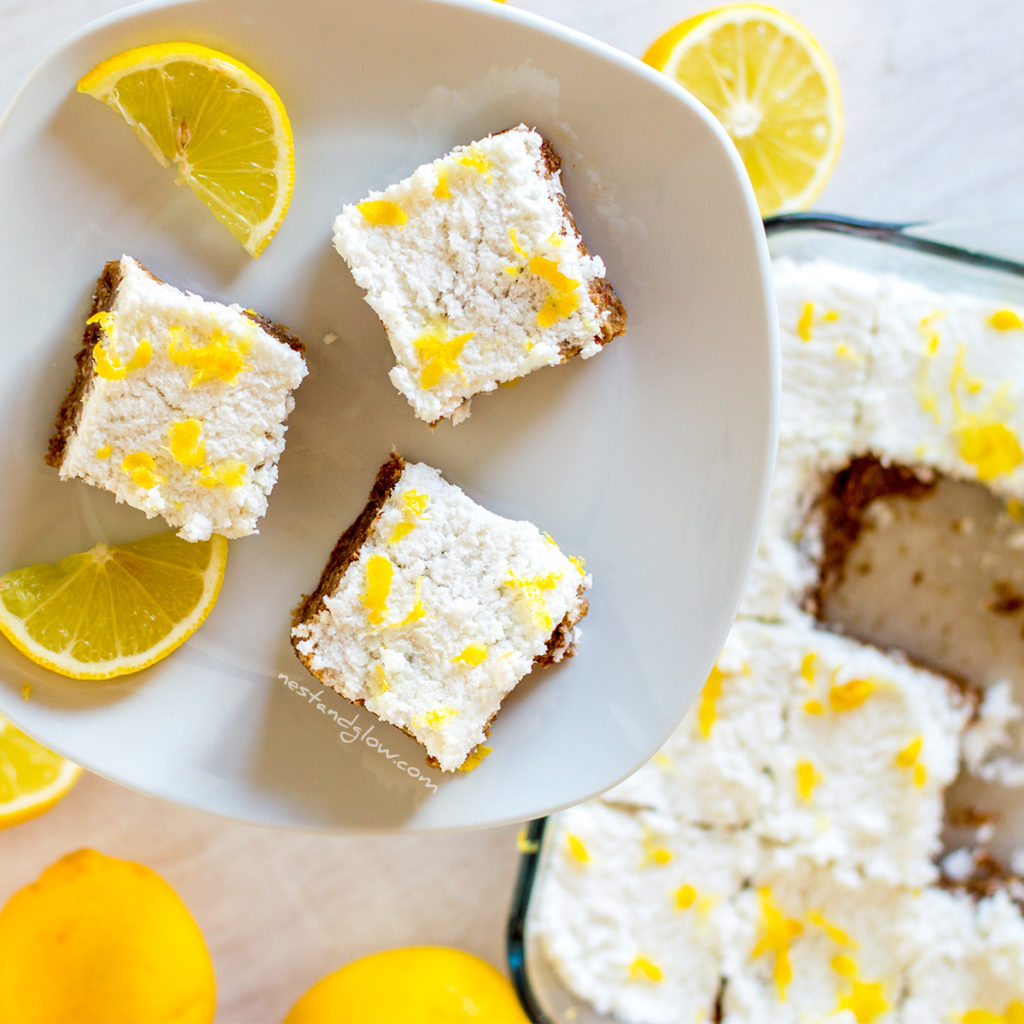 Many raw cakes can be quite dry, but this one is moist but firm.
It's free of any added oils and is just made from heart-healthy seeds. The topping is not totally smooth, it's more like fine snow. If you want something smooth then replace the icing with the cashew frosting from the carrot and beetroot cake and add extra lemon.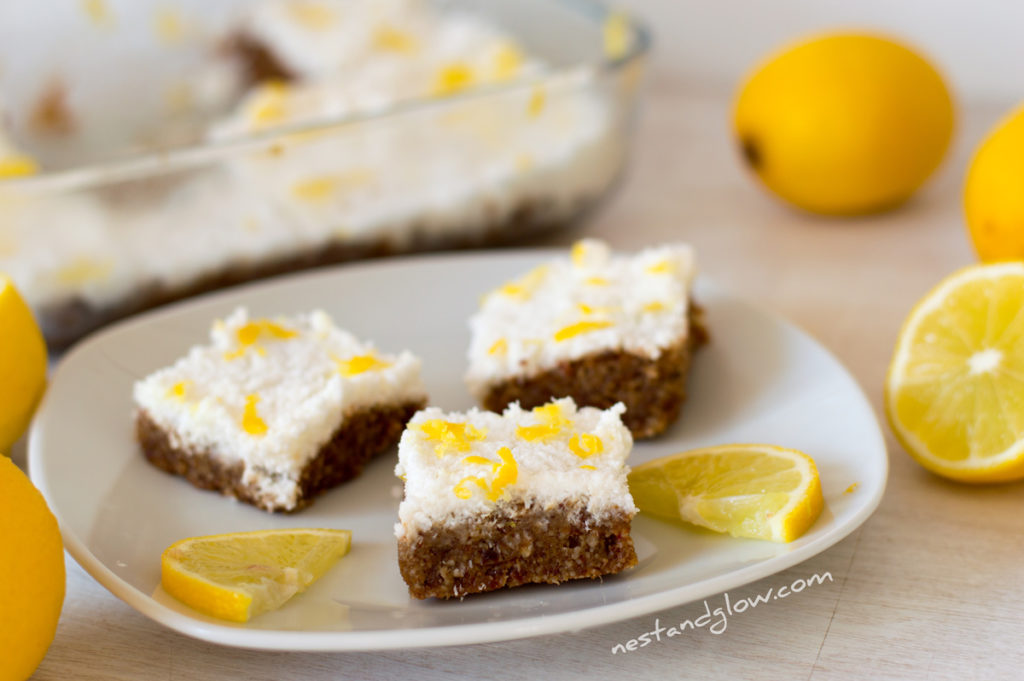 I'm using sprouted and dehydrated sunflower seeds in this recipe as they are easier for your body to absorb. You can make your own by soaking sunflower seeds in a pinch of salt overnight then drying in a dehydrator for 8-10 hours. Or dry an oven on the lowest possible setting while tossing regularly for an hour or so. It may sound like a faff but I get into the habit of sprouting and drying a big batch of sunflower seeds once a month. I like to use sunflower seeds as they are cheap, full of nutrition and not as moorish as cashews.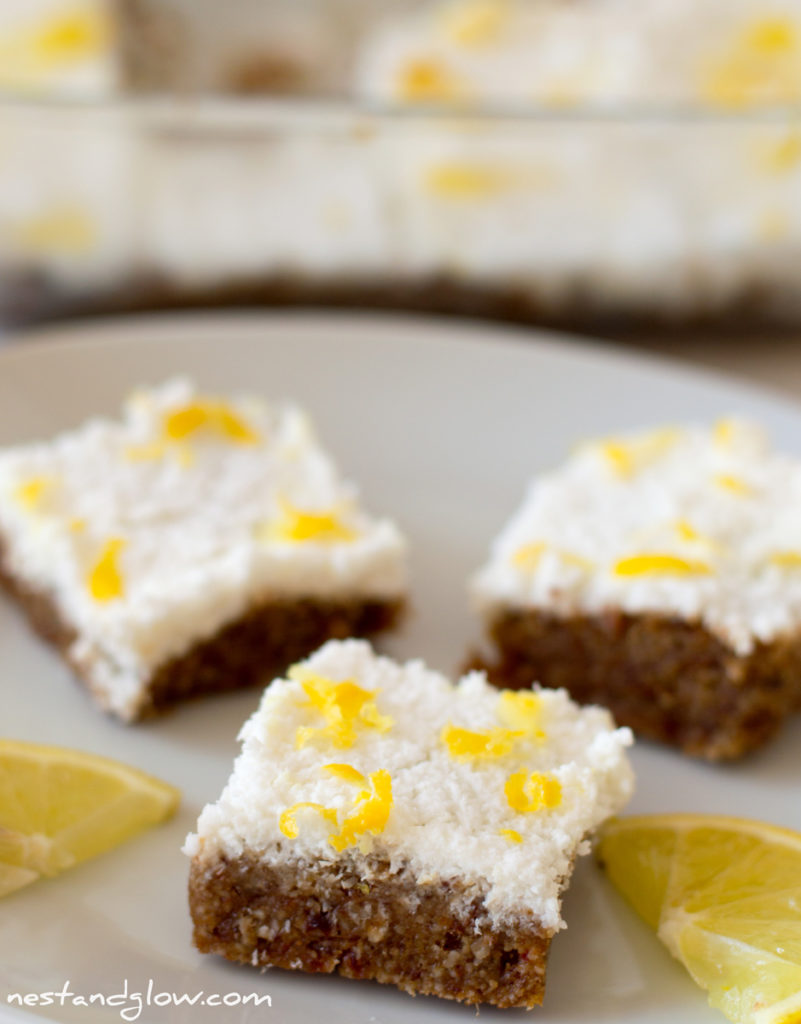 The raisins can be replaced with any other vine dried fruit like sultanas or currents. The same with the dates – apricots and figs also work well.
This recipe does freeze well, just remember to slice before freezing so you can defrost a slice at a time.
Lemon Drizzle Seed Cake Recipe
Total time:

15m

Yield:

16 servings

Calories:

120 cal
Ingredients
1 cup / 175g pitted Dates
1 cup / 150g Raisins
2 cups / 280g Sunflower seeds
4 Lemons
3/4 cup /  75g desiccated Coconut
splash of Water, for blending
Method
Into a food processor add the dates, raisins, sunflower seeds and the juice of two lemons.
Blend until the dough starts to form one big ball.
Spread this mixture flat in your dish.
Place the coconut and juice of the last two lemons into a small blender with a splash of water and blend until creamy. Add just enough water to make a creamy icing that can be spread.
Spread the icing on the base and sprinkle with grated lemon zest from 2 lemons.
Enjoy straight away or place in the fridge to firm up and eat within 5 days.
Equipment: Blender / food processor & 8″ Square dish