The best raw vegan strawberry cheesecake. Easy recipe for a no bake Raw Strawberry Cheesecake that no one will notice is dairy, gluten and refined sugar free. This strawberry cake is paleo and made with cashew nuts.
Super low stress to make as no cutting involved with these. A healthy cheesecake can be difficult to set firm and serving them individually avoids what can turn into a messy disaster!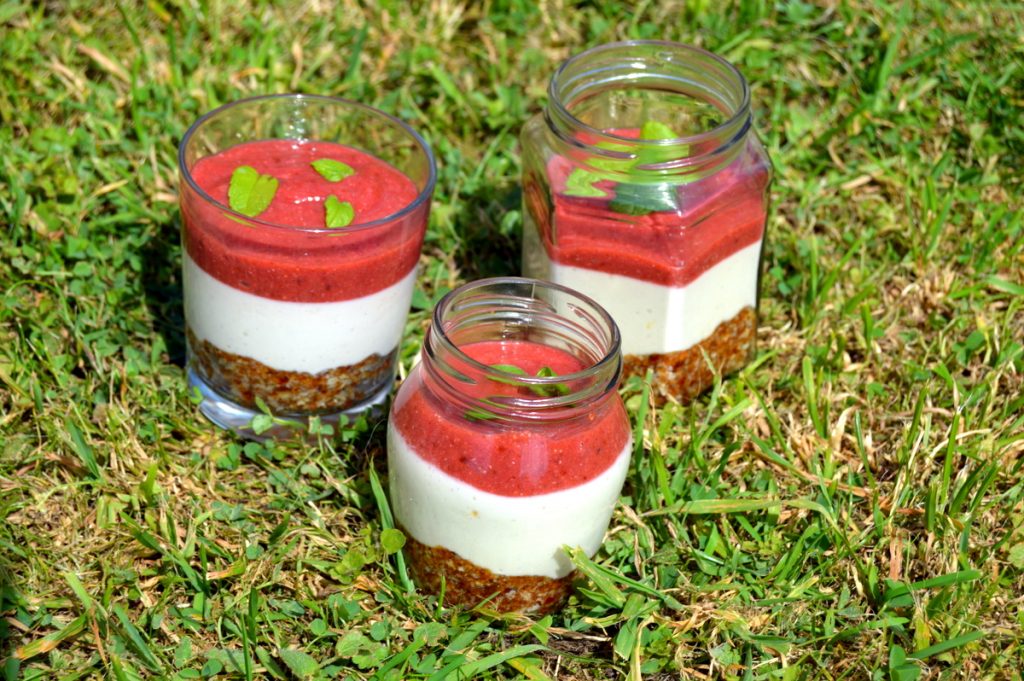 The topping is strawberries sweetened with dates and thickened with the super healthy chia seeds.
Cashews, lemon, vanilla and a small amount of maple syrup make a zesty creamy and dreamy centre.
Bottomed off with dates, almonds and coconut all smooshed together.
Raw Strawberry Cheesecake Video Recipe
You can either make one big cheesecake or 6-8 separate cheesecake pots. I prefer individual dishes as they look great in a mish-mash of jam jars and it avoids the potential of messing up when serving.
A great recipe to make in advance as they can be made the night before and stored in the fridge. They are just as good the next day, although you may want to hold off pouring the strawberry coulis until just before serving as the red can run. High in fat and sugar but they are all raw unprocessed healthy fats and sugars.
The word coulis was originally used to describe the juices of cooked meats, these days it's known for a fruity liquid or paste.
This cheesecake is bursting with nutrition and has no empty calories.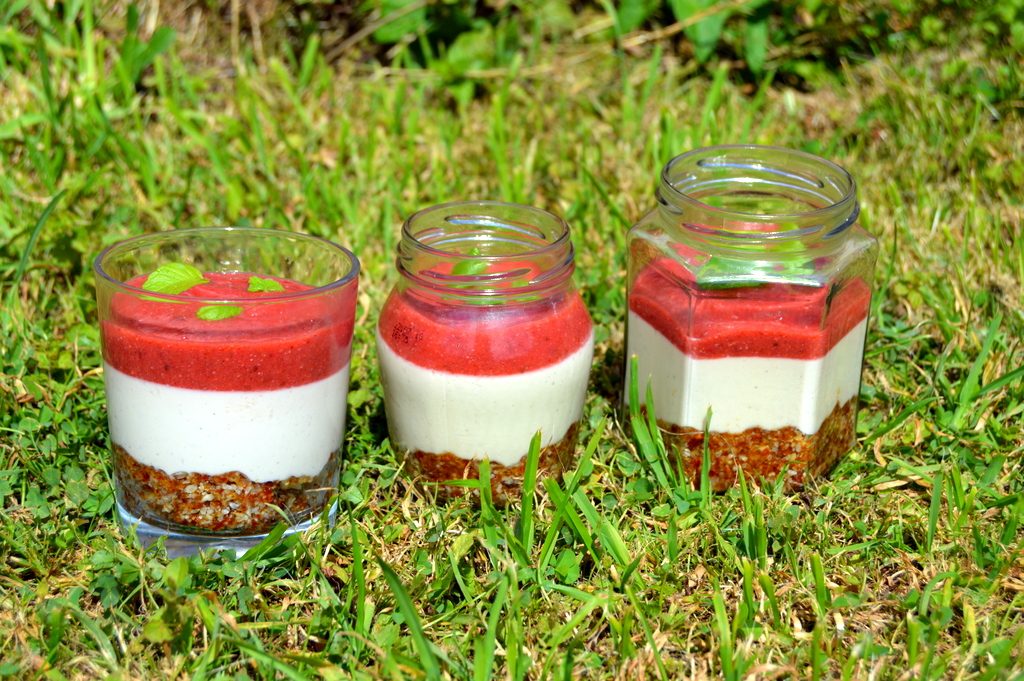 Any other sweetener like xylitol / date sugar can be used in place of the maple. Other nuts such as walnuts and pecans work for the cheesecake base. The dates can be replaced with most other dried fruit such as raisins or figs.
Make your own date syrup sweetener for a high fibre and nutritional natural sweetener.
Watch the video recipe for this vegan cheesecake.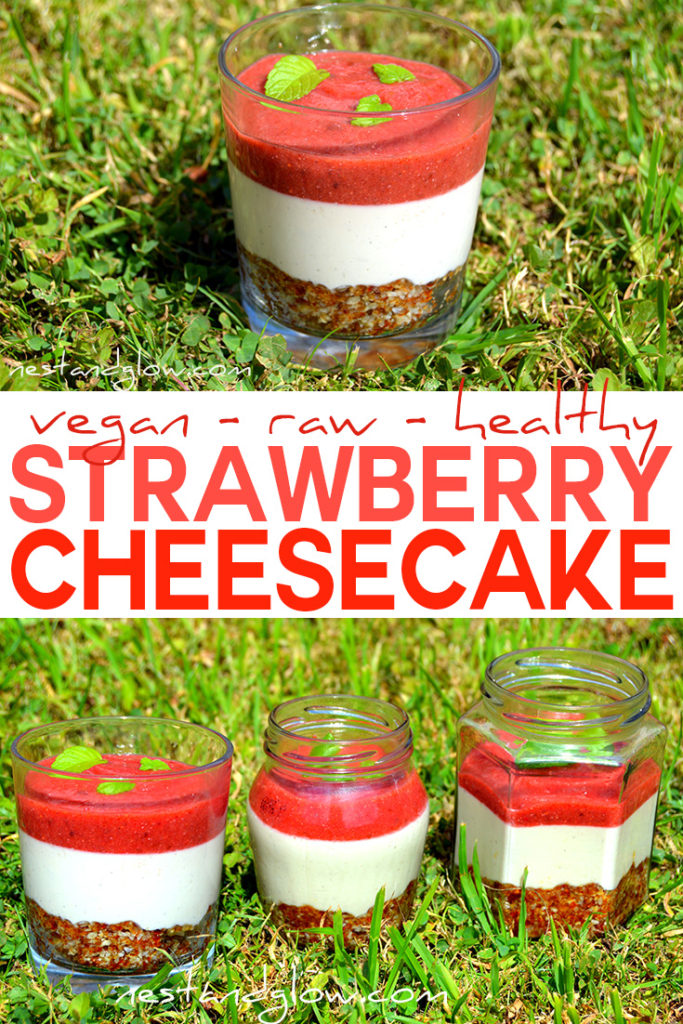 Raw Strawberry Cheesecake Recipe
Total time: 45 mins
Yield: 

8 portions

Calories: 

390 cal
Ingredients
For the base
1 cup / 100g Dates
1 cup / 150g Almonds
3 tbsp Desiccated Coconut
For the cream cheese filling
1 cup / 150g Cashews
2 Lemons juiced
1-2 tbsp Coconut Oil or Butter (optional)
2 tbsp Maple Syrup or similar sweetener
1 tsp Vanilla
1 cup / 240ml Water
For strawberry chia coulis topping
1 cup / 200g Strawberries
½ cup / 50g Dates
1 tbsp Chia Seeds
How To Make
Blend together all of the base ingredients until they are combined and stick together.
Spread out the base into your individual jars or one big pan.
Melt the coconut oil and then blend with all the other filling ingredients until smooth.
Pour the filling over the bases and tilt to spread to the edges.
Blend together the strawberry topping ingredients until the strawberries are all broken up.
Pour the topping over the cheesecakes.
Garnish with berries or mint leaves and place in the fridge for 30 mins to set.
Store in the fridge and eat within a couple of days.