This healthy no-churn sorbet can be made in a few minutes and is exclusively fruit. It's tangy, zesty, sweet and tastes just as good as shop bought sorbet only without added sugar and other junk.
Two limes might seem like a lot in this sorbet but this is a lime sorbet so you do want that sharp tangy citrus lime flavor. Suitable for no added sugar, dairy-free, raw vegan and general healthy diets.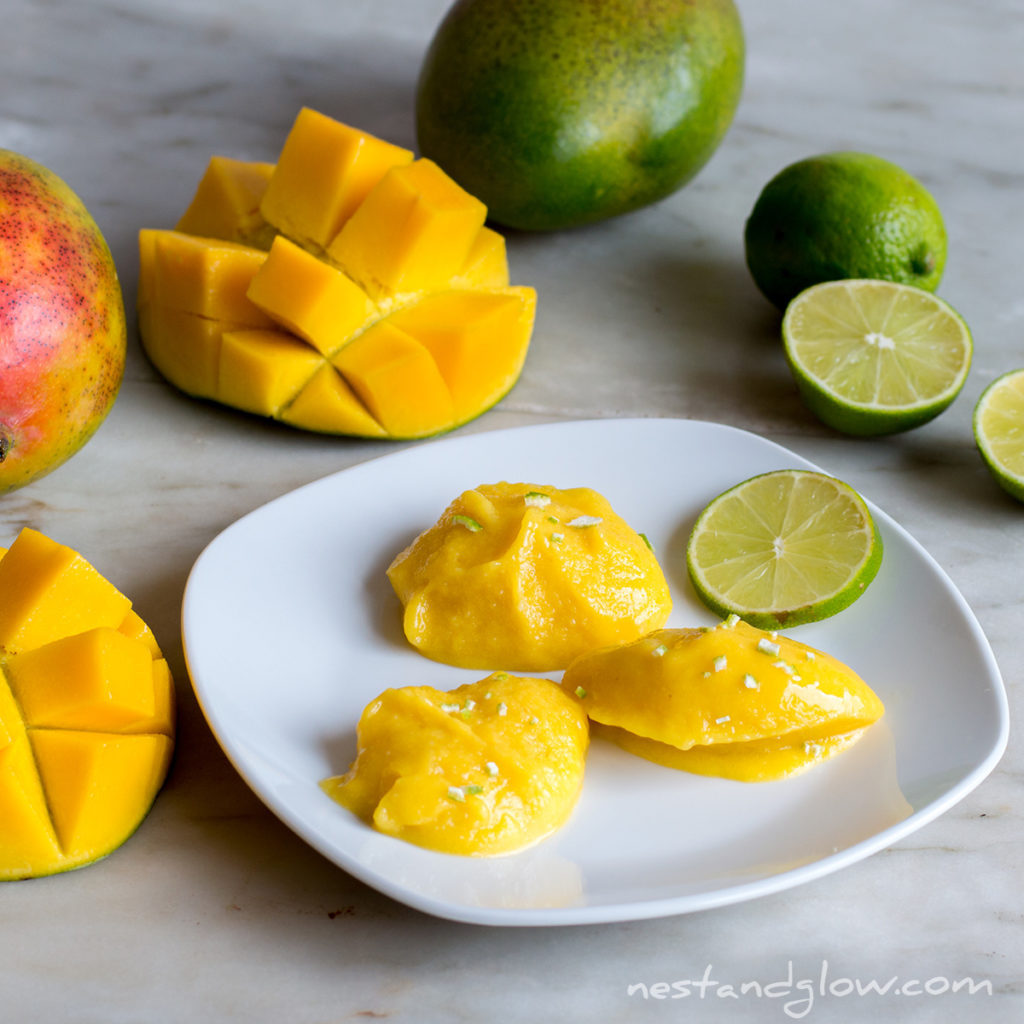 I always peel my limes for this as it means you eat the pith. The pith contains many nutrients such as a huge amount of vitamin C and some vitamin A, B6, B5 and calcium.
Mango Lime Instant Sorbet Video
Once it's blended you don't really notice the pith and the slightly bitter taste elevates the depth of flavor. The pith is also full of fiber and this helps give great texture.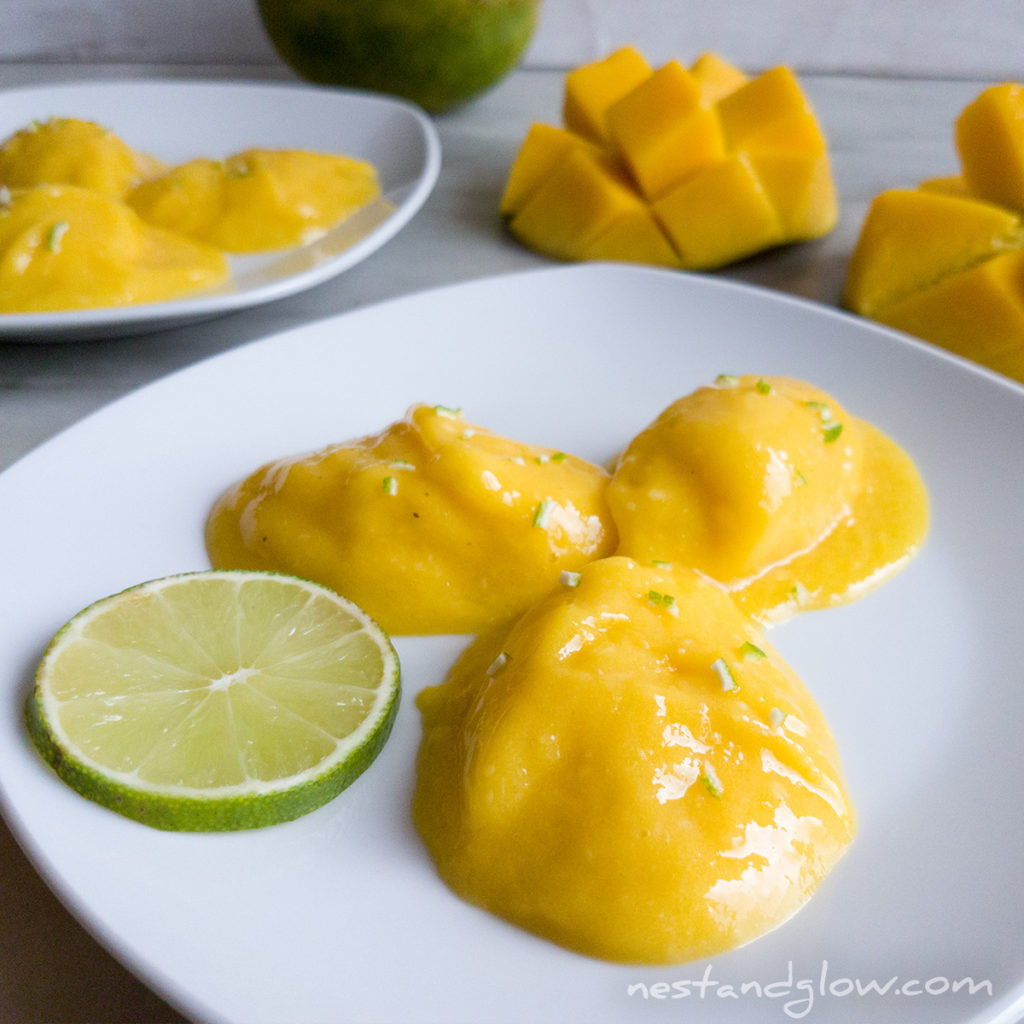 Don't worry if you don't peel your limes perfectly as the odd bit of skin helps add to the flavor. The oil in the skin also contains many nutrients and balances the flavor with a bitter taste.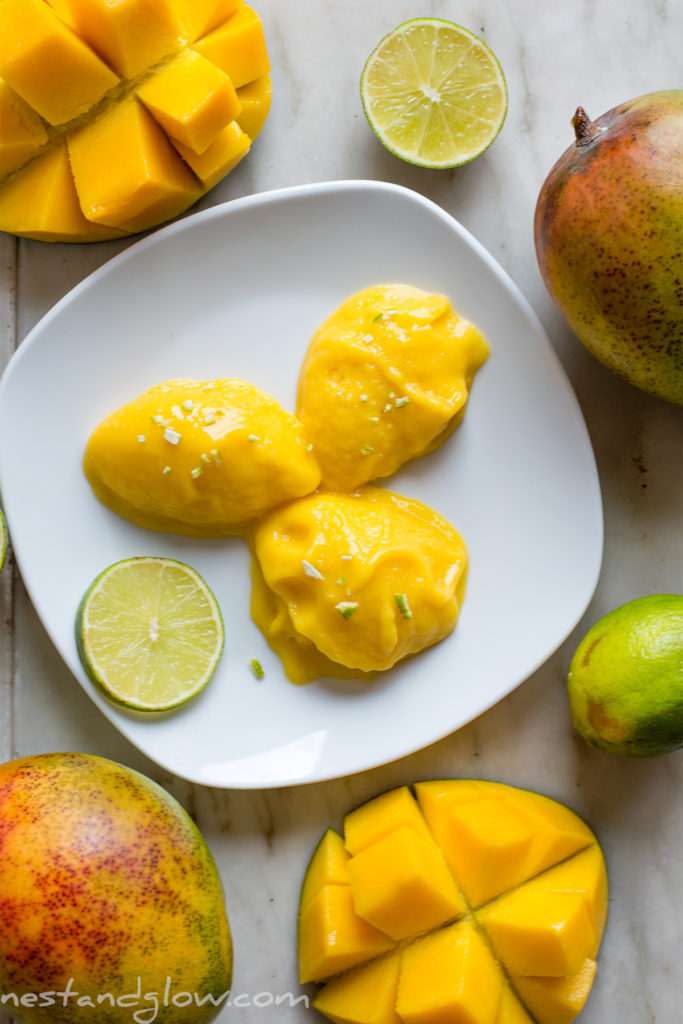 I use frozen shop bought mango with this as I don't live in a tropical climate and I often find frozen mango is the best mango on sale. You can freeze your own mango if you have a good supply of fresh mango. About two medium mangoes make enough mango chunks for this sorbet.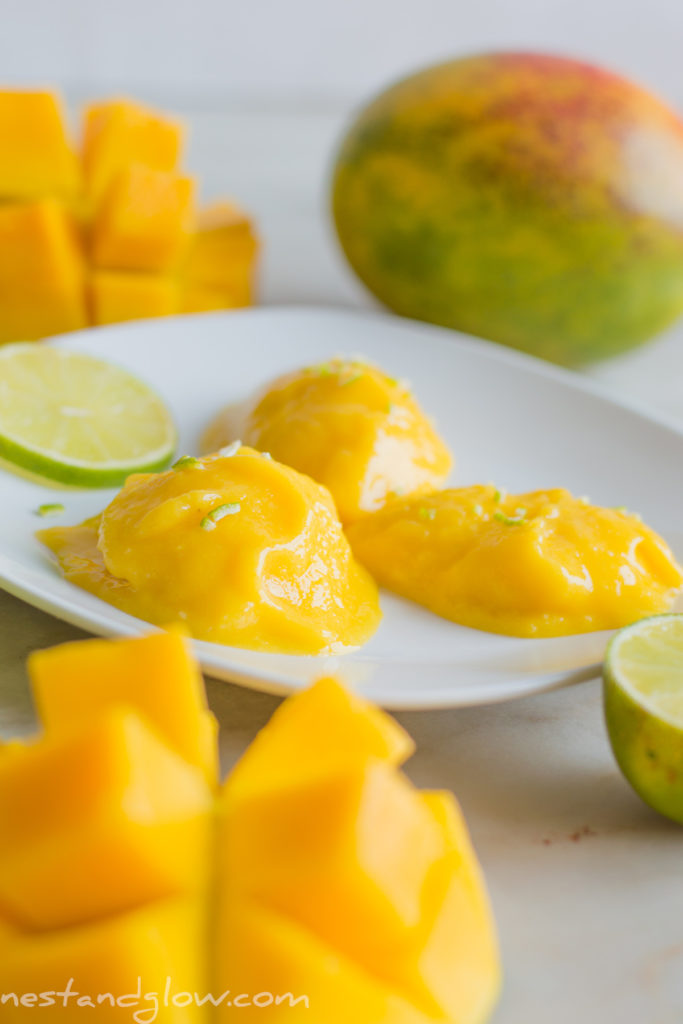 This sorbet has the consistency similar to a soft serve ice cream. You can pour it into a small dish and freeze if you want to make in advance. Just take out half an hour before serving.
The photos and videos make it looks like the mango lime sorbet melts quicker than it actually does. If you are not playing about with polishing plates, setting up chopped decorative fruit and setting up a frame then it won't become as liquid as it looks here.
Yield: 4 servings
Healthy Mango Sorbet Recipe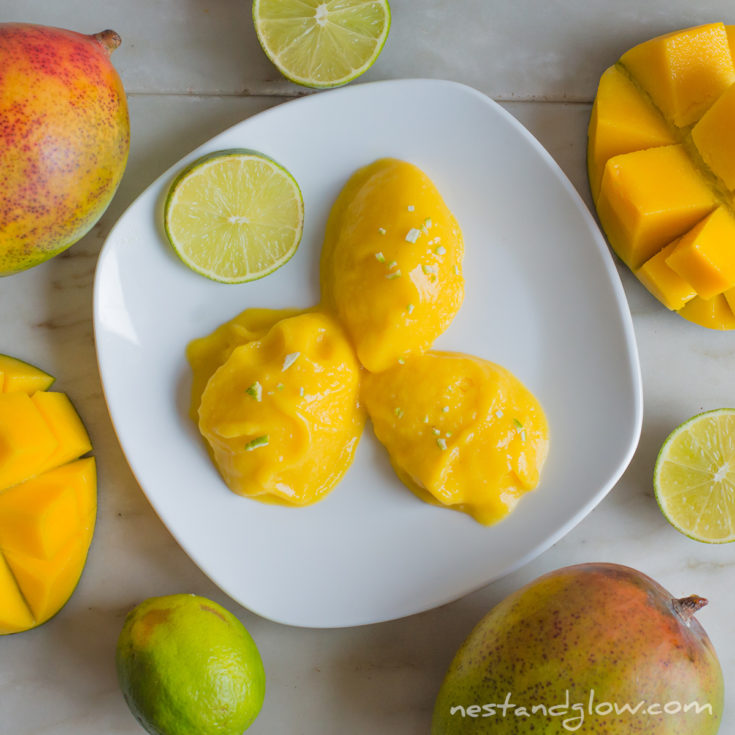 This healthy mango sorbet recipe is no churn and can be made in minutes without freezing. No added sugar in this healthy sorbet as it's sweetened just with fruit.
The lime really ads to give a great depth of flavour with its sour and bitter tones.
Ingredients
2 cups Frozen Mango chunks
2 Limes
1 Banana
Instructions
Peel both limes and chop into chunks.
Add the lime and banana in a blender closest to the blade then add the mango.
This is as the blender will easily whizz up the lime and banana then be able to blend the frozen mango.
Blend until smooth and serve immediately.
If your blender stuggles then scrape down the sides and add a spash of water or juice
Serve healthy mango sorbet with a few shreds of grated lime zest.
Nutrition Information
Yield
4
Serving Size
1
Amount Per Serving
Calories

172
Total Fat

1g
Saturated Fat

0g
Trans Fat

0g
Unsaturated Fat

0g
Cholesterol

0mg
Sodium

4mg
Carbohydrates

45g
Fiber

6g
Sugar

31g
Protein

2g