These green pea cookies are a mixture of salty and sweet tastes. They are healthy, cheap and take very little work. If you are a fan of our salty treats like salted caramel avocado mousse or salted caramel snickers then you should give these a go.
We are always told to eat more green vegetables and what can be a more delicious way than in cookies! Use gluten-free oats to make these gluten-free.
Suitable for wheat free, dairy-free, vegan, oil-free and refined sugar-free diets.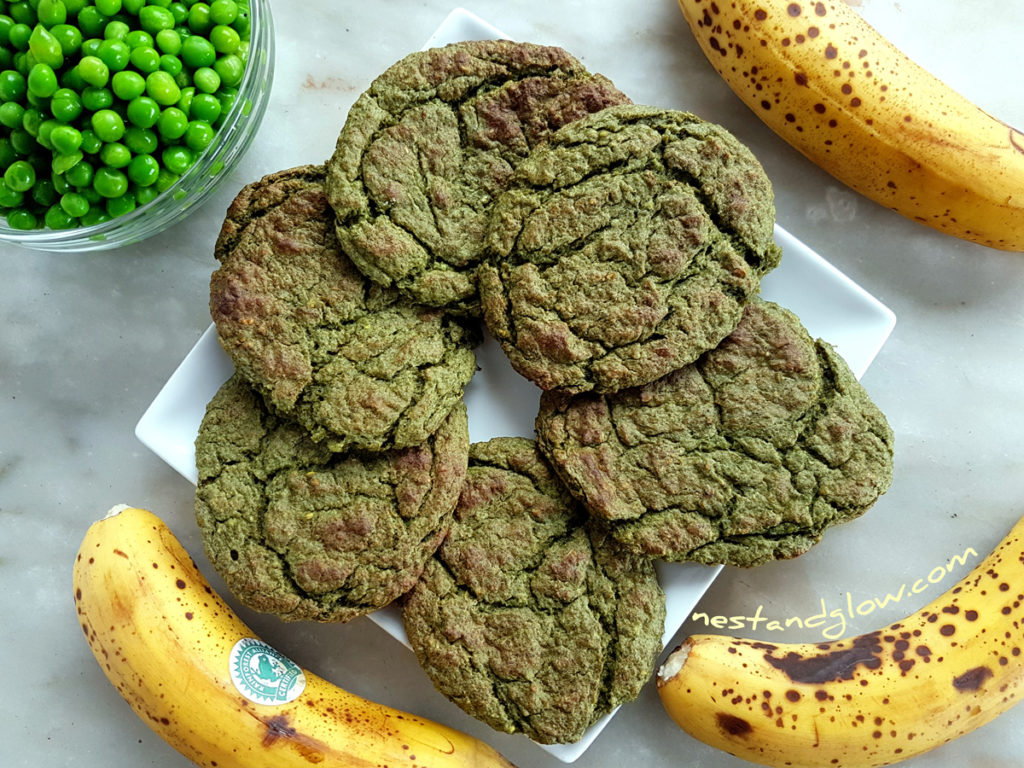 They do sadly lose much of the vibrant green colour after baking.
Frozen peas work great for this, just leave them out of the freezer to defrost or in warm water. It would probably work fine with fresh peas but might take a few mins more to bake golden.
Green Pea Cookies Video Recipe
If you don't have a food processor you can just blend the peas and bananas together in a liquidiser and stir in the oats and salt.
I use petit pois to make these as they are sweeter and softer than normal peas but it works fine with normal peas. You might want to experiment as different peas and oats will make different cookies.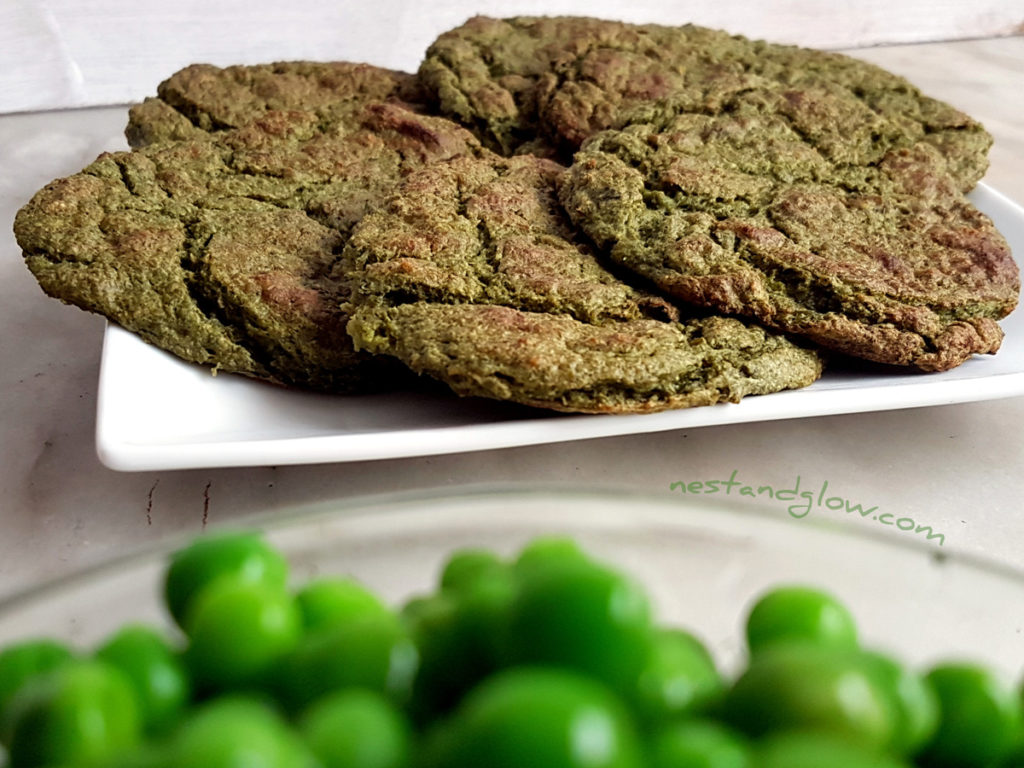 I prefer to grind rolled oats to make these but some find quick/ready oats better as they give a softer cookie.


If you want to give these cookies a green superfood boost then try adding spirulina, wheatgrass powder or any other green powder that you fancy. Just a small amount will not really affect the taste but will give them a nutritional boost.
This is a great recipe to use bananas that are really ripe and falling to pieces as they will be sweet and soft.
Yield: 6 Green Pea Cookies
Green Pea Cookies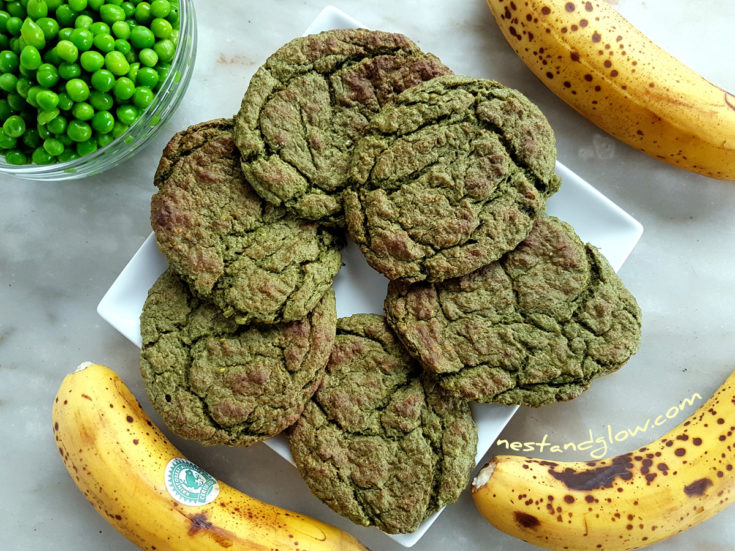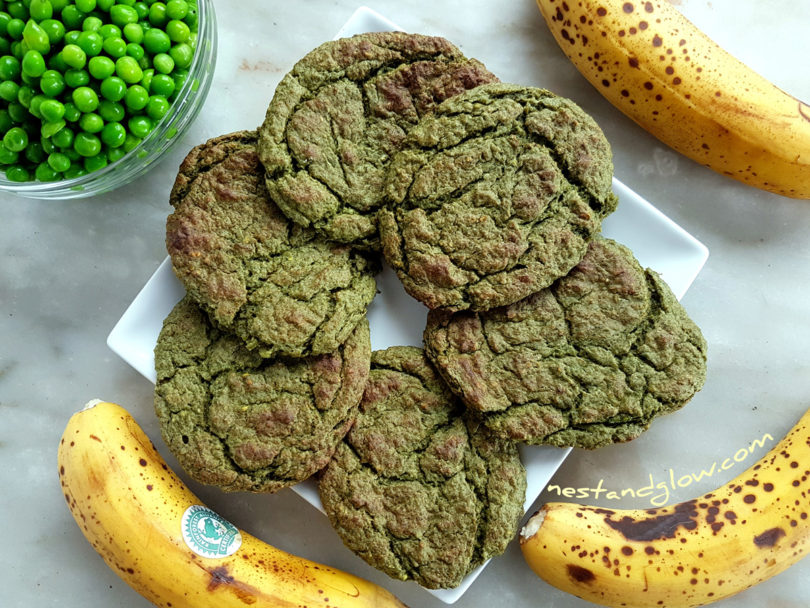 If you like green peas and cookies you'll love these green pea cookies. They're a cross between sweet and savoury and full of goodness. Sweet green peas with a touch of salt and banana taste amazing if you can get over the look and the name!
Ingredients
1½ cups / 225g Peas, frozen thawed
1½ cups / 150g ground or quick Oats
2 Bananas
a pinch of Salt
Instructions
Preheat oven to 350°F / 180 °C.
Blend everything together in food processor until broken up.
Spoon mixture onto greaseproof paper and then.
Bake green pea cookies for 15-20 mins until golden.
Leave to cool and firm up for 10 mins then enjoy.
Store green pea cookies in the fridge and eat within 3 days – in the unlikely event they aren't eaten straight away.
Nutrition Information
Yield
6 cookies
Serving Size
1
Amount Per Serving
Calories

84
Total Fat

1g
Saturated Fat

0g
Trans Fat

0g
Unsaturated Fat

0g
Cholesterol

0mg
Sodium

36mg
Carbohydrates

18g
Fiber

4g
Sugar

7g
Protein

3g
This is a tried and tested recipe for quick and easy healthy cookies. I have several other variations of this cookie on the site including cashew iced ginger turmeric and chocolate cranberry.