These chocolate cranberry cookies are vegan, flour free, no added sugar and are simple to make but delicious.
They are so quick to make that I often manage to bake a batch on a busy morning.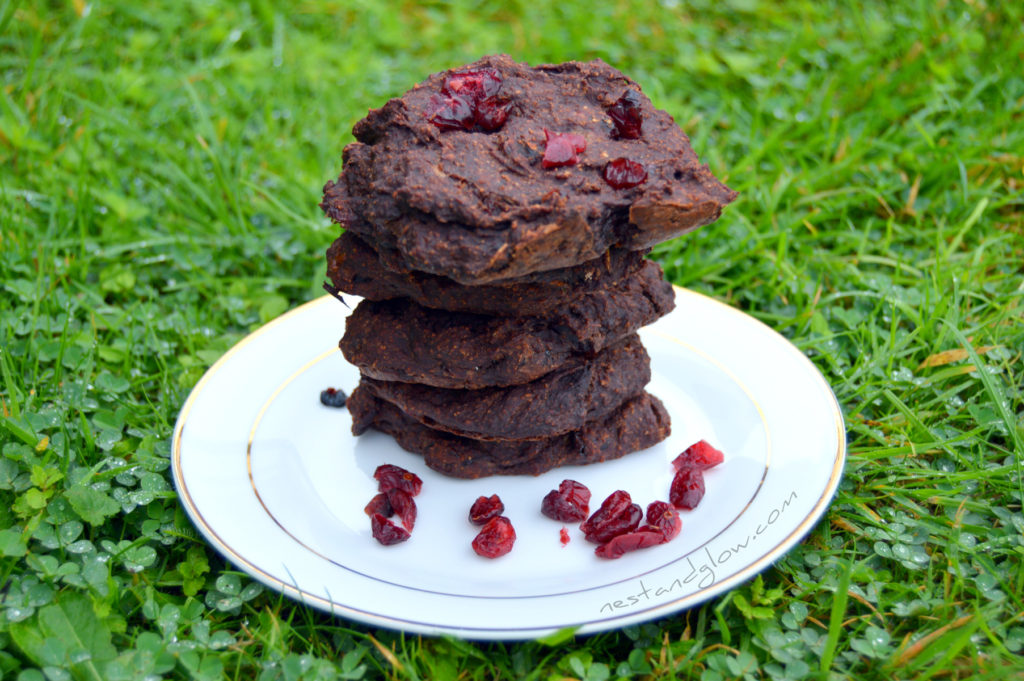 Oats are one of the main ingredients but you can easily use gluten free oats to make these cookies gluten free.
Just as healthy as porridge with fruit, but much tastier and easier to eat when your on the go.
4 Ingredient Chocolate Cranberry Cookies Video Recipe
I usually make these with ground up oats, but you need to make sure they are soft oats that break up easily and not the firm jumbo oats.
If you're unsure just use pure instant oats. If you grind your own make sure to grind them to a fine powder, this should only take a few seconds.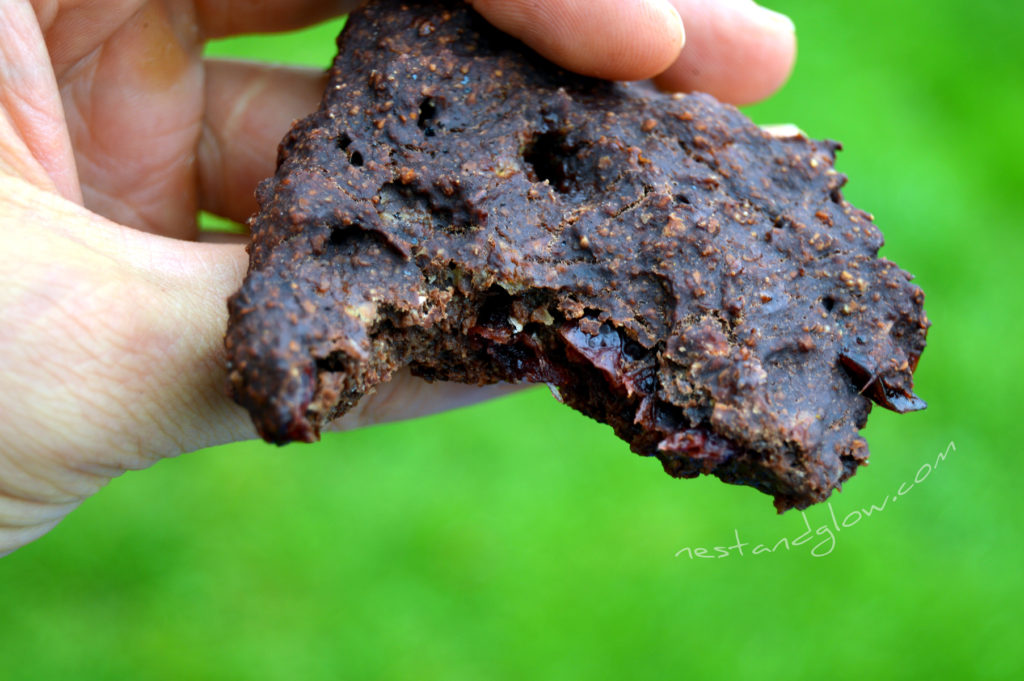 A similar recipe to this didn't turn out so well for some people and this is probably due to using firm oats as I found out for myself when one batch wasn't so good.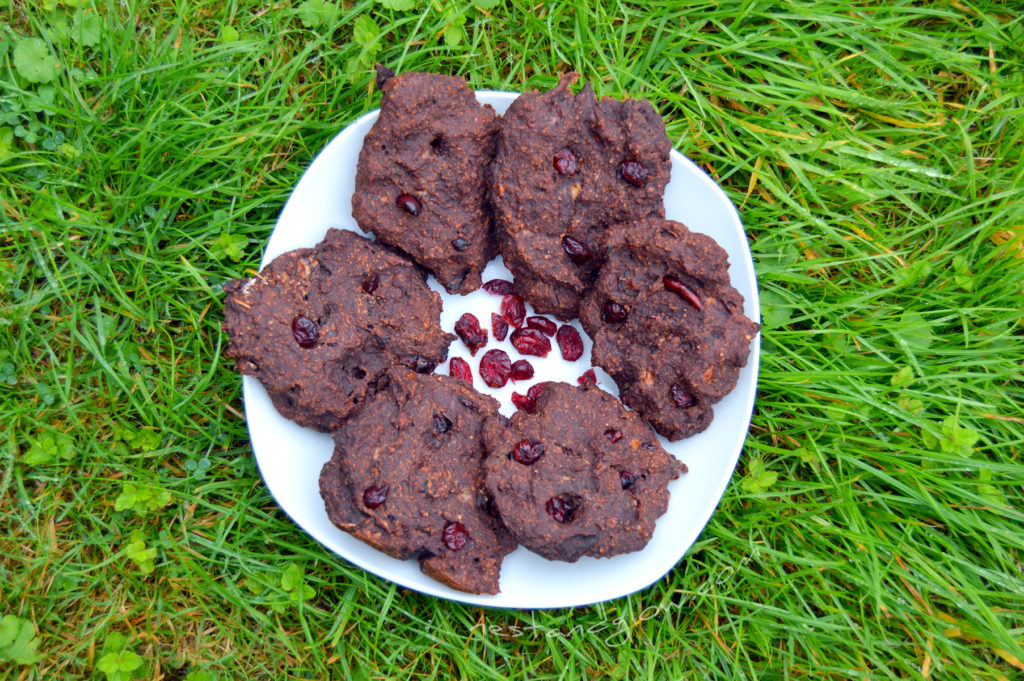 I use dried cranberries that are sweetened with pineapple juice. If you can't find dried cranberries then chopped up dates or any dried vine fruit also works well.

Yield: 12 chocolate cranberry cookies
Chocolate Cranberry Healthy Cookies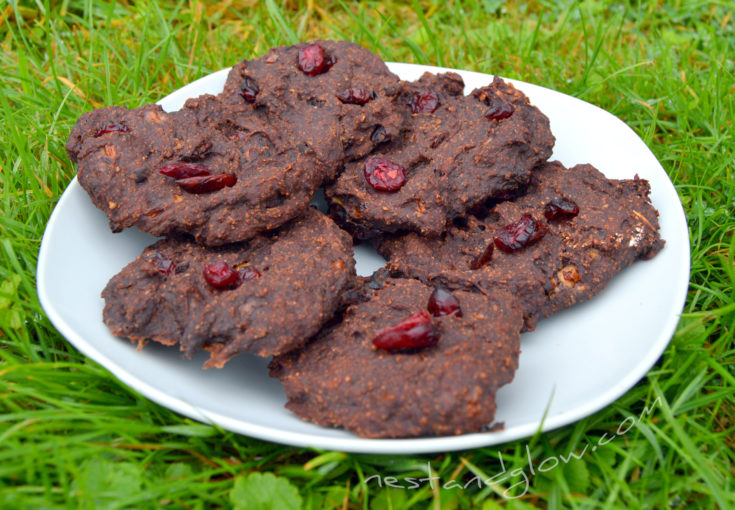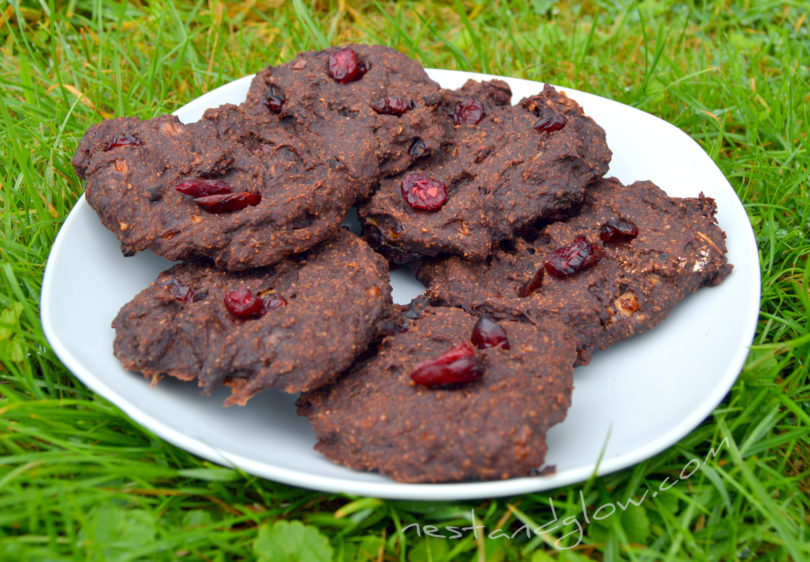 Healthy chocolate cookies that are sweetened just with bananas and cranberries so free of refined sugar. Gluten-free oats can be made to make these healthy cookies.
Try my healthy chocolate cookies oatmeal that are suitable for a vegan and dairy free diet.
Ingredients
3 bananas
1½ cups / 150g instant oats
3 tbsp cocoa powder
2 tbsp dried cranberries
Instructions
Peel the bananas and then mash them using the back of a fork (much easier to clean than a normal masher).
Mix everything together for the chocolate cranberry cookies until combined.
Spoon onto a non stick sheet and spread out to make a biscuit shape. The mixture makes 12 normal sized or 6 large.
Bake for 15-20 mins until crunchy at 350°F / 180 °C.
If you want a chewier cookie take out of the oven as they start to get darker.
As these healthy cookies have fresh banana they will go off quickly so it's best to eat straight away.
My chocolate banana cookies can be stored for a few days in the fridge but will lose their crunch.
Nutrition Information
Yield
12
Serving Size
1
Amount Per Serving
Calories

84
Total Fat

1g
Saturated Fat

0g
Trans Fat

0g
Unsaturated Fat

1g
Cholesterol

0mg
Sodium

1mg
Carbohydrates

17g
Fiber

2g
Sugar

5g
Protein

2g
If you like this recipe check out our original banana oat cookies.
Cranberries are good for you as they've been linked to reducing urinary tract infections, improved immunity and decrease blood pressure [ref].