If you love pickles you will love these three ingredient pickle cookies. No bake cookies that are easy to make. All the flavour of pickled gherkins in a cookie!
These pickle cookies are gluten free, paleo, vegan and grain free. High in protein and heart healthy fats.
Flour and butter are replaced with natural cashew nuts that are soaked in pickle juice to absorb all the pickle flavour. Super easy and fun to make pickle treats.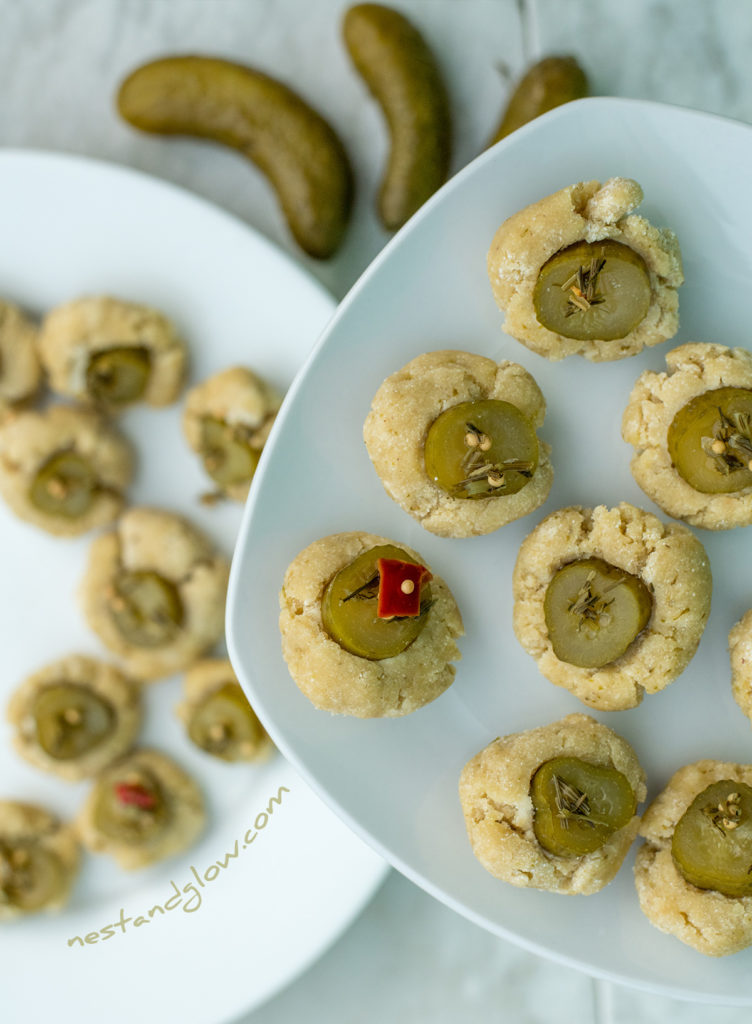 Make these pickle cookies nut free by replacing the cashews with sunflower seeds. Make the recipe using the exact same directions and soak the sunflower seeds in pickle juice.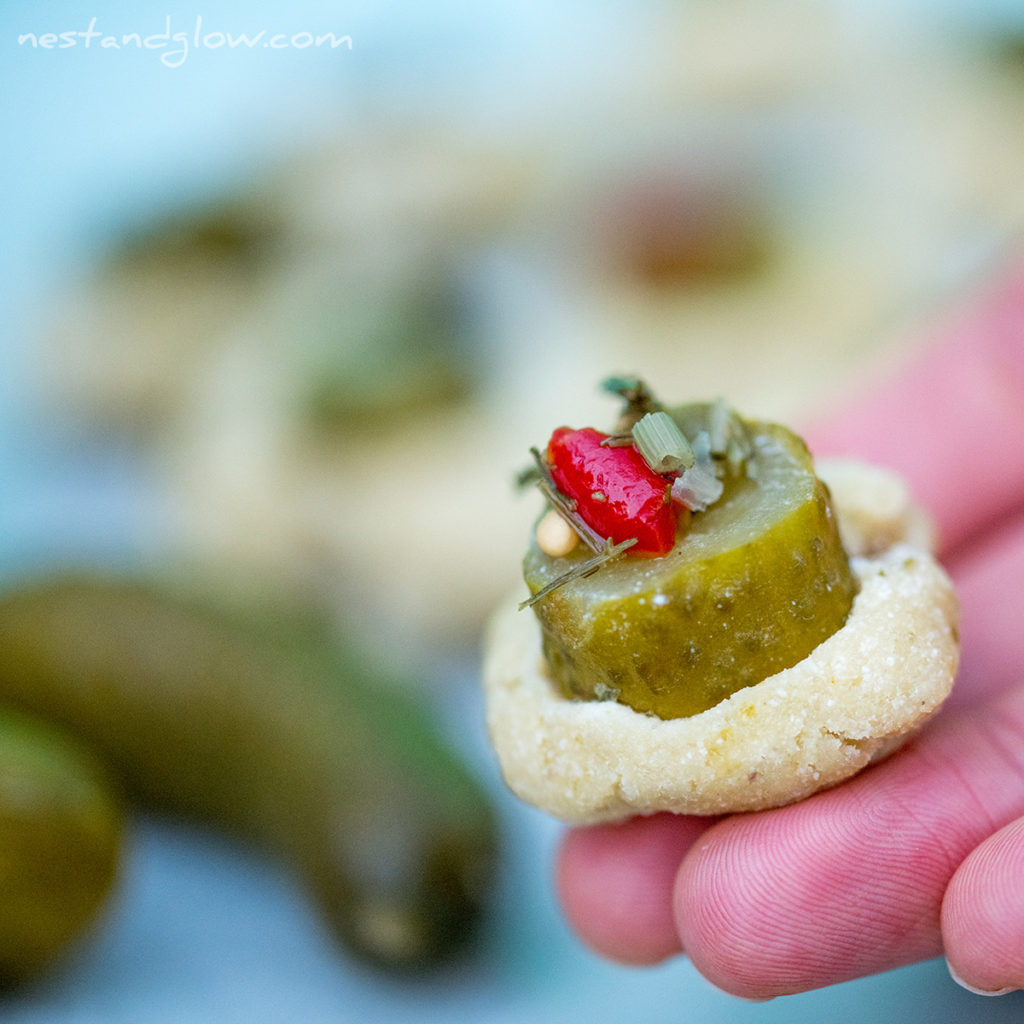 The juice of pickles does vary a lot. Do taste your mixture before adding the coconut flour. If your pickle cookie is not pickely enough then add some apple cider vinegar or if it's not sweet enough add some sweetener like date syrup.
Pickles are otherwise known as pickled gherkins in other countries. I'm based in England and usually use the English words, but for this pickle cookies sounds better than pickled gherkin cookies so I'm using the US name here.
Pickle Cookies Recipe Video
The longer you soak your cashew nuts the more they will absorb the pickle juice. If you are short of time an hour is enough when making these pickle cookies.
After soaking the nuts the pickle juice will contain the enzyme inhibitors and anti-nutrients. This means the nuts are easier to digest but it's not a good idea to drink or use the remaining juice. You can use the soaked pickle juice to clean windows to not waste it.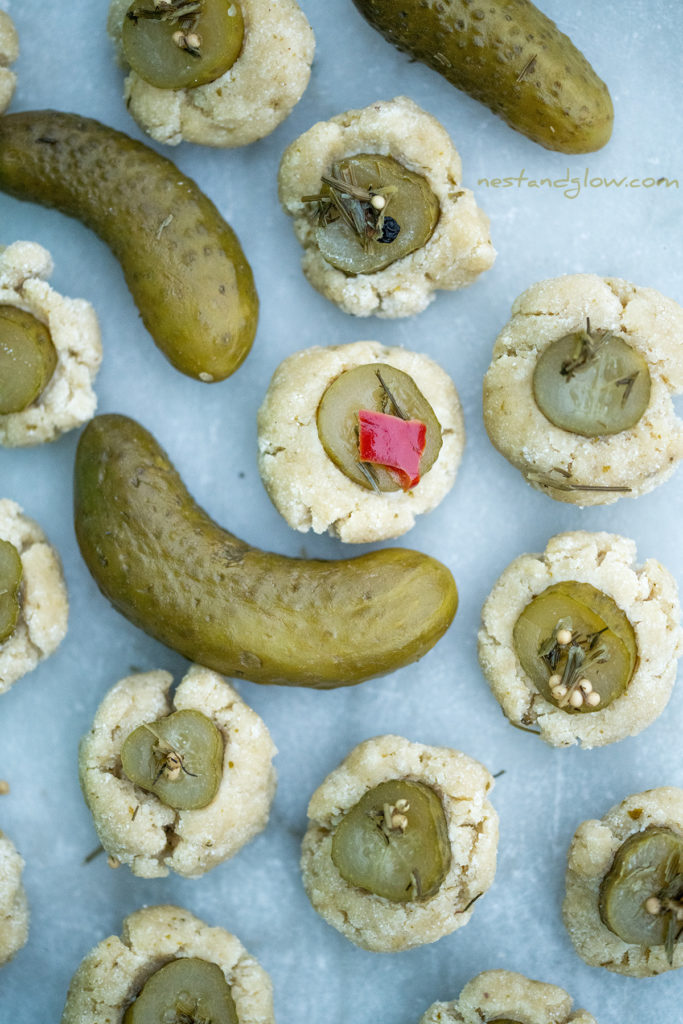 It's easy to make your own quick pickles with my 24-hour homemade pickles recipe. I love making my own pickles as I can use apple cider vinegar and make sure that they aren't too salty.
For health reasons try to find natural pickles that don't have any preservatives or additives in them. With the vinegar, salt and sugar there really isn't any need for any extras if they are done properly.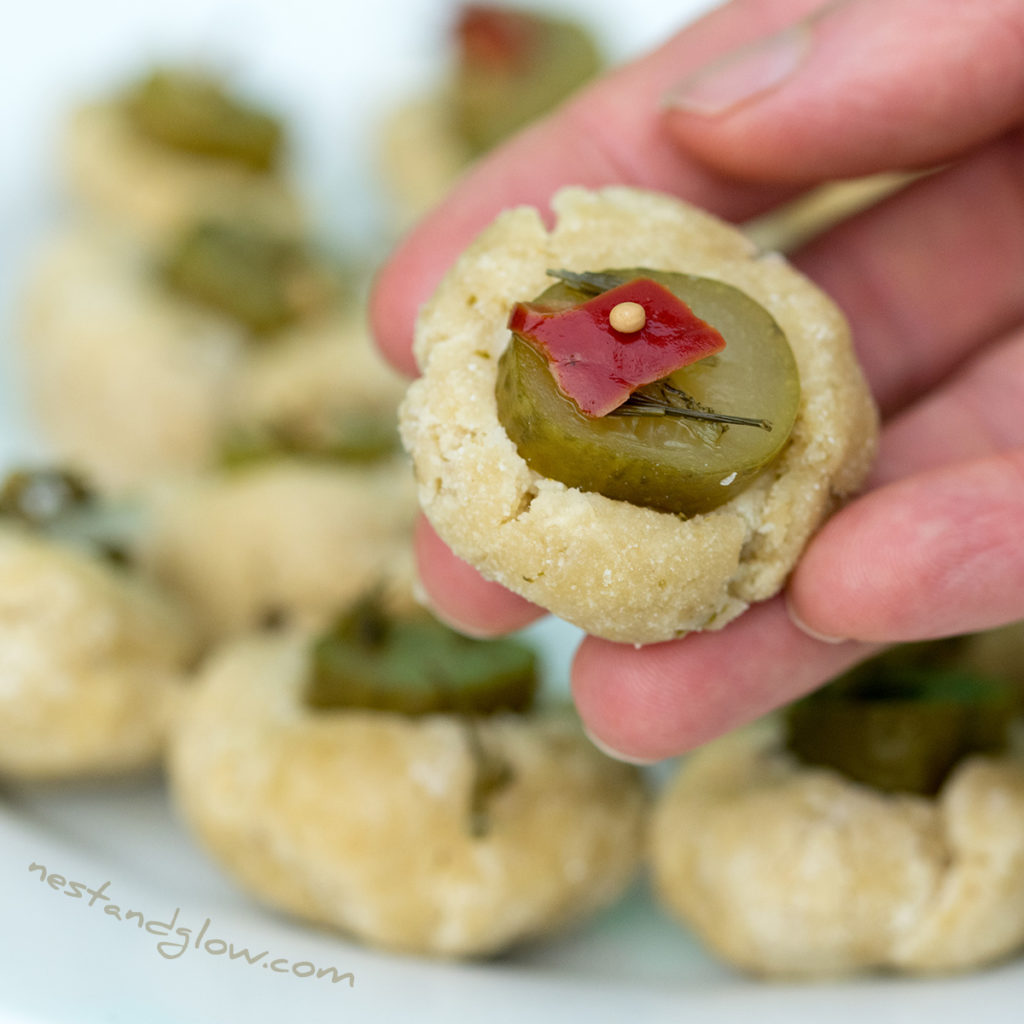 Coconut flour is used to make the pickle cookie dough dry enough to use. If it wasn't then the soaked cashew nuts would just be too wet to use. If you don't have coconut flour you can use coconut shreds or oats instead.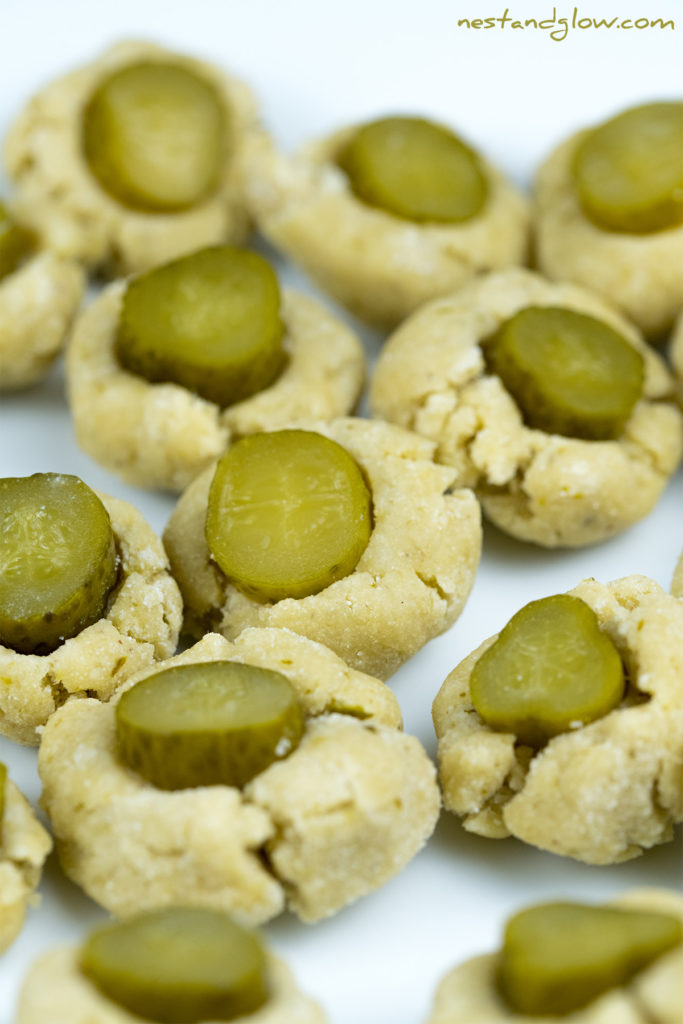 These pickle cookies were supposed to be pickle macaroons. But obviously, a slippery pickle wasn't going to stay sandwiches in between the pickle dough so changed it into a thumbprint style cookie.
Did you know pickles were invented as far back as 2030 BC where cucumbers from India were preserved in salted water. The word pickle comes from either the Dutch word "pekel" or German word "pokel" both mean to salt or brine.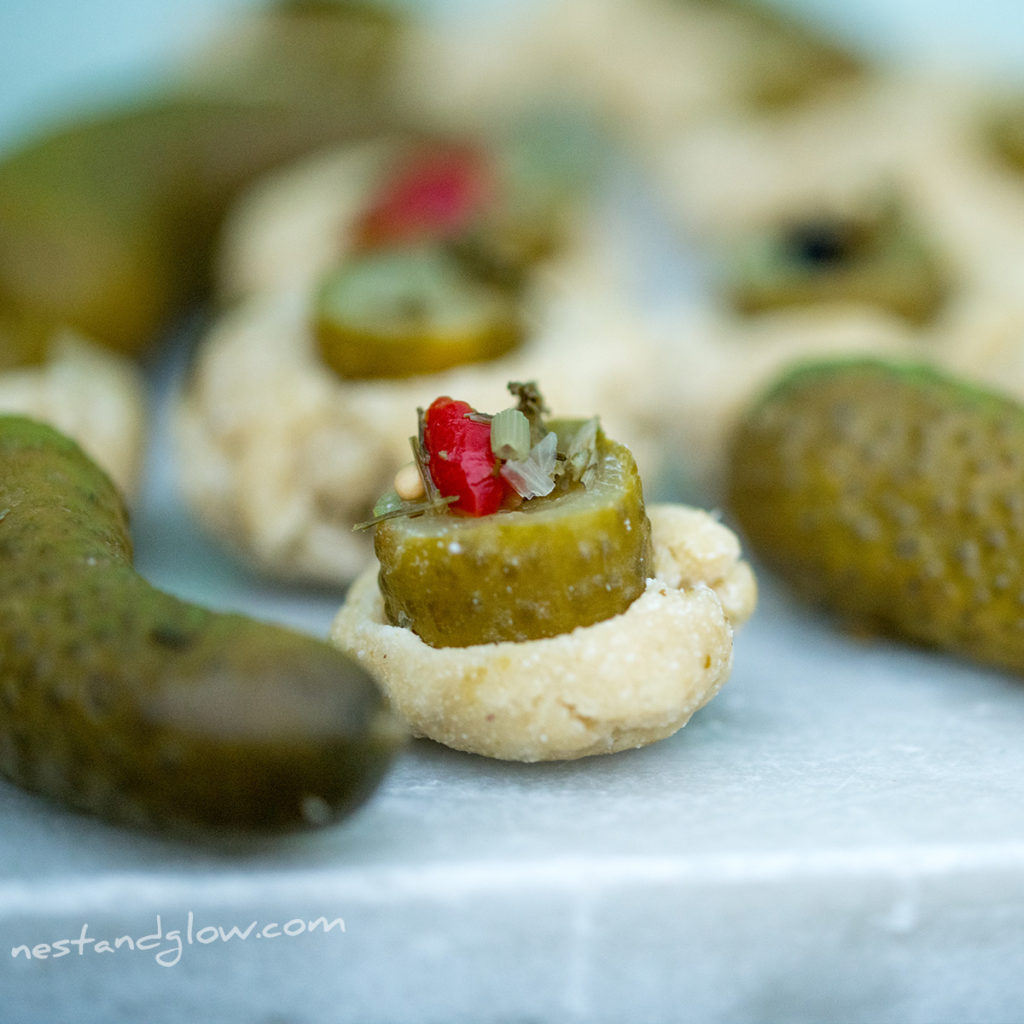 In the video recipe for these pickle cookies, I'm using a bullet type device however it probably works better in a food processor. I just like using bullet / small jug blender for so many recipes as its so small and versatile – you just might need to shake it or scrape down the sides when blending.
I love these pickle cookies as its just 3 ingredients. You can pieces of pepper, mustard seeds and dill from the pickle juice to decorate the top of the cookies.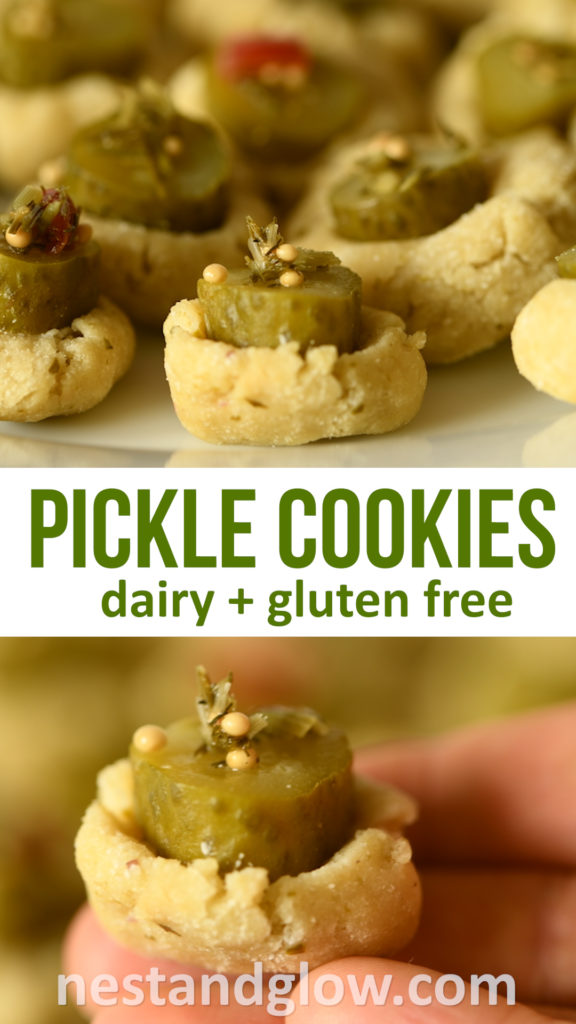 Yield: 16 pickle cookies
Pickle Cookies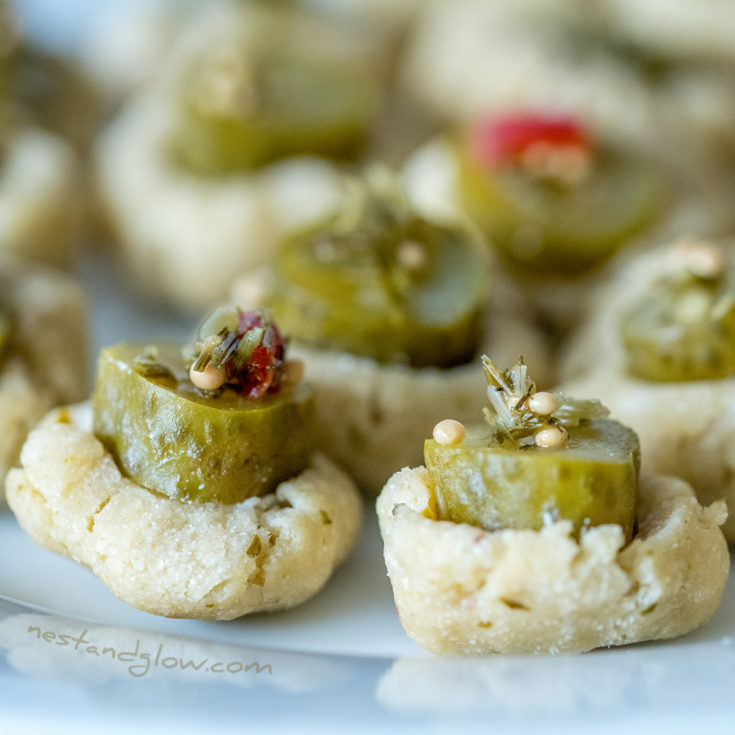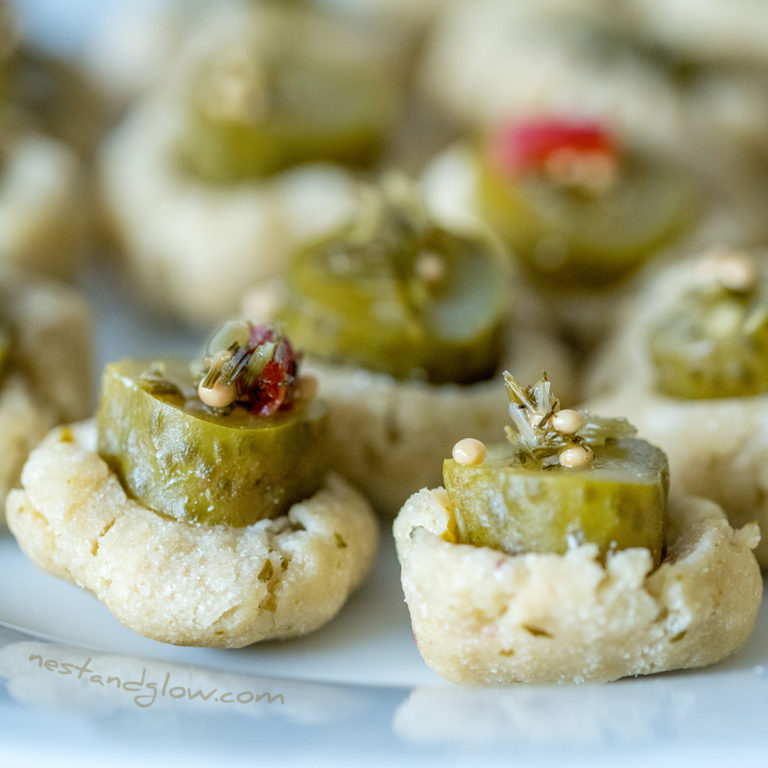 Pickle lovers will adore these pickle cookies made from a healthy cashew pastry so suitable for a gluten free diet.
Ingredients
1 large jar Pickles / Pickled Gherkins
1 cup / 150g Cashew Nuts
3/4 cup / 85g Coconut Flour
Instructions
Soak the cashews in the drained pickle juice overnight.
Drain the cashews and add to a blender with 2-3 large pickles.
Blend until all combined into a paste.
Add the coconut flour and blend until mixed.
Remove from the blender and kneed to make a pickle cookie dough that is all combined. Add more coconut flour if it's too wet to handle.
Slice 2-3 large pickles into coin shapes about half a cm in depth.
Break off the dough into pieces enough to make 18 pickle cookies and roll into a ball.
Push in the pickle coin to complete the pickle cookie.
Enjoy within 3-5 days and keep in the fridge.
Nutrition Information
Yield
16
Serving Size
1
Amount Per Serving
Calories

80
Total Fat

5g
Saturated Fat

1g
Trans Fat

0g
Unsaturated Fat

4g
Cholesterol

0mg
Sodium

138mg
Carbohydrates

6g
Fiber

1g
Sugar

2g
Protein

2g