Healthy vegan pancakes made from lentils and sweetened with fruit. These vegan pancakes are high in plant protein from red split lentils, oats and flax seeds. Free of wheat, nuts, dairy, eggs, oil and butter so suitable for whole food plant-based diets.
Rather than maple syrup I've covered these vegan pancakes with date syrup. It may not look as pretty but it's 90% cheaper to make yourself, contains fibre from the whole date and is nutritious.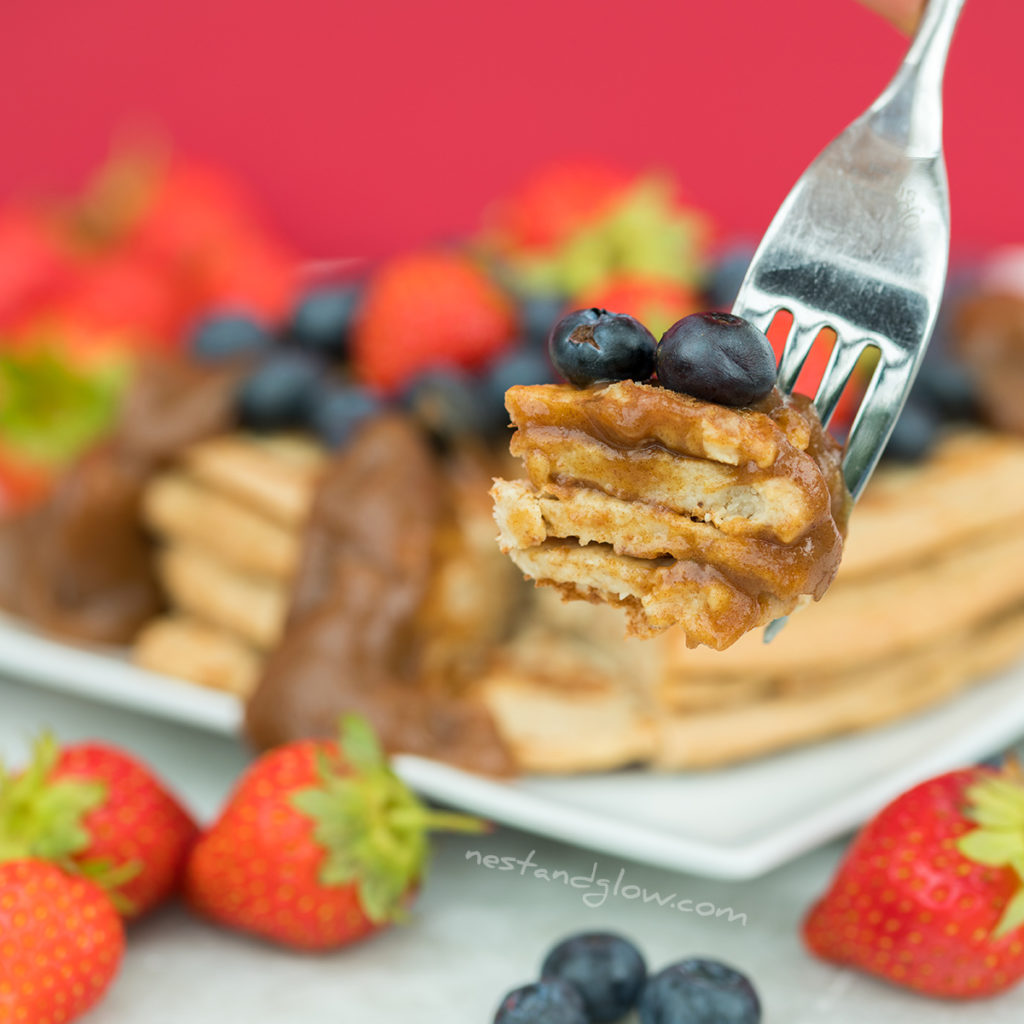 I love this vegan protein pancakes recipe as it uses no flours and instead uses whole foods that are inexpensive. This recipe is both simple and affordable. One serving of 4 pancakes / half of this recipe has 18g of plant protein.
I'm using red split lentils for these healthy vegan pancakes. Red split are very inexpensive and give a great fluffy texture.
Vegan Protein Pancakes Video Recipe
Play on Youtube or no music video.
The lentils for protein pancakes can either be soaked overnight or placed in hot water for an hour. They will cook in the pan and be safe to eat. Sadly they do lose their red colour once cooked.
These healthy pancakes can be gluten-free if you use gluten free oats. Oats are naturally gluten free but most are contaminated when they are grown or processed. Oats do contain a similar substance to normal gluten but most people that have celiac disease can tolerate Gluten free oats without problems.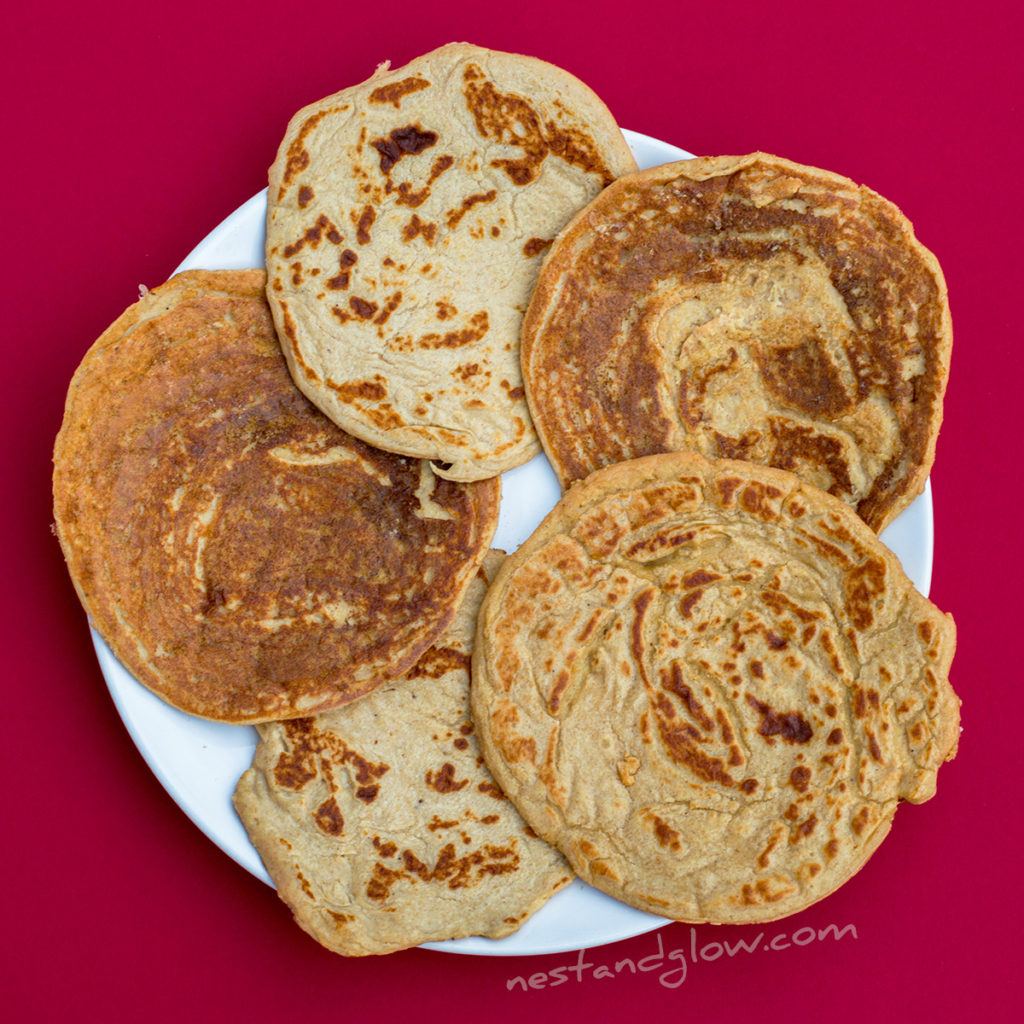 This vegan protein pancakes recipe is naturally gluten-free as doesn't contain any gluten grains. However many oats are contaminated with gluten either during processing or growing. If you are sensitive to gluten then use gluten-free oats for this recipe
Use very ripe bananas for these healthy pancakes – the kind that if you drop them they go splat. They are super sweet and help make these healthy pancakes fluffy.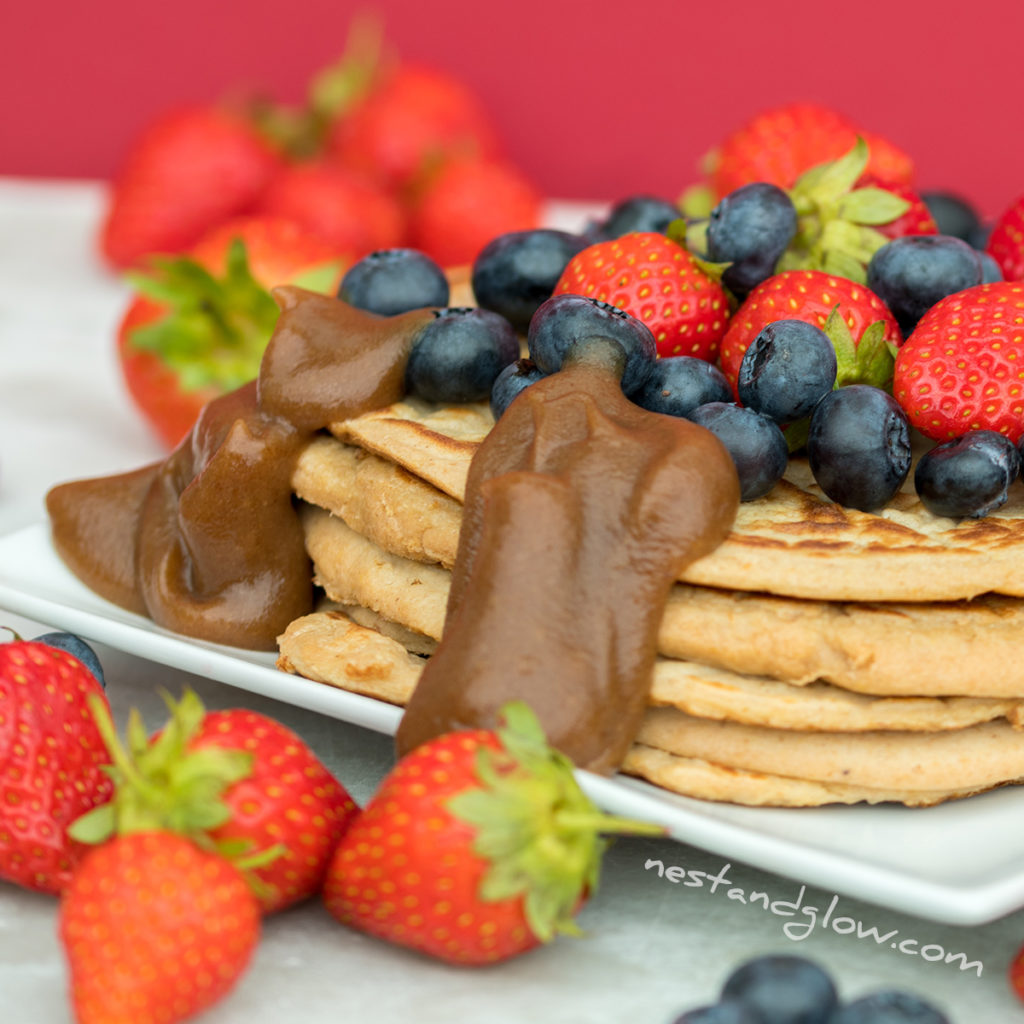 Flax / Linseeds are used to help give structure and are a great egg replacement for vegan pancakes. They help make a firm mixture and also add protein and healthy omega 3 fats. You can use chia seeds if you prefer and the end result is virtually the same, but the colour isn't quite as good.
These healthy pancakes do need something wet to go with them as can be a bit dry on their own. I like to use fresh berries and date syrup like in the photo or chocolate avocado frosting.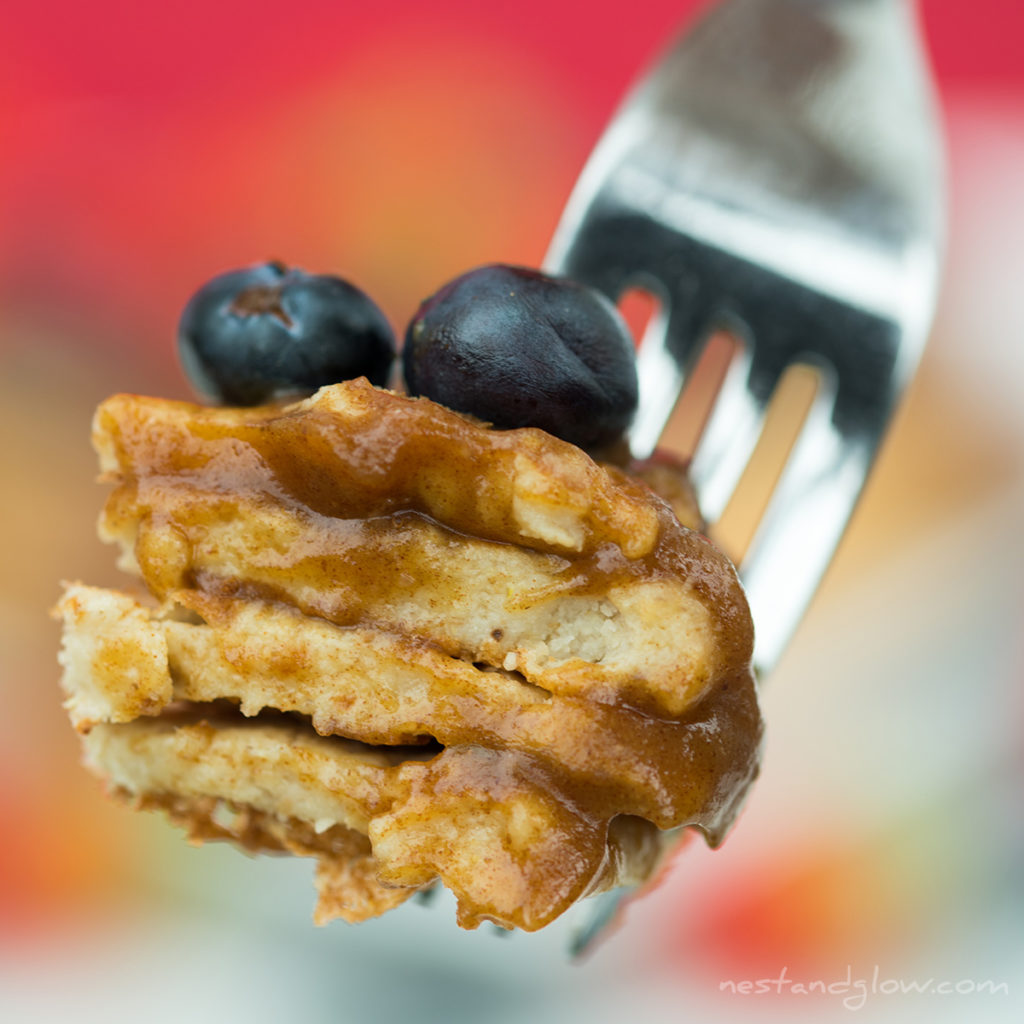 Apple cider vinegar isn't essential in this recipe, I just find it helps to give a slightly better texture. Apple cider vinegar does contain vitamin K2 as it's fermented and this is an important vitamin to get on a vegan diet. Just make sure to use unfiltered raw apple cider vinegar when making these protein pancakes.
This healthy pancake recipe is free of any flour or milk. There isn't the need for any flours as whole oats and lentils are used. As you are using the blender anyway it saves money to use whole grains and pulses.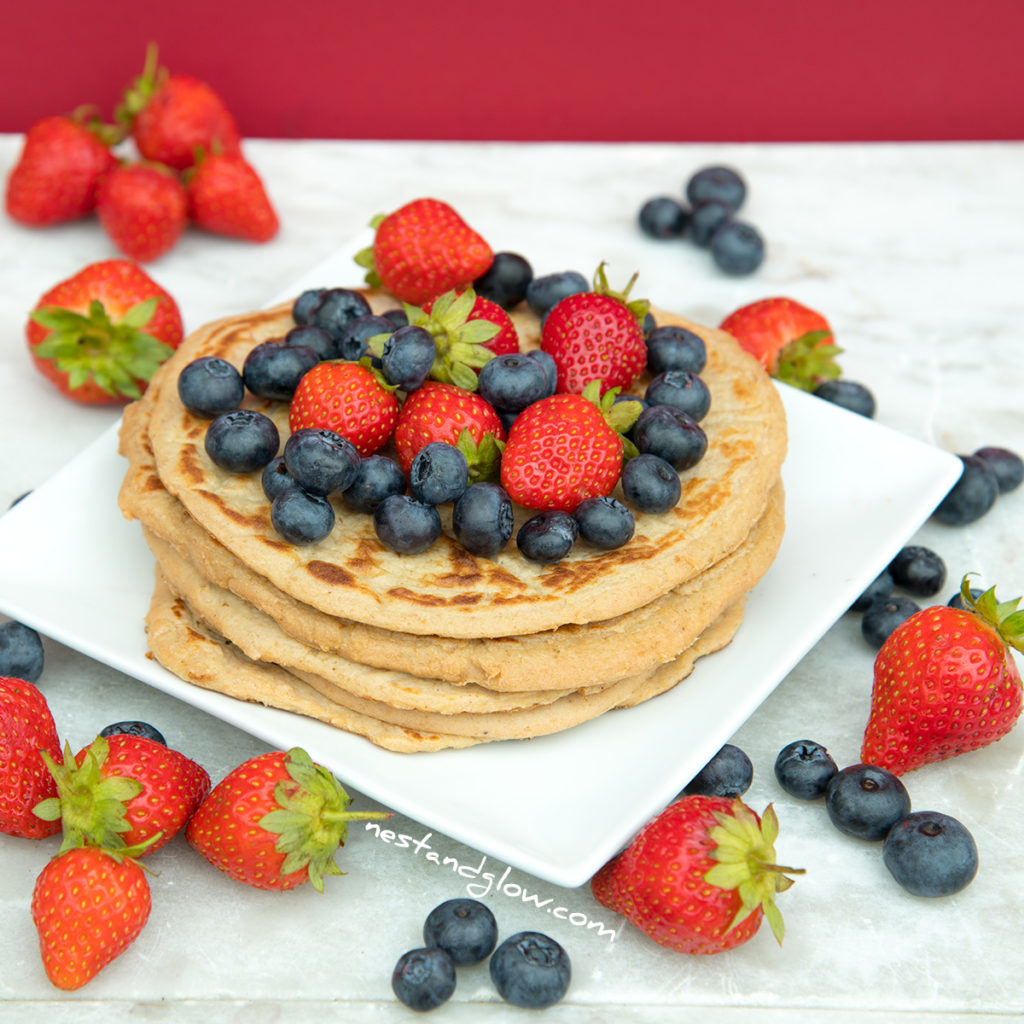 These are vegan pancakes without milk as no milk is used, not even seed or nut milk. There just isn't the need in this pancake recipe as the whole flax seeds and oats add everything a plant milk would add.
I'm not a huge fan of shop bought plant milks as they are often expensive, very low in nutrition, contain emulsifiers and stabilisers and often only contain a small percentage of the seed/nut that they are a milk of. Check out my recipes for seed milk to make your own vegan milk for pennies.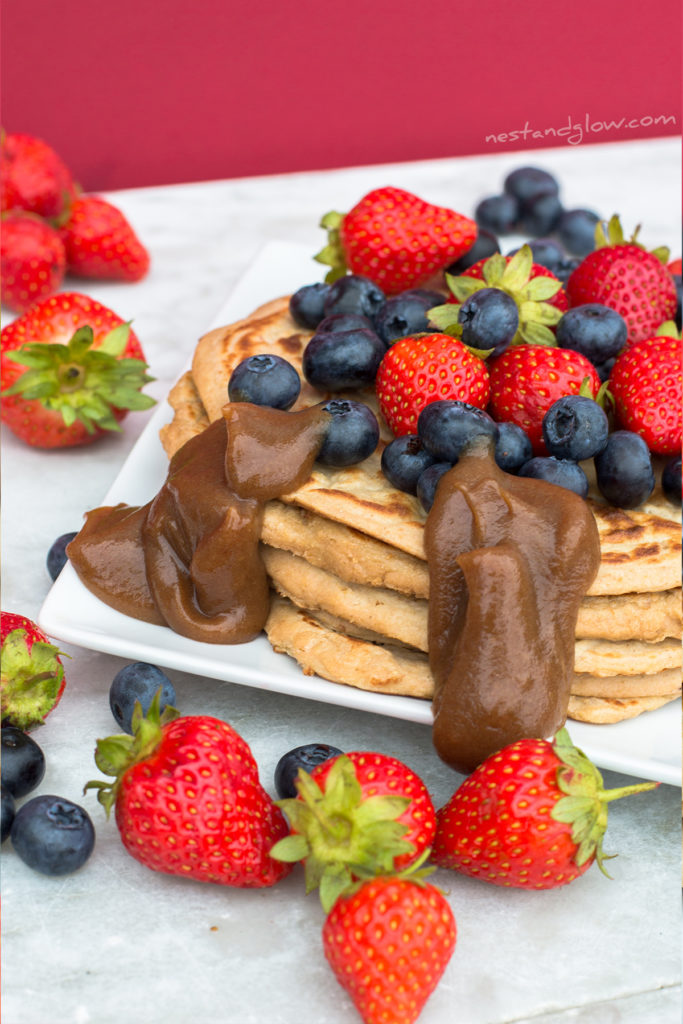 I don't use any oil or fat in this oil-free pancake recipe. Instead, a ceramic non-stick frying pan is used. This apparently has a healthy eco coating that's free of PTFE and PFOA. I'm still a bit wary of what is used so it's not something I use daily but is perfect for this healthy pancake recipe.
If you don't have a non-stick pan then you may want to use a tiny bit of spray oil to stop the healthy pancakes from sticking. Choose a spray oil that is natural and has a high smoke point. Olive pomace oil and avocado oil are two that have a very high smoke point of 240c or over so are safer to cook with at high temperatures.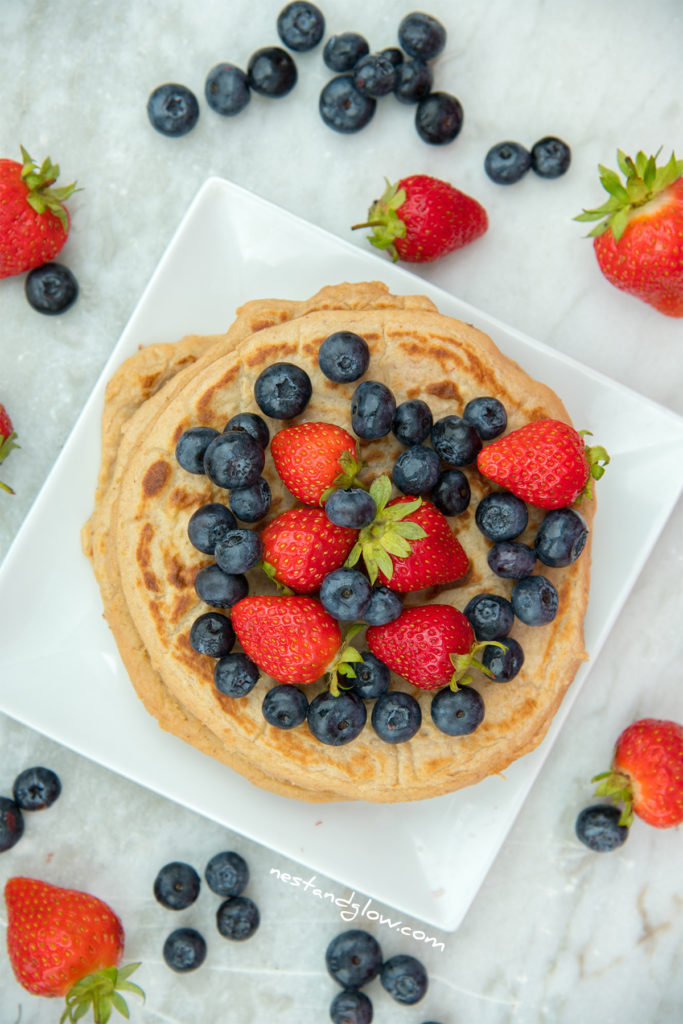 You may notice in the vegan pancakes fluffy video I'm using my hand to toss the pancakes. This is just because I don't have a non-stick fish slice and the camera lens was far too close to the pan to attempt to flip it. I obviously dont't recommend using your hands, although everyone I've ever seen making chapatis in India used their hands to flip them.
This protein pancake recipe makes about 8 pancakes and that's enough for 2 people as a whole meal.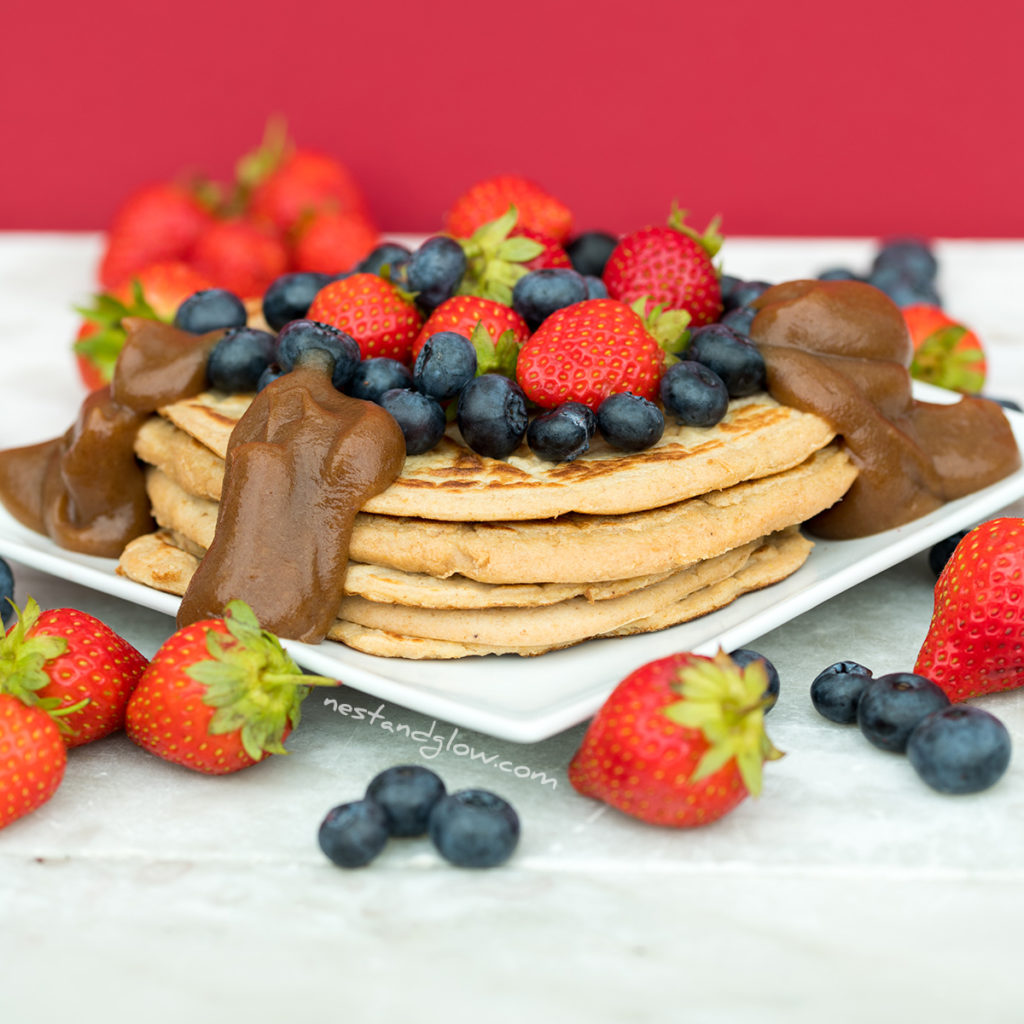 If you are not a fan of bananas then simply replace them with zucchini/courgettes to make vegan pancakes without banana. This makes a great healthy pancake that isn't too sweet so can either be served with something savoury or made sweet with some fruity toppings.
Yield: 8 lentil pancakes
Lentil Protein Pancakes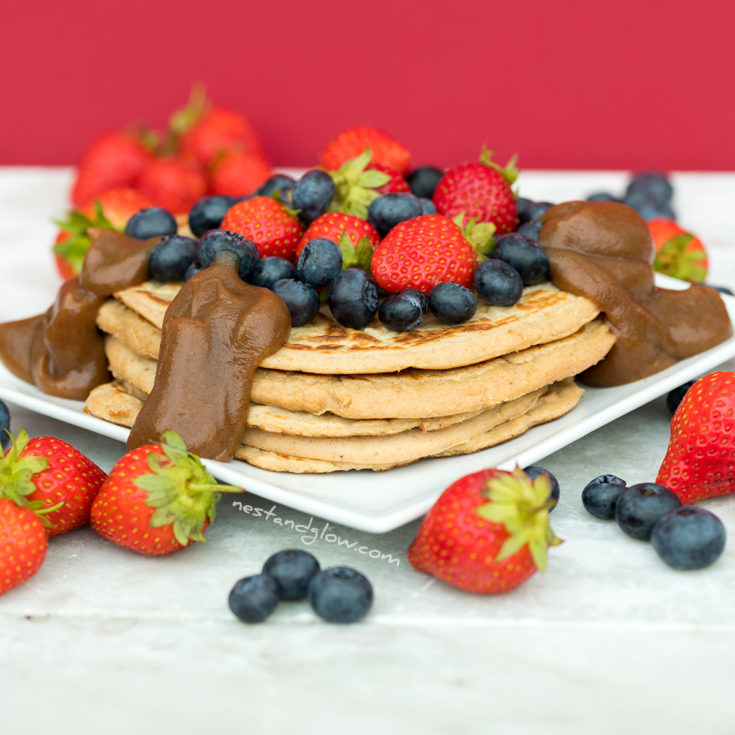 Protein pancake banana mix made from lentils that's free of flour, eggs and dairy. These vegan pancakes are high in plant protein and from red split lentils. Try these inexpensive healthy and fluffy vegan pancakes today.

Prep Time 5 minutes

Cook Time 10 minutes

Total Time 15 minutes
Ingredients
1/2 cup / 95g Red split lentils
1 cup / 90g Oats
2 Bananas
2 tbsp Flaxseeds
1 tbsp Apple cider vinegar
3/4 / 180ml cup Water
A few tbsp Date Syrup
Instructions
Soak the lentils overnight or for at least an hour in hot water.

Rinse and drain lentils then add to a blender with everything else.

Blend until all broken up, about 2 minutes.

Pour about 1/3 of a cup of batter into a non-stick frying pan,

Spread out to about 5-6" in diameter and cook for about 2 minutes on low to medium until the pancake starts to bubble and has gone darker.

Toss the protein pancake and cook on the other side for another 2 minutes.

Serve the vegan healthy pancakes straight away and any leftovers will be good for 3 days.

These protein pancakes are great topped with fresh berries and date syrup.
Recommended Products
Links maybe affiliated, meaning I earn a commission from purchases but at no extra cost to yourself.
Nutrition Information
Yield
3
Serving Size
1
Amount Per Serving Calories 432Total Fat 2gSaturated Fat 0gTrans Fat 0gUnsaturated Fat 1gCholesterol 0mgSodium 5mgCarbohydrates 45gFiber 8gSugar 11gProtein 18g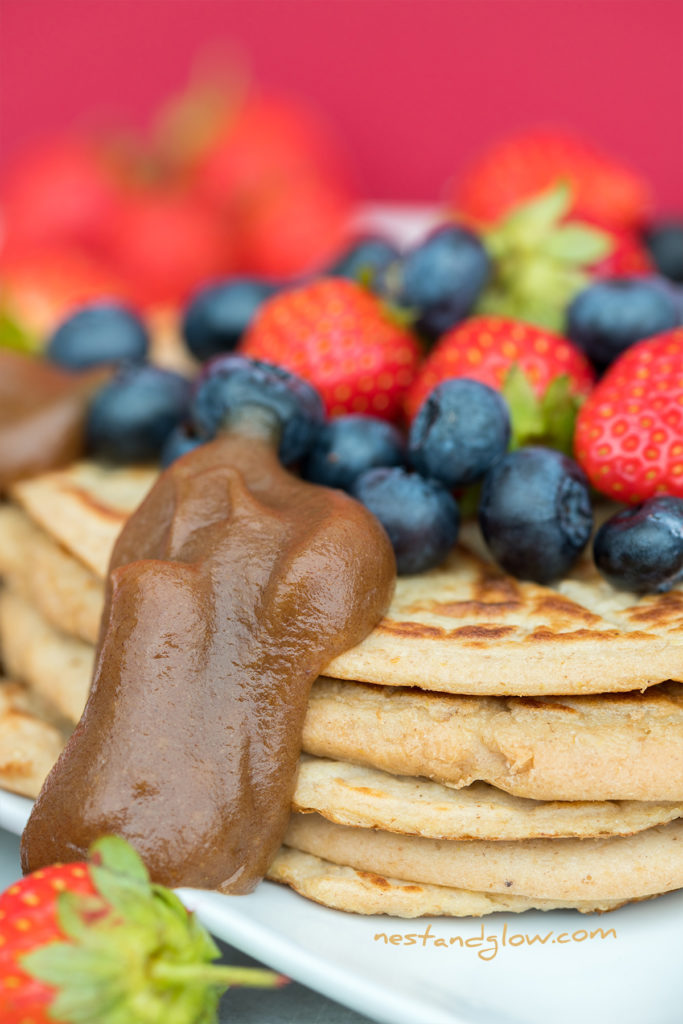 If you like this high protein recipe check out my Healthy Lentil Chips Recipe. They are also made from red lentils and are oil free. High in plant protein and inexpensive to make.
These are tomato and basil flavour but you can change the flavours to whatever you like.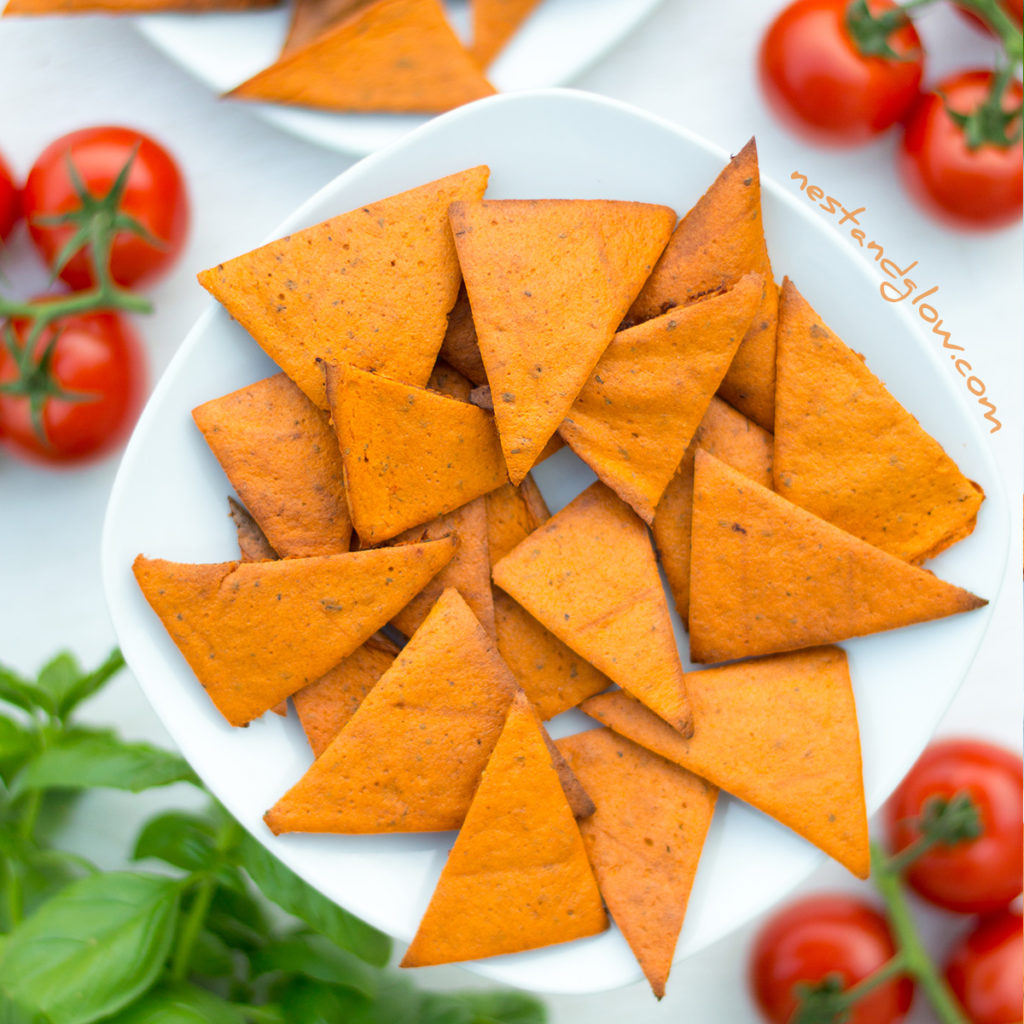 Have you tried cooking with red lentil pasta? It has a very similar taste and texture to normal pasta but is very high in protein.
Check out my recipe for Vegan Cheesy Protein Pasta. It's free of nuts, gluten and dairy. Easy to make and packed with plant protein.
Date syrup is my number 1 natural sweetener. It's full of good stuff, inexpensive and easy to make. The only downside is it only lasts a few weeks so you can't make a huge vat to last months. Date syrup natural sweetener recipe.