This is a quick spicy ginger beer recipe that's non-alcoholic. Simply blend everything together and then pour soda water over.
Fiery ginger beer uses fresh ginger for a kick and cinnamon for added sweetness and spice.
The mix for this ginger beer will last for a week in the fridge then you can just mix with ice and soda water when you want a glass. Don't do what I do in the video and remember to tilt the glass as you pour the soda water. Else you will get a foamy head!
Either lemons or limes work great in this, use what you prefer. I do prefer it with limes, but I know others prefer it with lemons. The mixture of sour, spicy and sweet make this ginger beer taste amazing.
Check our our video recipe of making instant ginger beer on YouTube.
A refreshing and healthy summer drink with no added sugar. Learn how to make spicy ginger beer with this recipe.
You may wish to adjust the cinnamon and ginger to your tastes. I like it spicy but if you're more a mild person just halve the ginger and cinnamon.
This ginger beer is not just quick to make it tastes amazing and is better for you as it contains no syrup. The dates retain all of their healthy fibre from the whole fruit and is absorbed slower into the bloodstream and also is more filling.
Yield: 1.5 litres
Fiery Ginger Beer Recipe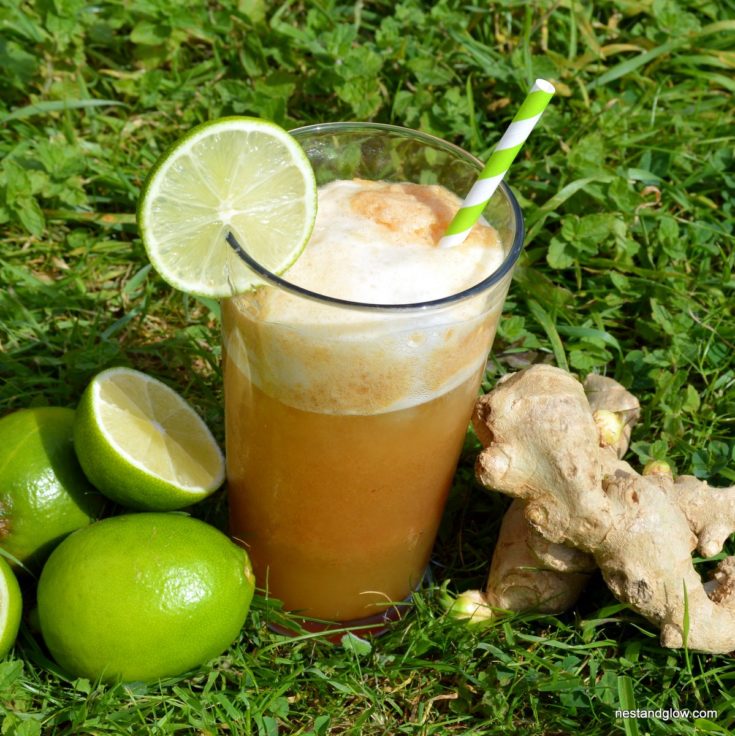 This fiery ginger beer recipe is sweetened just with fruit and full of goodness. It tastes amazing with just a few natural wholefood ingredients. Fresh ginger, fresh and cinnamon make the best tasting ginger beer! Learn how to make spicy ginger beer with this recipe.
Ingredients
Ginger, 2″ root
Lemon / Lime, 2 juiced
Dates 8-12 (pitted)
Cinnamon, 1 tsp
Soda water, 1 litre
Instructions
Finely dice the ginger.
Juice the lemons / limes.
Add all to a blender and whizz spicy ginger beer recipes until combined. Ensure there are no stones in the dates.
You can either sieve the mixture or not depending on if you like bits. I don't sieve it but some prefer it smooth.
Pour the blended ginger beer mixture over ice and add the soda water. 1 part mix to 4 parts water.
Enjoy immediately or store the mixture in the fridge before adding the soda water.
The ginger beer concentrate should last a week or so in the fridge.
Recommended Products
Links maybe affiliated, meaning I earn a commission from purchases but at no extra cost to yourself.
Nutrition Information
Yield
6
Serving Size
1 cup
Amount Per Serving
Calories

36
Total Fat

0g
Saturated Fat

0g
Trans Fat

0g
Unsaturated Fat

0g
Cholesterol

0mg
Sodium

23mg
Carbohydrates

10g
Fiber

2g
Sugar

7g
Protein

0g