Healthy quinoa brownies that are high in protein with no sugar, flour, butter, gluten, eggs or oil. Just 4 whole food ingredients are used to make this easy quinoa brownie recipe. Much simpler and quicker to make than a cake but tastes amazing.
Each quinoa brownie piece contains 6g of protein. Learn how to make healthy brownies from just a few ingredients that don't taste like they are healthy! Suitable for paleo, vegan, gluten free, dairy free, grain free, oil free and plant based whole food diets.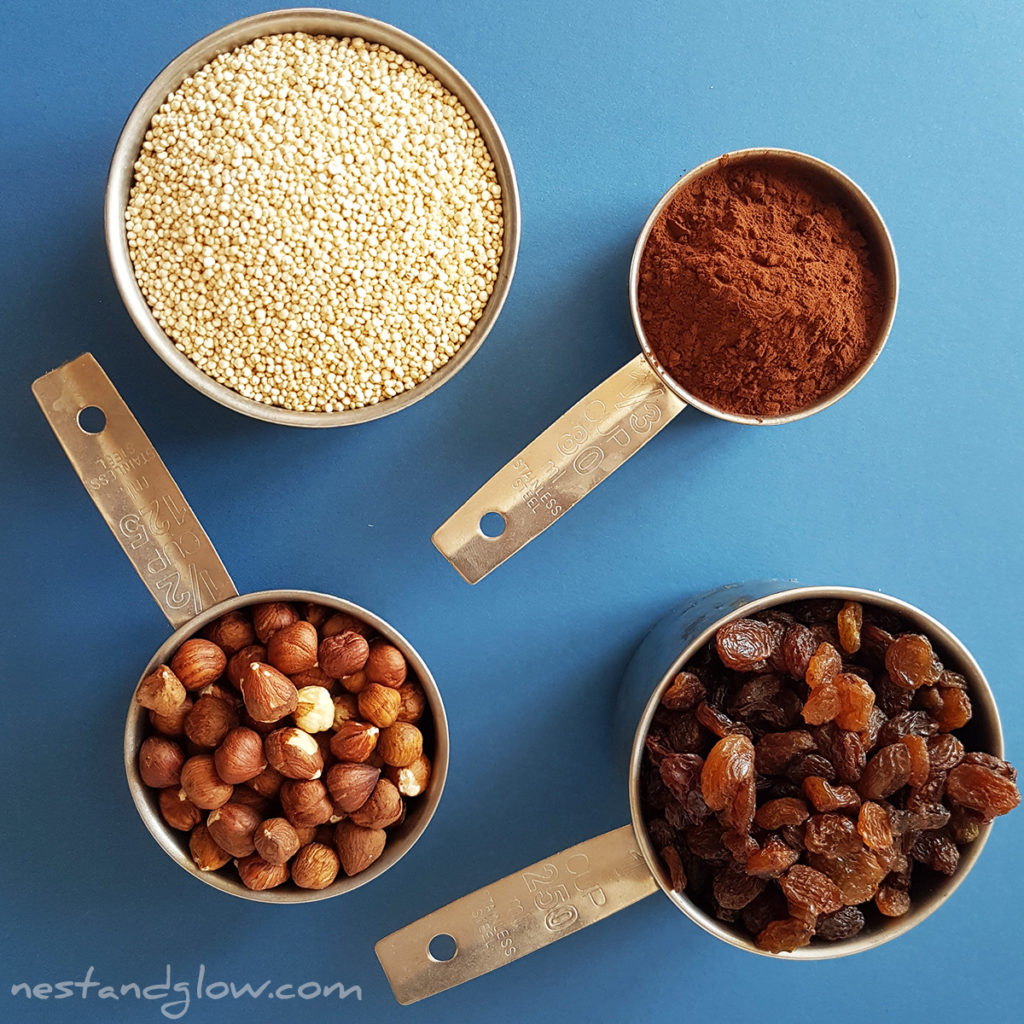 There's more nutrition in a slice of this brownie than many people have in a whole day.
For this recipe I use normal dutched processed cocoa as it will be cooked. It's cheaper than raw cacao and still very nutritious. More on the difference between cocoa and cacao.
You can use roast hazelnuts for the frosting if you prefer. For health reasons, I use raw hazelnuts as all the delicate healthy oils are still intact.
Quinoa Brownie Video Recipe
Play on YouTube / Play no music video
Any nut or seed can be used for the quinoa brownie topping. I chose hazelnuts as they go so well with chocolate. Walnuts, pecans or pumpkin seeds make a great replacement.
This healthy brownie recipe is sweetened just with raisins. However you can use dates or another dried fruit if you prefer. I like raisins as they're inexpensive and tasty.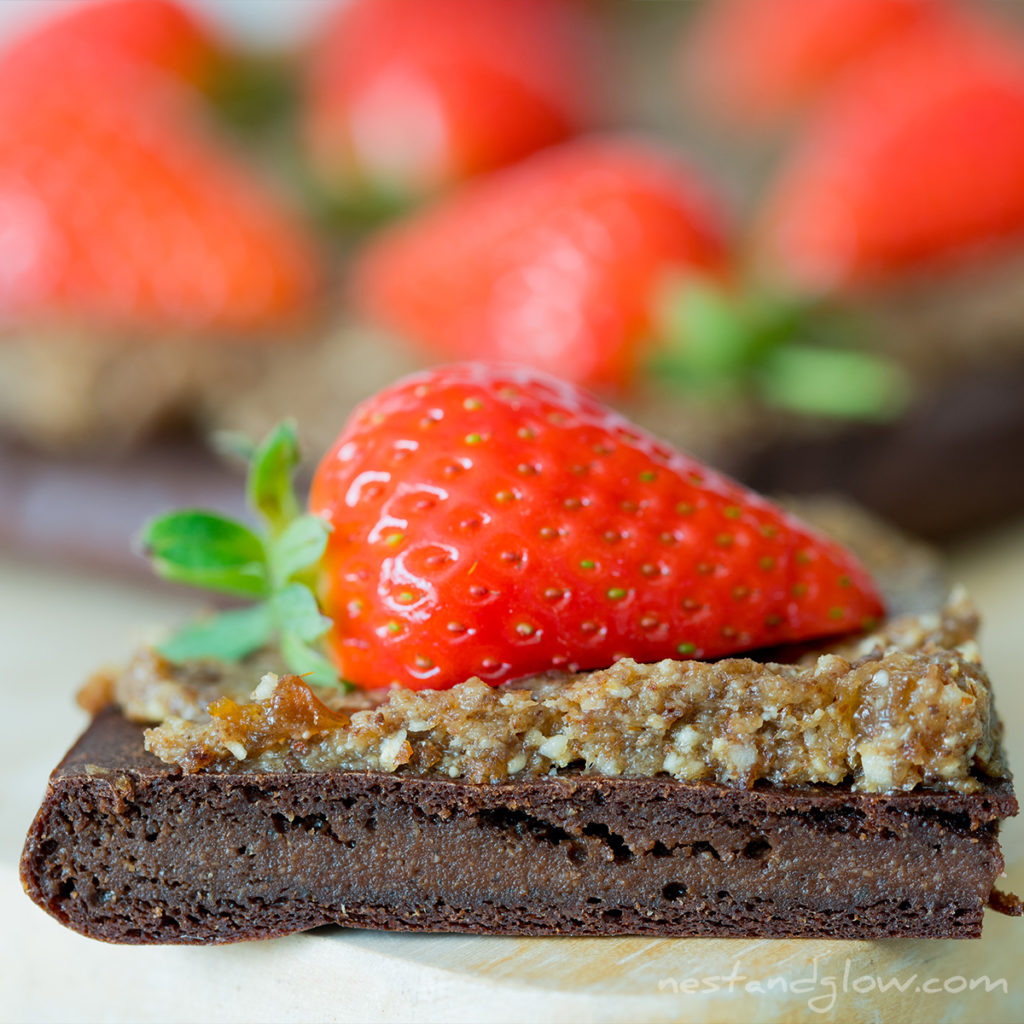 No syrups or refined sugar are used in this healthy recipe as it's sweetened just with fruit. I know some people will say it's still high in sugar, and while it is you're also getting a lot of fibre and nutrition.
Eating cakes high in nutrition and fibre makes them more satisfying and filling so a slice or two is often enough. Normal cake is loaded with calories and refined ingredients making it very moreish and easy to overeat on.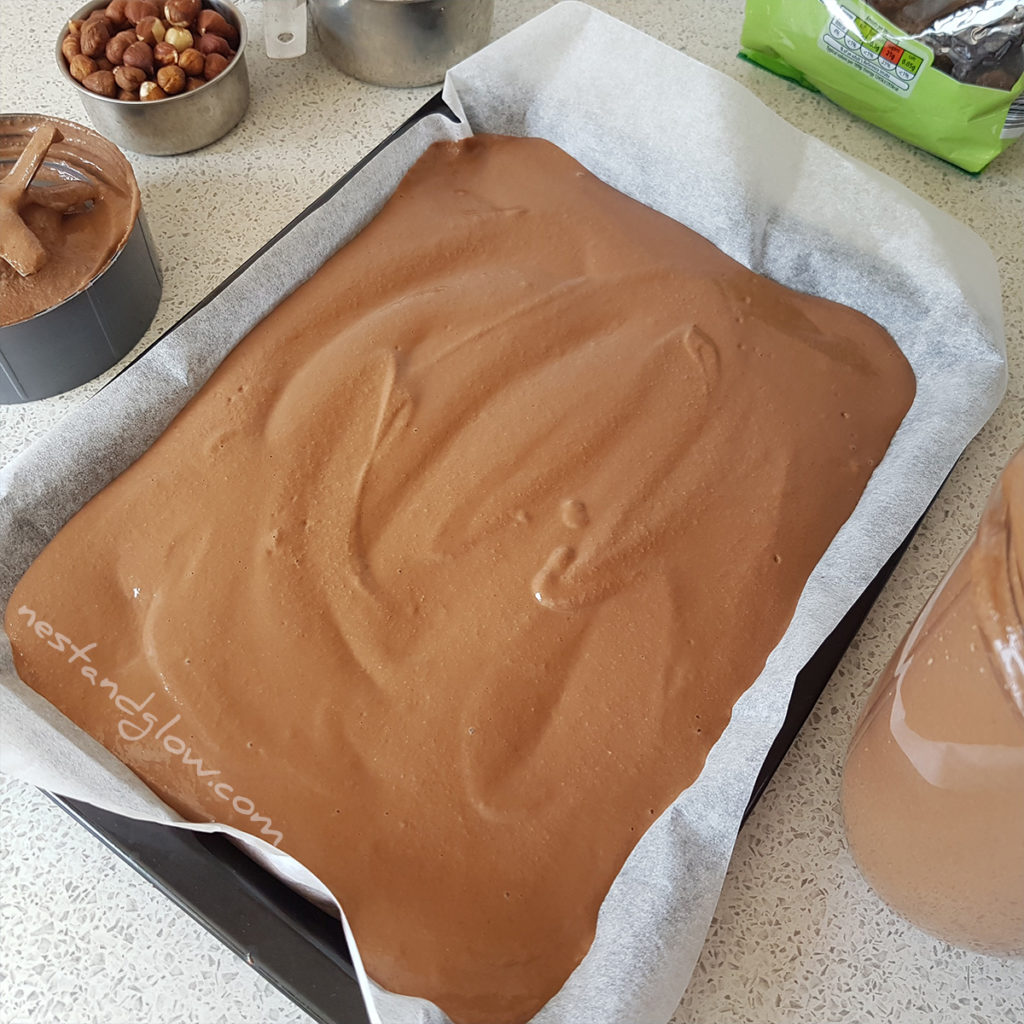 You want to use white quinoa when making this cake. Red or black quinoa is much tougher and doesn't give a great texture.
Whole quinoa is used so it can be sprouted and is easier for your body to absorb. Also it's much cheaper than buying quinoa flour. Quinoa in the UK is rinsed so a quick soak and drain is enough to remove any bitter taste. But if your quinoa sometimes has a bitter taste you may want to drain and rinse several times. Quinoa is actually not a grain, it's a seed that's naturally gluten-free and contains all amino acids.
The most important step with making this cake is making sure the quinoa is fully ground. If bits remain they will have an unpleasant texture. You can hear from the sound of the blades when all of the quinoa is broken up.
A 600w bullet style blender is enough to make this quinoa brownie recipe. Although you may want to blend in three 1-minute batches.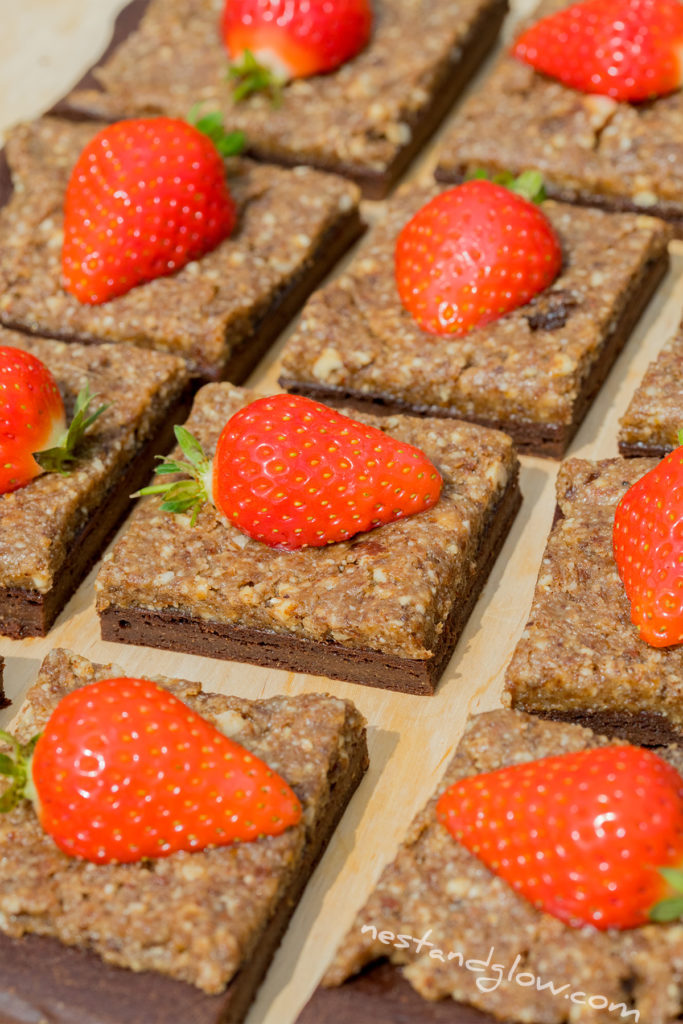 I wasn't sure if I should share this recipe, despite it being an easy one by the time I've written, photographed and created 5 different videos it still takes at least two days. However thanks for all the encouragement on social media to write this quinoa recipe brownie up. It's not the most beautiful of healthy brownies but its the kind of recipe I love as it's easy to make (not stressful like a cake can be), really healthy and a meal in one.
The strawberries on top initially I used for decoration but the flavour works so well they are recommended but kiwi or other berries would be a great alternative. Do only put cut fruit on top just before serving to keep really fresh.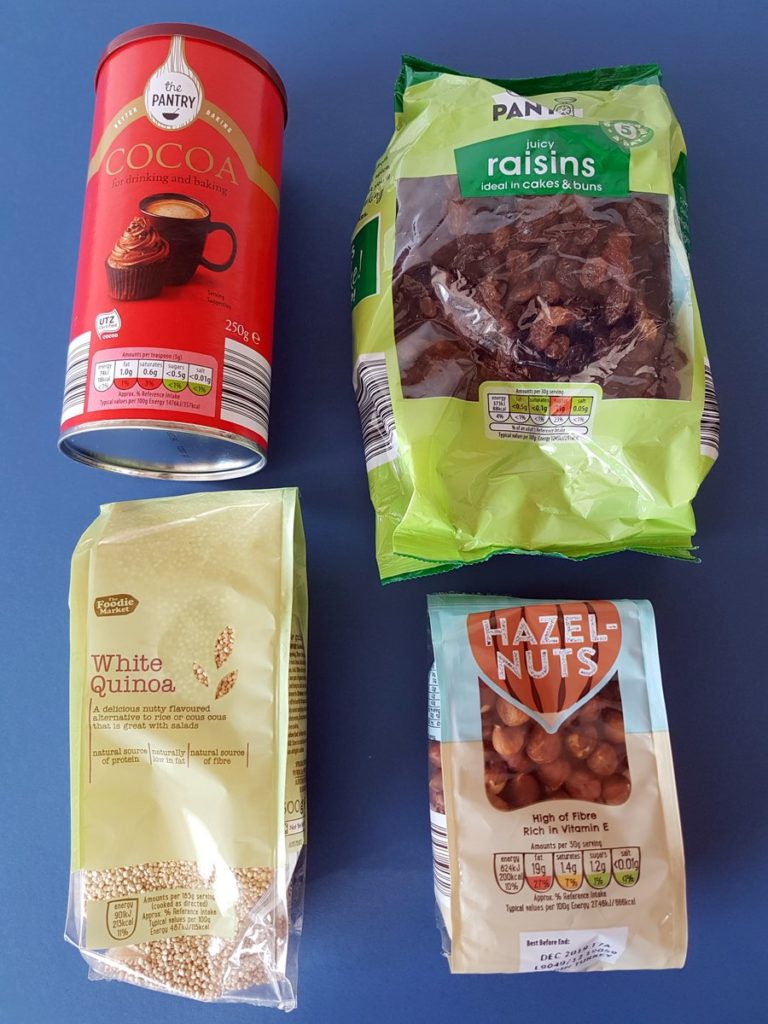 I don't use any oil for the pan and instead use greaseproof paper. This makes it easy to remove from the pan in one complete piece. As its a gluten free quinoa brownie you do need something like nonstick paper as it's much denser than normal cakes or brownies. Silicone pans can be used but on my tabletop oven they often don't last long and leach something so I've stopped using them.
As this healthy brownie is gluten free it's very soft when it's still warm and just out of the oven. Do leave it to cool for 10 minutes and it will then become firm.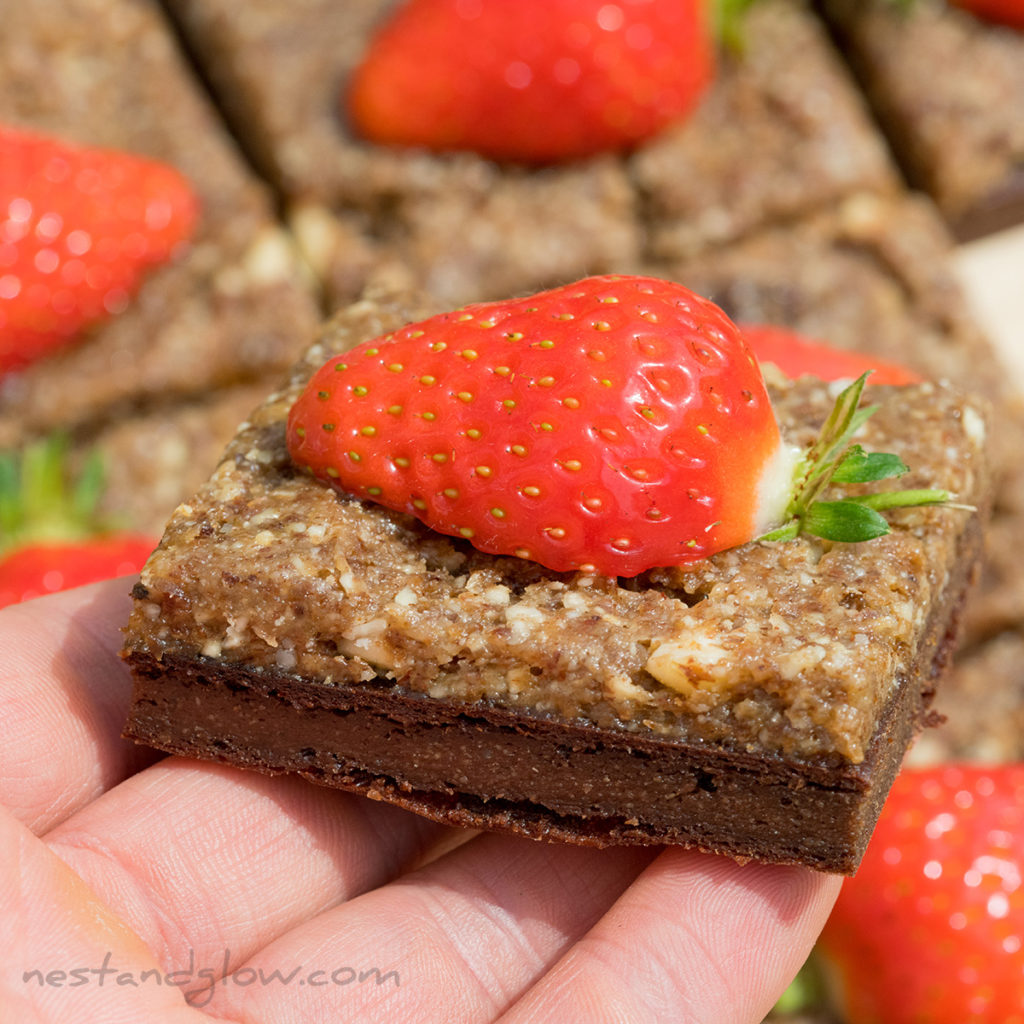 I love that this quinoa chocolate brownie doesn't contain any leavening agents. I've heard that some contain metals like aluminium and to be honest, it makes little difference to the end result and lots have reactions with them I'm so very happy to just leave it out.
Think of this recipe as a base recipe, I often add twists or extras but the main four ingredients of quinoa, cocoa, dried fruit/raisins and nuts/seeds. Add spice like cinnamon or cayenne pepper or whatever you have available and like. Do let me know in the comments how you've adapted this recipe.
The quinoa brownie does freeze very well. Just remember to cut before freezing so you can defrost and enjoy a slice at a time.
As this brownie is healthy and oil free it is best had on the day it's baked. While it's still lovley the next day no added fats does mean it gets a bit tougher.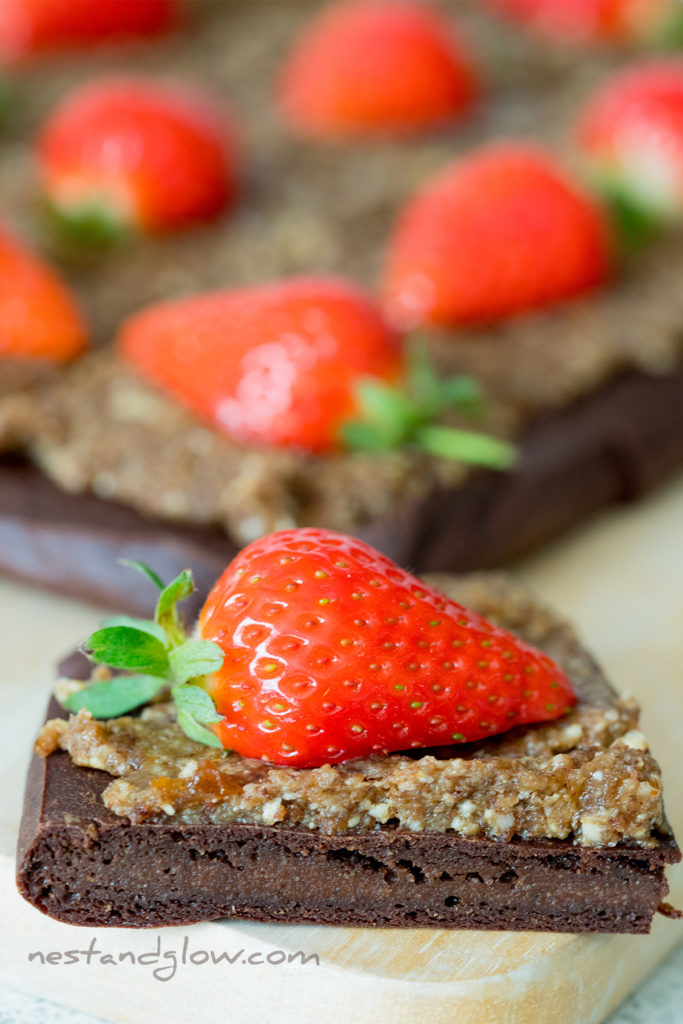 Yield: 16 quinoa brownies
Quinoa Chocolate Brownie - 4 Ingredients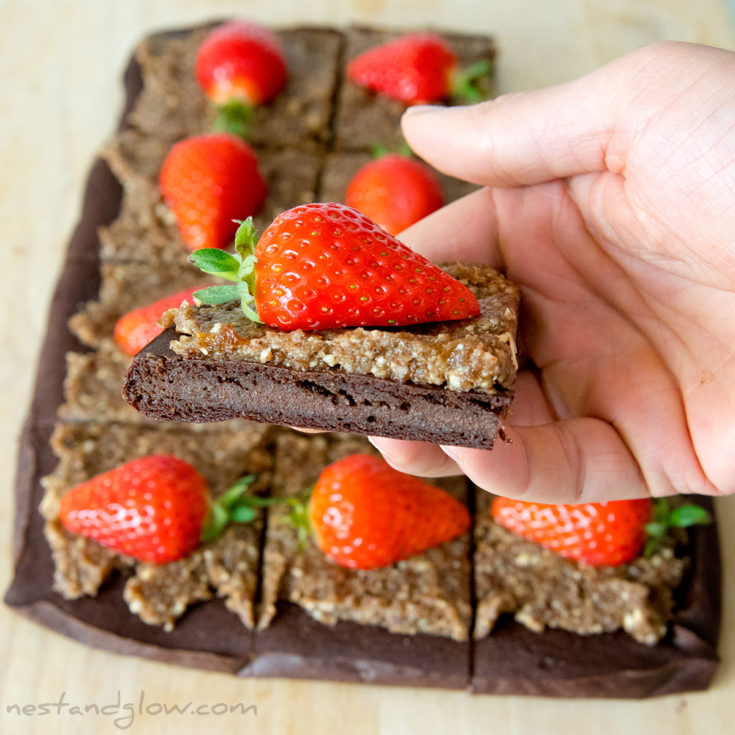 Healthy quinoa brownies that are made from just 4 wholefood ingredients. Naturally free of dairy, eggs, refined sugar, oil wheat, butter and gluten. These healthy gluten free brownies are sweetened just with dried fruit. The fruit adds fibre and nutrition that is slowly released.
Total Time
1 hour
5 minutes
Ingredients
3/4 cup / 160g Quinoa
1 2/3 cups / 250g Raisins
3 tbsp Cocoa
3/4 cup / 115g Hazelnuts
1 1/4 cups / 300 ml water + water for soaking
Instructions
Soak the quinoa for half an hour.
Drain the quinoa and preheat oven to 190C / 375F.
Add the cocoa, fresh water, and 1 cup of the raisins (remaining raisins are for the frosting) to your blender and blend for 3 minutes until the quinoa is all broken.
Pour the quinoa brownie batter into a lined pan that's about 30 by 22 cm.
Bake for 35-45 minutes just until the top gets some colour (I know that's hard to see on chocolate!) then take brownies out of the oven and leave for 10 mins to firm up.
Blend together the hazelnuts and the remaining raisins until they stick together into a ball. Stop blending if the motor is struggling – this frosting isn't supposed to be smooth.
Remove the quinoa brownie base from the pan and dollop on the hazelnut mixture.
The hazelnut mixture is firm so you will need to use a knife or your fingers to spread a layer on top.
Garnish this gluten free brownie with fruit if you like and it will keep for about 5 days. Best stored in the fridge and can be frozen to last for months.
Recommended Products
Links maybe affiliated, meaning I earn a commission from purchases but at no extra cost to yourself.
Nutrition Information
Yield
16
Serving Size
1
Amount Per Serving
Calories

55
Total Fat

2g
Saturated Fat

0g
Trans Fat

0g
Unsaturated Fat

2g
Cholesterol

0mg
Sodium

2mg
Carbohydrates

8g
Fiber

1g
Sugar

5g
Protein

3g
Let me know what you think of this quinoa brownie in the comments below. Did you know chocolate brownie was first documented in 1896 as a name for a cake high in molasses?