This gluten-free fruit cake is vegan and naturally wheat free as it uses quinoa instead. Chia seeds are used in place of eggs to give a great texture and add valuable healthy omega-3 fatty acids.
My healthy fruit cake recipe is easy to make and free of butter, eggs, flour, gluten, grains and oil. This quinoa cake tastes great and one slice is loaded with more nutrition than many people have in a day. Try this vegan Christmas cake recipe!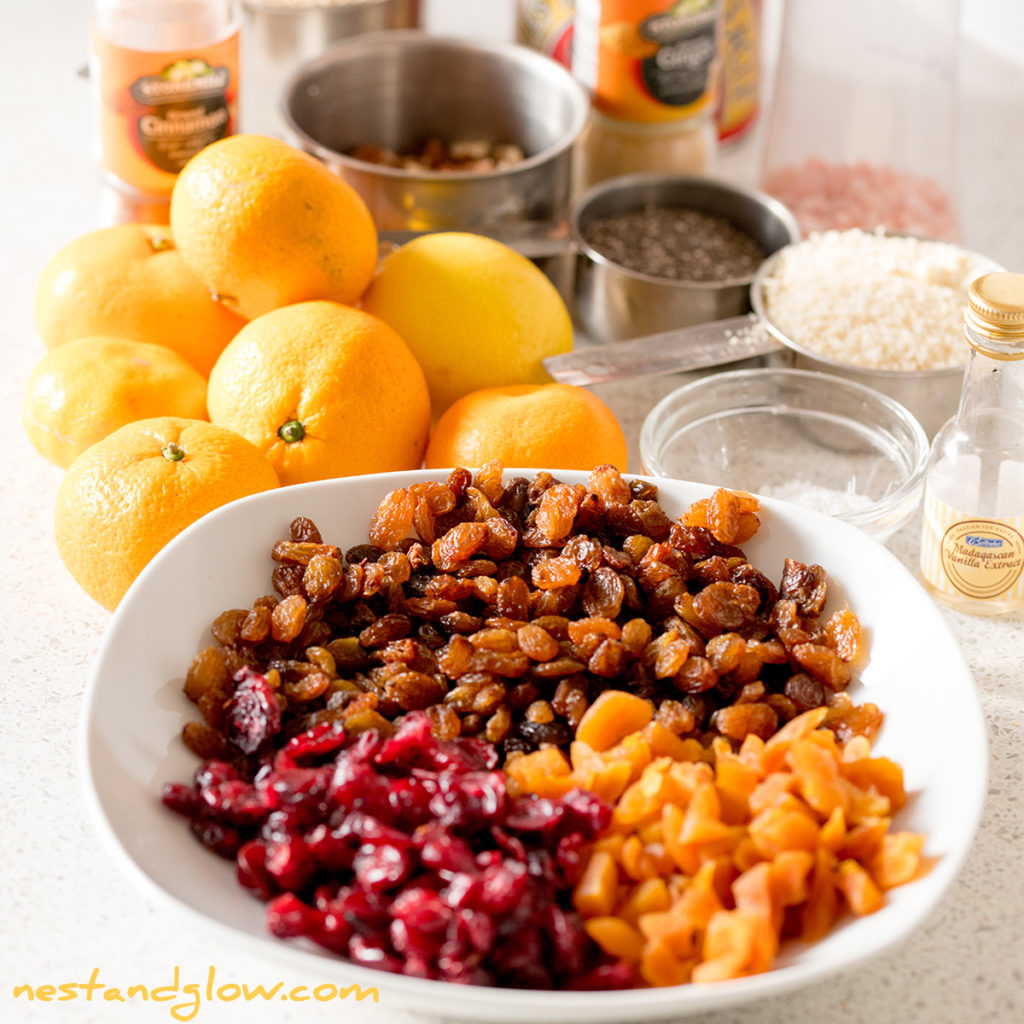 A perfect Christmas cake that is bursting with nutrition, fibre and goodness so will be filling and make you feel good.
You can use just about any dried fruit to make this healthy gluten-free vegan fruit cake. For the photos and video here I used sultanas, apricots and cranberries.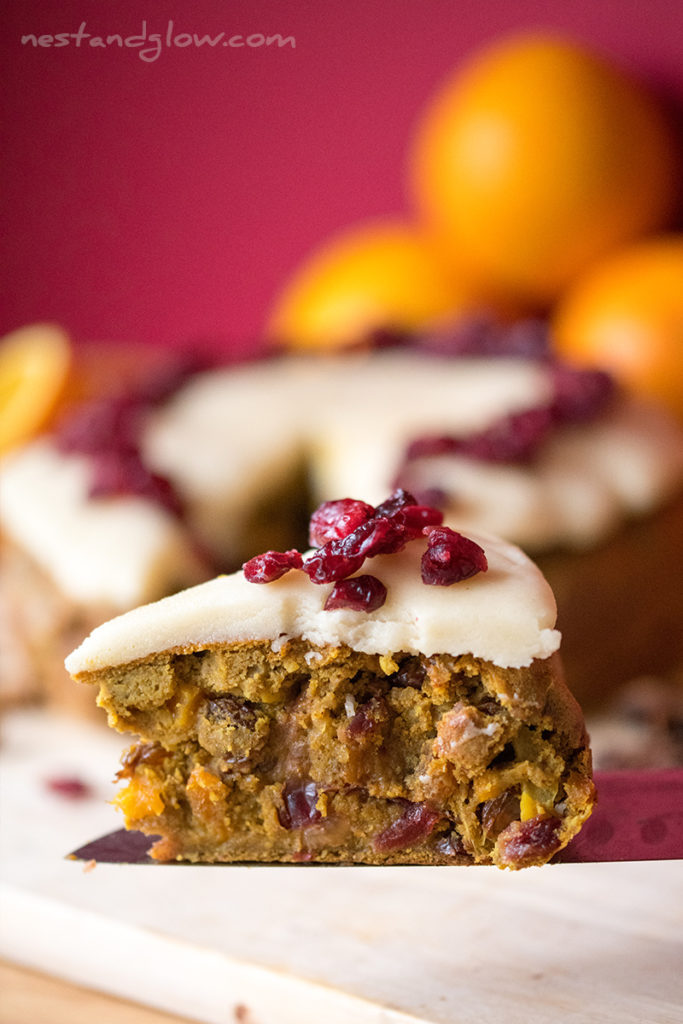 For fruits like cranberries and cherries use the ones that are sweetened with fruit juice rather than pure sugar as they're healthier.
I did use the orange apricots for this recipe as I bought them on offer and they do look great. Although they have been treated with a preservative to stay orange. This is supposedly safe to eat but organic apricots will be a dark colour and not treated with sulphur.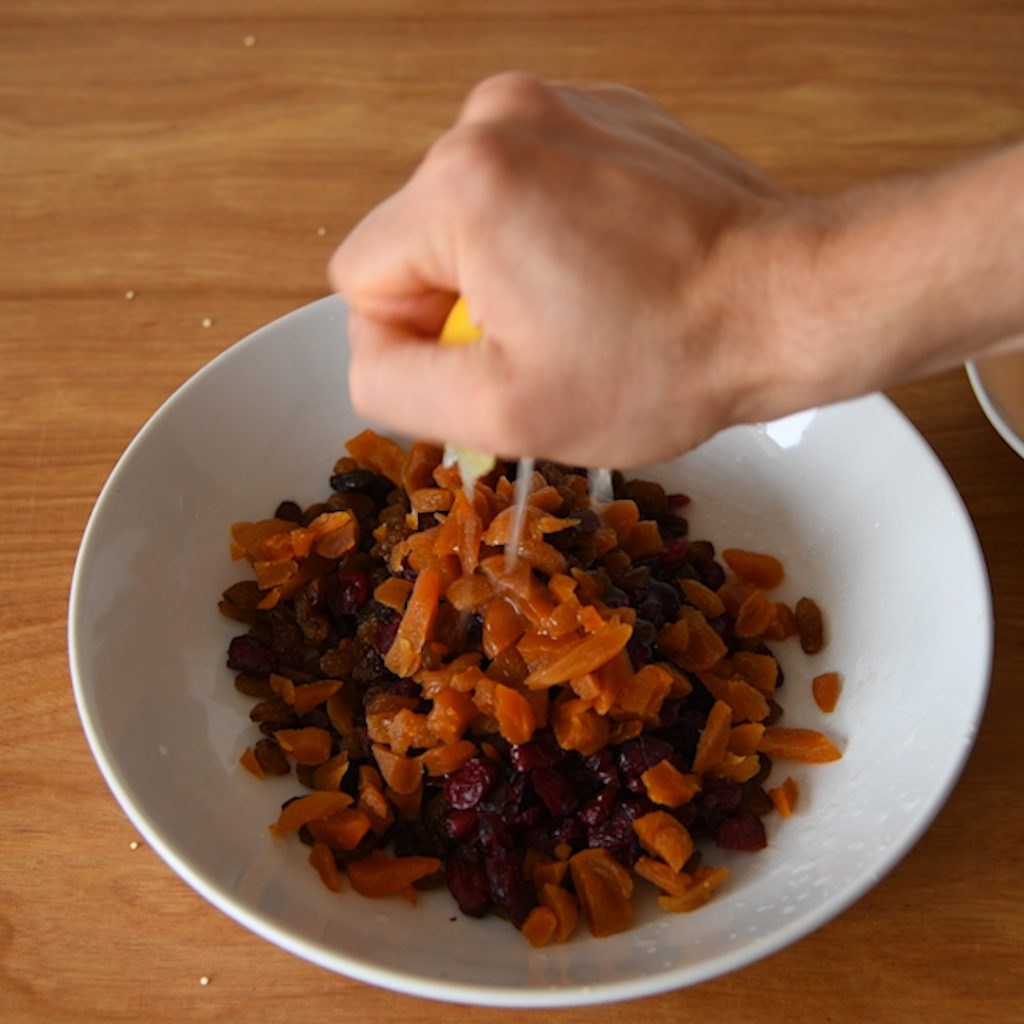 As this healthy fruit cake uses the rind of the citrus fruit always buy unwaxed and untreated. Otherwise the citrus will have been coated in chemicals that are not advisable to eat.
These treatment coatings on citrus fruit are to make the fruit last longer and assume that no one will eat the rind. But there's so much flavour in the peel and the bitterness really balances out the sweetness to give an amazing flavour.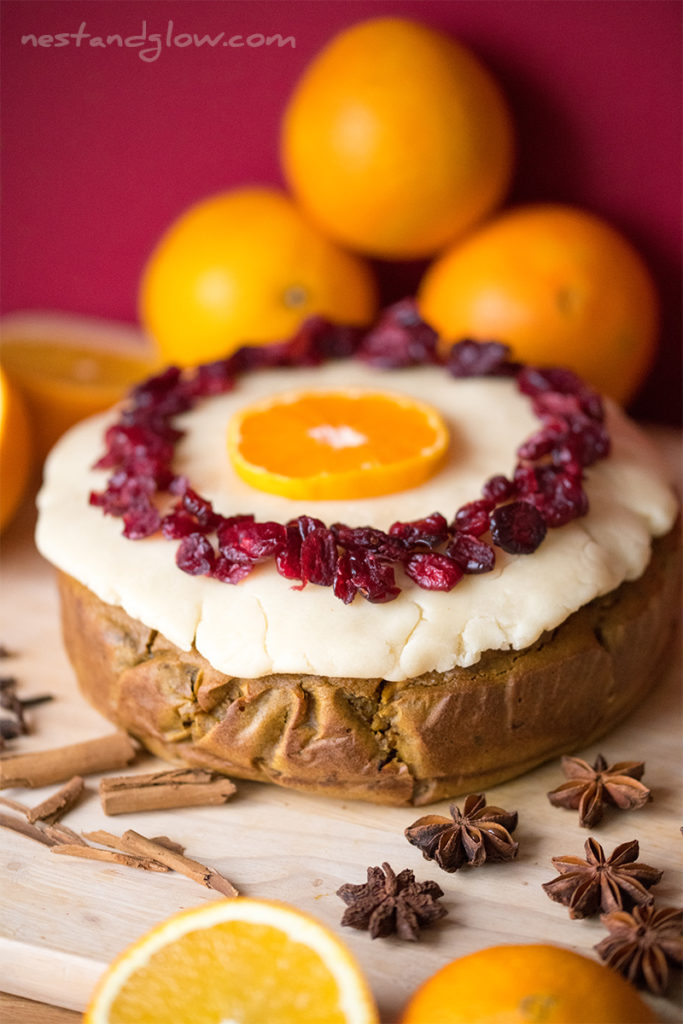 This cake is great topped with with a two-ingredient raw marzipan. I use ground almonds, blend them until creamy – which often means scraping down the sides then reblending then stirring in a sweetener like maple syrup.
You can make this raw nut coating from other nuts like cashews or macadamias but I just love the almond flavour as a frosting for this healthy fruit cake recipe.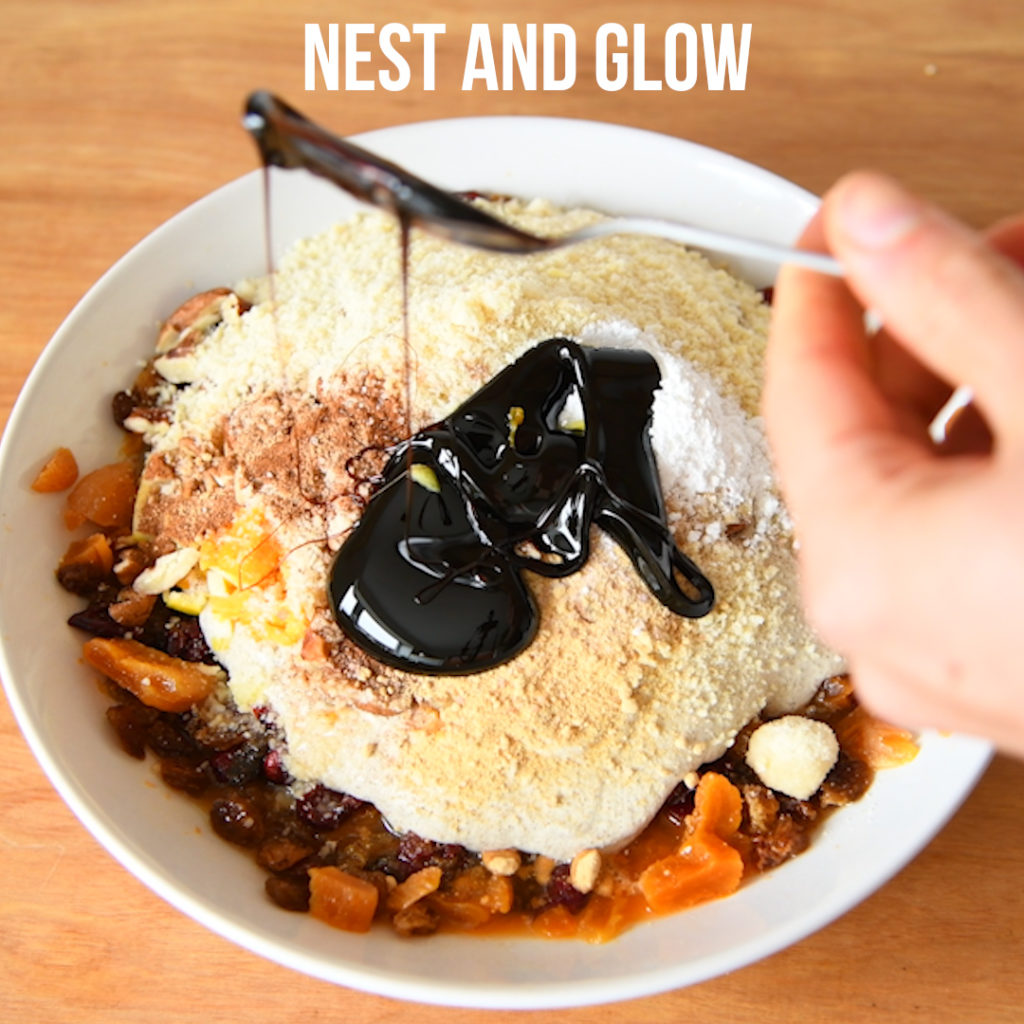 The frosting is totally optional, for a Christmas cake I would always frost it. When it's more of an everyday cake it's fine without the frosting.
Just about any nut can be used in place of the pecans. Although I think it works best with pecans or walnuts as they release their lovely natural fats into the oil free cake.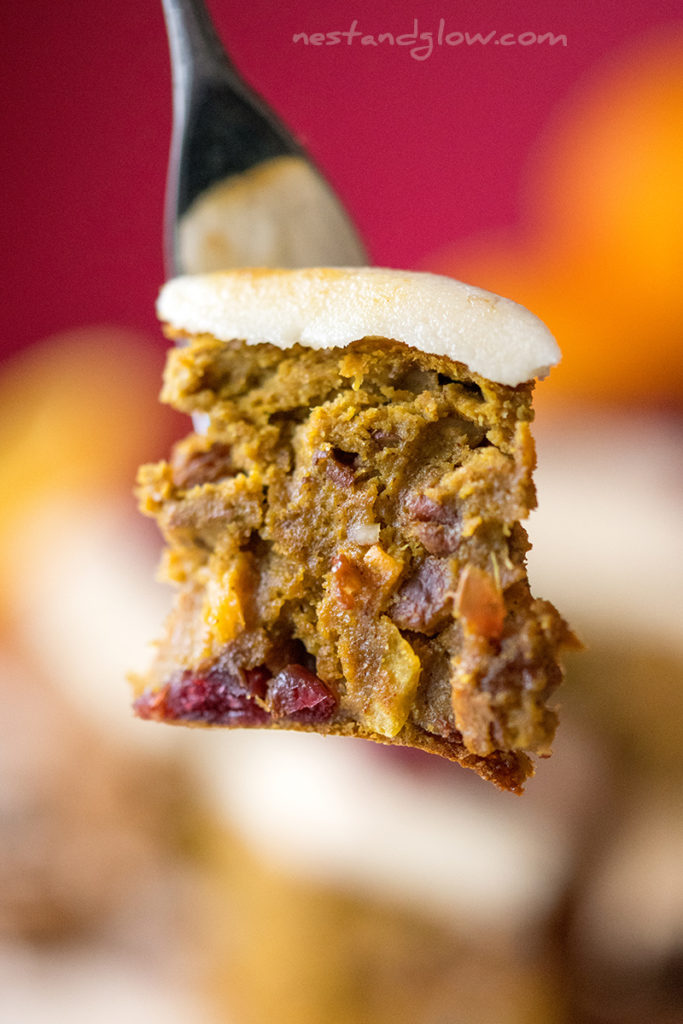 Nuts are used in the fruit cake mixture and frosting. But you can replace the ones in the cake with buckwheat for the almonds and pumpkin or sunflower seeds for the pecans / walnuts.
The frosting can be made nut-free by using sunflower seeds. Check out my recipe for nut and oil free cookie butter for another great topping.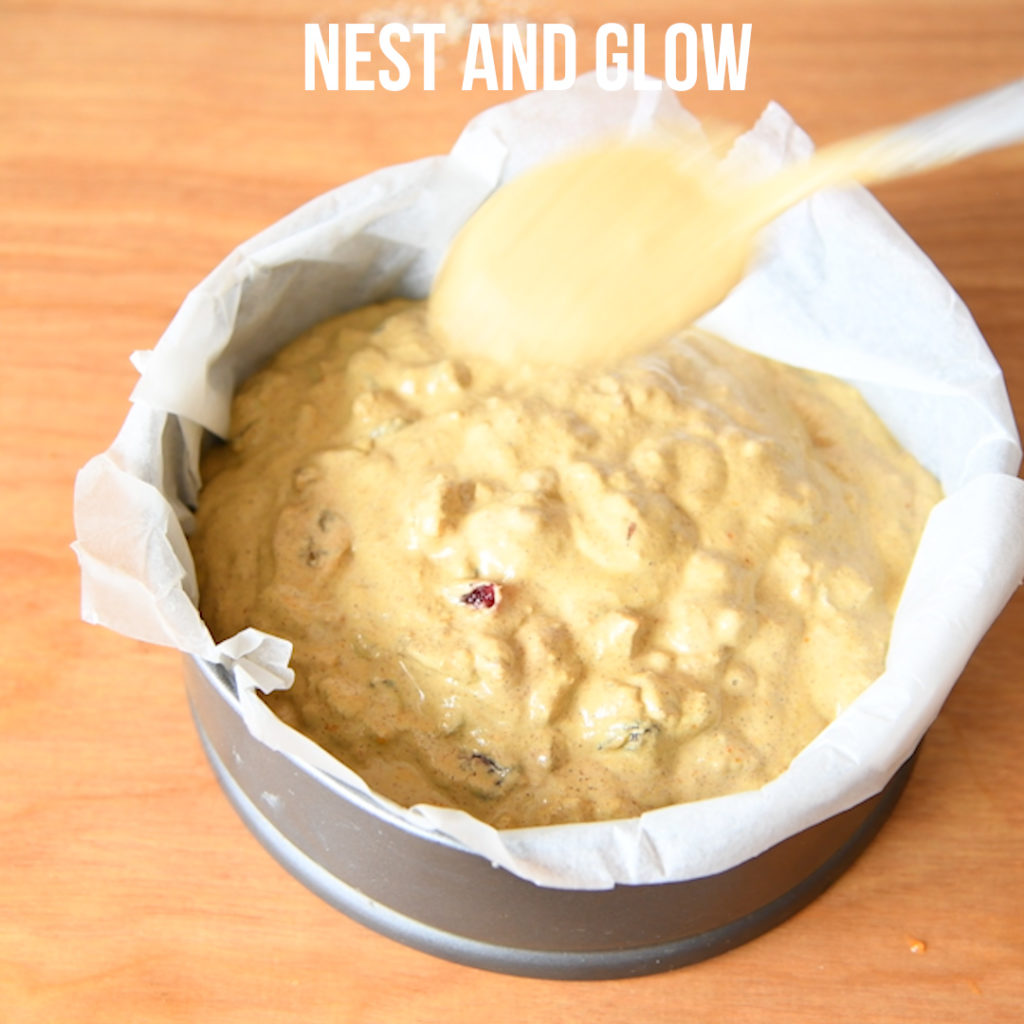 Black syrup or blackstrap molasses is used to give a treacle like taste while also adding a huge amount of vegan calcium and other minerals.
Whole quinoa grain is used for this recipe rather than any expensive flour. This is because soaking it in water sprouts it and reduces the amount of acid that can stop absorption so it's much easier for your body to absorb all of the goodness in this healthy fruit cake.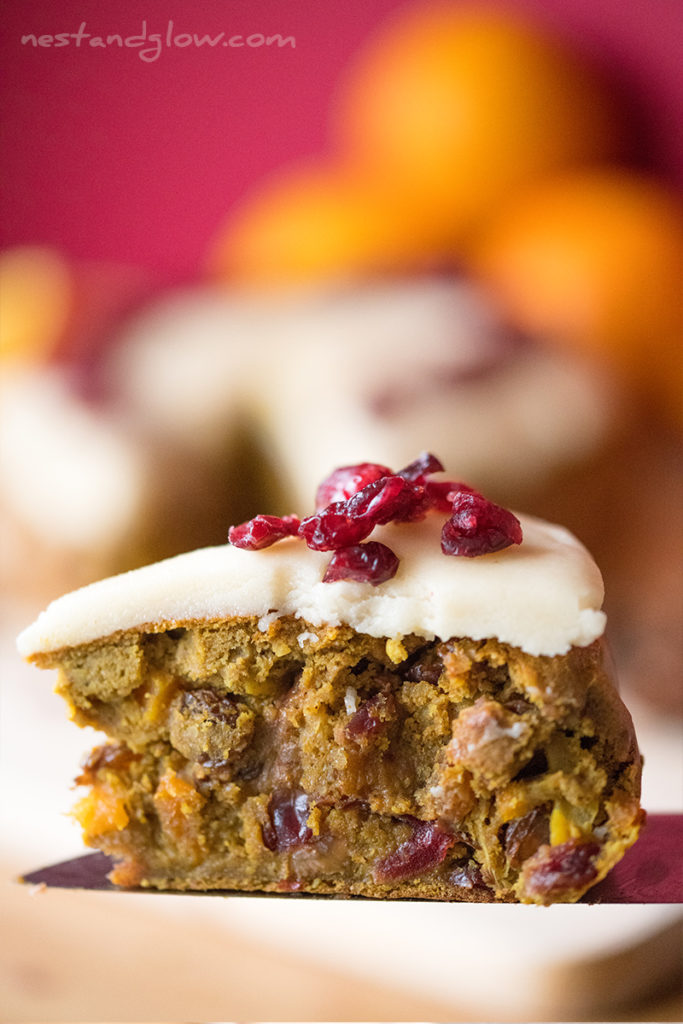 I don't add any booze to this recipe, more because I just don't have any around the house!
A small amount of whisky or rum would probably be great and much of the alcohol is evaporated after cooking.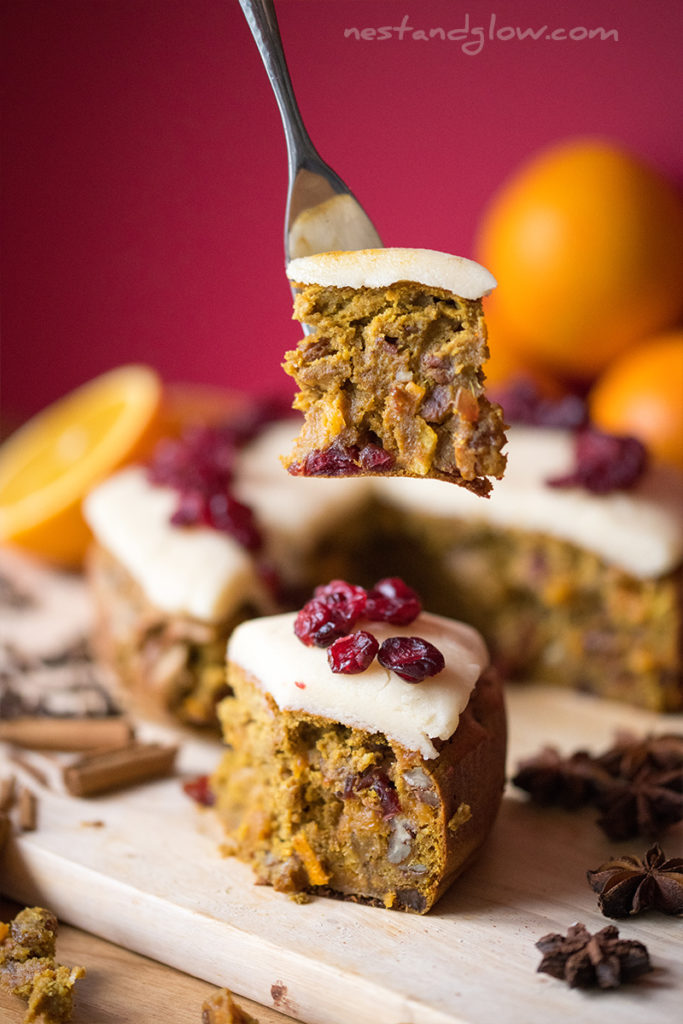 This isn't a matured Christmas cake, because I'm all about the easy recipes. It might work feeding the healthy gluten-free vegan Christmas cake with orange juice or spirits for several.
But I'm just one person trying to create brand new original recipes and it took several attempts to get my quinoa Christmas cake recipe right.
I just don't have the time to experiment with maturing the cake for a month. If you have please do let me know how you got on with making a matured quinoa Christmas cake.
Yield: 1 quinoa fruit cake
Quinoa Fruit Cake - vegan and gluten free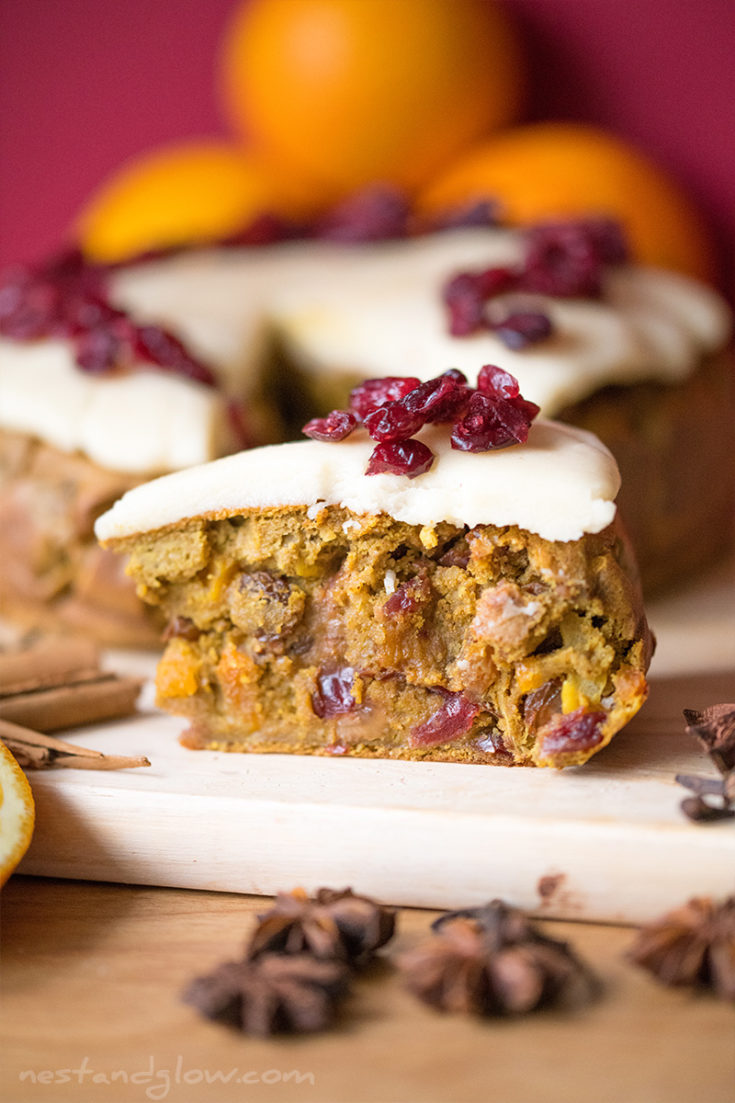 This healthy fruit cake recipe uses no eggs, butter, flour or sugar. Instead quinoa is used to add healthy carbohydrates and all essential amino acids. Chia seeds are used to replace eggs and add healthy fats and it's sweetened with fruit.
The spices in this vegan and flour-free Christmas cake fill your house with an amazing aroma as it bakes.
Ingredients
Quinoa Fruit Cake
1 cup / 175g Quinoa
8.8oz / 250g Dried fruit like Sultanas, Cranberries and Apricots
4 Clementines or other orange citrus fruit
1/2 cup / 50g Ground Almonds
1 Lemon
4 tbsp Chia Seeds
4 tbsp chopped Pecans
1 tbsp Blackstrap Molasses
1 tsp Vanilla extract
1 tsp Mixed spice
1 tsp Ginger powder
1 tsp Cinnamon
1 tsp Baking Powder
3/4 cup / 180ml Water
1 tsp turmeric (optional but adds colour and nutrition)
pinch of black pepper (optional but works well with turmeric)
Raw Marzipan Topping
2 cups / 200g ground Almonds
6 tbsp Maple syrup or similar liquid sweetener
Christmas cake toppings
Anything you like such as dried cranberries or goji berries. Dried fruit and nuts to make a pattern also works out well if you have the time and inclination
Instructions
Soak the quinoa in enough warm water to cover it by a few inches and leave to soak for 15 minutes.
Juice the clementines and lemon then pour over the dried fruit and leave it to soak in a bowl for 10 minutes.
Preheat oven to 190C / 375F.
Rinse and drain the quinoa then add with the freshwater (3/4 cup) and chia seeds into a small blender and blend until all is broken up and no hard bits remain.
Pour the quinoa and chia seed cake batter in to the bowl with the fruit.
Cut the rind off half a lemon skin and half a clementine then slice thinly and add to the cake mixture bowl.
Add everything else (apart from the frosting and topping ingredients) to the bowl and mix well.
Pour the gluten free fruit cake batter into a lined tin that's about 8" in diameter. Can use a loaf tin or individual tins if you prefer.
Place quinoa fruit cake into the oven in the middle and bake for 40 minutes. Remove when the top is golden. As it's gluten free it's difficult to tell by sticking a knife in if it's cooked as it will still be soft even when cooked.
Leave to cool for half an hour for the healthy fruit cake to firm up before removing from the tin.
Enjoy the cake! Or if frosting your quinoa fruit cake; blend together all the ground almonds until they become creamy. This will take several minutes and need breaks to push the almond powder down on tothe blade. A small bullet is best for this.
Once the almond frosting comes together in a ball and starts to release it's oils stir in the sweetener like maple syrup. Once the sweetener is added don't blend anymore.
Use a shiny surface like a plate or non-stick paper on a chopping board to push the raw almond marzipan down and spread to make a flat disk. Use your fingers to push it out, turn regularly to stop it sticking then use a spoon to smooth it off once you've got the right size.
Place the raw marzipan on top or just use normal marzipan if you prefer then decorate with dried fruit such as cranberries and goji berries or nuts.
Enjoy easy vegan fruit cake within a 5 days and keep in the fridge. As it's a quinoa cake it won't last as long as a normal Christmas cake that's made with flour, butter and sugar.
Notes
I use greaseproof paper to line my tin. Just so it's oil free and easy to release from the pan. I use one piece crumbled up so it probably doesn't give the best look. You can use seperate peices or greaseproof or silicone paper to make it look neater if you prefer.
As this quinoa fruit cake is gluten-free it will be quite soft when warm. It firms up as it cools down. Just be careful when removing from the pan as unlike normal flour cakes it won't be as glued together. Your insides will thank you for less glue like foods!
You can use any dried fruit you like for this healthy fruit cake recipe. Although they do need to all be about the size of raisins or saltarnas. So cut any large fruit like apricots.
Only stop blending the quinoa and chia when it's all broken up as a few hard bits can ruin a whole cake. A small bullet type blender is best to break up quinoa and chia seeds. A normal blender may take a few mins and have to scrape down the sides
You can leave out the leavening agents if you prefer. I did one batch with 2 tsp of baking powder and the lift was much better, but you could taste it. I would rather have a great taste and less of a lift.
Always use untreated lemons and other citrus fruit as this recipe uses the rind to add some depth with a bit of bitterness.
I decided just before pouring into the tin to add a bit of turmeric. Not that you will taste it but it adds nutrition and colour. Turmeric has so many health benefits that I tend to add a pinch to all my baking where a golden colour works. Also a pinch of black pepper to aid the absorption of turmeric.
I put alot of rind into my quinoa fruit cake as I just love how the bitter flavour balances out everything. If you're not a fan do reduce by half or 2/3.
Recommended Products
Links maybe affiliated, meaning I earn a commission from purchases but at no extra cost to yourself.
Nutrition Information
Yield
12
Serving Size
1
Amount Per Serving
Calories

250
Total Fat

12g
Saturated Fat

1g
Trans Fat

0g
Unsaturated Fat

10g
Cholesterol

0mg
Sodium

126mg
Carbohydrates

35g
Fiber

6g
Sugar

22g
Protein

6g