Raw cacao hot chocolate recipe that takes 60 seconds to make! There is nothing like a hot creamy cup of hot chocolate for when you need a bit of winter comfort. This healthy hot chocolate recipe is raw vegan, paleo, dairy free, gluten free, vegan and sweetened just by dates.
The creamy texture all comes from cashew nuts. Whole raw cashew nuts blend to give an amazing vegan hot chocolate without adding any plant milk.
The final drink looks impressive with a foamy top, but this is just naturally created with the warm water unlike the additives used in drinking chocolate. This healthy hot chocolate is full of whole foods, protein, heart healthy fats, minerals and vitamins.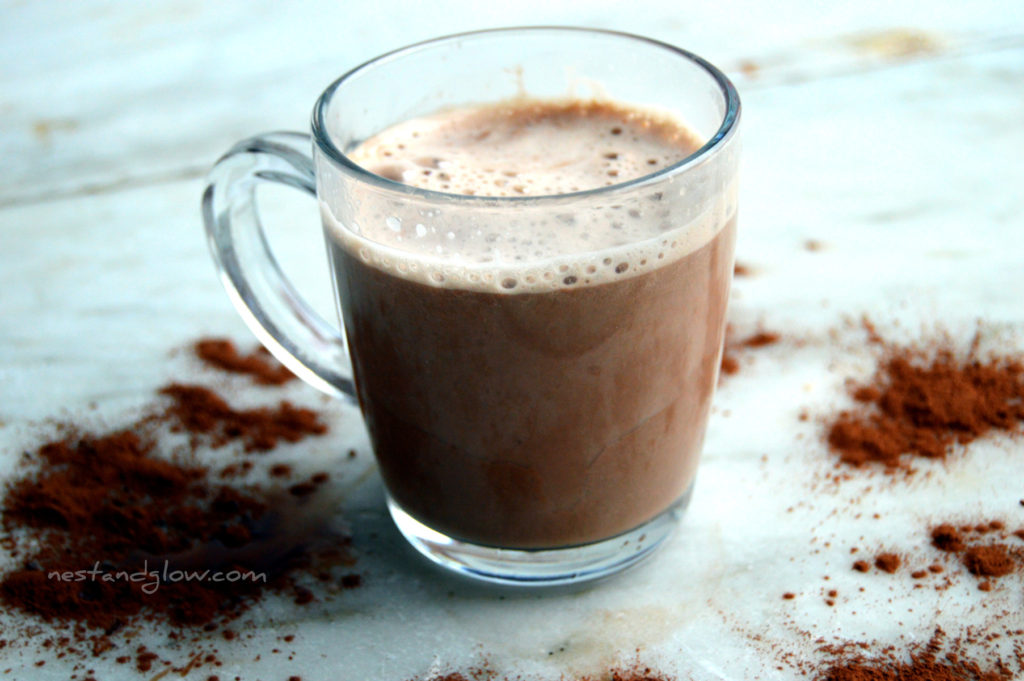 The final drink is at just the right drinking temperature after making, about 40 degrees so make as soon as your ready for it. This means it's suitable for a raw food diet as the hot water is cooled instantly when mixed with the cacao mixture.
Raw Hot Chocolate Benefits
The raw cacao gives a rich deep flavour and the complex compounds in cacao are said to have many health benefits.
Raw cacao hot chocolate benefits are 40 times the antioxidants of blueberries, highest vegan source of iron, great source of magnesium and zinc. Also as cacao has more calcium than cows milk the resulting drink is a good plant calcium source.
Cacao vs Cocoa
You can make this from regular cocoa if you like. The difference is that cocoa powder has been roasted and treated with an agent to get a milder taste. However some of the health benefits are still present and it's just as deliciously satisfying but with less depth.
Cacao is nutritionally superior with more antioxidants due to less processing and is the purest form of chocolate. In tests, cacao has been shown to be a natural mood booster and to help with depression.
Raw Hot Chocolate Video Recipe
Dates are used in this raw hot chocolate recipe to add sweetness. They are one of my favourite natural sweeteners as its the whole fruit that is used meaning the fruit sugar is delivered with fibre. If you like dates then I recommend using my recipe for natural sweetener date syrup for all your sweetening needs as its healthy and inexpensive to make.
You can use any other natural sweetener you like in place of dates such as maple syrup or coconut sugar. Double the cacao for a more bitter raw hot chocolate or double the sweetener for a sweeter drink.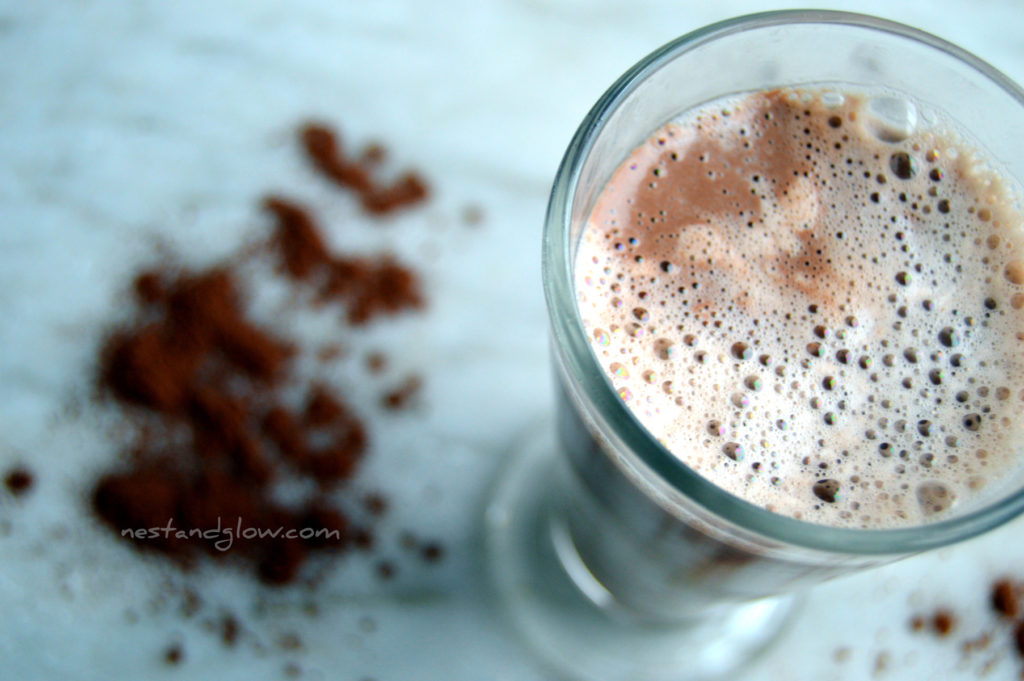 Chilli Raw Hot Chocolate
If you like a bit more spice in your hot drinks then add ½ tsp of cayenne pepper or cinnamon or both to this healthy hot chocolate recipe! These spices both work great with chocolate to give a kick and add nutrition.
If you're following the raw food diet then I would suggest incorporating as many spices as possible during the winter months to help you feel warm from the inside.
I was raw for several years but now just incorporate raw foods into my diet as long term it didn't really agree with me. I find a raw diet is nice for a short time, but long-term can be lacking and I do love the brothy umami flavour in stews.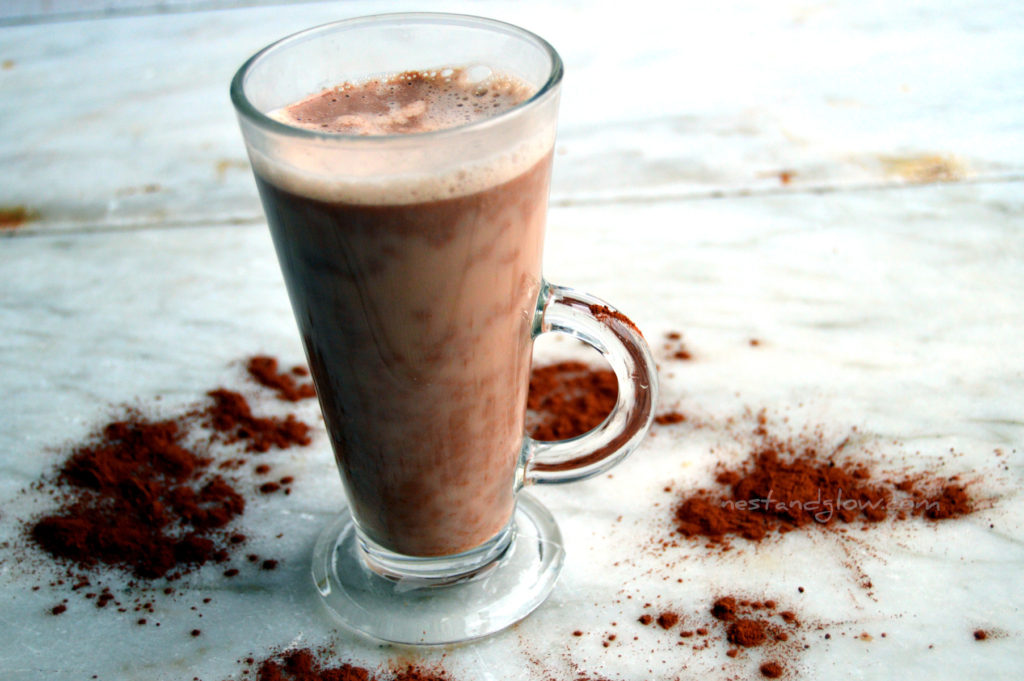 If you are looking to cut out caffeine all together then just replace the cacao/cocoa with carob powder. Carob has a similar chocolate taste but is caffeine free. Carob also contains lots of anti-oxidants, a decent amount of fibre and double the calcium that cocoa/cacao contains but does lack depth in comparison.
You can make raw hot chocolate with cacao nibs if you like. The nibs give a really fresh cacao flavour as they are blended so no flavour is lost, but a blended cacao nibs will still give a slightly granular texture to this vegan hot chocolate.
If I'm having this drink in the evening I always make it with carob as I find the caffeine in cocoa affects my sleep if I consume it within 6-8 hours of bedtime.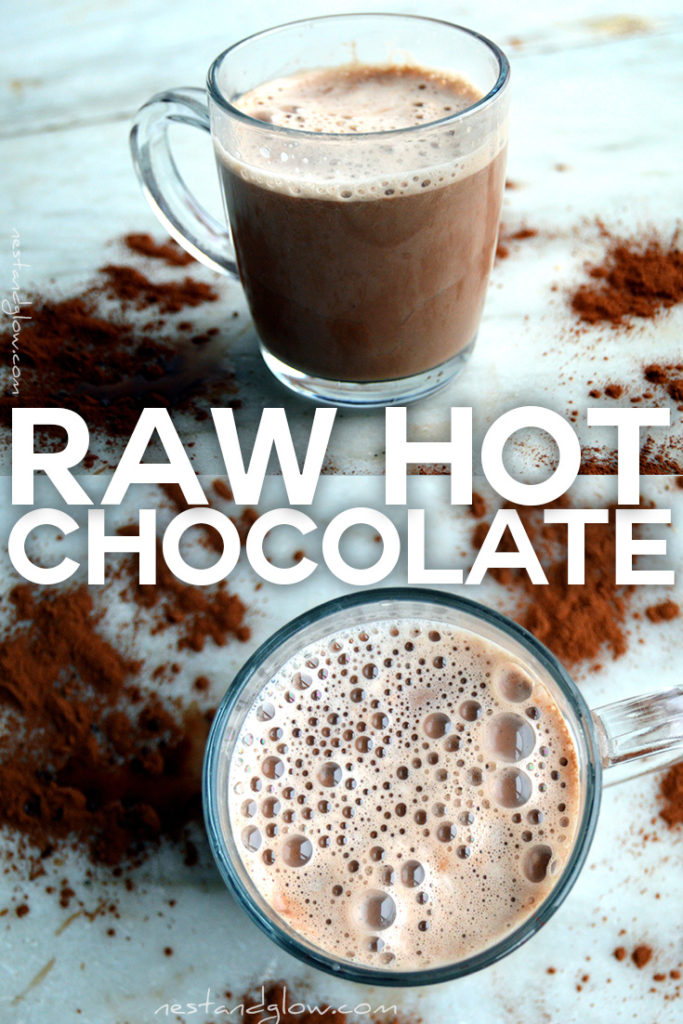 Yield: 2 mugs of raw hot chocolate
Raw Vegan Hot Chocolate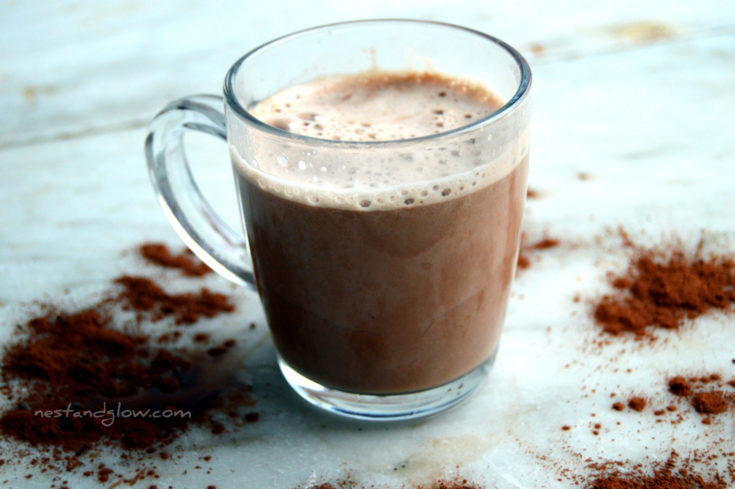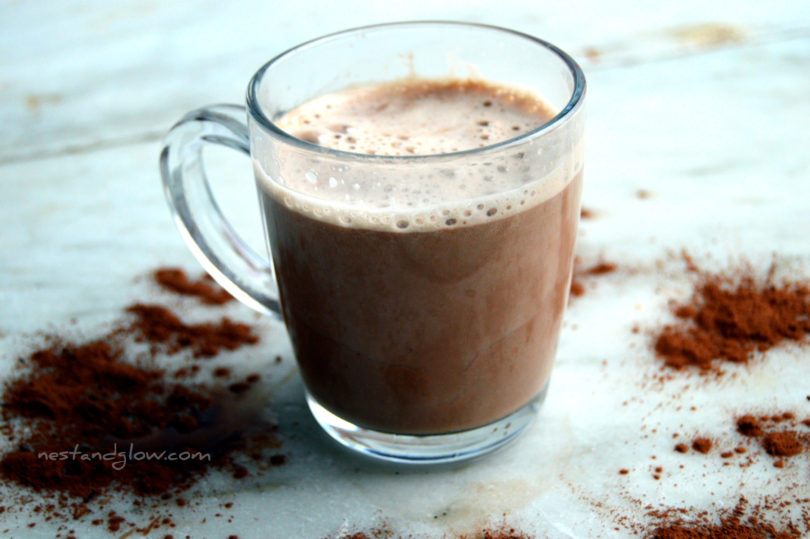 Quick and easy recipe for raw vegan hot chocolate. Made using raw cacao and sweetened just with fruit. This drink is milk free and gets a creamy taste from raw cashews
Ingredients
2 tbsp cashews
1 tbsp dates, pitted
1-2 tbsp cacao / cocoa powder
½ cup water
1 cup hot water, just boiled
Instructions
Blend together everything apart from the hot water in a small blending jug.
When this is smooth pour into your serving glass.
Pour over boiled water and enjoy this drink immediately.
You can keep the raw hot chocolate paste in the fridge for a few days and pour hot water on top when you're ready to enjoy.
Nutrition Information
Yield
2
Serving Size
1
Amount Per Serving
Calories

101
Total Fat

5g
Saturated Fat

1g
Trans Fat

0g
Unsaturated Fat

3g
Cholesterol

0mg
Sodium

62mg
Carbohydrates

12g
Fiber

3g
Sugar

3g
Protein

3g
If you like this recipe check out my Healthy Pumpkin Spice Latte Recipe. Made from pumpkin, a mixture of warming winter spices and sweetened naturally for fulfilling drink.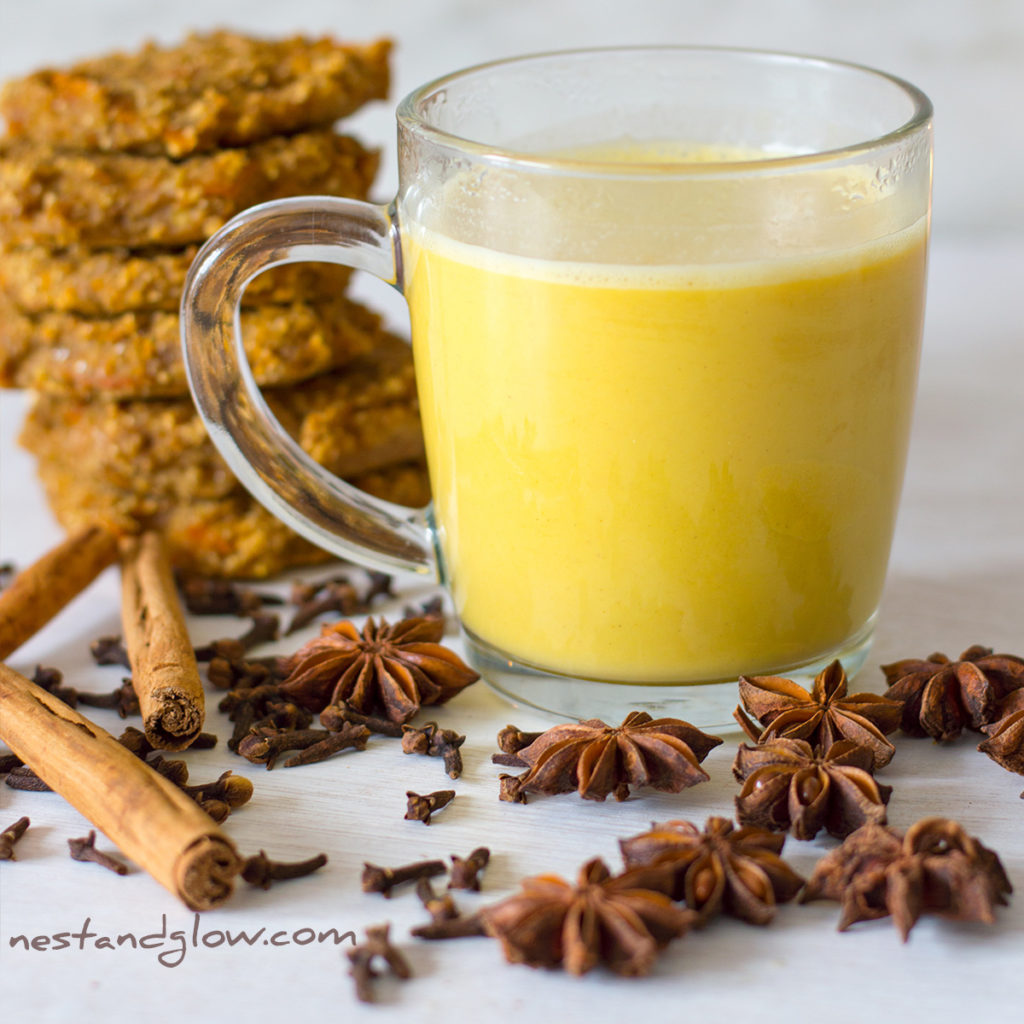 A great easy and healthy cookie to have with this raw hot chocolate is my 3-ingredient oat banana cookies. Replace the raisins with chocolate if you prefer, choose a dark chocolate so that it's low in sugar and high in healthy cacao.