Easy Snickers Ice Cream bars that are dairy-free, gluten-free and free of refined sugar. This plant based dessert recipe makes healthy snickers ice-cream bars with pure ingredients that leave you feeling good.
The snickers ice cream bars may take a few hours to make, but the freezer is doing all the work in this simple recipe. My healthy ice cream bites are vegan, paleo, and therefore suitable for a whole foods plant-based diet.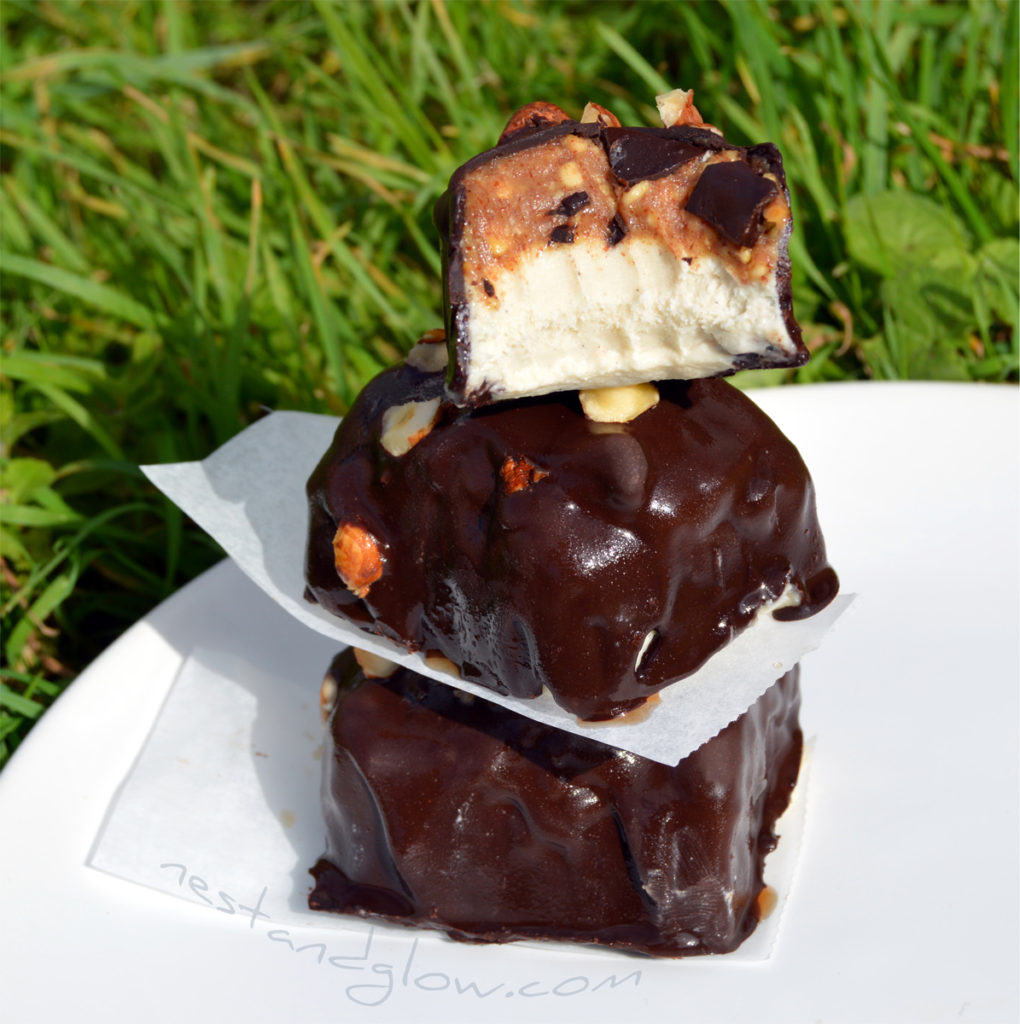 The high-fat content of the coconut milk and the cashew nuts with the aeration of blending means no churning is needed. These healthy snickers are soft like you would expect from an ice cream bar. Watch the snickers ice cream bars video recipe to see the consistency when they're cut!
This healthy ice cream bars recipe is best made with a high cocoa content chocolate. Choose a brand that's at least 70% cocoa as it will be low in sugar and high in healthy antioxidants.
I tend to choose an 80% cocoa solid brand that just has cocoa, cane sugar (or healthy sweetener like xylitol or stevia) and maybe a bit of vanilla.
Healthy Snickers Ice Cream Bars Video Recipe
Almond butter was used in these snickers but peanut butter would work just as well. I prefer crunchy nut butter in this to add texture. If you don't have any nut butter then grind some nuts and stir in a sweetener.
The cashews are soaked in order to make them easier to blend, an hours soaking in water is enough to soften up.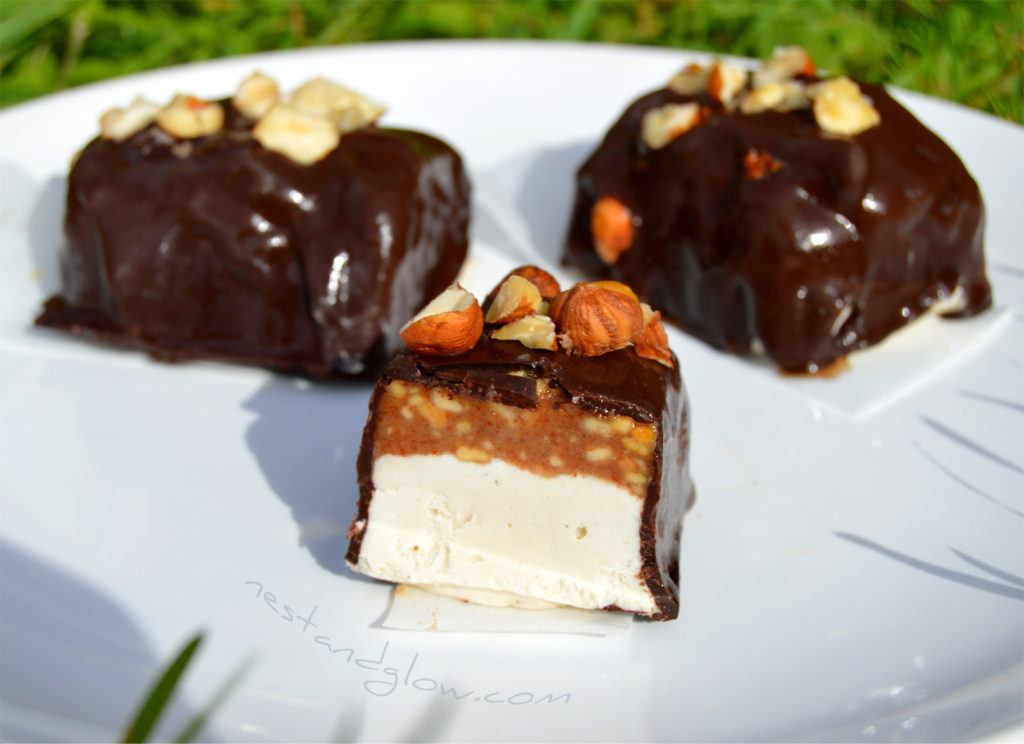 It's best to line your tin with a non-stick sheet or use a flexible silicone tray so the ice cream bars pop out easily. It does get a tad messy cutting up the snickers ice cream bars from the block. Then even messier when coating with a thick layer chocolate, but it's really fun!
If you would rather make less mess you can just pour on the chocolate topping once the snickers ice cream is frozen then slice into bars and serve. Then you will get more of an ice cream slice with just chocolate on top.
When eating with your hands it's best to place on a small tab of greaseproof paper to use as a wrapper and avoid stickiness.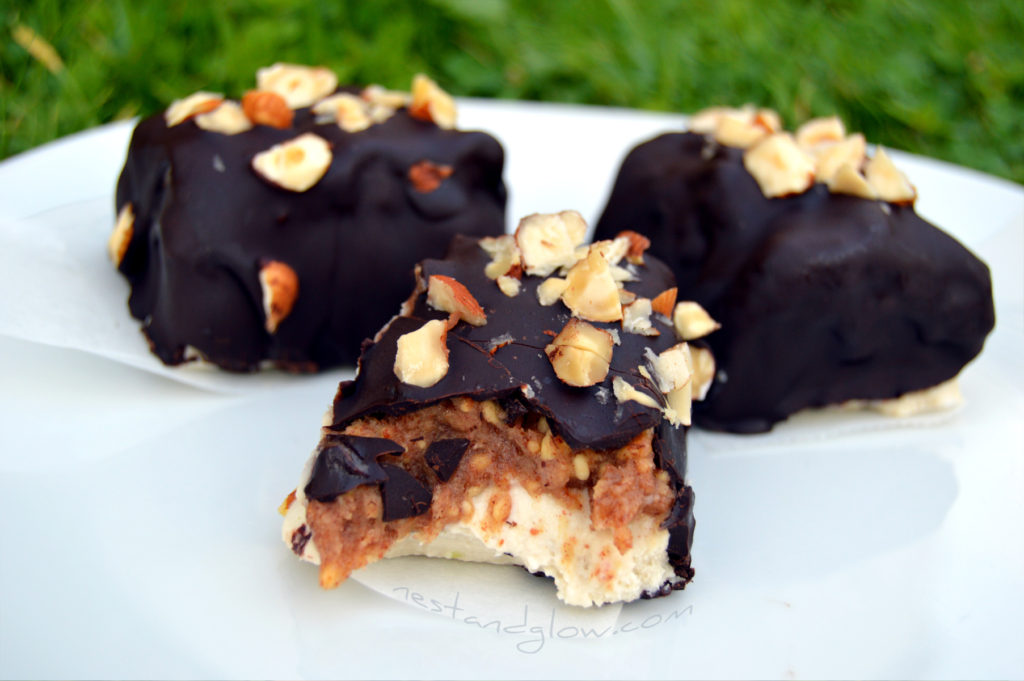 Most healthy ice cream bars that you buy in the shops aren't really healthy – they're just low calorie. Having sweeteners and low fat foods instead of calories is not healthy.
All of my healthy plant based recipes are high in vitamins and minerals and no empty calories. There's nothing wrong with fat – our brains would not function without it. However most fats are highly processed and very unhealthy.
Raw Vegan Adaptation
Make raw using raw nut butter and coating in 1/3 cacao powder, 1/3 coconut oil / cacao butter and 1/3 sweetener such as date syrup.
This was made using an 84% dark chocolate and with all the other sweetness from the maple and cashews the bitter dark chocolate shell tastes great.
Yield: 6 bars
Vegan Snickers Ice Cream Bars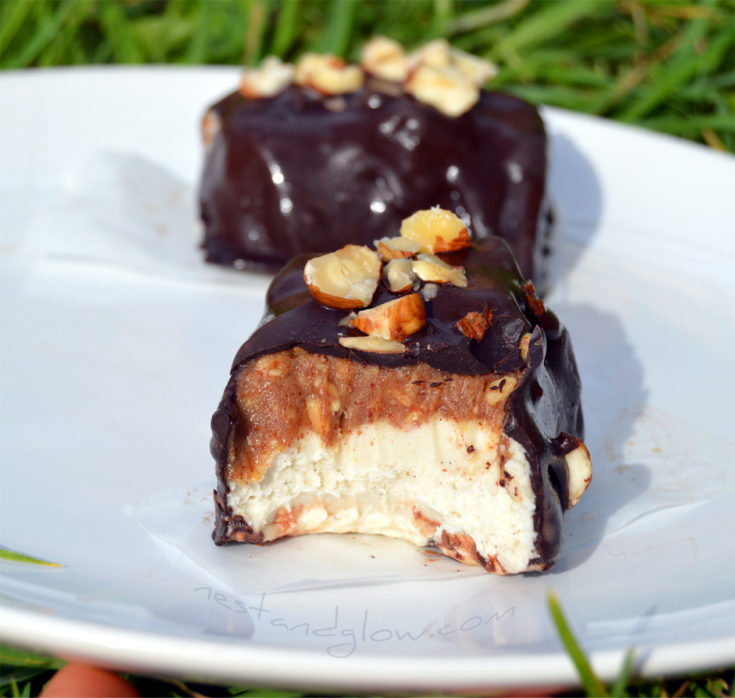 Healthy vegan snickers ice cream bars that are made from wholefood ingredients and bursting with nutrition. High in heart healthy fats and protein. Easy to make and can use any nut or seed butter for the healthy caramel layer.

Prep Time 15 minutes

Additional Time 3 hours

Total Time 3 hours 15 minutes
Ingredients
1 cup / 150g soaked Cashew nuts
1 cup / 240 ml Coconut milk (full fat)
6 tbsp Maple syrup
1 tsp Vanilla extract
4 tbsp Almond / Peanut butter (chunky)
5.3oz / 150g Chocolate (your favourite type)
1 tbsp chopped Nuts (any such as almonds, peanuts, hazelnuts)
Instructions
Mix together 2 tbsp of maple with the nut butter and spread onto a pan that's about 15x15cm. It's best to use a flexible pan or a normal pan with a non-stick sheet.
If you are using tinned coconut milk, shake it and mix so all the coconut cream is evenly distributed.
Add the cashews, coconut milk, 4 tbsp of maple and the vanilla to a high-speed blender and whizz until all is combined. You may need to add a few tbsp of water to help the blender make it smooth.
Pour the vanilla ice cream over the pan that has the nut butter spread out.
Place in the freezer for about 3 hours. remove when frozen but still soft enough to slide a knife through.
Tip out of the pan and it should be soft enough to cut, but hard enough to work with.
Cut the no-churn ice cream in half, then cut each of these into three so you have 6 snickers ice cream bars.
Chop up the chocolate and melt using bowl in another container with warm water (double boiler / bain-marie).
Using a fork hold each bar over the melted chocolate and spoon on enough chocolate to cover.
Sprinkle snickers ice cream bars with chopped nuts and then place on non stick paper and return to the freezer for half an hour.
The snickers will be ready to eat or you can store in the freezer for a few months.
Take the ice cream bars out of the freezer for 20-30 mins before eating (if left there more than a few hours after coated in chocolate) to soften up.
Recommended Products
Links maybe affiliated, meaning I earn a commission from purchases but at no extra cost to yourself.
Nutrition Information
Yield
6
Serving Size
1 bar
Amount Per Serving Calories 482Total Fat 34gSaturated Fat 15gTrans Fat 0gUnsaturated Fat 16gCholesterol 6mgSodium 245mgCarbohydrates 40gFiber 3gSugar 27gProtein 9g



If you like this dairy free snickers recipe check out our
Salted Caramel Snickers Recipe
.