This sunflower seed vanilla milk is a good everyday nut and dairy free milk. It's the kind of milk that I would recommend for someone that wanted to replace traditional milk.
Sunflower seeds the world over are affordable so it's also wallet friendly, unlike many nuts. The vanilla and sweetener are totally optional – some like these additions while others prefer a pure sunflower seed milk.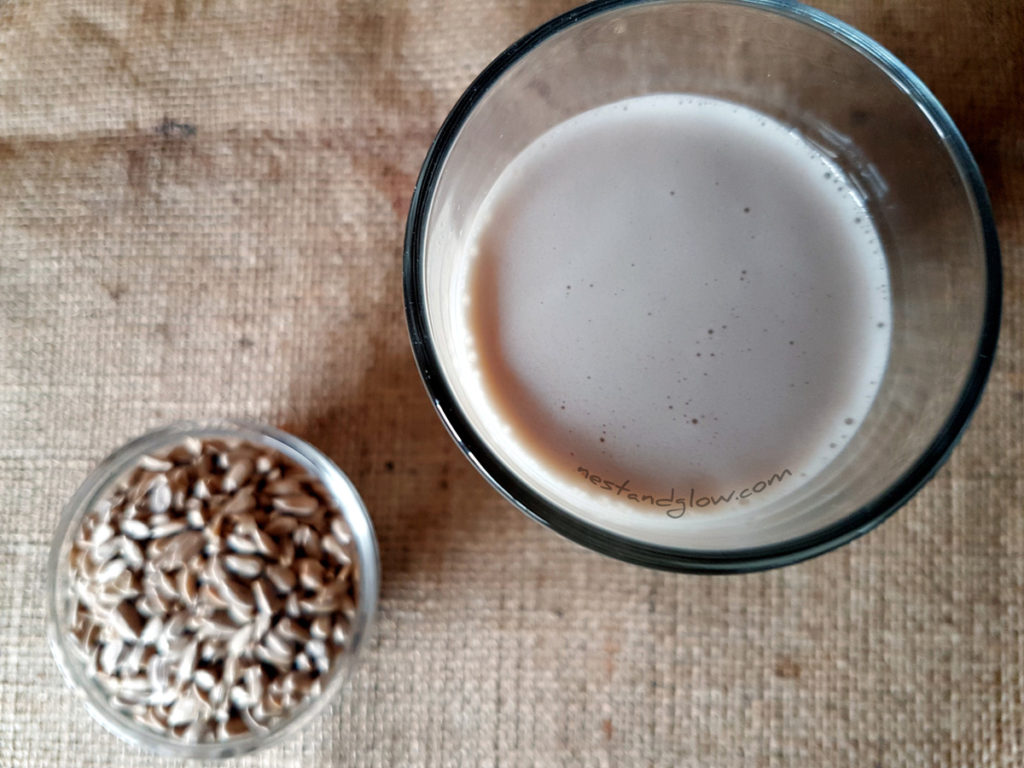 This sunflower milk costs a fraction of any plant-based shop bought milk and is nutritionally superior to most. It may not work as a perfect substitute in all cases but it's great on breakfast cereals, in recipes and just drinking.
Suitable for vegan, raw, dairy-free, nut-free, oil free and general healthy diets.
Seed Milk 4 Way Video Recipe
View fast video or View no-music video
This dairy free milk great base for a heart-healthy raw seed milkshake. However you will need to strain the milk, then rinse the blender and blend the whole fruit.
I love this milk with a few fresh strawberries and banana. This sunflower seed milk has way more nutrients than any shop bought dairy-free milk.
This sunflower seed milk will separate without any lecithin added if left a for a few hours, but a quick stir will get it all mixed up. You can buy either soy or sunflower lecithin but I'm fine leaving it out and giving it a shake or stir.
I soak the seeds with a pinch of sea salt but any natural salt with minerals is good but do avoid refined table salt. The salt is said to help activate enzymes that deactivate the enzyme inhibitors.
The enzyme inhibitors stop the nutrients from the seeds being absorbed by the body so sprouting them means more of the goodness in the seeds can be digested. Discard the water that the seeds were soaked in as it contains the enzyme inhibitors.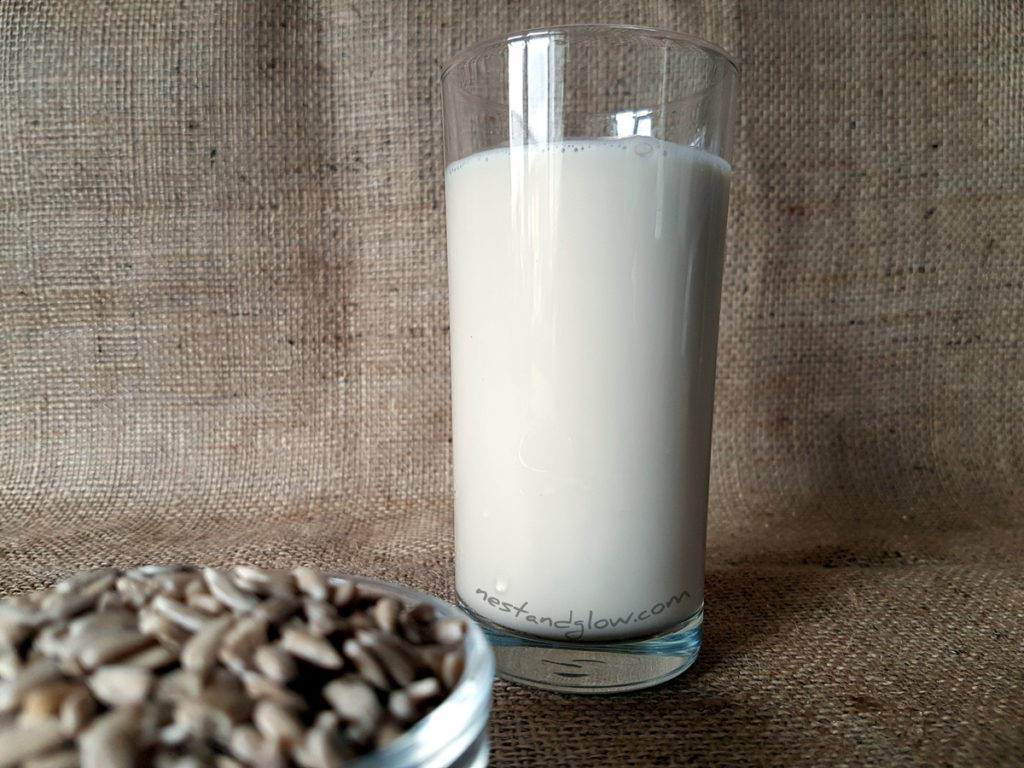 This milk is suitable for raw vegan diets, although you may want to add a different sweetener (if any) but most raw vegans are fine with a bit of maple syrup.
You can make a coconut sunflower seed milk by replacing half of the sunflower seeds with coconut shreds. This gives a slightly sweeter and less eathy milk. If making it with 50% coconut I still add the vanilla but don't add any sweetener.
Soak the coconut for the same time as the sunflower seeds as it will help with blending.
Both fresh and dried coconut works well for a coconut sunflower milk blend. Apparently, the part of coconut that we eat is a seed so technically this would be a nut free milk, but botanists do like their classifications and some call it a fruit.
This sunflower seed milk is it good general placement for traditional milk it's not too sweet with a very subtle creamy taste. Great on cereal in porridge and with granola. I particularly like it in caffeine free chicory coffee.
Yield: 2 pints
Sunflower Seed Milk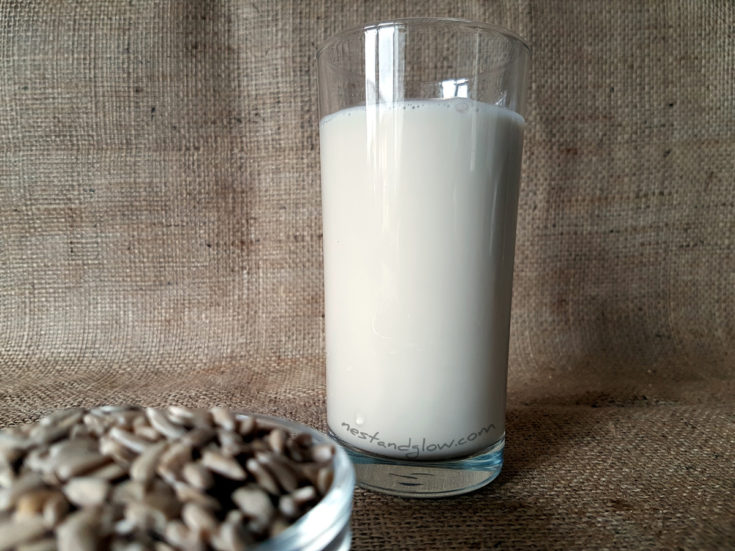 Cheap and easy dairy free milk nade from sunflower seeds. This vegan milk can be made in minutes and is a great replacement for normal milk. It has a hint of vanilla but this can be left out if you prefer. This milk is way cheaper than normal dairy milk.
Ingredients
1 cup / 140g Sunflower seeds
3 cups / 700ml Water
2 tbsp Sweetener, such as maple syrup (optional)
1 tsp Vanilla (optional)
a pinch of Salt
Instructions
Soak the sunflower seeds in water with a pinch of salt.
Leave for 8 hours or overnight then strain and rinse.
Add the seeds and water to a blender and blend on high for 2-3 mins until all the seeds are finely ground.
Pour into a nylon milk bag / cheesecloth with a large bowl underneath.
Squeeze all of the moisture out and then stir in the sweetener or vanilla if desired.
Enjoy the sunflower seed milk within 3 days. Keep in the fridge.
Use the fibre you are left with in baked goodies and smoothies.
Recommended Products
Links maybe affiliated, meaning I earn a commission from purchases but at no extra cost to yourself.
Nutrition Information
Yield
4
Serving Size
1
Amount Per Serving
Calories

210
Total Fat

17g
Saturated Fat

2g
Trans Fat

0g
Unsaturated Fat

15g
Cholesterol

0mg
Sodium

2144mg
Carbohydrates

10g
Fiber

3g
Sugar

5g
Protein

7g

Sunflower seeds have so many health benefits. 1/4 of a cup contains between 50 and 30@% of an adults RDA for vitamin E, copper, vitamin B, selenium, phosphorus, manganese, vitamin B6.