This inexpensive seed milk is made with carrots and pumpkin seeds. It's creamy and sweet making it the perfect healthy dairy-free dessert drink.
This carrot milk is a great breakfast drink as it has healthy fats, protein and sugars to set you up for the day.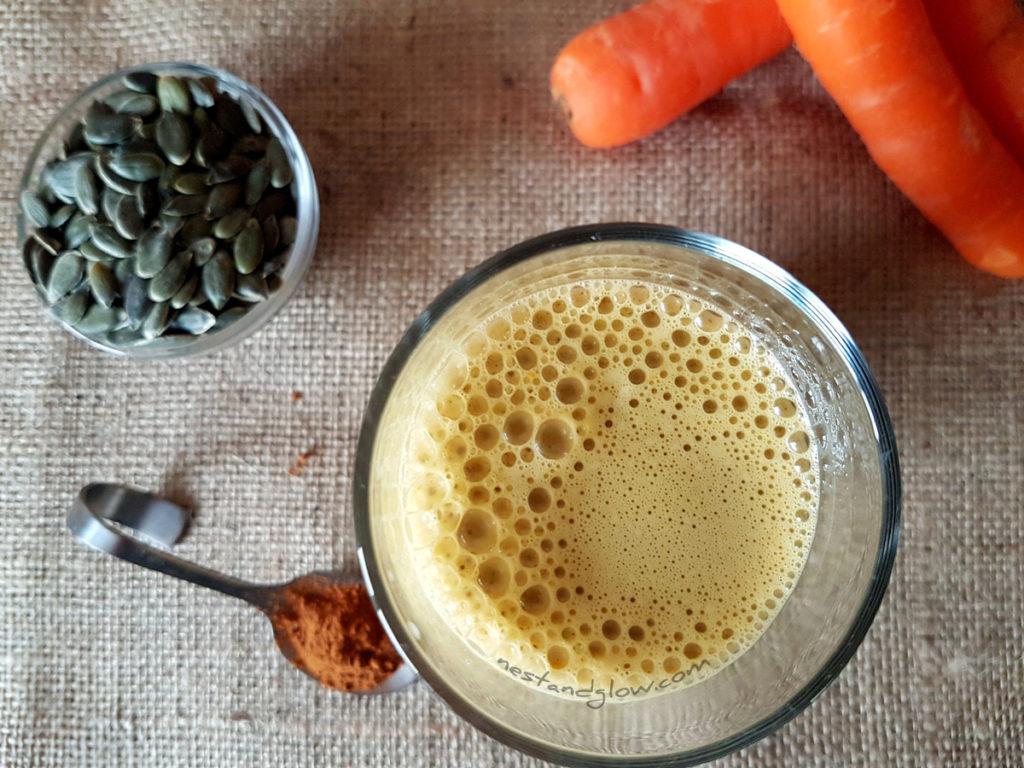 You will need some muslin or a nylon bag in order to get a smooth seed milk. If you don't have any of these you can just use a fine sieve and get nice milk but it will have a few lumps of goodness.
You can use old clothes instead of buying anything specifically to make nut and seed milk. Nylon bags are popular as it takes a few seconds to clean under a running tap.
Seed Milk 4 Way Video Recipe
View fast video or View no-music video
No need to peel your ginger as the skin is fine to eat but a bit tough, this doesn't matter for this seed milk as it's blended and strained. The skin is where lots of the nutrients in ginger (and most other things) are found so don't peel for maximum nutritional benefit.
I often add a pinch of turmeric for its health benefits. I've omitted it from the video recipe as some people do seem to dislike turmeric. You don't have to add the dates if you want a less sweet milk.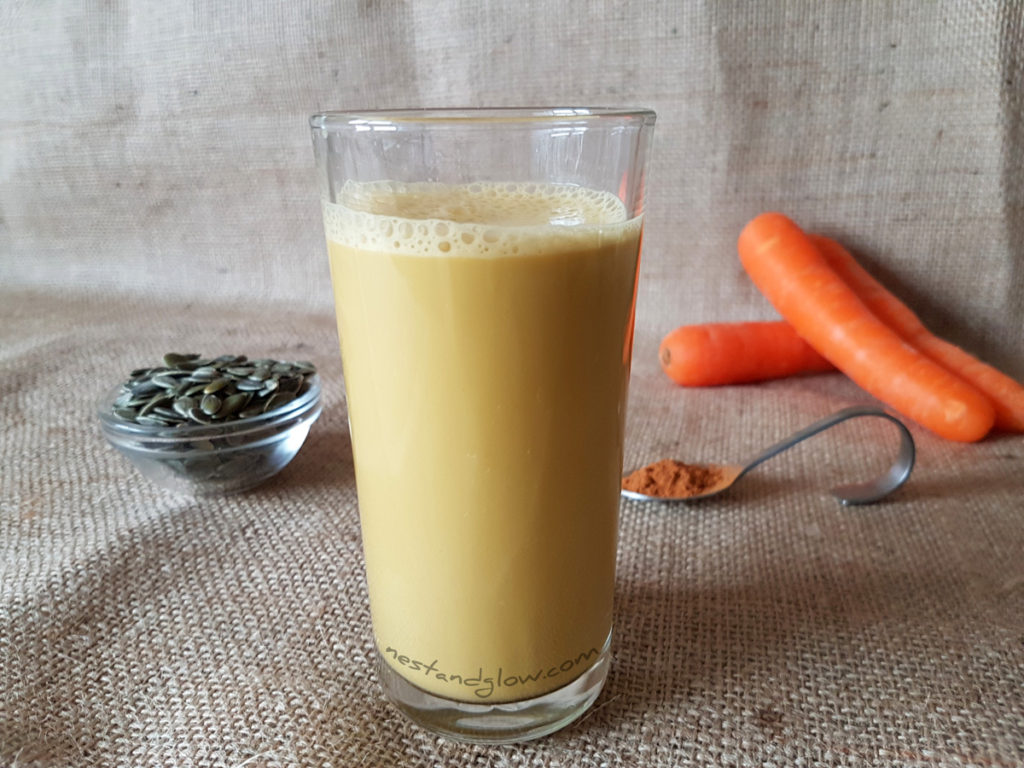 I use a nylon bag as it takes a few seconds to clean under the running tap. To clean a nylon bag empty the fibre then place your hand in the bag and run under the tap while rubbing to dislodge all the seed remains. Turn inside repeat the rinse then place somewhere to air.
You can use a cheese cloth or old clothes but it will take longer to get out all of the seed remains and to dry. Nut and seed bags seem to be quite expensive from some places, I bought 10 for $10 many years ago. I clean them out straight after using and they last for years. You can make your own if you are handy with stitching.
Yield: 2 pint
Pumpkin Seed Carrot Milk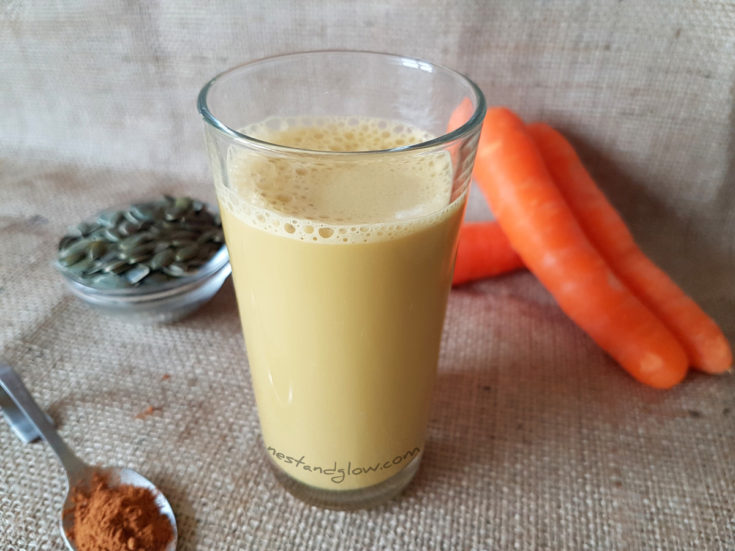 Dairy free seed milk that's made from pumpkin seeds and carrots. This carrot pumpkin seed milk is so sweet it's almost like a milkshake. Full of goodness, nutrition and heart healthy fats.
Ingredients
1 cup / 130g pumpkin seeds
3 cups / 700 ml water
2 carrots
1″ ginger
1 tbsp cinnamon
3-6 dates
a pinch of salt
Instructions
Soak the pumpkin seeds in water with a pinch of salt.
Leave for 8 hours or overnight then rinse and strain.
Add everything to a blender and blend on high for 2-3 mins until all the seeds are finely ground.
Strain using a nylon milk bag or muslin.
Squeeze all of the moisture out and then enjoy the carrot pumpkin seed milk within 3 days. Keep in the fridge.
Recommended Products
Links maybe affiliated, meaning I earn a commission from purchases but at no extra cost to yourself.
Nutrition Information
Yield
2
Serving Size
1
Amount Per Serving
Calories

251
Total Fat

9g
Saturated Fat

2g
Trans Fat

0g
Unsaturated Fat

6g
Cholesterol

0mg
Sodium

80mg
Carbohydrates

39g
Fiber

11g
Sugar

10g
Protein

9g

The straining is optional but for a milk it's advisable. It's still great without it but is more of a smoothie. Remember to not discard the seed fibre remains. They may be dry and not tasty to eat on their own as lots of the moisture and fat has been squeezed out. They are however great used as a replacement for oat or coconut flour in baking recipes – replace upto 50% of the flour in recipes . I don't usually like pumpkin seeds but in this sweet milk you don't taste the earthiness that you can sometimes get from pumpkin seeds. The carrots make this a wonderful golden tempting colour and give the milk a hefty amount of beta carotene.