Pineapple and coconut base with a tangy mango lemon frosting. This tropical lemon cake is perfect for a summers day. It's no bake so very easy and quick to make. Just blend the base and topping then layer in a tin.
I use two lemons as I like it quite zesty, if you don't like it as lemony just use one lemon. If your lemons are un-waxed and untreated it really balances out the flavour to add the zest of one lemon to the topping. The bitter zest mixes with the sweet and sour to give a fuller flavour.
The ingredients for this no bake cake are above. It's just fruit, seeds and cashew nuts making it full of good stuff.
You may think my pineapple looks a bit past it, but due to living in the UK when pineapples are beginning to look a bit off is just when they are perfect to eat! If you're ripening a pineapple put it somewhere warm in sunlight and eat once the top leaves pull away.
Tropical Lemon Cake Video Recipe
The cake can be kept in the freezer for a few months, take out an hour beforehand to defrost.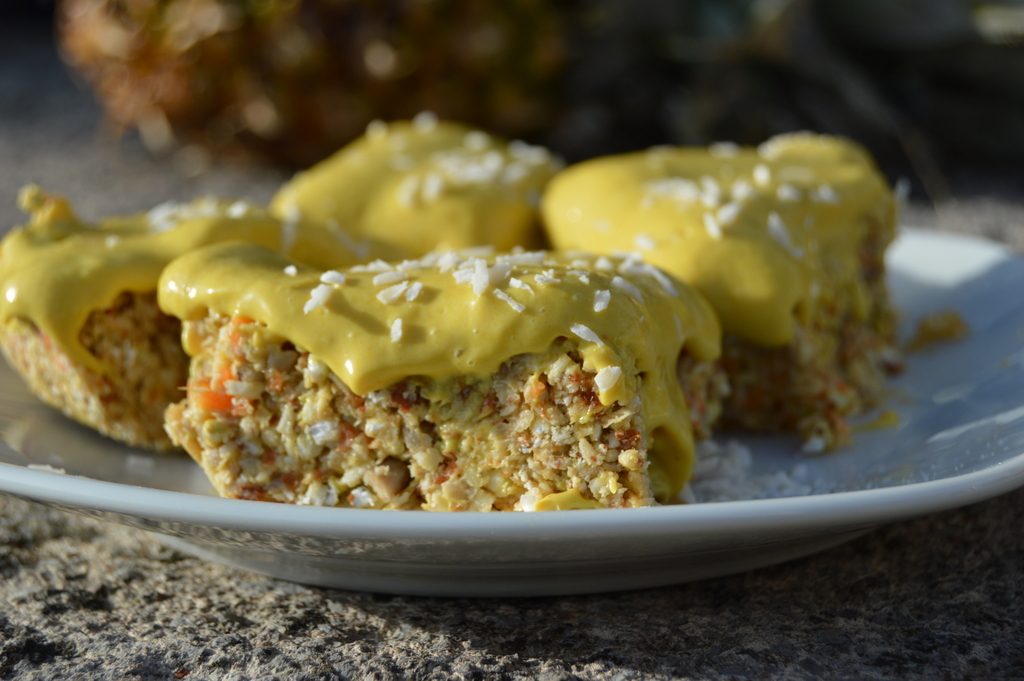 Let us know if you make this tropical lemon cake – link to this page on your blog or tag me on social media @nestandglow. If you fancied a boozy version I think a bit of rum would be perfect in this.
If you like buckwheat check out my recipe for 3-ingredient sprouted buckwheat bread.
Yield: 1 raw cake
Tropical Raw Cake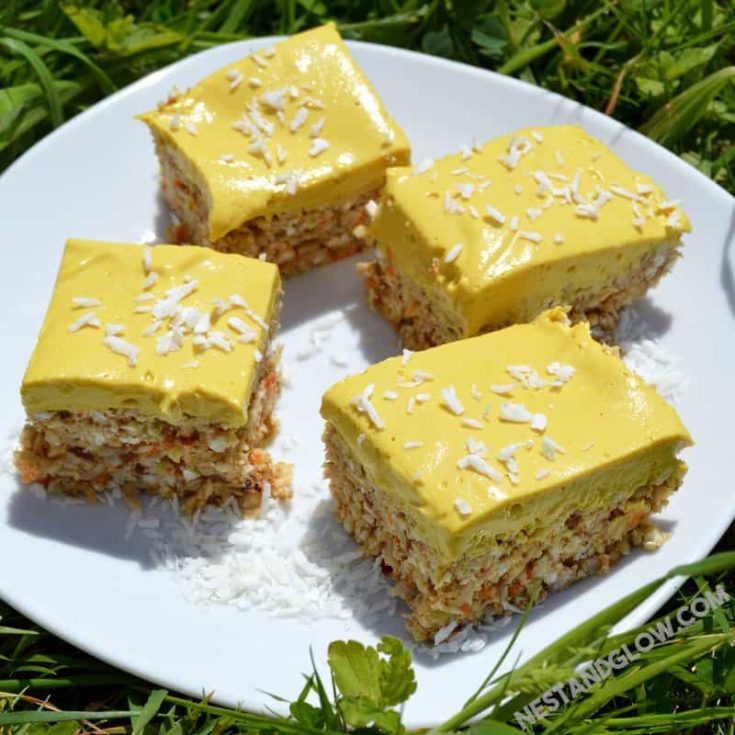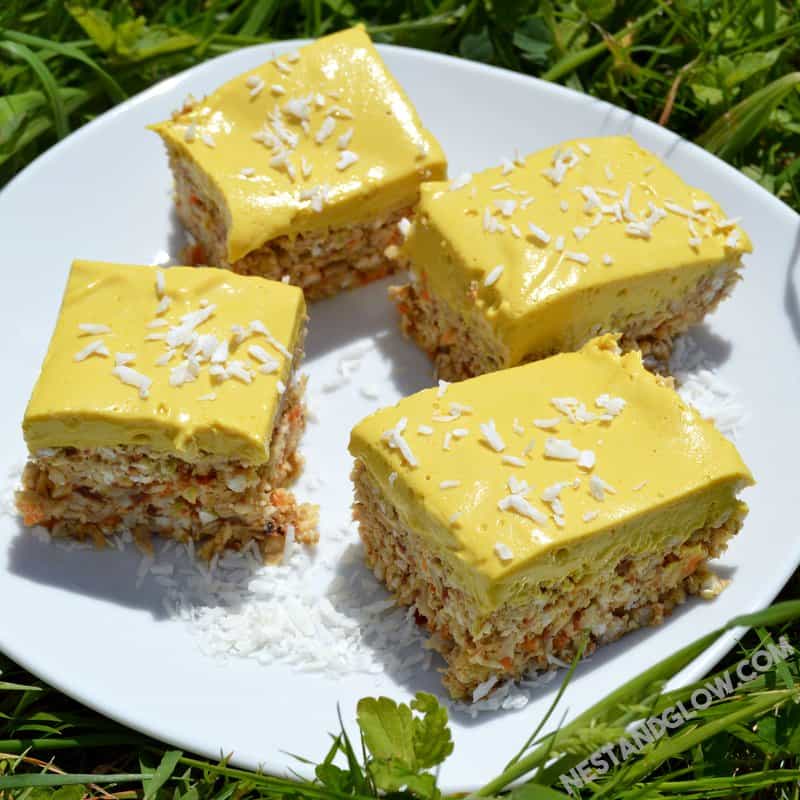 Pineapple and coconut base with tangy mango lemon frosting. It's no bake so very easy and quick to make.
This healthy cake is full of nutrition and taste.
Ingredients
Raw Cake Base
Pineapple, 1 medium cubed
Raisins, 100g / ⅔ cup
Buckwheat, 150g / 1 cup
Sunflower seeds, 100g / 1½ cup
Desiccated coconut, 100g / 1 cup
Carrots, 2 grated
Lemon Frosting
Lemons, 2 juiced
Cashews, 150g / 1 cup
Mango, 1 medium cubed
Maple syrup, 4 tablespoons
Coconut cream, 4 tablespoons
Turmeric, just a pinch to add colour
Instructions
Whizz together all base ingredients for the raw cake in a food processor until the mixture is combined.
Put into a dish and chill in the fridge for half an hour.
Melt the coconut cream and then add all to a liquidiser.
Blend until the lemon cashew topping is smooth then spread across the base.
Chill the raw cake for half an hour and then eat.
Store in the fridge and it should last 3 or so days.
Recommended Products
Links maybe affiliated, meaning I earn a commission from purchases but at no extra cost to yourself.
Nutrition Information
Yield
12
Serving Size
1
Amount Per Serving
Calories

294
Total Fat

17g
Saturated Fat

5g
Trans Fat

0g
Unsaturated Fat

11g
Cholesterol

0mg
Sodium

1064mg
Carbohydrates

35g
Fiber

4g
Sugar

22g
Protein

6g
[recipe pin="279082508144408024″]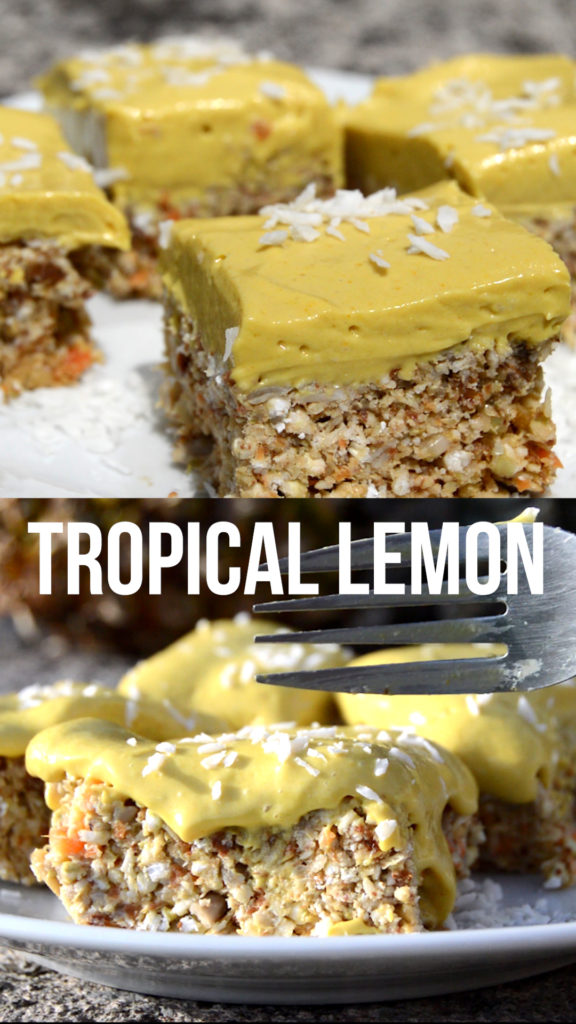 I love using buckwheat in so many recipes as it's naturally gluten-free, inexpensive and high in nutrition. You can use another seed if you prefer, like sunflower seeds, but the mild nutty taste carries flavour so well.
Limes work just as well in this recipe. But for some reason as the icing is yellow I have to use lemons otherwise my brain gets confused.
This is my take on a carrot cake with a healthy, gluten-free and tropical twist!