Vegan gluten free nut free brownies with sweet potato, avocado frosting, coconut whipped cream and sunflower seed caramel are what I confidently call the ultimate healthy chocolate fudge brownie!
No flour, no butter, no eggs, no milk, no gluten, no grains, no nuts and no oil! This healthy brownie doesn't just look good and provide nutrition it also tastes amazing and is easy to make.
Ultimate Healthy Chocolate Brownie Video Recipe
The brownies are nice on their own but with a chocolate avocado frosting, sunflower caramel, coconut whipped cream and chocolate sauce they are elevated to the ultimate healthy chocolate brownie.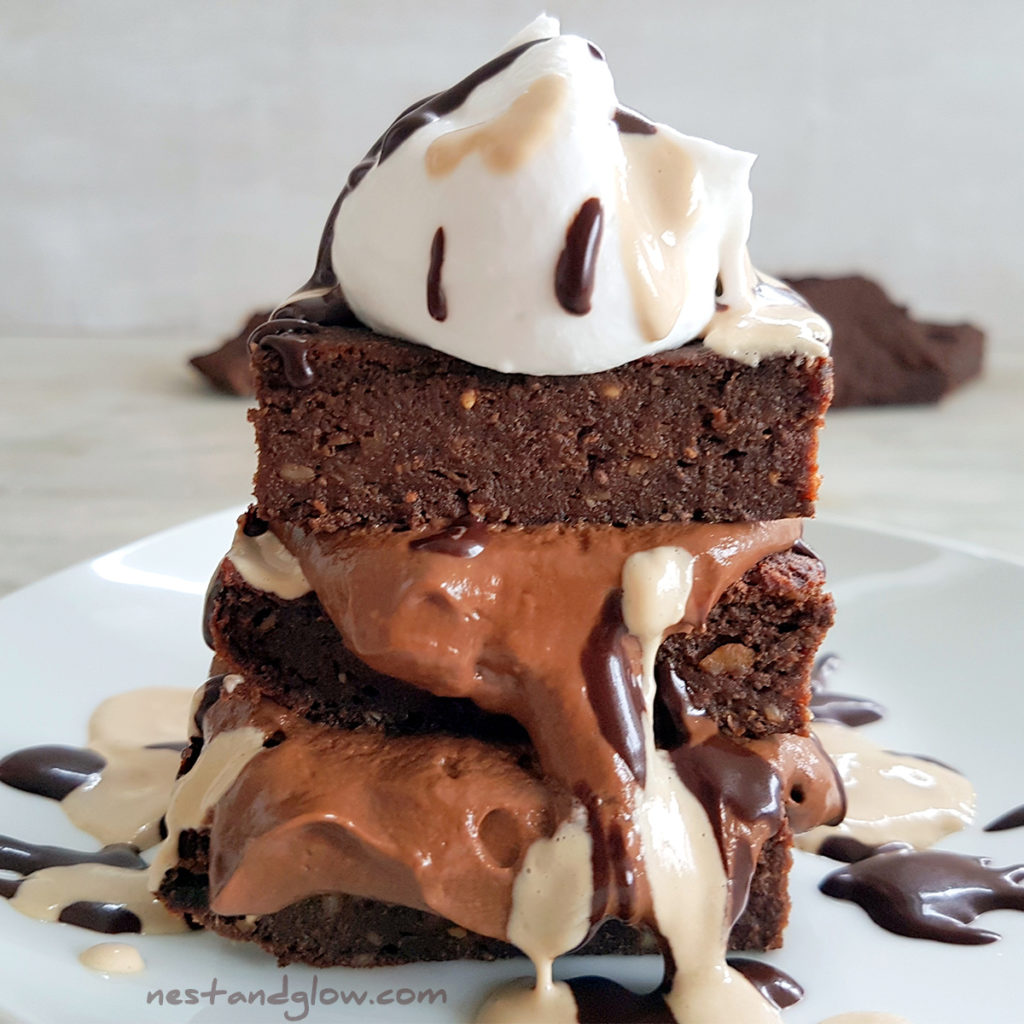 Nut Free and Grain Free Sweet Potato Healthy Brownies
These brownies are vegan, paleo, refined sugar-free, gluten-free, plant-based, nut free, grain free and oil free. That is a long list of diets but the main point is they are bursting with nutrition and are delicious.
It may look like a lot of ingredients but all the toppings are a case of just mixing or blending and you don't have to use all four – just one or two are more than enough!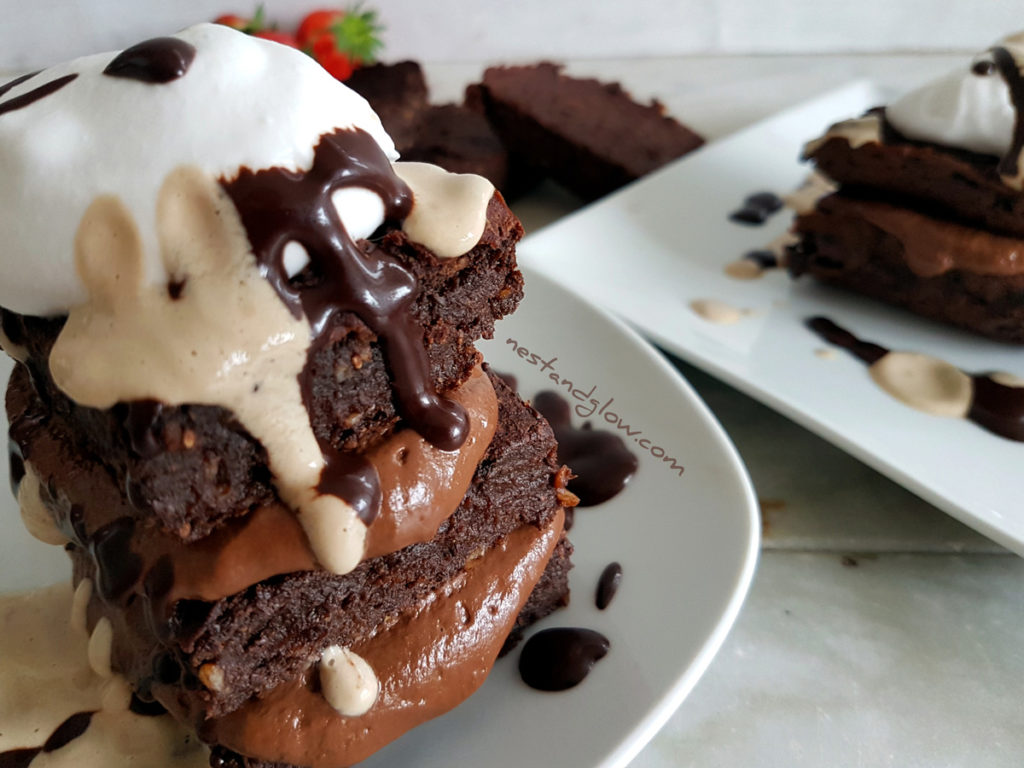 There are lots of sweet potato brownies out there but I have experimented to make one that is vegan, grain free, gluten free, nut free and full of nutrition from sunflower, chia, dates and buckwheat.
Buckwheat despite the confusing name is actually a gluten-free seed and nothing to do with wheat. It's one of my staples on a healthy diet as it's cheap, nutritious and very versatile.
One of my best recipes is for buckwheat bread that is naturally gluten-free. Buckwheat is often known as pseudocereal as it is used as a cereal or grain but isn't one.
You can taste the brownie batter before you bake to check the sweetness – all the ingredients are safe to eat raw. If you wanted to have iced healthy brownies but are short of time just save one-third of the brownie batter mixture and blend it with a bit of water to make the frosting.
I thought about making the recipe just like this but this recipe to be popular the photos will need to have silky smooth icing and while using the mixture would still look good it will be as aesthetic.
Yield: 4 brownie stacks
Healthy Chocolate Brownie - Nut Free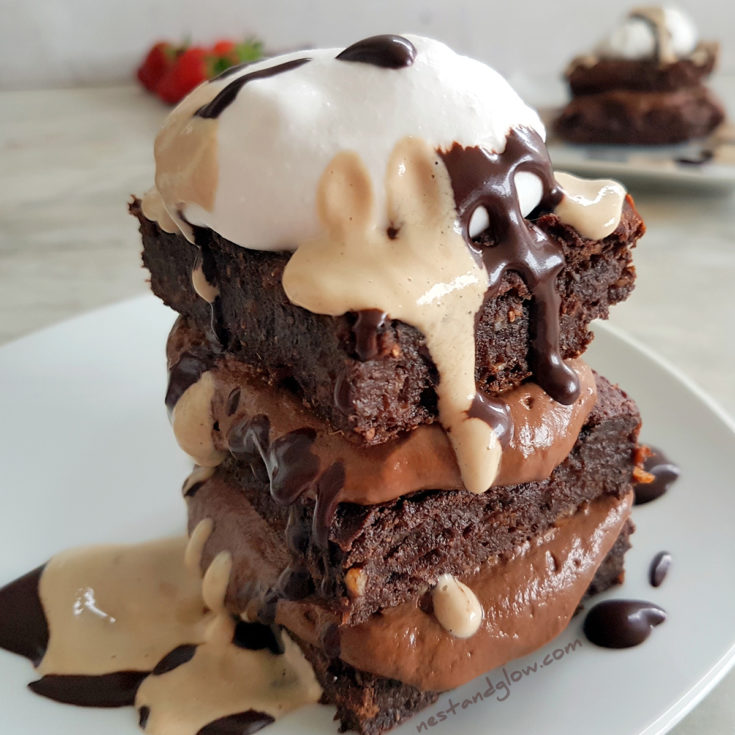 Healthy chocolate vegan brownies with sweet potato, avocado frosting, coconut whipped cream and sunflower seed caramel! Cocoa powder is used to give a deep rich chocolate flavour. Free of any nuts and high in plant protein. Try these easy and healthy chocolate brownies today!
Total Time
1 hour
10 minutes
Ingredients
BROWNIE MIXTURE
2 lb / 1kg Sweet potato
1 cup / 140g Sunflower seeds, soaked
1 cup / 175g Dates
4 tbsp Cacao/Cocoa powder
1 cup / 120g Buckwheat or Coconut Flour
4 tbsp Maple/Coconut syrup, or similar
3 tbsp Chia seeds
9 tbsp Water
2 tsp Cinnamon
a pinch of Salt
AVOCADO CHOCOLATE FROSTING
2 Avocados
4-6 tbsp Maple/Coconut syrup
4 tbsp Cacao/Cocoa powder
COCONUT WHIPPED CREAM
½ can Coconut milk (full fat)
CHOCOLATE SAUCE
1 tbsp Cacao/Cocoa powder
1 tbsp Maple syrup
1 tbsp Water
SUNFLOWER CARAMEL
2 tbsp Sunflower seeds, soaked
2 tbsp Coconut sugar
6 tbsp Water
Instructions
Pre-heat oven to 180 C / 350 F.
Bake the sweet potatoes for about half an hour until soft. Allow to cool then peel away the skin so you are left with just the flesh.
Soak the chia seeds in 9 tbsp of water. Soak the sunflower seeds for at least 10 mins then rinse and drain.
Place all of the brownie ingredients into a food processor for 2-3 mins until broken up.
Pour the healthy chocolate brownie mixture into a tin lined with greaseproof paper. Use a large tin about 10″ by 6″, any will do but you may need to adjust the cooking times.
Bake at 180 C / 350 F for 30-35 mins until when you stick in a fork it comes out clean. Leave to cool and firm up for 15 mins before taking out of the pan.
Blend all the avocado frosting ingredients together, you may need to add a few tbsp of water.
Whip the coconut milk for a minute to make the coconut whipped cream.
Blend all the sunflower caramel ingredients together to make this nut free caramel sauce.
Layer up the ultimate healthy chocolate brownie – brownie layer followed by avocado frosting, repeat this twice then top with coconut whipped cream and drizzle with chocolate sauce and sunflower seed caramel.
It looks best with three layers of brownies, but it will self-destruct into a delicious mess when you attempt to tackle it!
Recommended Products
Links maybe affiliated, meaning I earn a commission from purchases but at no extra cost to yourself.
Nutrition Information
Yield
4
Serving Size
1
Amount Per Serving
Calories

638
Total Fat

24g
Saturated Fat

7g
Trans Fat

0g
Unsaturated Fat

16g
Cholesterol

0mg
Sodium

1275mg
Carbohydrates

106g
Fiber

12g
Sugar

40g
Protein

9g
Chocolate and chilli pair very well together and the Aztecs often enjoyed both together. This because chilli peppers contain capsaicin that releases endorphins and chocolate releases serotonin, the happy brain chemical. This combination together produces what is described as an extreme aphrodisiacal effect by the World of Chillies.
Don't bin the sweet potato skins, instead bake them at low temp for a crispy delicious chefs treat! The skins of sweet potatoes are very nutritious. I always bake sweet potatoes whole as its quick, makes cooked sweet potato full of flavour and it's easy to scoop out the orange flesh and enjoy the skins.