Healthy pumpkin recipes that use fresh pumpkin and are easy to make. All recipes are vegan, full of whole foods and bursting with nutrition.
No pumpkin spice mix is used in these recipes, instead the individual spices are used as it saves money, is healthier only using pure spices and makes the recipes accessible to everyone. Lots of pumpkin spice mixes have added sugar and flavourings meaning they aren't suitable for these healthy pumpkin recipes.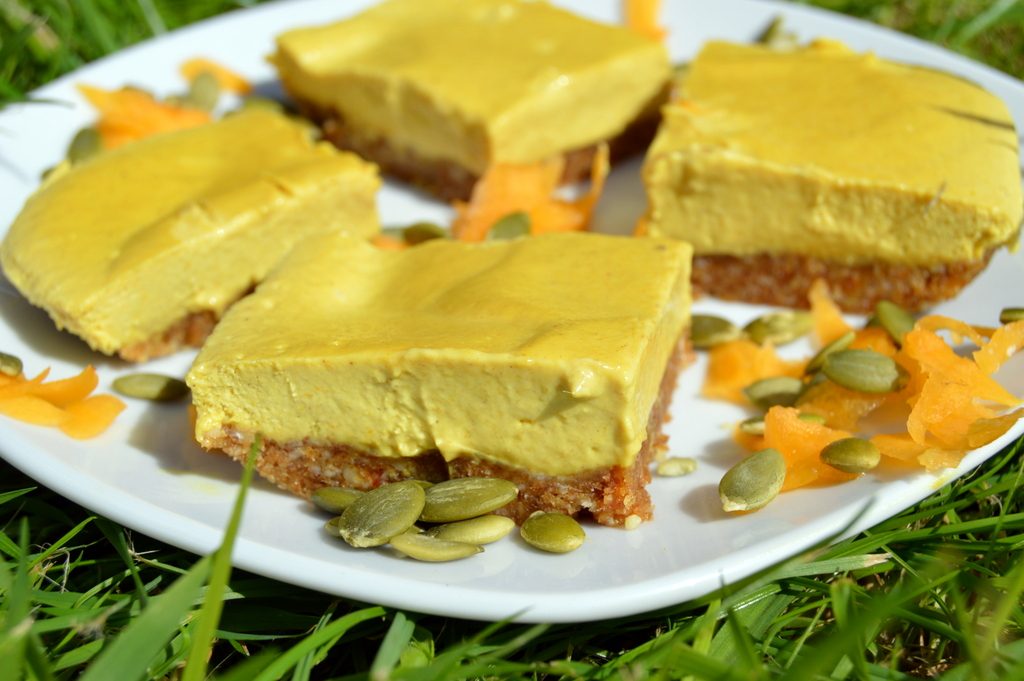 This raw vegan cheesecake contains pumpkin and spices that blend together for an amazingly healthy and delicious dessert. Creamy cashews are used to give a decedent healthy dessert that is high in plant protein and healthy fats.
For the base you can use any combination of dried fruit and nuts that you like or have in your store cupboard. Use seeds like sunflower in this raw pumpkin cheesecake to make it cheaper. Raw vegan pumpkin cake recipe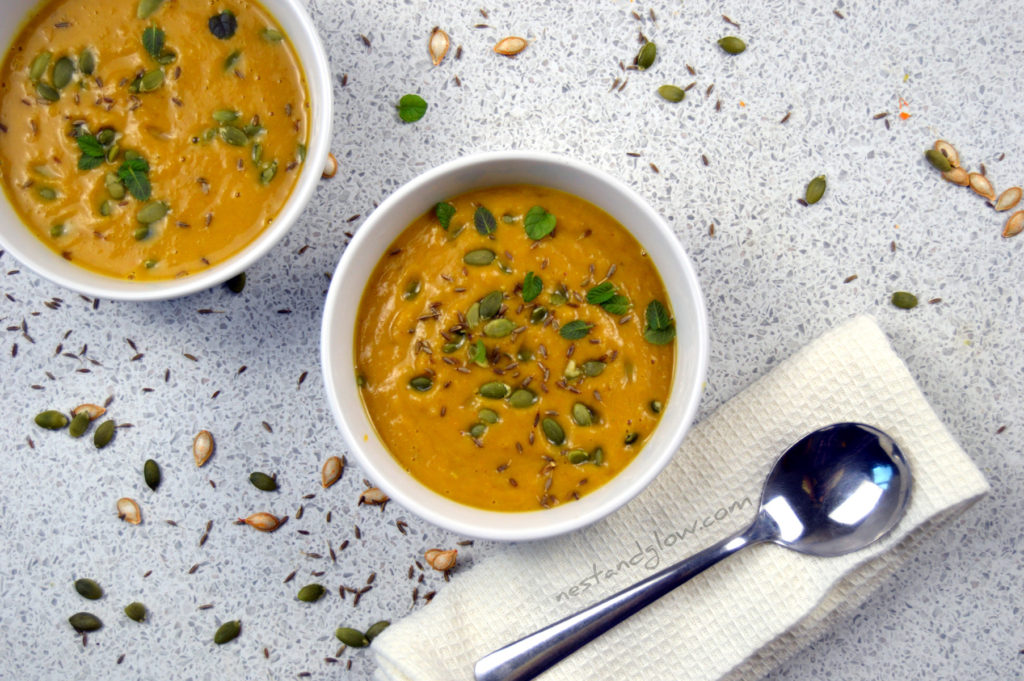 Nothing is more warming than a soup on a cold autumn day and this healthy pumpkin soup is full of flavour. Almond butter is used to add plant protein to make this a complete meal and to add a dairy free creamy taste.
A great recipe to use a whole large pumpkin that you can scale up many times to make a vat of pumpkin soup. A great healthy pumpin recipe when you have a glut of pumpkins! Pumpkin almond butter soup recipe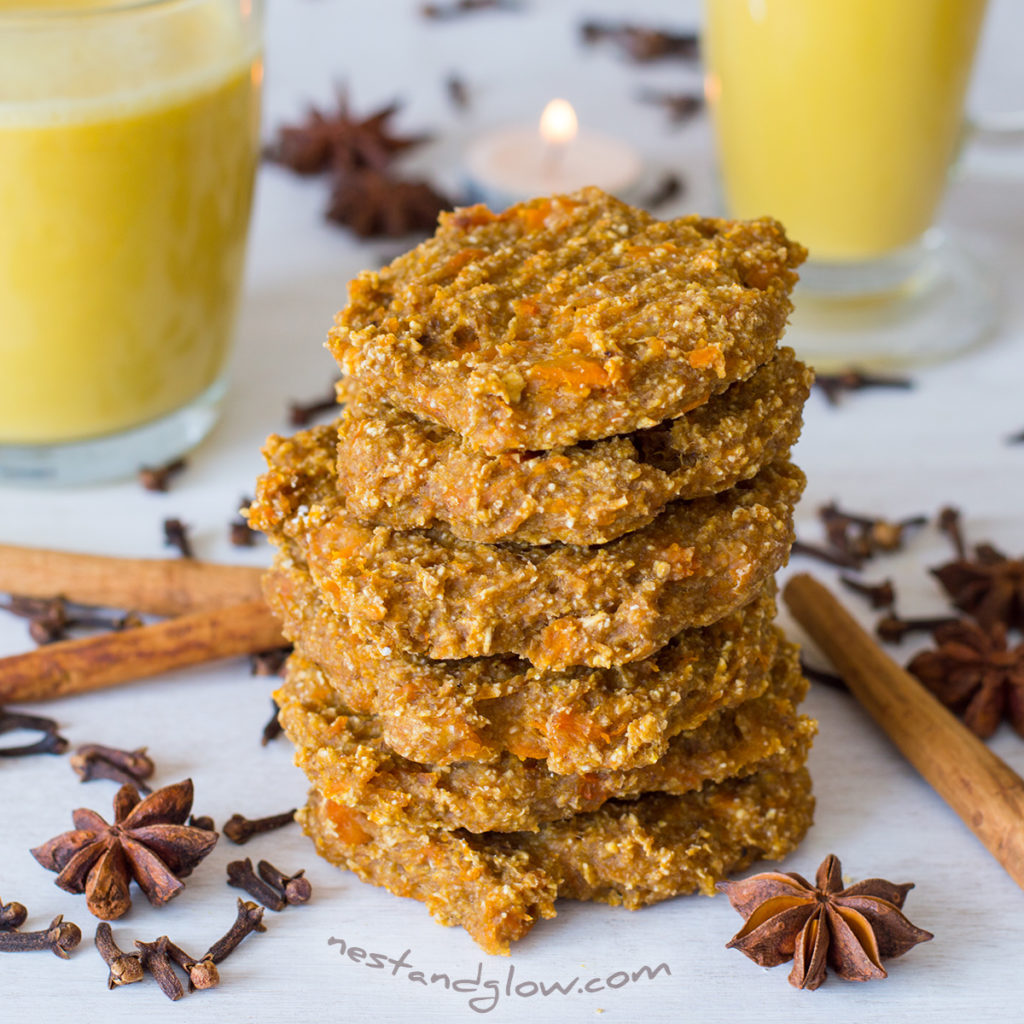 Any time of the day morning or night these healthy pumpkin cookies are filling snack. Naturally sweetened with banana and pumpkin so no syrups or sugar are added.
Gluten-free oats can be used in this if you are sensitive to gluten. Instead of using expensive oat flour normal oats are freshly ground in this pumpkin spice oat cookies recipe.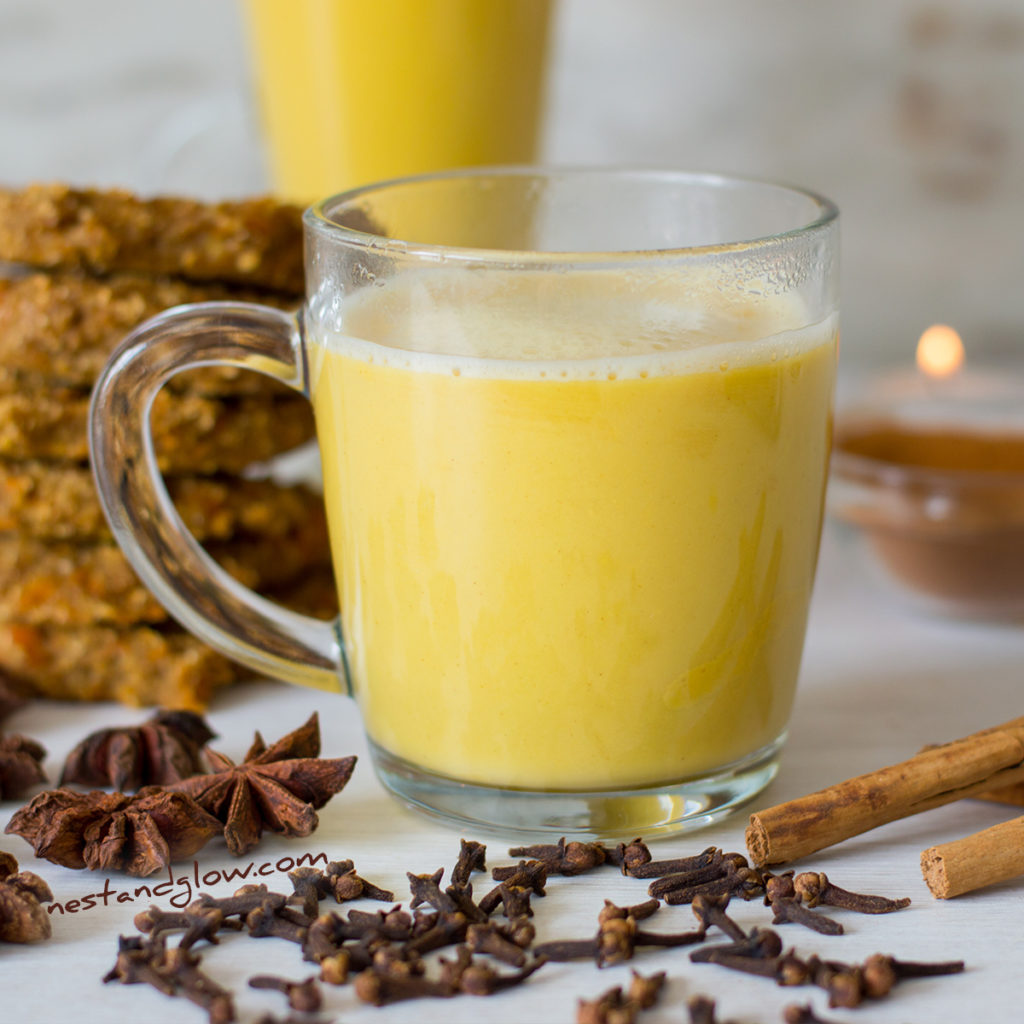 No pumpkin recipe collection would be complete without a pumpkin latte. This one uses freshly dry roasted oil free pumpkin to make a sweet and creamy warming beverage.
Whole cashews are blended so that this recipe is free of plant milk and the associated cost and additives. If you are sensitive to caffeine but miss the taste then replace with chicory coffee. Healthy pumpkin spice dairy free latte recipe
Healthy Pumpkin Recipes Video
If you have any comments or questions about these vegan and healthy pumpkin recipes do let me know in the comments below or on YouTube.
Butternut Squash vs Pumpkin Taste
Both pumpkin and butternut are types of squashes and belong to the same family.
They have similar tastes but a butternut is nuttier, smoother, sweeter and pumpkin is stringier and wetter. For many recipes they can be used interchangeably as once cooked down are similar. Pumpkin is needed to cook for longer to reduce the moisture content leaving a sweet thick puree.
In these healthy pumpkin recipes I'm mostly using butternut squash but pumpkin does work just as well.
Butternut is the most versatile and wildly available squash. It can be used in just about any recipe that calls for pumpkin. The skin of butternut squash is edable and delicious, unlike tough pumpkin skin. I roast butternut with the skin on and enjoy as a chefs treat.
Just to confuse things more butternut squash is a winter squash. You also get summer squash during those months but this is similar to a courgette/zucchini and isn't suited to use in recipes that call for pumpkin. Pan patty is a popular summer squash.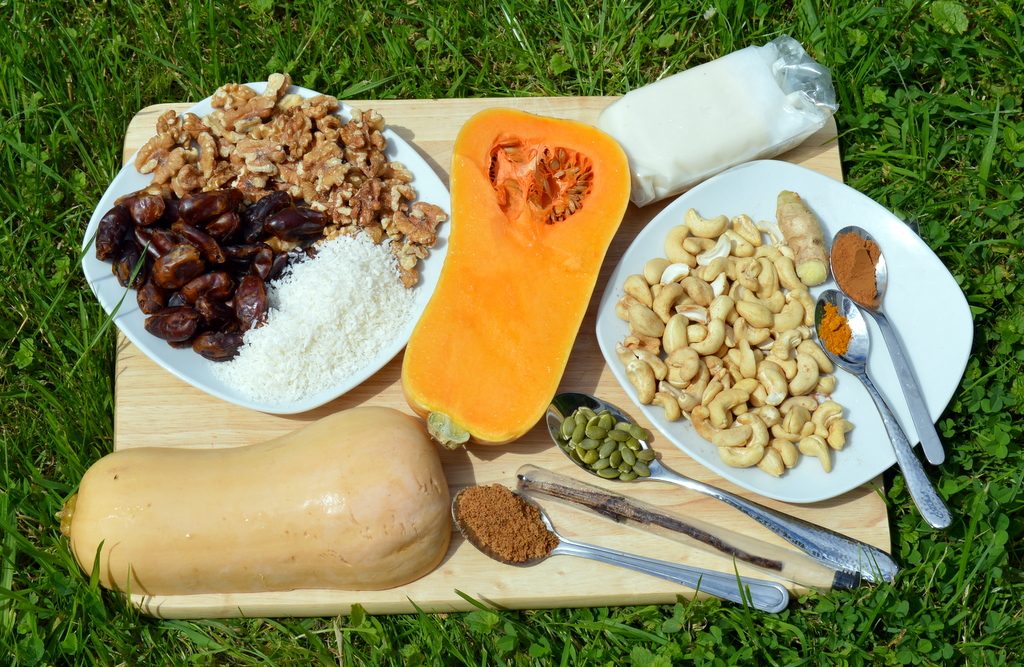 Oil Free Pumpkin Roasting
In recipes that call for a few tbsp of cooked pumpkin I always dry roast it in the oven. You don't need any oil when roasting as the pumpkin or butternut cooks great without it. The roasting brings out the sweetness of the pumpkin or butternut squash as the natural sugars caramelise.
Cube the pumpkin then roast for 30-40 mins at 375F / 190C. Then it will mash and be ready-made pumpkin puree for all your recipes.
It's best to do a batch of roast pumpkin then keep in the fridge for up to 5 days or freeze for up to 3 months. A great healthy alternative to canned pumpkin.