Easy and healthy no make 3 ingredient caramel shortbread that is full of goodness. No dairy, no flour, no nuts, no oil in this simple recipe.
No one guesses this just has three ingredients from how great this chocolate caramel shortbread slice tastes. Even if someone isn't into healthy eating they will probably like this nutrient-dense recipe!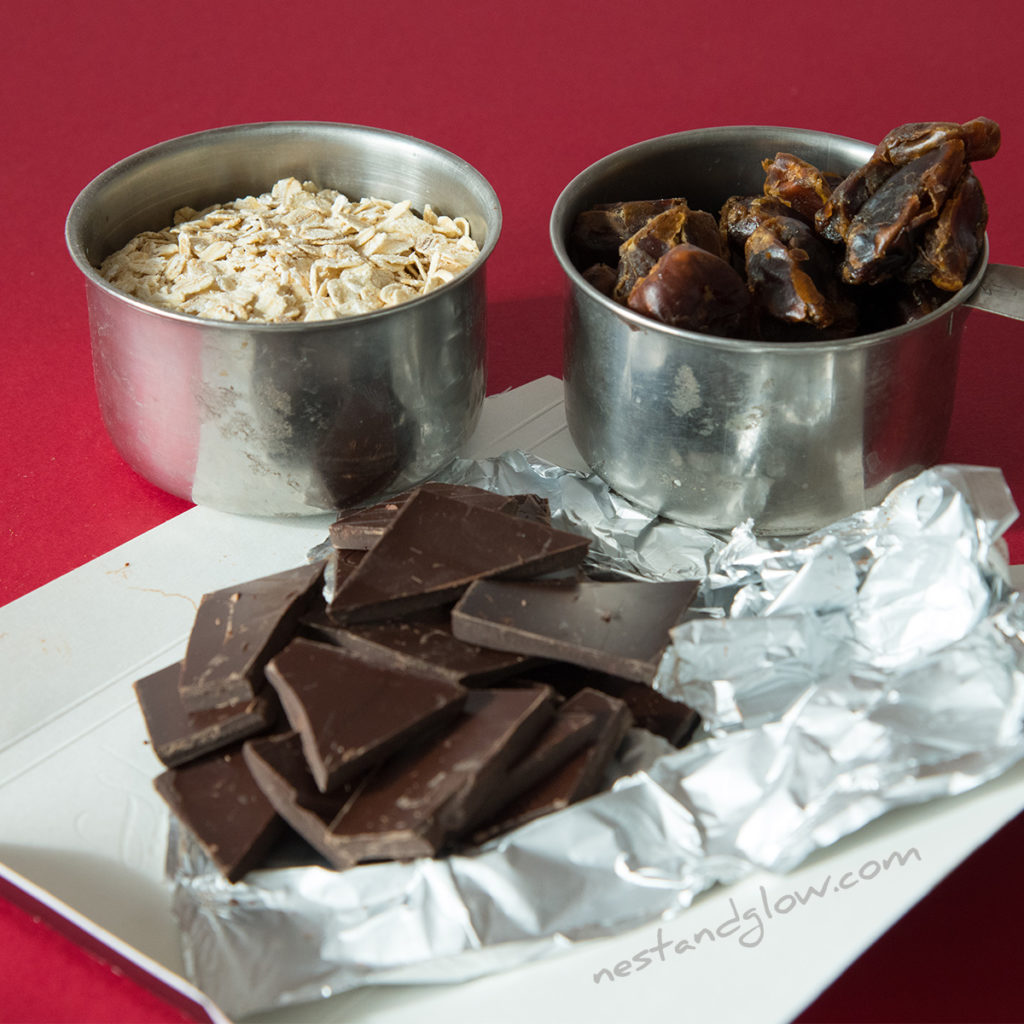 One big tip is to only use enough chocolate to get a very thin coating of the caramel shortbread, as the date caramel is undoubtedly much softer so you can't put too much pressure when cutting.
This vegan and simple millionaires shortbread can be made raw vegan if you use a bar of raw vegan chocolate. Or you can mix 1/3 cacao, sweetener and cacao butter or coconut butter to easily make your own raw chocolate.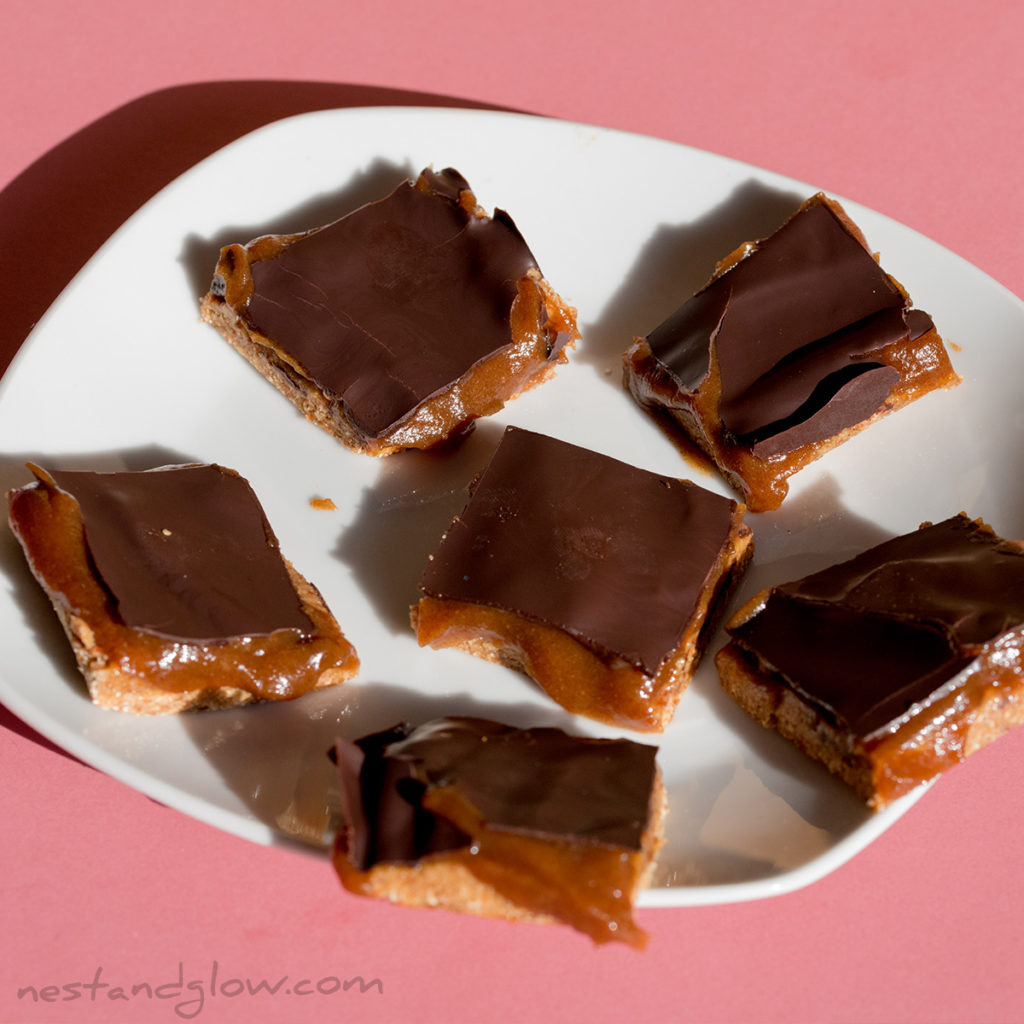 Although the video makes it look a lot messier than this healthy caramel shortbread is! Half an hour out of the fridge and in the sunlight made it messier in my photos than it will for anyone creating it at home.
Usually after it has been in the fridge for a few hours it's pretty firm, but still needs wrapping if it's going in a lunchbox.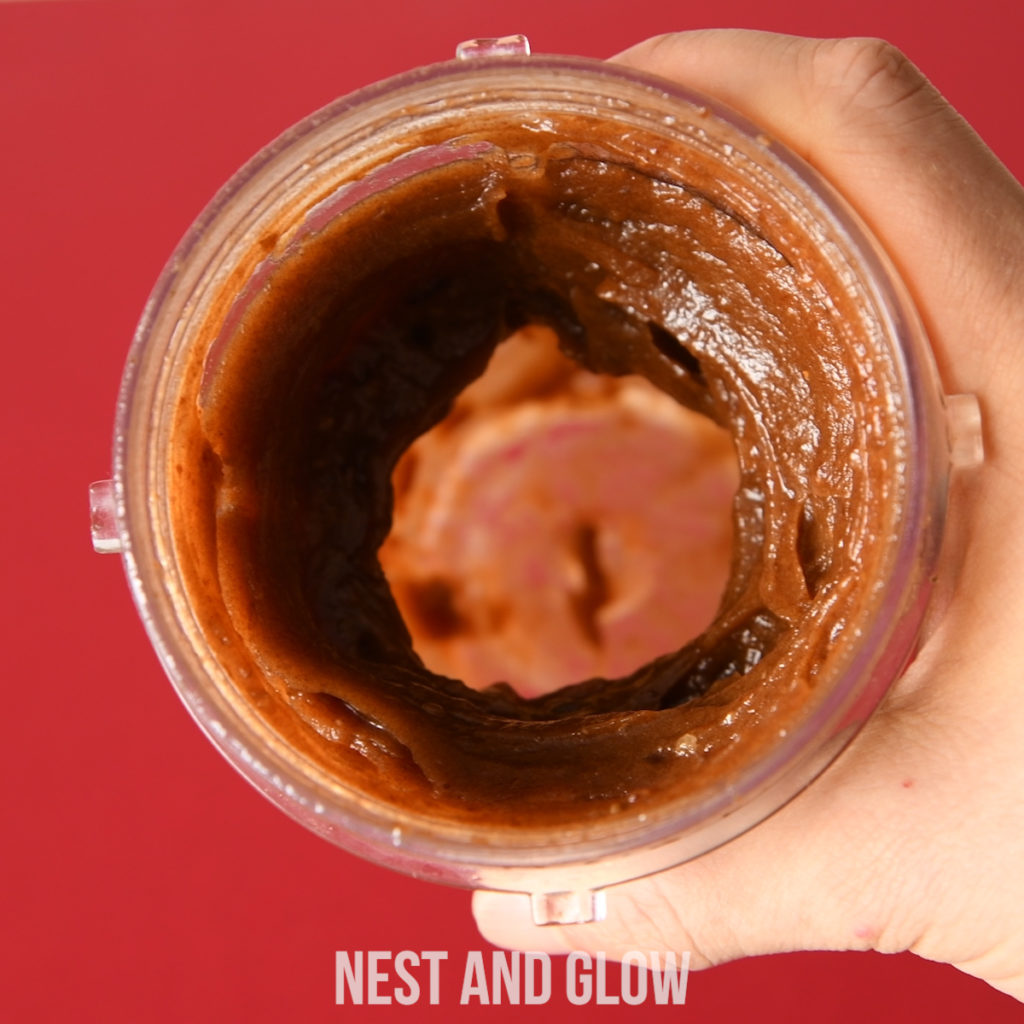 I love how easy to make my 3 ingredients healthy caramel shortbread is. The only downside is the date caramel can be a bit messy as it has added water.
You could always reduce the water once the date caramel is made by simmering on the hob, but this is more time consuming and washing up so I use it as it is.
Dates are great for a healthy caramel as they contain healthy fibre and the natural sugars are less likely to cause a sugar spike.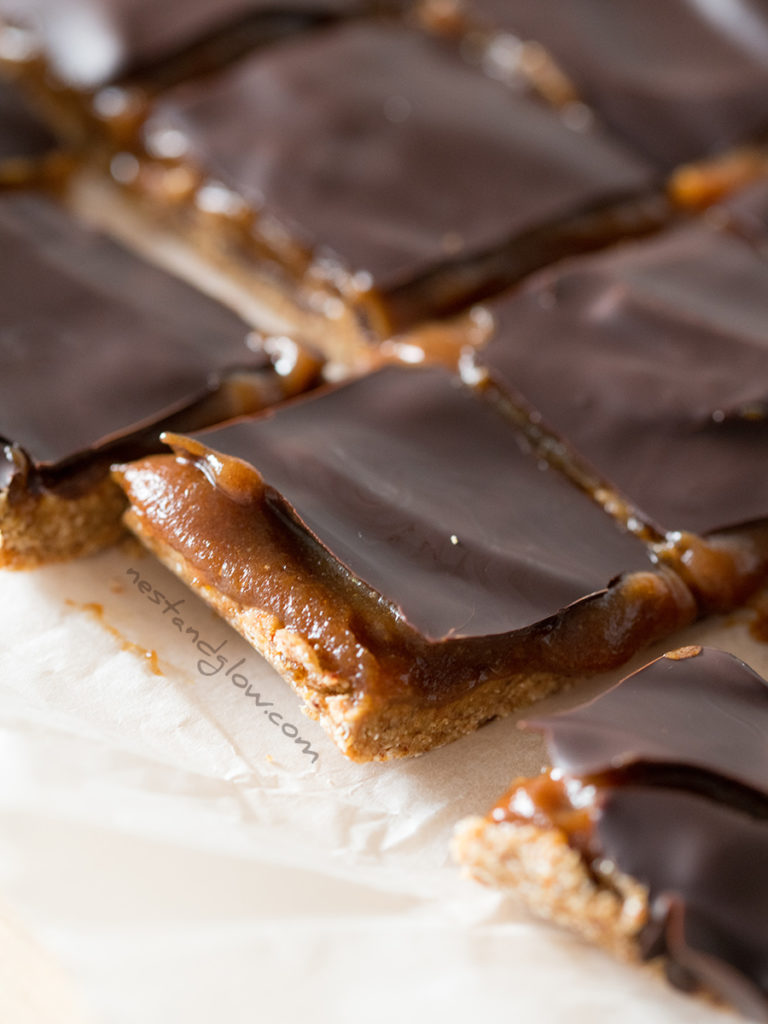 You can make healthy millionaires shortbread with raisins or other vine fruit if you prefer. I just used dates as over 80% of people polled preferred dates, although every time I make a recipe with dates people always ask what to use instead of dates.
I use a very high cacao content 90% chocolate to make this healthy millionaire shortbread. I do like the brands that are free of the Emulsifier Sunflower Lecithin. They apparently conch the chocolate for longer rather than add an emulsifier and I believe it gives a smoother taste.
Also a very high cocoa solids chocolate is good as it's high in antioxidants and low in sugar. But use whatever chocolate you like to suit your tastes.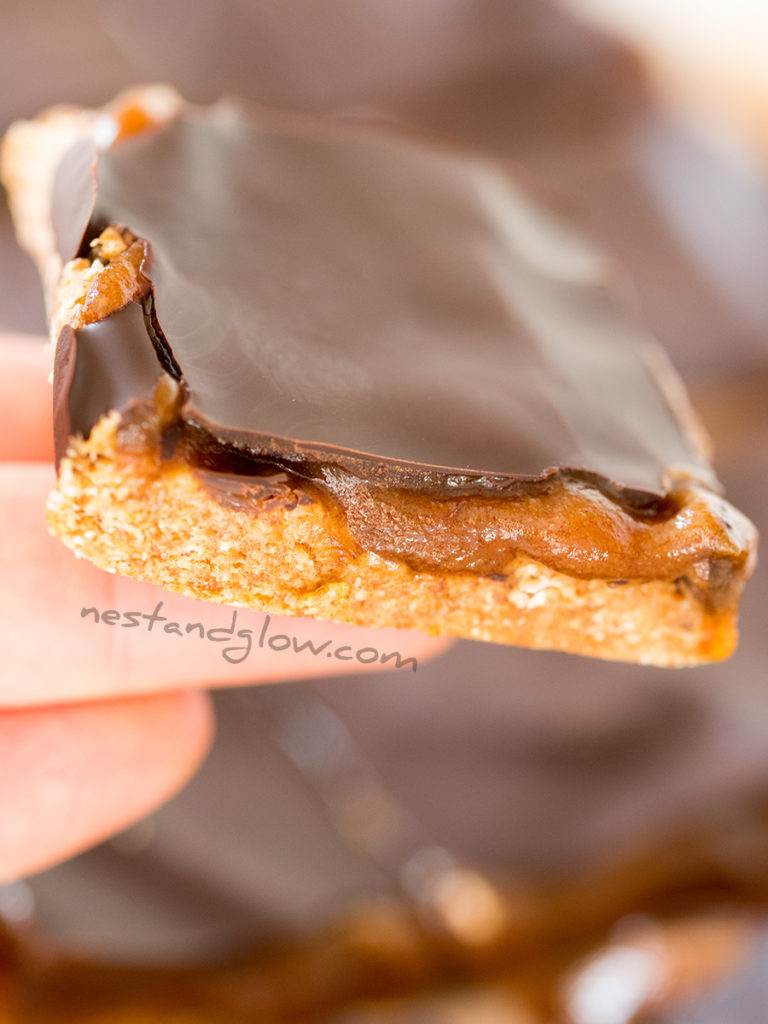 I'd quite like to make this caramel shortbread recipe with apricots instead for a brighter filling. Although bright orange apricots have been treated with sulfur to preserve this colour and organic apricots are more of a dark brown-orange colour.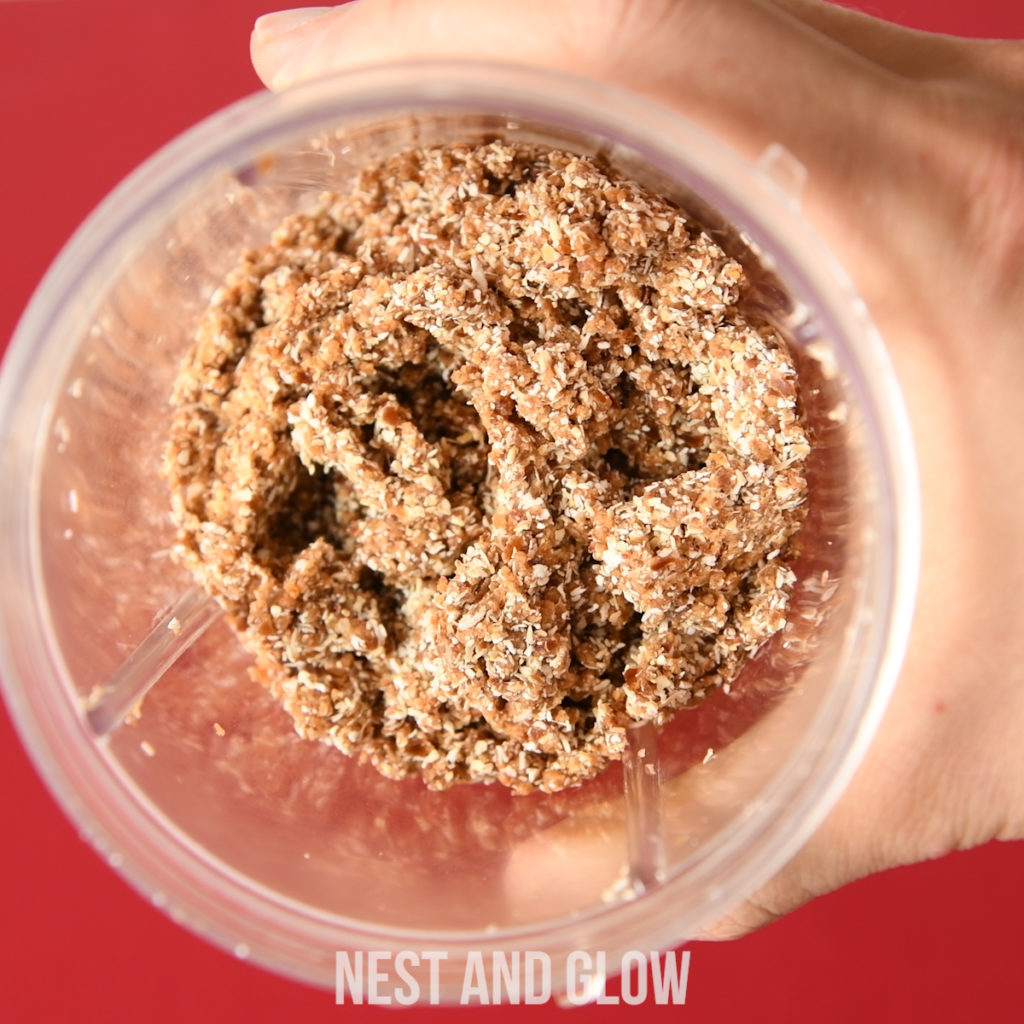 I use gluten-free oats to make this millionaires shortbread gluten-free. The rolled oats you buy in the shops are already steam cooked and pressed so are fine to eat once blended.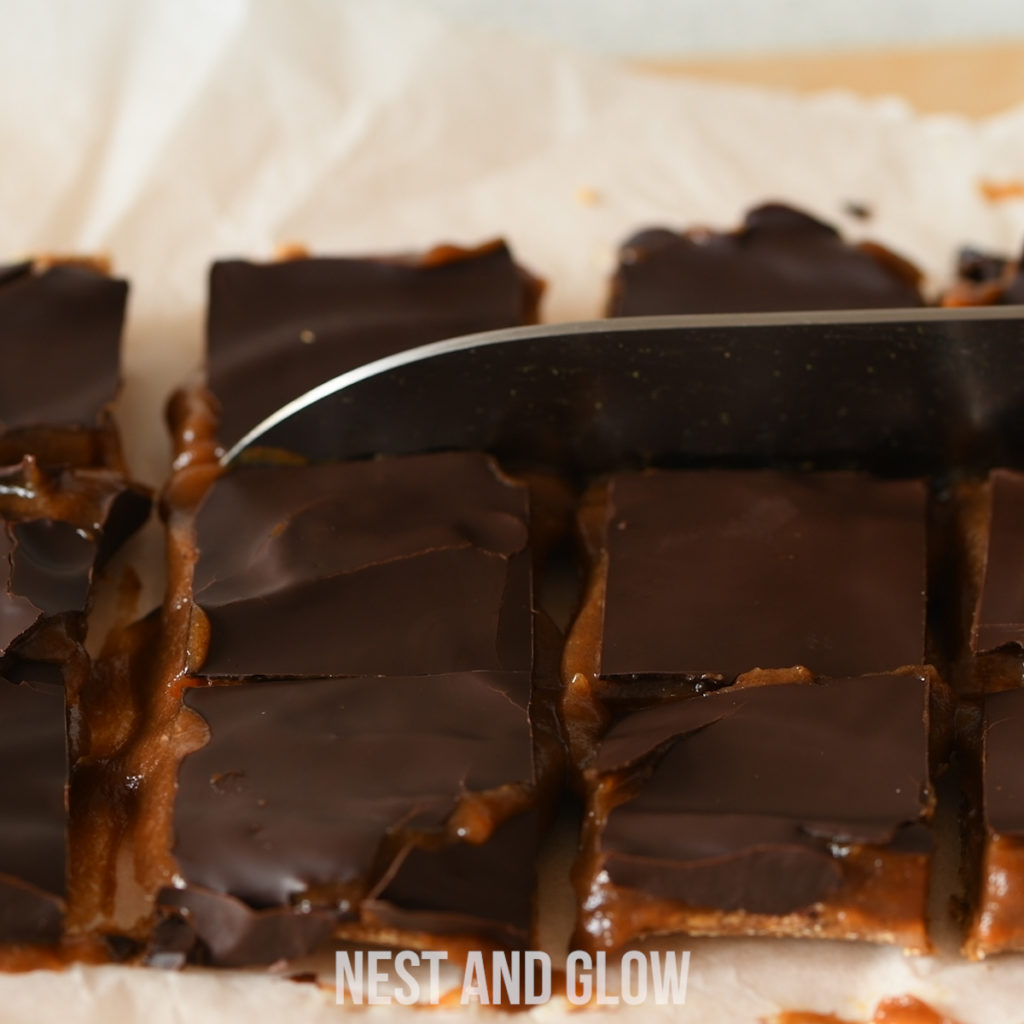 Like all of my healthy vegan recipes think of this no-bake millionaires shortbread as the base recipe to add what you like to it.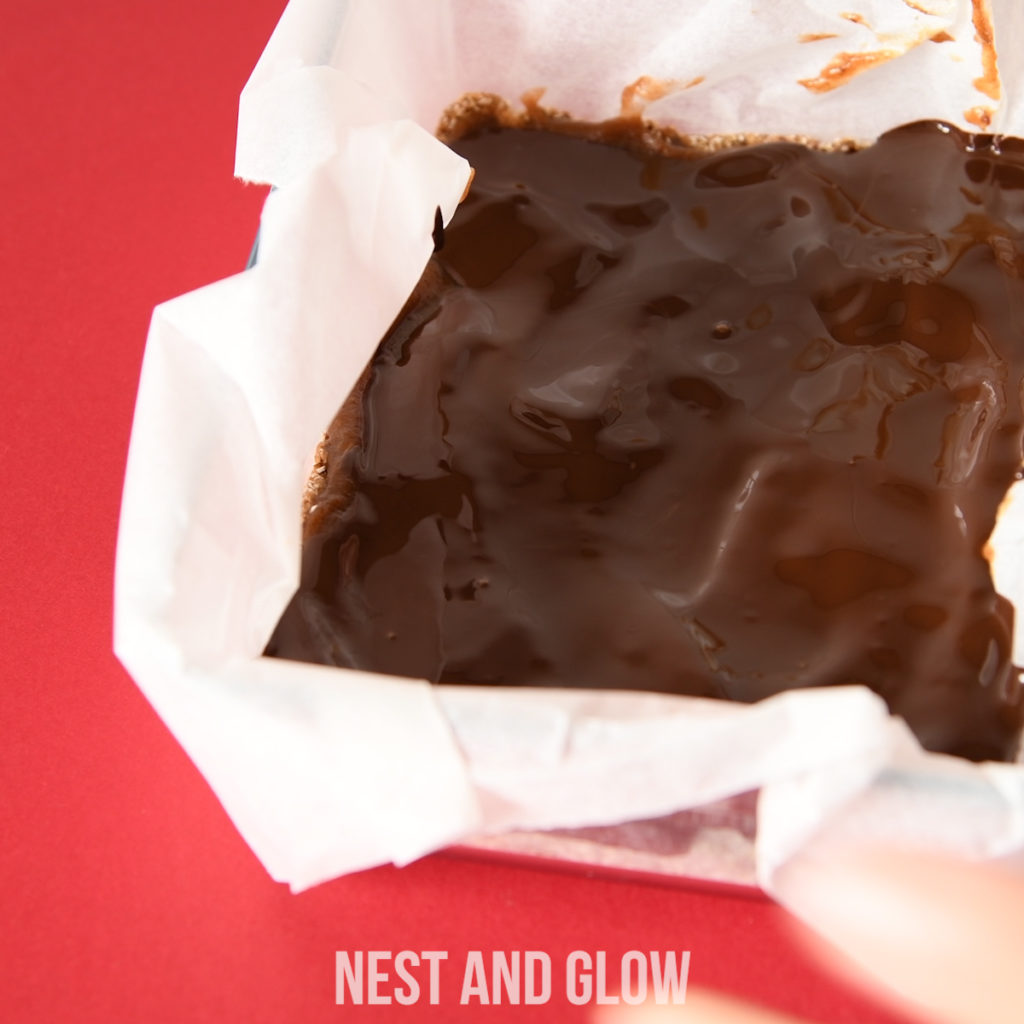 Some examples of how to adapt this recipe
Add salt to make salted caramel
peanut or other nut butter to make a nutty caramel
Use buckwheat instead of oats to be grain-free
Please do share in the comments below if you've adapted my healthy millionaires' shortbread and how it turned out.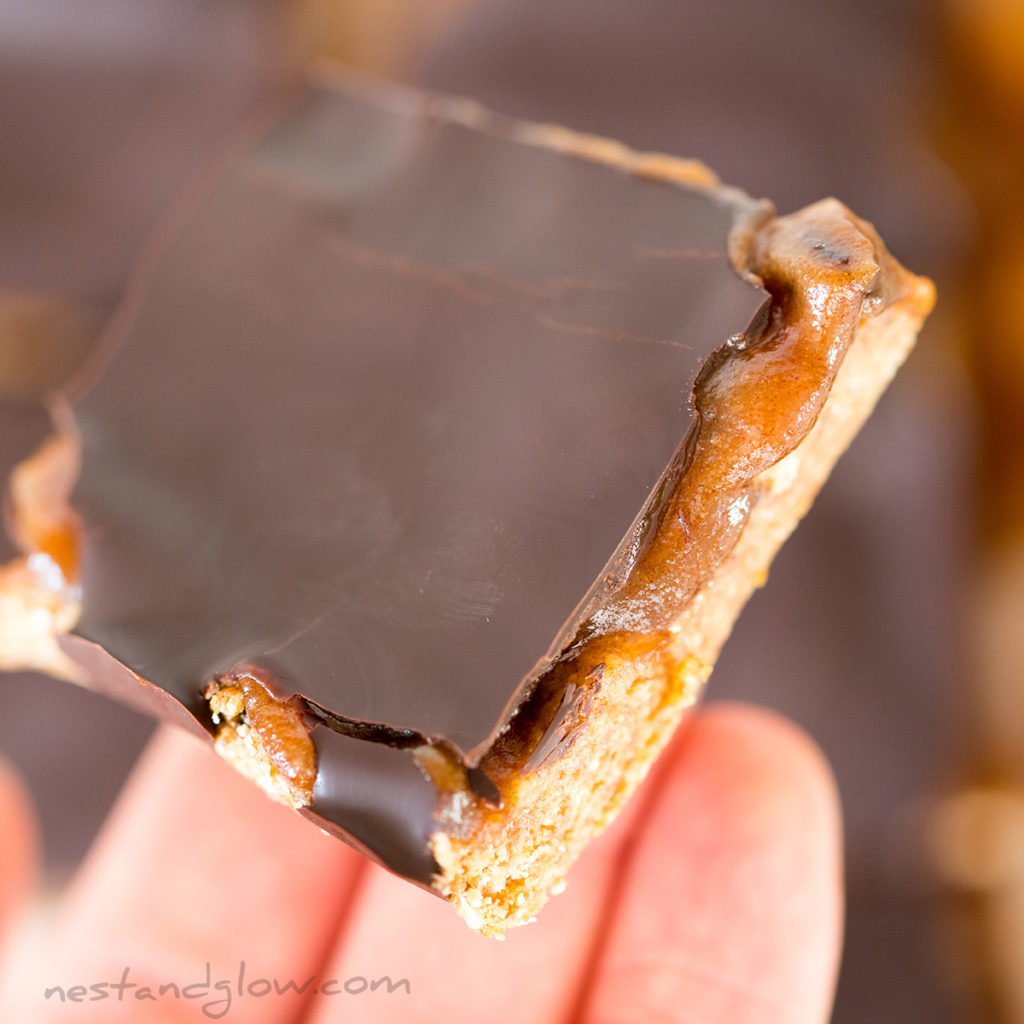 Yield: 12 Caramel Shortbread bites
3 Ingredient Caramel Shortbread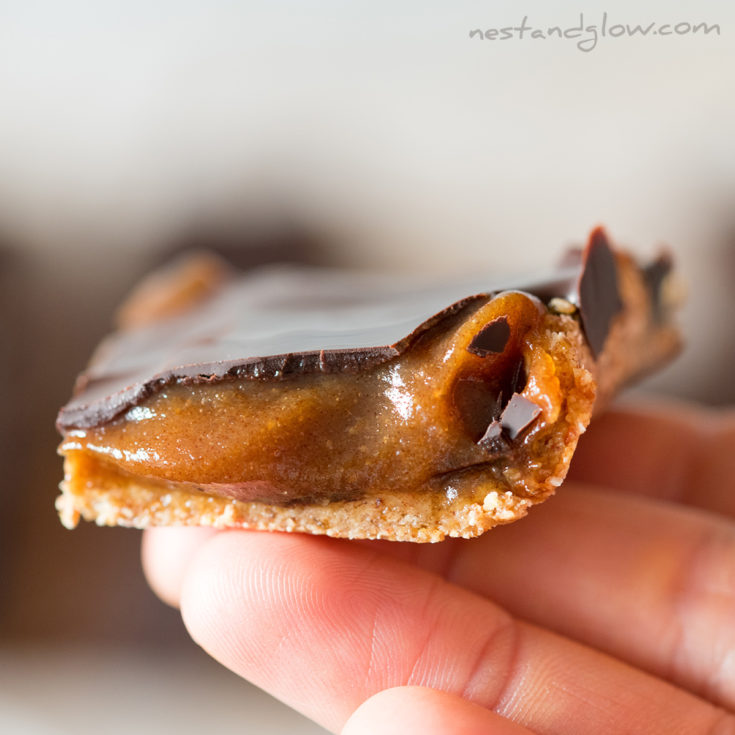 Easy no bake vegan caramel shortbread made from just 3 ingredients. This healthy treat is made without any oil, flour or syrups and sweetened just with fruit.
Dates, oats and chocolate are all thats needed to make a healthy millionaire shortbread in a matter of minutes. Can be made with gluten free oats to make a gluten free millionaire shortbread or with another adaptation to be grain free.
Additional Time
30 minutes
Ingredients
1.4oz / 40g Chocolate
2 cups / 350g pitted Dates
1 ½ cups / 140g Oats
a few tbsp hot water
Instructions
Blend half of the dates and all of the oats together until they start to stick together. Use a food processor or small jug bullet blender.
Spread the date and oat base mixture for the healthy caramel shortbread in a greaseproof paper lined dish about 10" by 6" / 25cm by 15cm or similar area.
Blend the dates together with a few tbsp of hot water in a small blender jug. Just add 4 tbsp of hot water to start with. Scrape down the sides and continue to blend until a thick date caramel is made, add more water if needed but a tbsp at a time.
Melt 3/4 of the chocolate over hot water, take off the heat then stir in the remaining 1/4 until melted for easy chocolate tempering.
Spoon on the date syrup for the 3 ingredient caramel shortbread over the oat mixture and smooth as much as possible.
Spoon on the chocolate mixture being careful to try to coat as much as possible as there's only a small amount of chocolate for a thin chocolate coating.
Tilt the dish to cover all of the millionaire shortbread with the chocolate.
Place in the fridge for at least 30 mins for the healthy dairy-free treat to firm up.
Remove from the fridge and cut about 4 times horizontally and vertically. Enjoy within a couple of days and keep stored in the fridge as the date caramel will go very soft at room temperature. The longer it's in the fridge the firmer the date caramel shortbread gets.
Notes
Be very careful when blending dates as they can be the death of blenders. I've sadly broken many blenders in quite spectacular fashion with smoke billowing out of them.
The moment your blender starts to struggle turn it off. Some not very powerful blenders do struggle with dates and you might be better off using raisins.
If the chocolate is too firm and causes a date caramel spillage warm the knife so that it melts through the chocolate with minimal pressure.
Make sure that your dates are pitted. Some pits can still remain after the pitting process and it will always warn this on a bag of dates. One pit remaining can ruin a whole recipe as it's blended into lots of small but very hard bits.
Recommended Products
Links maybe affiliated, meaning I earn a commission from purchases but at no extra cost to yourself.
Nutrition Information
Yield
16
Serving Size
1
Amount Per Serving
Calories

108
Total Fat

1g
Saturated Fat

1g
Trans Fat

0g
Unsaturated Fat

1g
Cholesterol

1mg
Sodium

3mg
Carbohydrates

24g
Fiber

3g
Sugar

15g
Protein

2g
Date Free Healthy Caramel Shortbread
I usually make this with raisins at home as I always have some on hand and they aren't quite as addictive as dates. It turns out more or less the same, but possibly not quite as tasty. This photo is real life when I make the recipe in 3 minutes with minimal care and attention.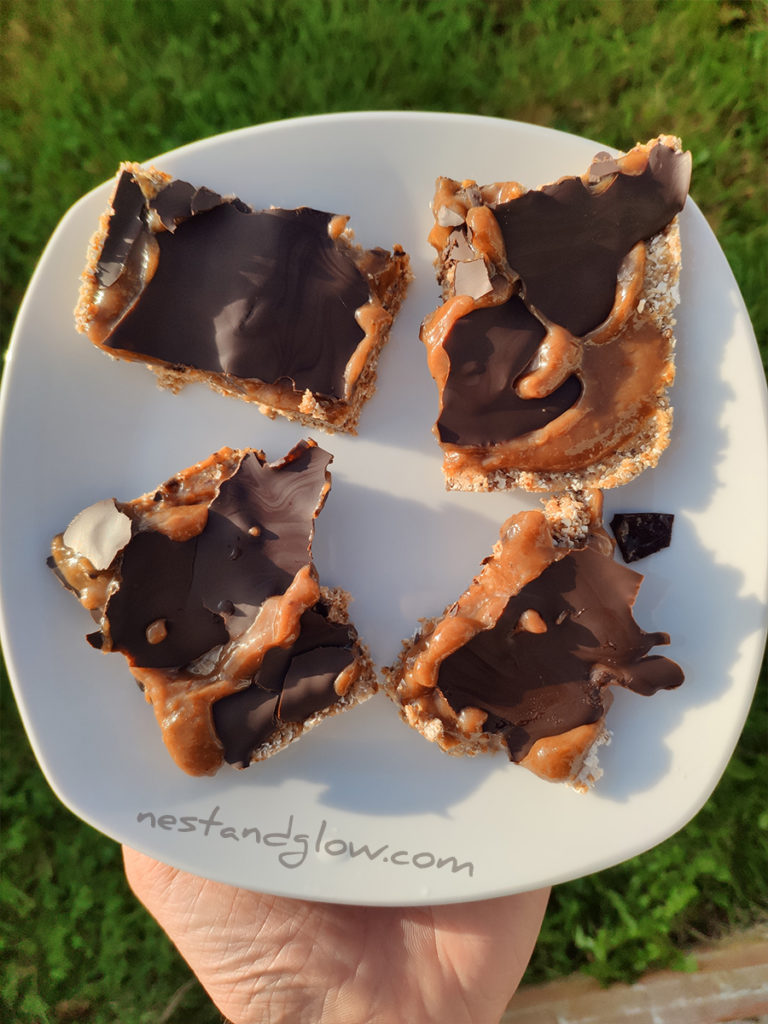 Easy Chocolate Tempering
I always melt 3/4 of the chocolate, take off the heat then stir in the remaining 1/4 for easy chocolate tempering to get the glossy chocolate look and right snap.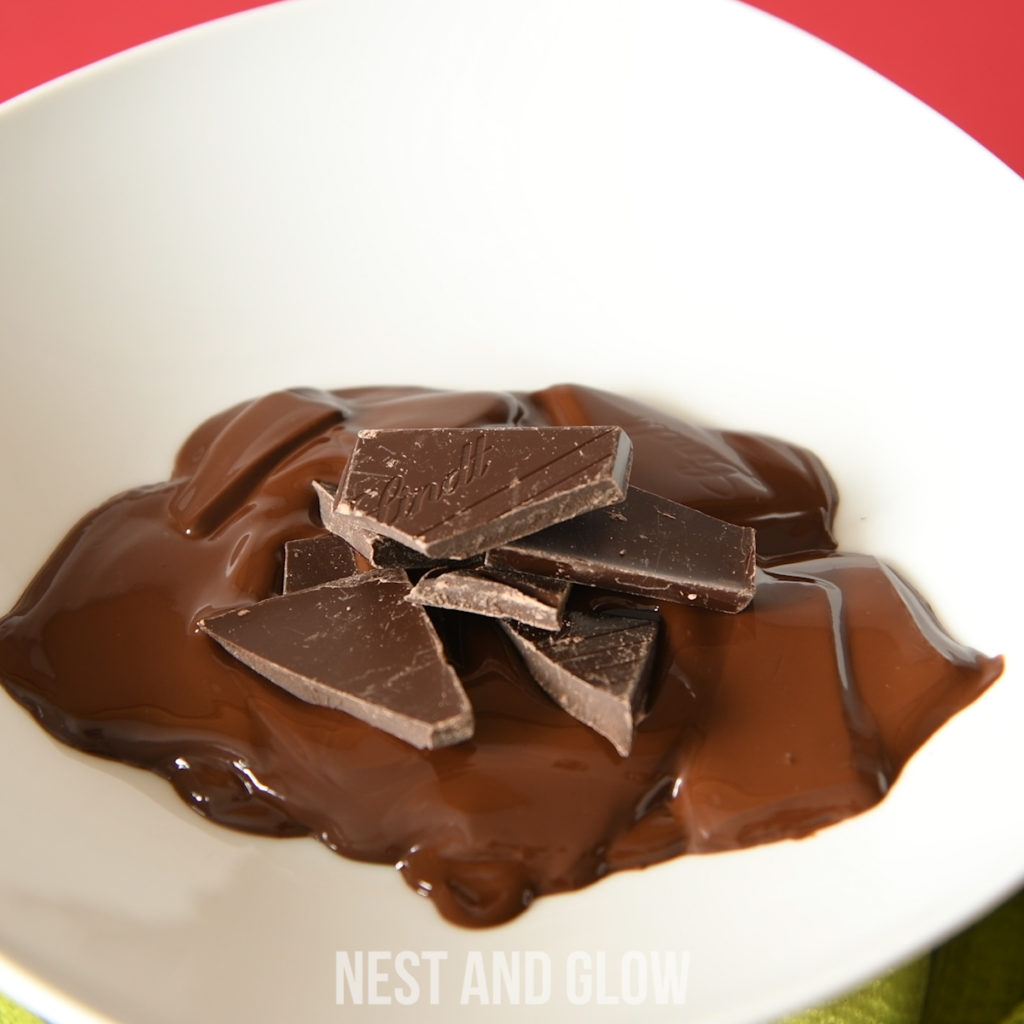 Conching chocolate was invented in 1879 and is a process to grind chocolate over a long period of time so it's totally smooth and not granular. This chocolate conching can take many days and manufacturers are secretive about their process.