Quick lemonade recipe that uses apple cider vinegar, fresh lemon and maple syrup to make a refreshing drink with medicinal benefits.
Apple Cider Vinegar Lemonade is like a cross between the lemon/maple/cayenne master-cleanse and kombucha. If you like either of these then be sure to try this recipe.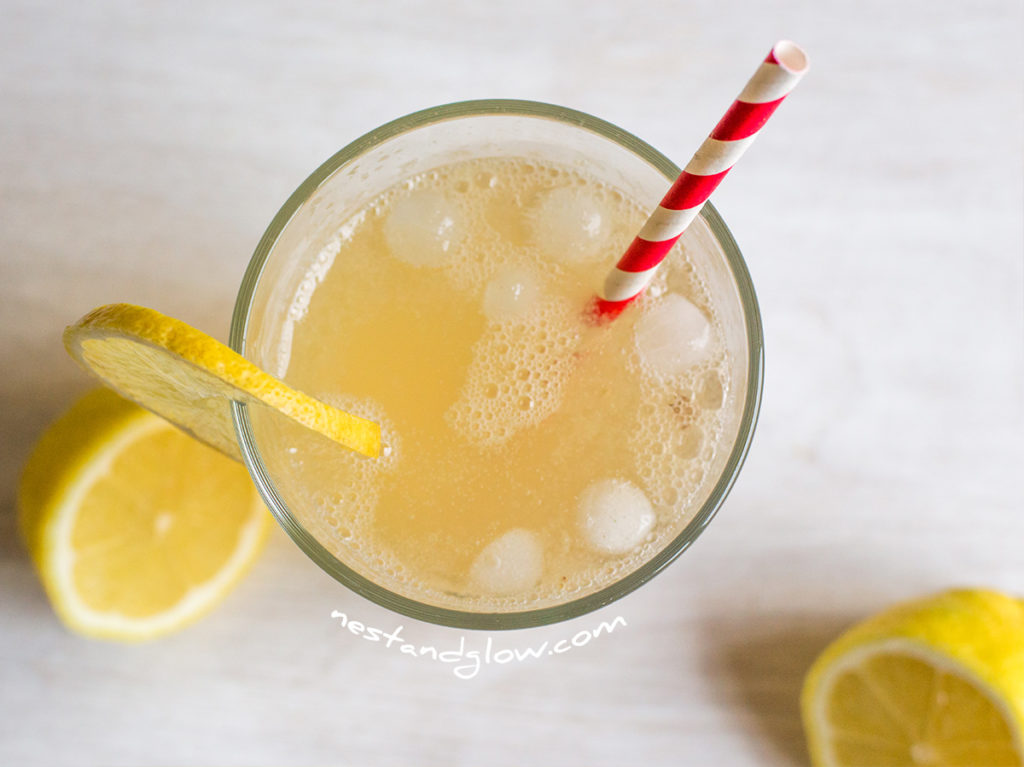 Apple cider vinegar is fermented using natural sugar from the apples so this is suitable for refined sugar-free diets. Also suitable for raw diets as maple syrup is generally accepted on the raw food diet.
This lemonade is low in calories with about 12 calories per 100ml. If it's not summer and warm where you are then try adding a pinch of cayenne pepper to give this healthy lemonade a kick.
Apple Cider Vinegar Lemonade Video
Use unpasteurised and unfiltered apple cider vinegar that contains "the mother" for maximum nutritional benefit.
If a vinegar has the mother it will have some clumps of sediment when shaken. Sediment strands in apple cider vinegar are the mother and can be fed with sugar and tea to make kombucha.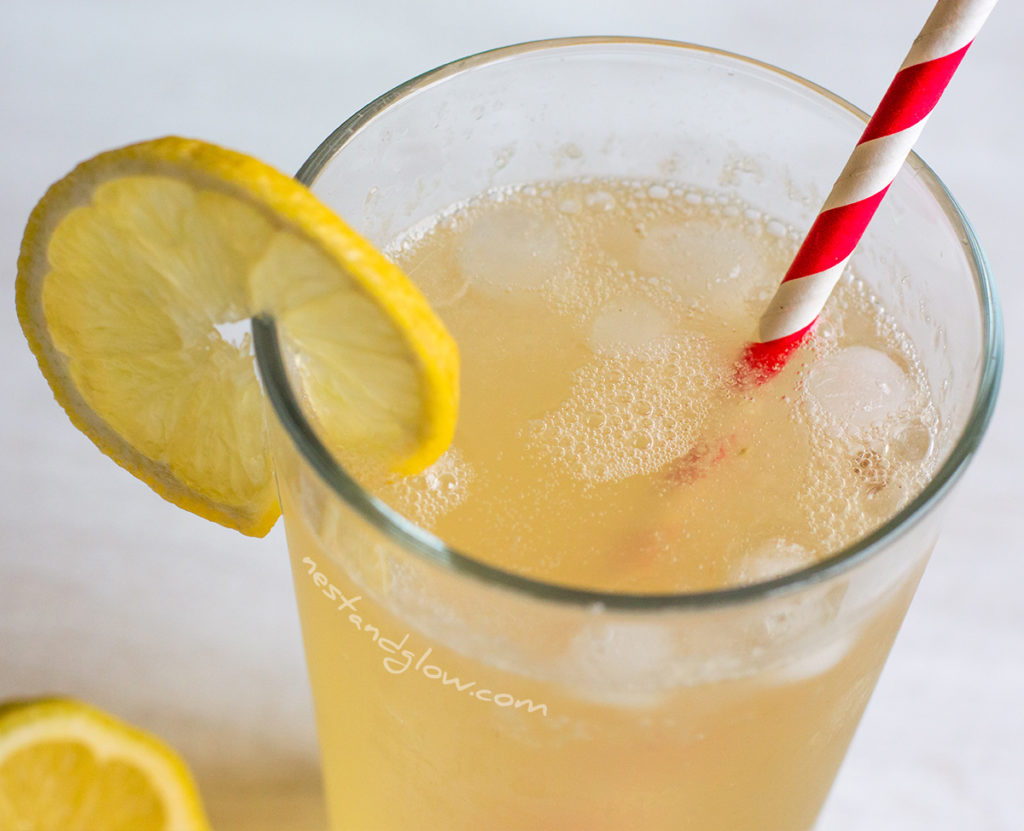 Apple Cider Vinegar Lemonade tastes similar to kombucha but as the apple cider vinegar is already fermented it's instant to make. There's some debate if kombucha is actually healthy as it's made with refined sugar.
Commercial kombucha brands often have a high sugar content as the fermentation is short to make a sweet and palatable drink. With this lemonade you can reduce the maple syrup/sweetener to make it low sugar.
This apple vinegar lemonade recipe is a lot cheaper than buying shop bought kombucha and this version does not contain refined sugar.
Before the video for this recipe was filmed I had a quick search online and was overjoyed that no one else had done this recipe. So often you think of a "new" recipe or idea but it turns out it's already pretty popular.
Now as I'm editing everything and putting the finishing touches I realise that this isn't a new recipe unless you spell lemonade like lemonaid! Nevermind it's still the drink I've been enjoying this summer so hope someone finds it useful.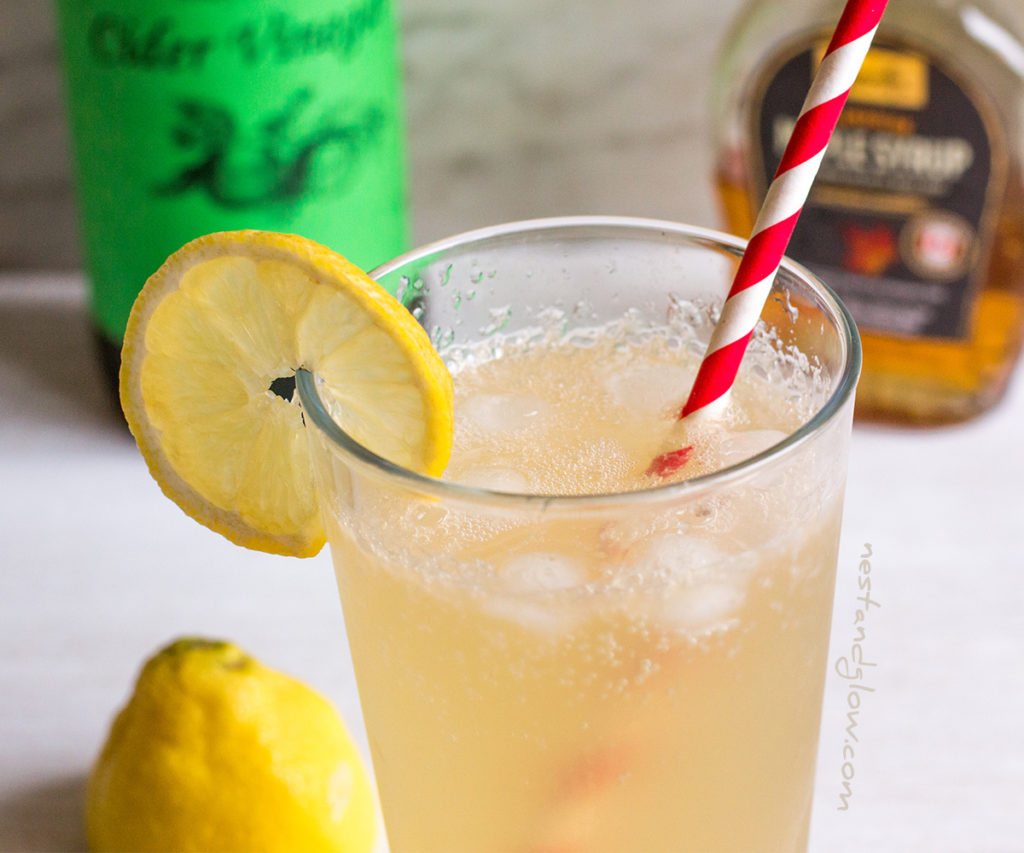 Apple cider vinegar has many reported health benefits when taken both internally and externally. It's usually recommended to drink Apple cider vinegar in warm water but when you don't fancy a hot drink this is a great alternative.
Yield: 1 pint lemonade
Apple Cider Vinegar Lemonade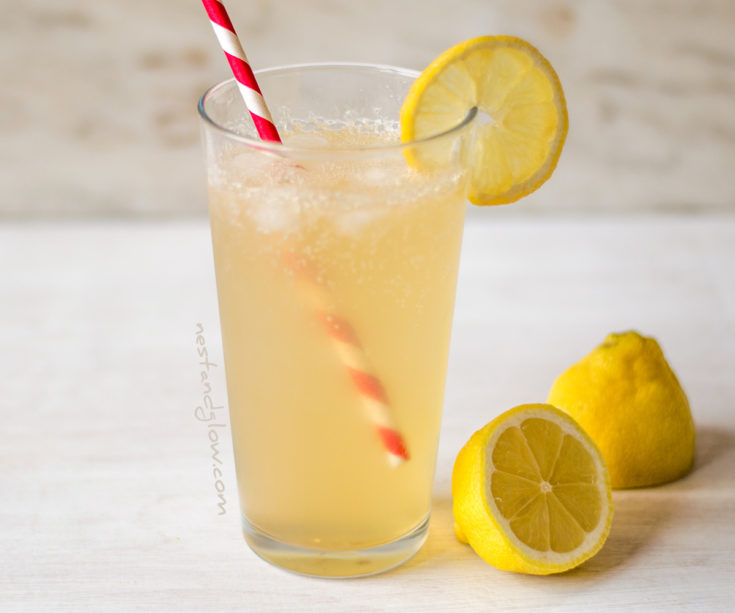 Easy to made lemonade recipe with apple cider vinegar and maple syrup. This is a tasty drink that has medicinal benefits and is free of refined sugar. Made with fresh lemon juice, unpasteurized apple cider vinegar (with the mother) and maple syrup. Suitable for a raw vegan diet.
Ingredients
1 Lemon
2 tbsp Apple cider vinegar
1-2 tbsp Maple syrup
Carbonated water
Ice
Instructions
Juice the lemon and then mix with the apple cider vinegar and maple syrup until combined.
Top up with soda water to make 1 pint of apple cider vinegar lemonade then enjoy!
The concentrate apple cider vinegar mixture can be made in advance and stored in the fridge for a week
Notes
Always use raw unpastisied apple cider vinegar for the gut-friendly bacteria and probiotics.
If you can choose unfilter apple cider vinegar with the mother.
Recommended Products
Links maybe affiliated, meaning I earn a commission from purchases but at no extra cost to yourself.
Nutrition Information
Yield
1
Serving Size
1
Amount Per Serving
Calories

135
Total Fat

0g
Saturated Fat

0g
Trans Fat

0g
Unsaturated Fat

0g
Cholesterol

0mg
Sodium

18mg
Carbohydrates

35g
Fiber

2g
Sugar

26g
Protein

1g
Historical records show that people have been fermenting fresh apple juice into apple cider vinegar since at least 5000 BC where it was used to help liver detoxification, purify blood and boost immunity.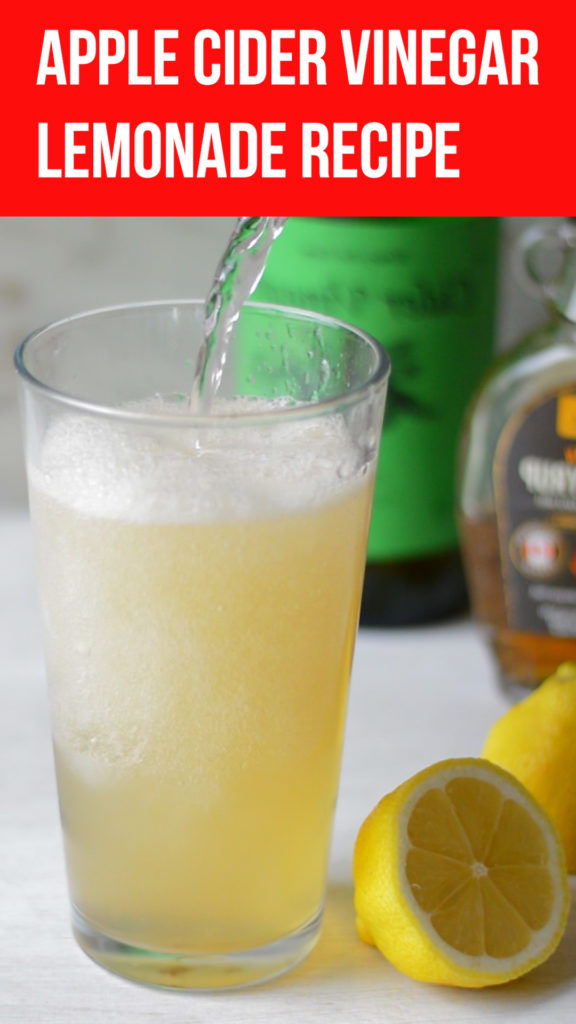 Some of the health benefits of Apple cider vinegar include lowering blood sugar level, fighting diabetes, reducing weight and improving heart health. Apple cider vinegar may also help to protect against cancer.