A healthy cake recipe that's vegan and gluten-free. Chickpeas are used making this cake is bursting with fibre and protein. Try this simple gluten free cake recipe even if you're not very good at baking.
It's topped with a cashew coconut frosting and fresh fruit. This chickpea strawberry cake is easy to make even though it uses aquafaba.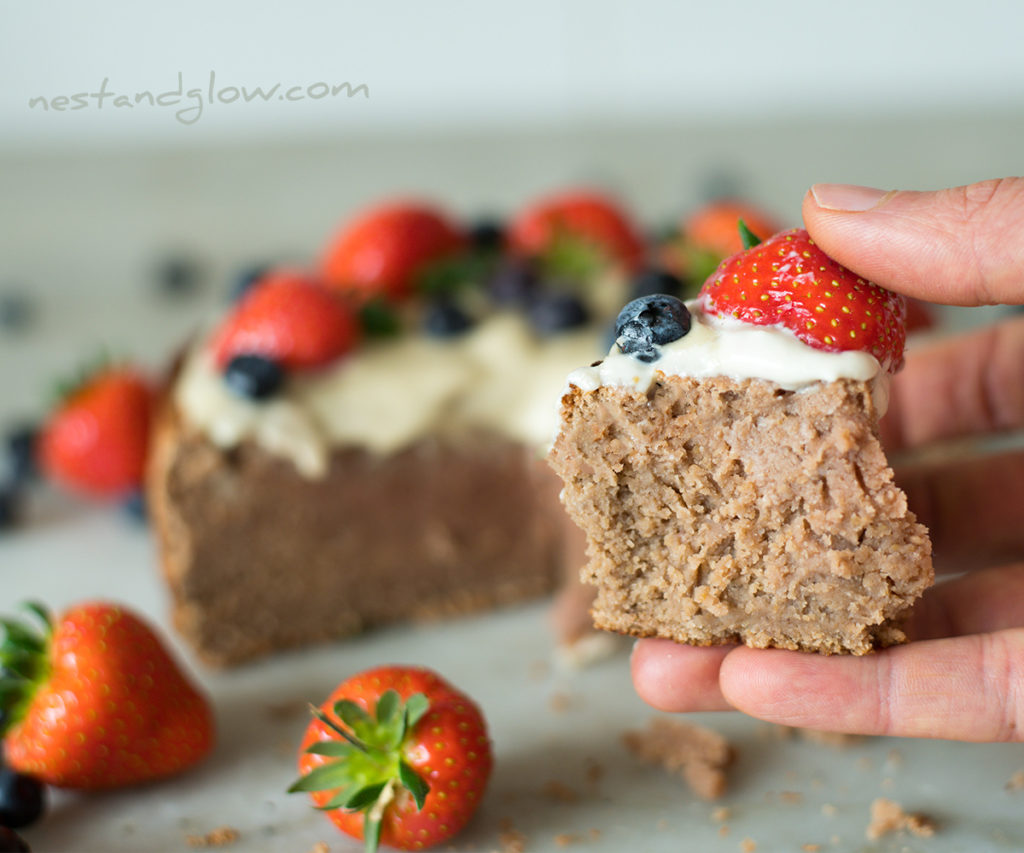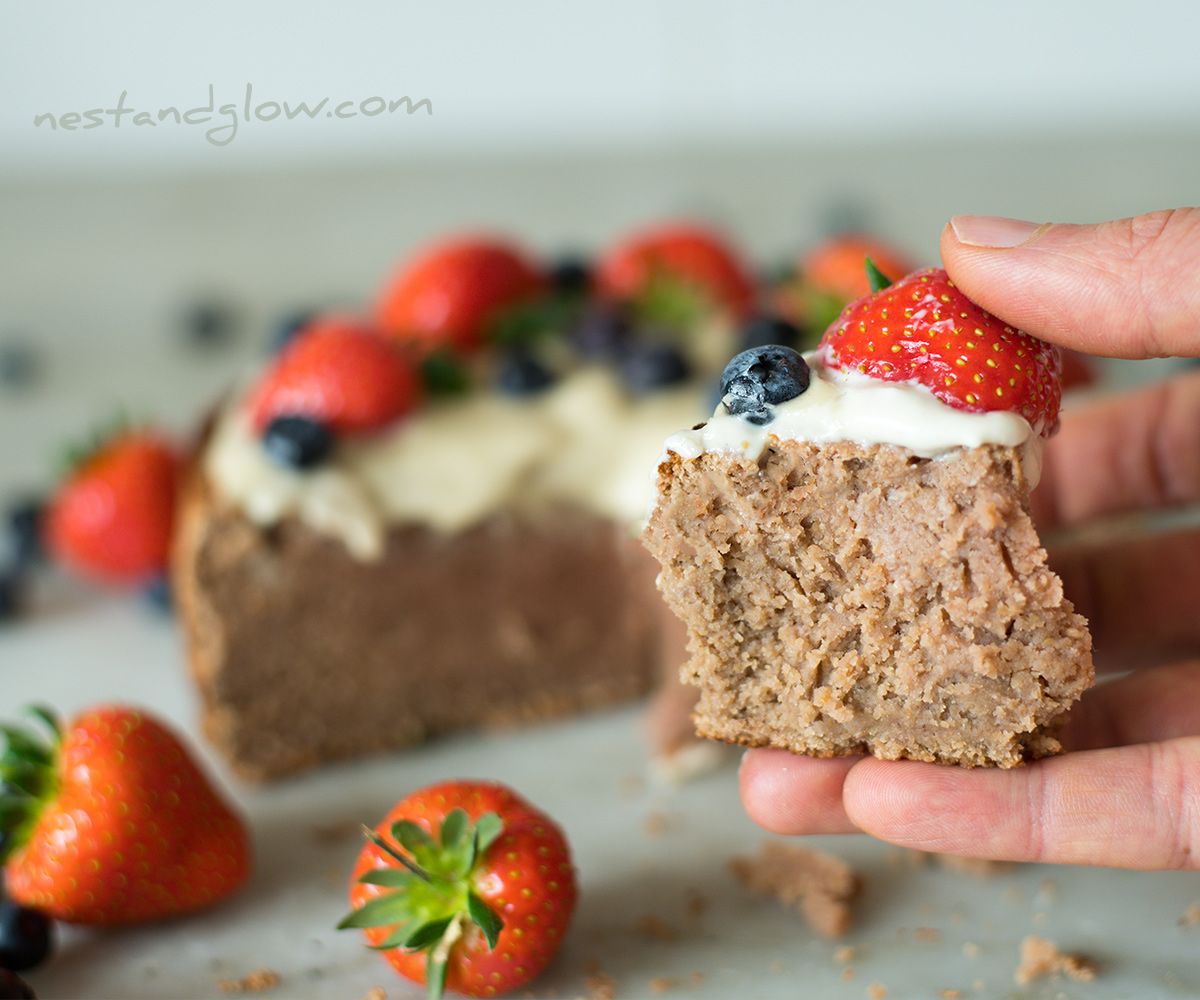 This gluten free cake recipe is suitable for plant-based, oil-free, grain-free, gluten-free and general whole foods diets. The main cake is suitable for nut-free diets but you will have to leave out the cashew nuts in the frosting. These can be replaced with just coconut for coconut whipped cream or you can use chocolate avocado frosting.
Chickpea Strawberry Cake Video
Play on YouTube or No music Video or Fast Version
This gluten free cake smells beautiful as it bakes with the fragrant coconut and a hint of strawberry. This recipe is oil free as I'm using coconut flour and no refined oils. You can add some oil with a high smoke point if you are less concerned with a healthy cake.
The healthy dairy free frosting uses half a can (15oz / 400ml) of coconut milk blended together with enough cashews to make a thick icing. I didn't add any sweeteners as I didn't think it needed it but you might want to adjust for your taste. Cashew nuts and coconut do add some sweetness.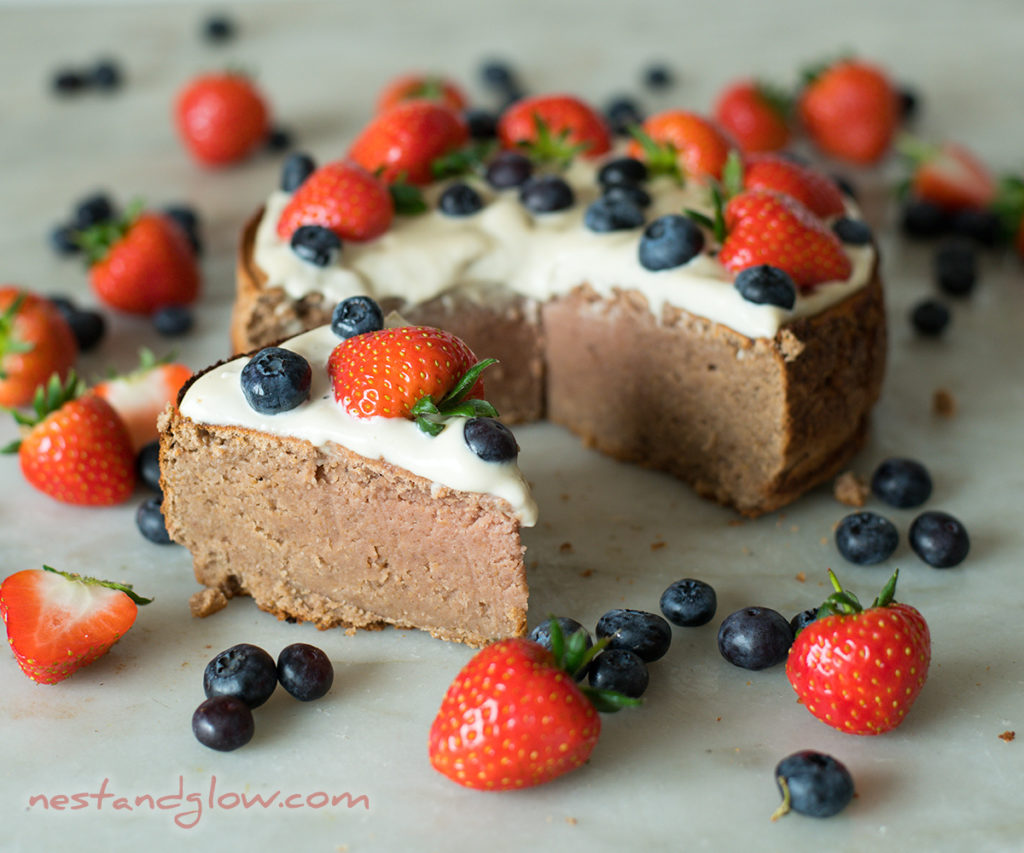 Unfortunately the chickpea cake lost all of its red colour during the baking. After finishing the shooting I realised the way to make it have some colour from the beetroot is to save the beetroot juice and sprinkle on randomly once baked and before icing.
This gluten free cake has just a hint of strawberries and you taste more the strawberries on top. I did want to use strawberries in this cake as during testing I found without fruity tones it was just missing something.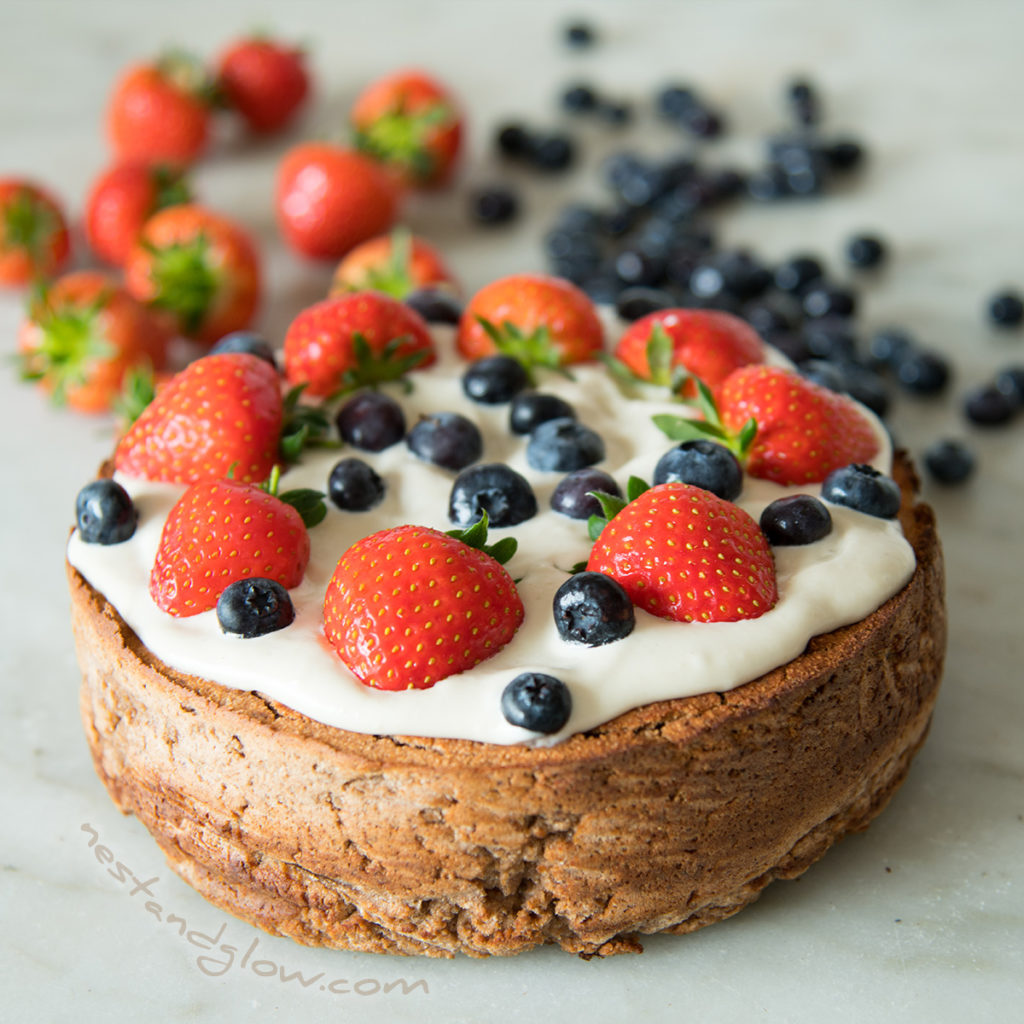 I always like to add a bit of lemon or lime juice to my healthy cake recipes to cut through the sweetness. You can use either lemon or lime for this, but I often use lime.
My chickpea cake is high in protein and fibre but free of oil and only contains a small amount of sweetener. Use whatever sweetener you like. I used maple syrup and just a small amount as I don't like it too sweet.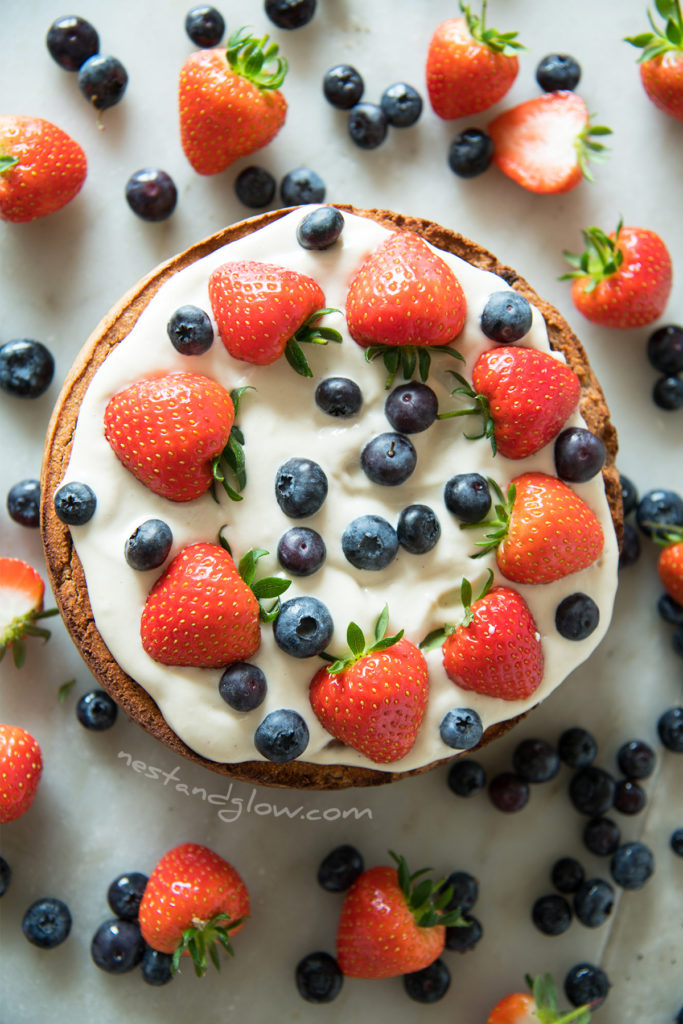 Chickpea and Gram Flour are the Same
Chickpea/gram flour can be sourced from most supermarkets, health food shops or from Asian supermarkets. It helps add lots of protein and fibre to this cake and gives structure. It's important as without this it would just be too wet to hold properly – trust me I tried several times. Chickpea flour is often quite inexpensive from a normal or Asian supermarket.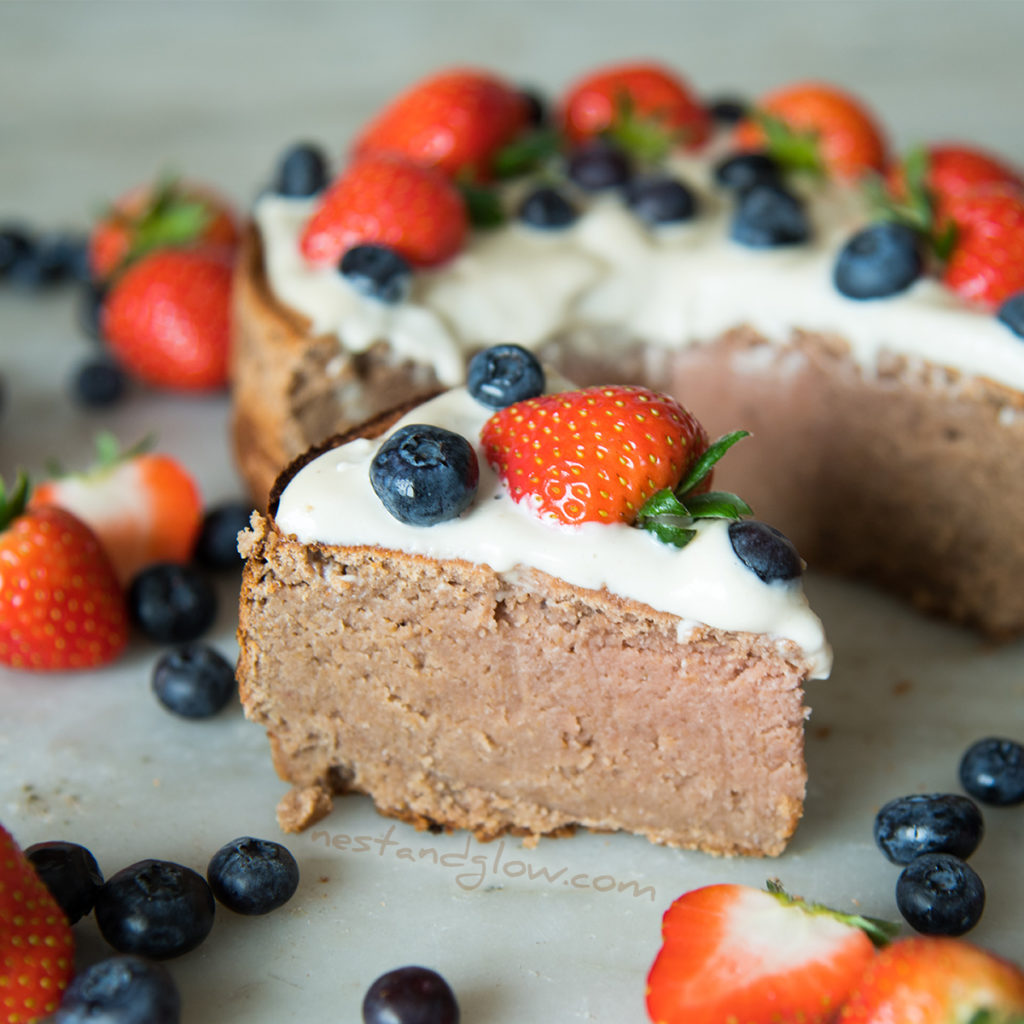 You might want to cut this healthy cake in half and ice the middle. I think that would look very good but I just wasn't in the mood for trial and error as this was the 6th time I made the cake on the day of shooting.
My chickpea cake is actually quite robust so could easily slice in half. Or just be made into two sandwich tins.
Yield: 1 vegan and gluten free cake
Chickpea Strawberry Cake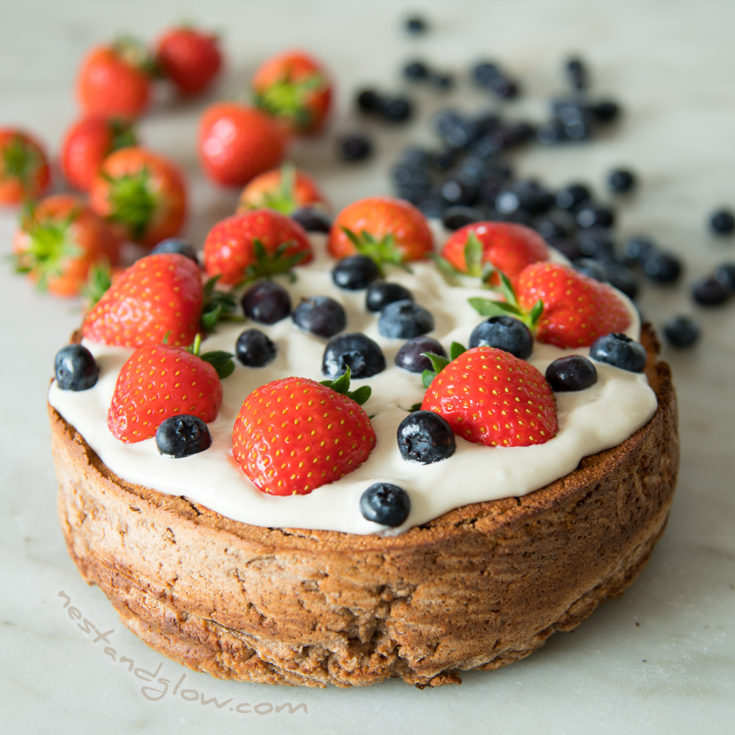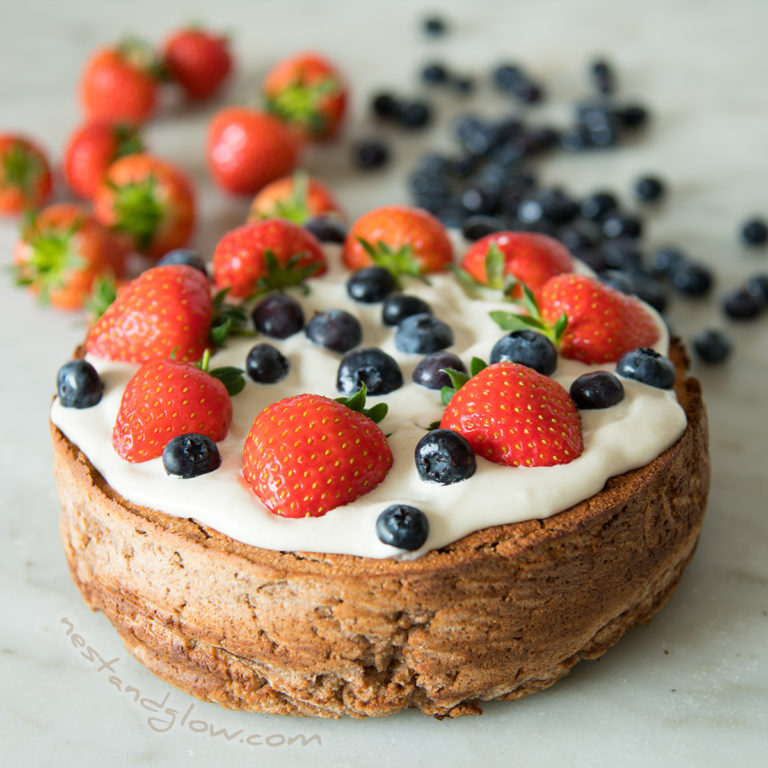 A healthy cake recipe that's vegan, gluten-free and full of goodness. Chickpeas are used so this cake is bursting with fibre and protein. No eggs or flour are used in this nutritious cake recipe.
Total Time
1 hour
20 minutes
Ingredients
Chickpea cake
1 Can Chickpeas, 15oz / 400ml
1 cup / 160g Strawberries
110g / 1 cup Coconut Flour
1 cup / 90g Chickpea / Gram Flour
6-12 tbsp Sweetener. like Maple or Date syrup
4 tbsp Flax Seed soaked in 12 tbsp Water
1 Lime, juiced
1 medium Beetroot
2 tsp Vanilla
½ tsp Baking Powder
FROSTING
½ can Coconut Milk
2/3 cup / 100g Cashew Nuts
8 Strawberries, or more
20 Blueberries, or more
Instructions
Pre-heat the oven to 375f / 190c.
Drain the chickpeas but save all the juice.
Grind the flax seeds and soak in water for 5 minutes.
Place everything for the cake into a food processor and blend until combined.
Wisk the chickpea juice with an electric whisk for 5-6 minutes until stiff peaks are formed.
Gently fold in the cake batter into the chickpea juice aquafaba (whisked chickpea juice).
Spread the cake into a 7″ lined tin.
Bake for 50 minutes, then a knife should come out clean.
Blend the cashews and coconut milk together. Use a brand of coconut milk that is separated and drain off 3/4 of the water.
Once the chickpea cake has cooled remove from pan, cover with the frosting and decorate with fruit.
Store the gluten free cake in the fridge and enjoy within 5 days.
Notes
Equipment: 7″ springform pan, Oven, Food Processor, Greaseproof/parchment paper, Electric Whisk, Bowl and Blender.
Nutrition Information
Yield
12
Serving Size
1
Amount Per Serving
Calories

265
Total Fat

12g
Saturated Fat

5g
Trans Fat

0g
Unsaturated Fat

6g
Cholesterol

0mg
Sodium

149mg
Carbohydrates

33g
Fiber

6g
Sugar

13g
Protein

9g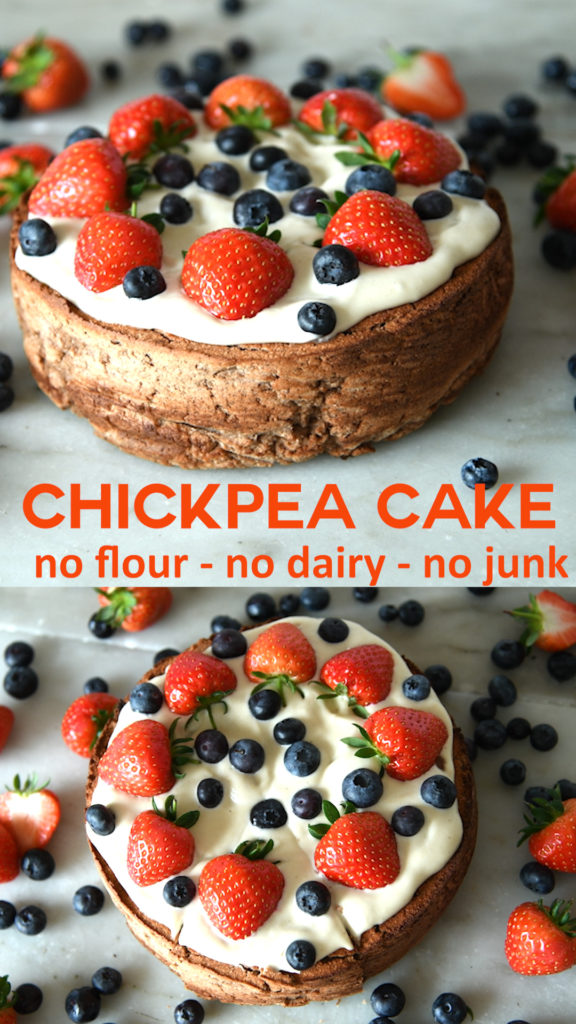 Always use unsalted chickpeas when making the aquafaba for this recipe.