Thick and creamy cashew vanilla dip is the perfect accompaniment to a fruit platter. Full of heart-healthy fats, protein and is really easy to make. Free of any added oil and refined sugar. Suitable for vegan, paleo and plant-based whole food diets.
This fruit dip is always popular at gatherings and most don't even realise it full of goodness with no dairy. So many fruit dips are just melted marshmallows and dairy whereas my healthy fruit dip contains a load of nutrients without that harmful junk.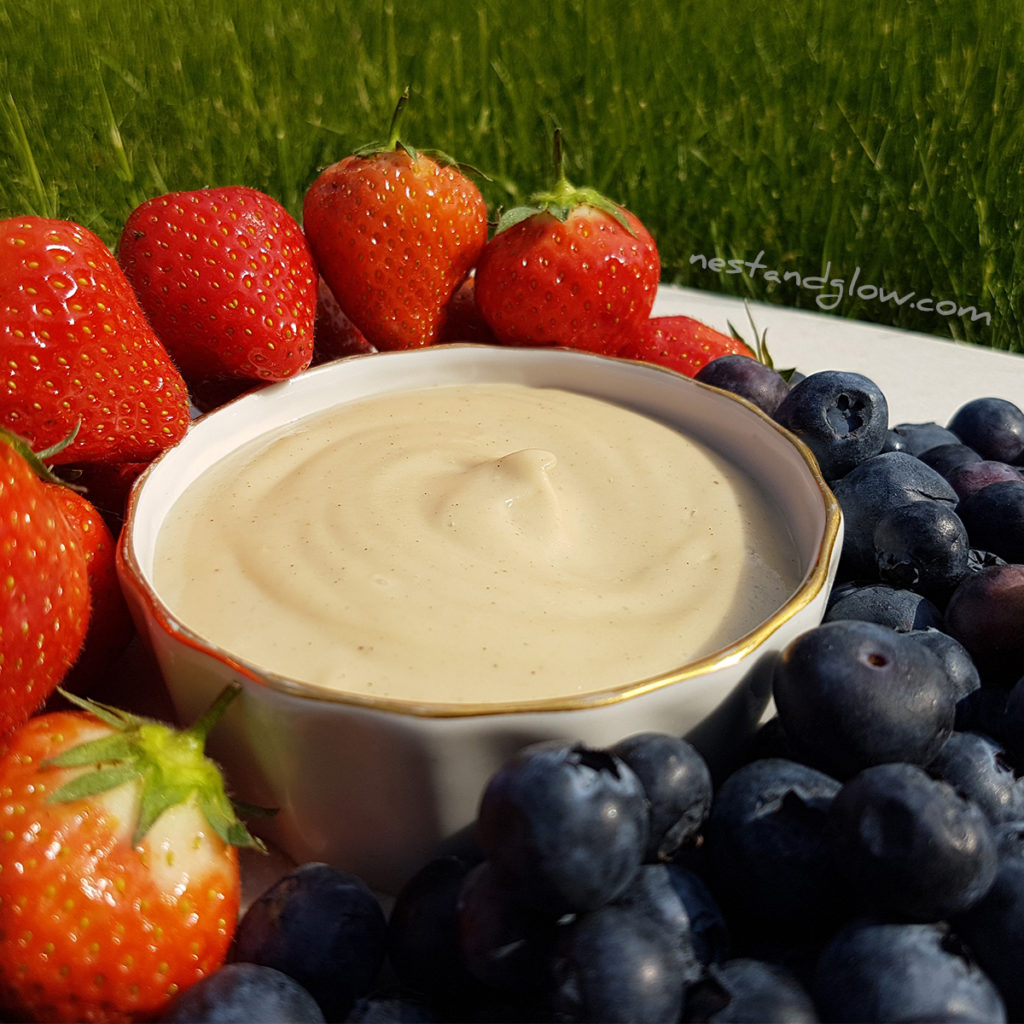 Think of this as a deconstructed minimal cashew cheesecake as it's similar to the fillings of all of my cashew cheesecake recipes. It's a great alternative to a cheesecake when you are short on time or want something less fussy. Crumble some nuts on top for some extra texture and nutty taste.
Healthy Cashew Fruit Dip Video
View no music Cashew Fruit Dip Video Recipe.
Originally this recipe was going to have a small orange or similar citrus fruit, however it was sadly forgotten during filming due to being in a rush.
This dip turns out great either with or without the orange so it's up to you how it's made. You can either just use the juice or add the whole peeled fruit. I recommend adding the whole fruit as it adds fibre.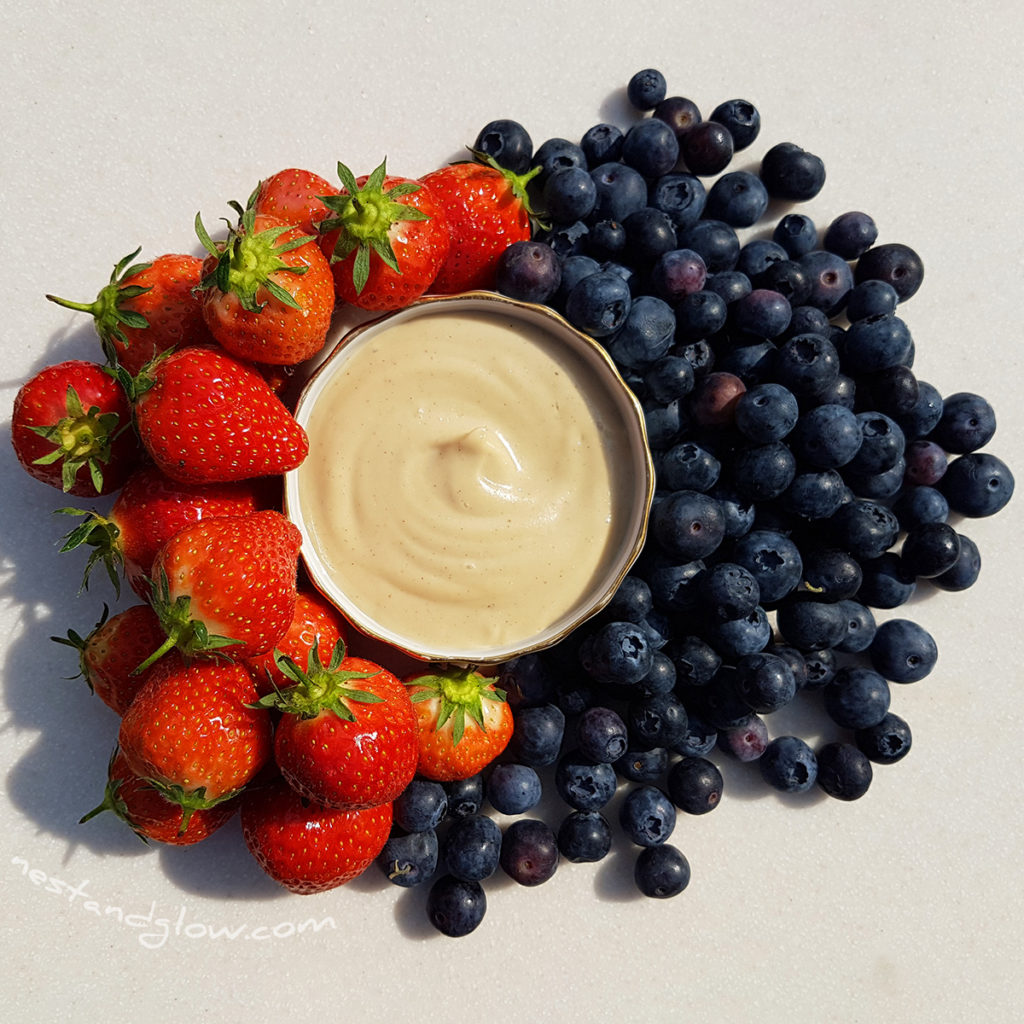 This fruit dip recipe uses vanilla paste, you may notice in the video the vanilla being thick and very viscous. This gives a strong vanilla flavour and the tiny vanilla bean seeds that look great. It's almost as good as expensive vanilla pods but significantly cheaper per serving.
Vanilla pods come from an orchid and are the second most expensive spice after saffron. Vanilla is so expensive as it's difficult to grow, only grows in tropical regions and takes years before any pods are produced. When there's a bad harvest price can go through the roof. It really shouldn't be thought of as basic and boring as true vanilla has a complex flavour that is a world apart from the artificial vanilla that's prevalent in processed foods.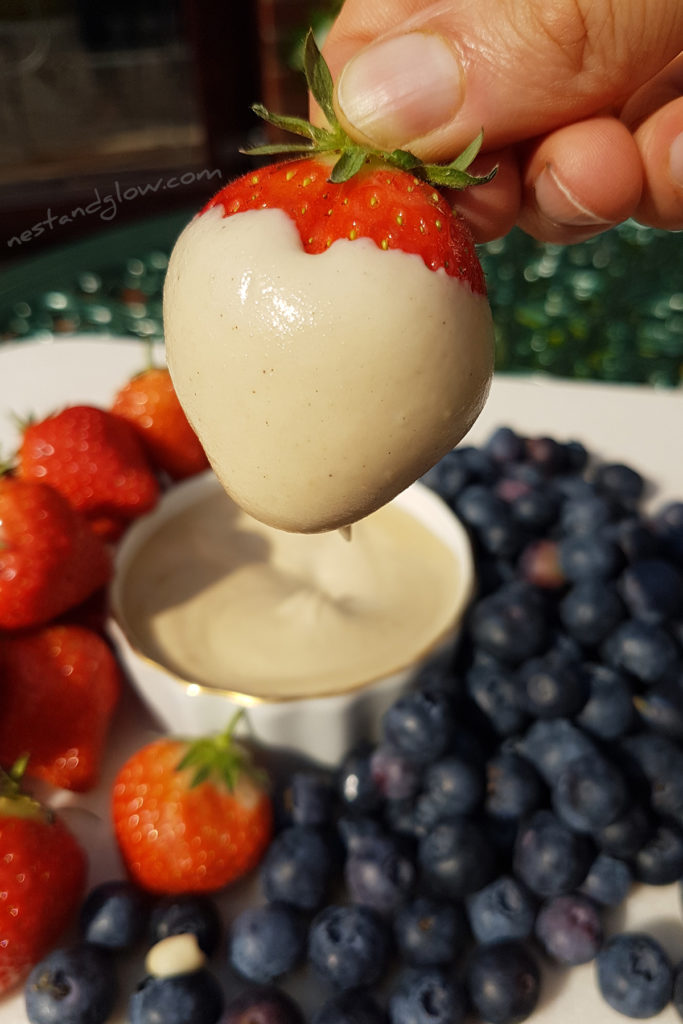 To get a silky smooth cashew dip you don't need a super powerful blender. A 600w small jug blender works really well. If you have a normal blender then it can still be made but you may want to soak the cashew nuts overnight first to soften.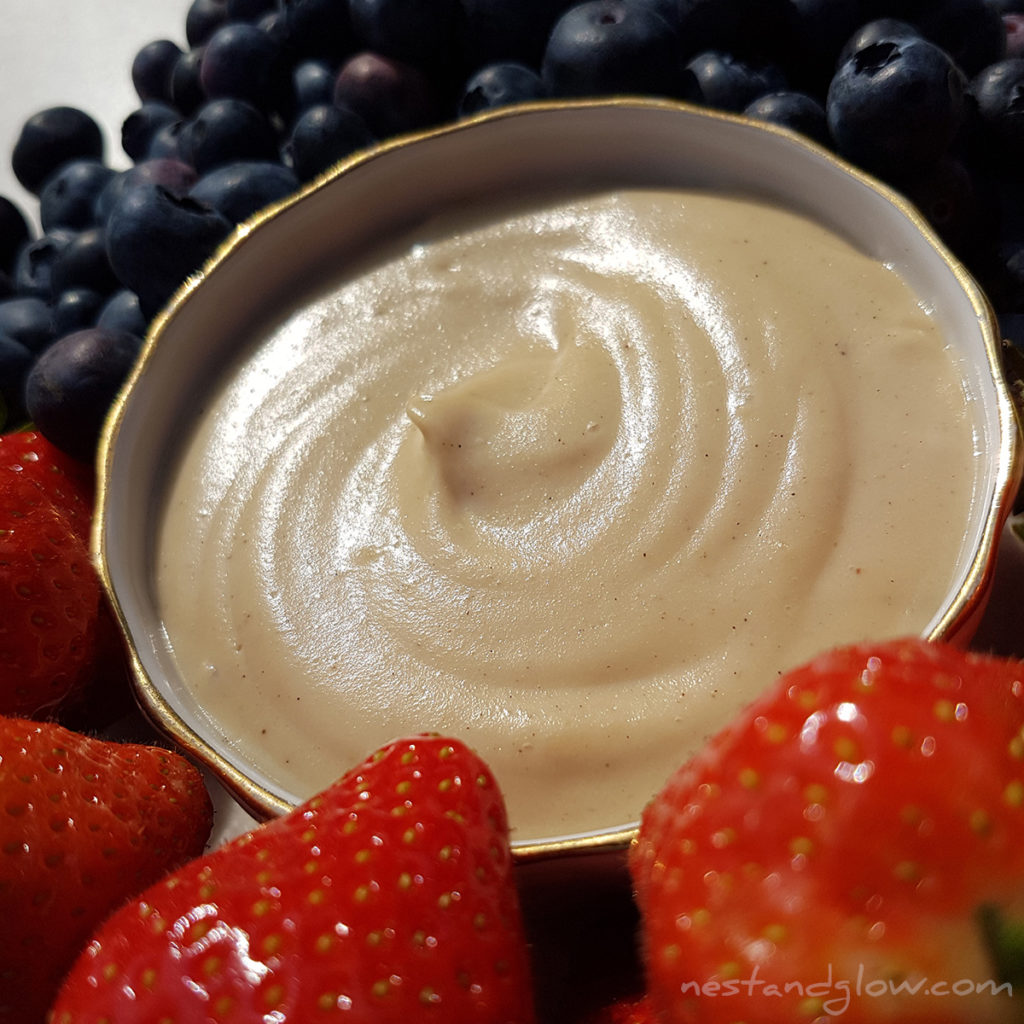 Nut-free Adaptation
You can make this recipe nut-free by replacing the cashew nuts with sunflower seeds. Always soak sunflower seeds overnight in water with a pinch of salt to make them easier for the body to absorb the goodness. Sunflower seeds won't go quite as smooth but they will be smoother than a hummus.
Macadamia nuts are a great alternative to cashew nuts in most recipes and this is no exception.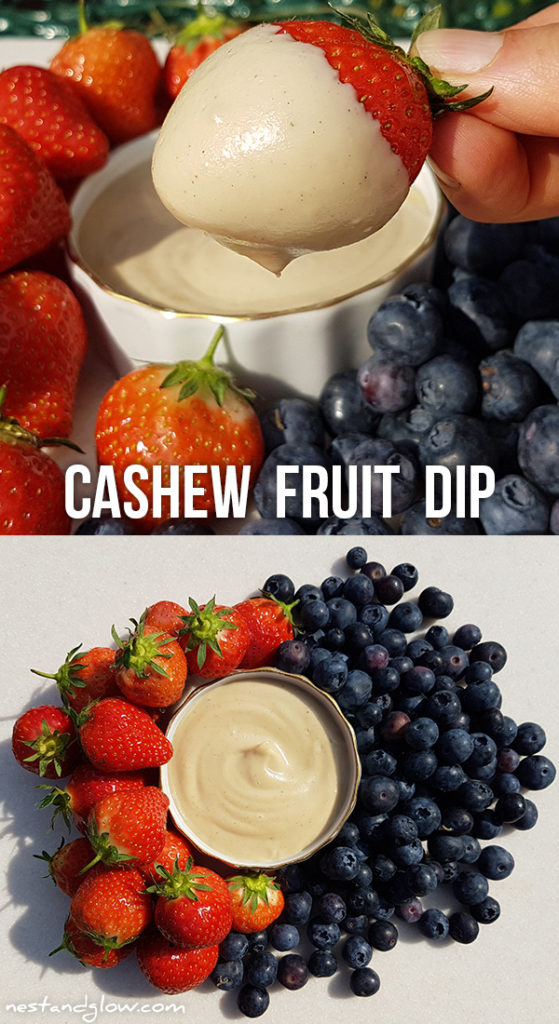 Yield: 6 servings
Cashew Fruit Dip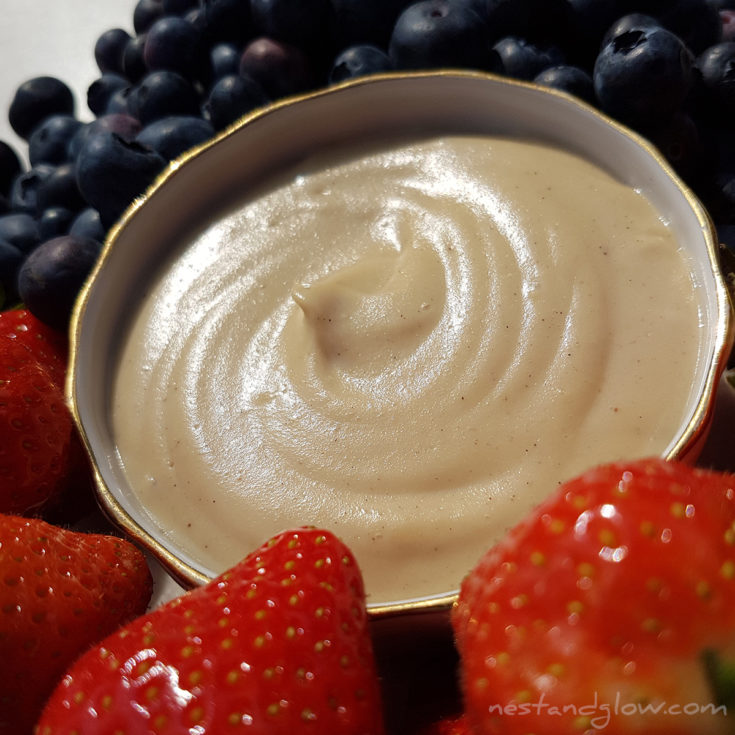 Thick and creamy cashew vanilla dip is the perfect accompaniment to a fruit platter. Full of heart-healthy fats, protein and is really easy to make. No dairy or unhealthy fats in this vanilla fruit dip.
Ingredients
1 cup / 150g Cashew nuts
1-2 tbsp Sweetener, like Maple Syrup or Date syrup
½ tsp Vanilla
3/4 cup / 180ml Water
1 small Orange, optional and peeled
Instructions
Place everything in a small blender jug.
Blend the cashew fruit dip for 1-2 mins until smooth.
If the blender struggles then add a splash of water.
Serve with pre-prepared fruit.
Enjoy this healthy dairy free fruit dip within 3 days.
Recommended Products
Links maybe affiliated, meaning I earn a commission from purchases but at no extra cost to yourself.
Nutrition Information
Yield
6
Serving Size
1
Amount Per Serving
Calories

163
Total Fat

12g
Saturated Fat

2g
Trans Fat

0g
Unsaturated Fat

9g
Cholesterol

0mg
Sodium

162mg
Carbohydrates

13g
Fiber

1g
Sugar

5g
Protein

4g
Strawberries and raspberries botanically aren't a berry as they come from a single ovary. But they are great in this fruit dip as they have a high amount of water and healthy seeds.